Whether you've banked some MileagePlus miles from years of flying United, carry one of their co-branded credit cards, or have some Chase points you can instantly transfer, sitting on a bunch of United miles is a very good problem to have. But it's time to start using them.
We know, we know: It's hard. What's a good use of United MileagePlus miles and what should you skip? Let's start with the best of the best.
We've sent Thrifty Traveler Premium+ subscribers hundreds of award alerts to use their United miles over the years. The standout deals run the gamut from deeply discounted sales flying United abroad to some amazing redemptions using United miles to fly on one of the 20-plus Star Alliance partner airlines.
And as you'll see, there are stellar deals to be had whether you live in a big United hub airport like Newark (EWR), San Francisco (SFO), or Chicago-O'Hare (ORD) or not.
Thrifty Traveler Premium+ is the only flight deal service that sends members cheap flight deals and award alerts to use their points and miles – read up on how it works!
A Nationwide Summer Sale to Europe for 40K Miles RT
United typically charges at least 60,000 miles roundtrip for flights in economy to Europe. For a summer trip across the pond, expect to fork over 150,000 miles for a summer trip thanks to United's dynamic award pricing, which means award rates to book United flights follow cash prices.
But every once in a while, we see United slash award rates. That's just what happened back in 2021, when United opened the floodgates to fly from almost any city in the states … to many destinations in Europe … in the middle of summer … for just 40,000 miles roundtrip!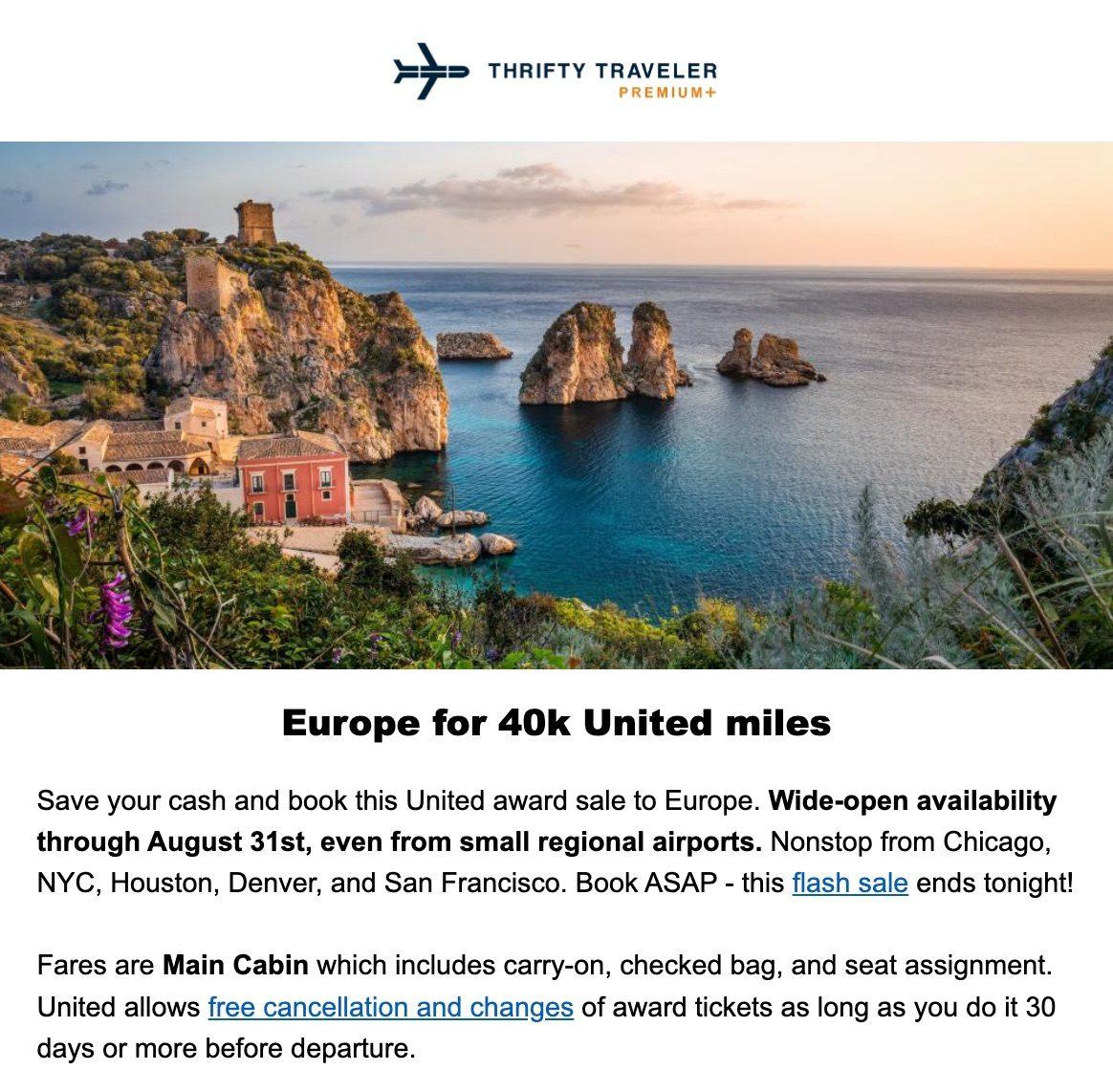 This is the upside of United's transition to dynamic award pricing: You can see sky-high award rates when using United miles … but occasionally, you get the deal of a lifetime.
From Amsterdam (AMS) to Dublin (DUB) and Paris-Charles de Gaulle (CDG) and even gems like Dubrovnik (DBV) in Croatia, 40,000 United miles was all you'd need for a trip in the middle of summer. That's unthinkably cheap – especially from smaller towns like Fargo (FAR)!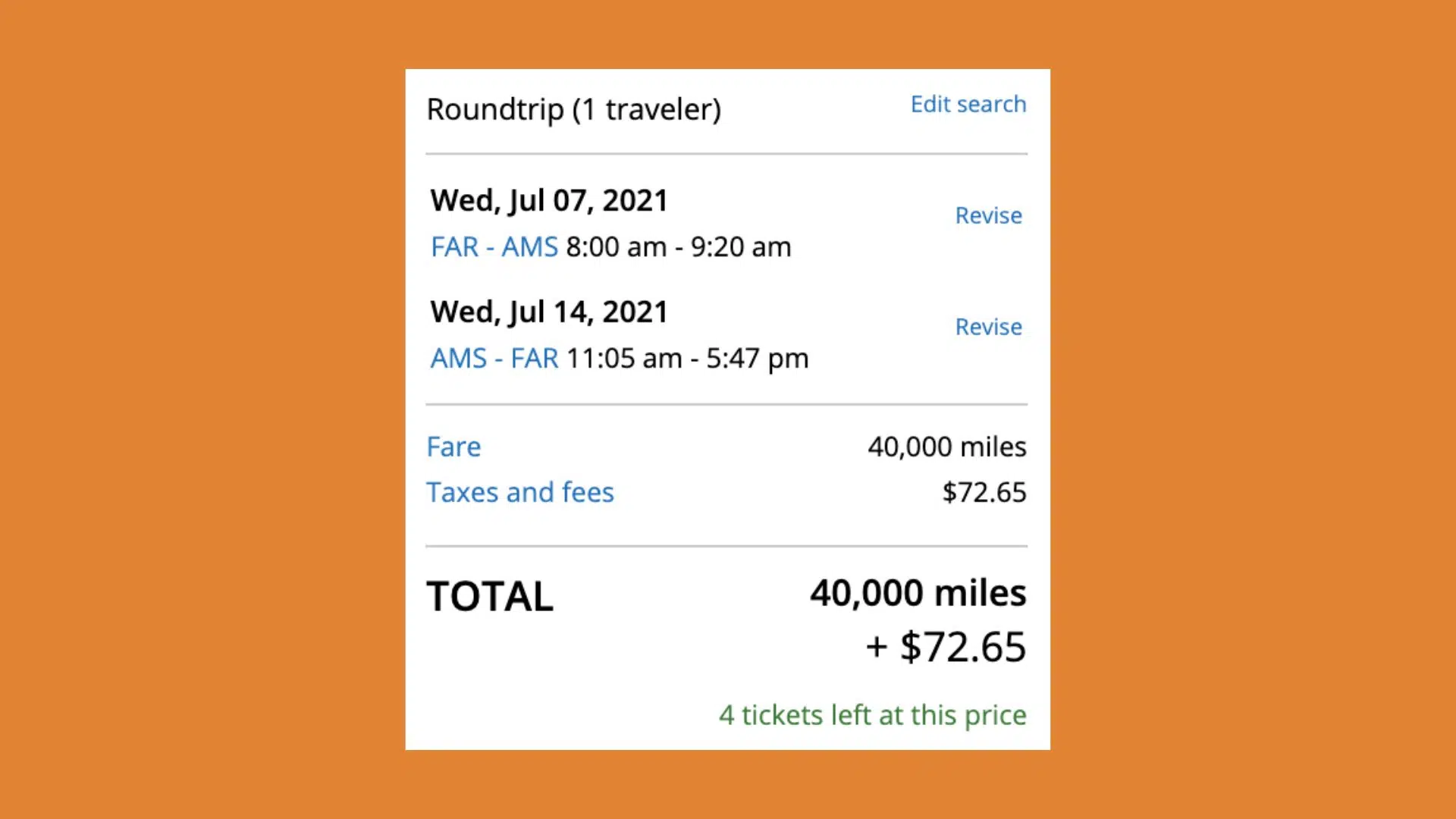 Australia and Back for Under 50K Miles
Whether you're using cash or miles, getting to Australia is tough – and I'm not just talking about the 14-plus-hour flight.
That's what made this deal from United in late 2022 so astounding: Roundtrip flights from almost any U.S. airport with United service all the way to Sydney (SYD), Brisbane (BNE), or Melbourne (MEL) as low as 40,000 miles.
Best of all, these flights were available for a trip in January through March of this year – our winter, but Australia's summer!
This amazing Australia deal was part of a broader sale that also featured half-off award rates to Europe and much of Asia, too. But it was fairly exclusive: Only travelers with United Premier status or a co-branded credit card like the United℠ Explorer Card could see and book those low award rates – and those with both got the best deal.
This deal is long gone now, but those who jumped on it know how good they have it. Consider this: This exact same flight from Minneapolis-St. Paul (MSP) to Sydney (SYD) would cost more than 110,000 United miles to book today.
Turkish Business Class for Less
Call it a mistake fare or call it whatever you want – sometimes, airlines just screw up. That's just what happened a year ago … and we caught it.
We unearthed a pricing error to give our Thrifty Traveler Premium+ members a chance to fly the amazing Turkish Airlines business class to Istanbul (IST) for just 60,000 United MileagePlus miles each way – substantially less than what United typically charges for these partner award redemptions.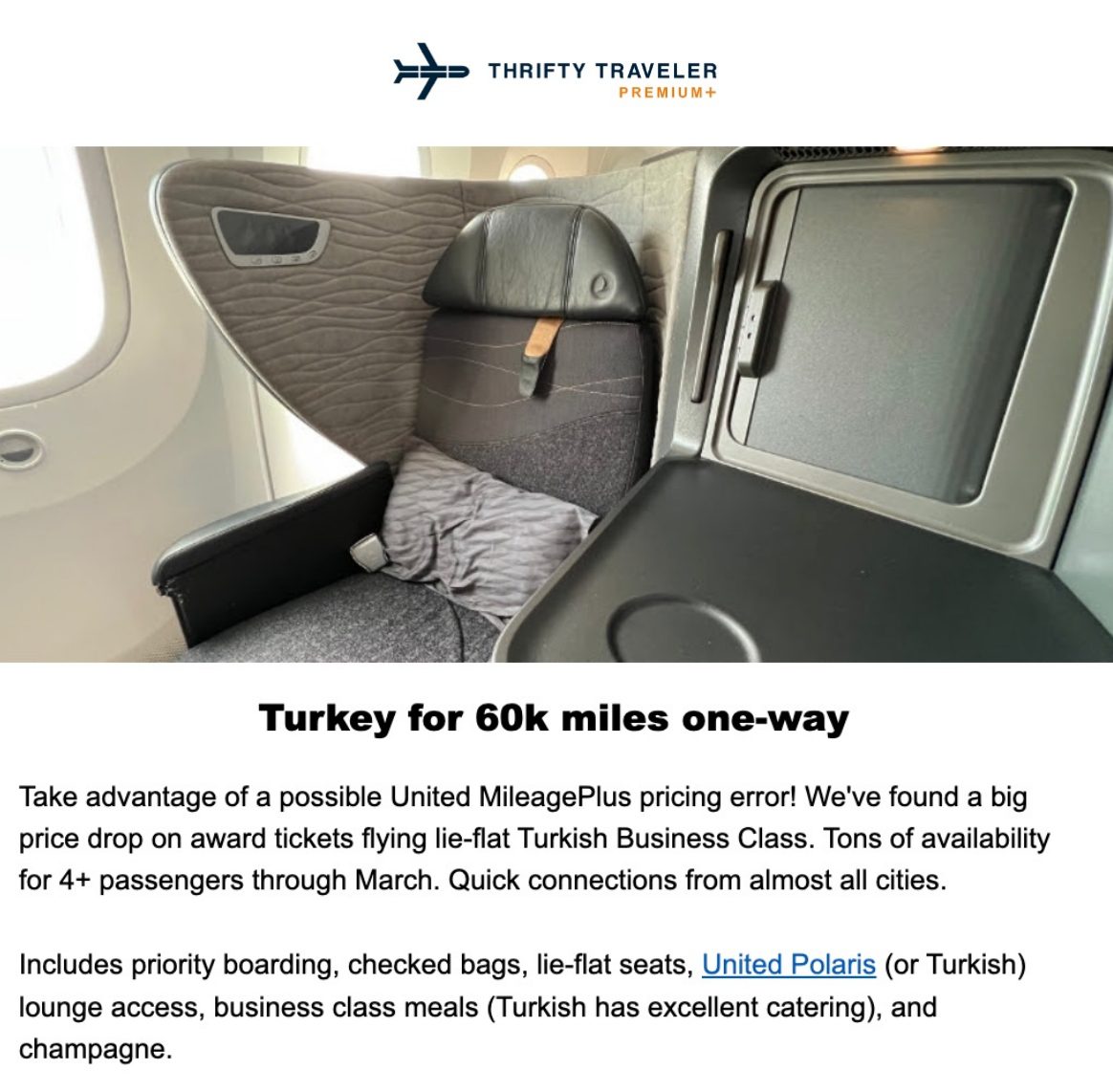 But the beauty of this deal is that it wasn't just bookable on Turkish's nonstop routes from airports like New York City (JFK), Newark (EWR), Boston (BOS), or Chicago-O'Hare (ORD). No, you could start your trip from almost any city in the country flying United, maybe pop into a Polaris Lounge during your layover, then continue over to Turkey … all for just 60,000 miles total.
United caught the error within a few hours and killed this deal. But not before Thrifty Traveler Premium+ members booked a discounted trip in lie-flat business class seats to one of the best cities on the planet.
Flying like this all the way to Istanbul might just be one of the best ways to use 60,000 United miles, if you ask us.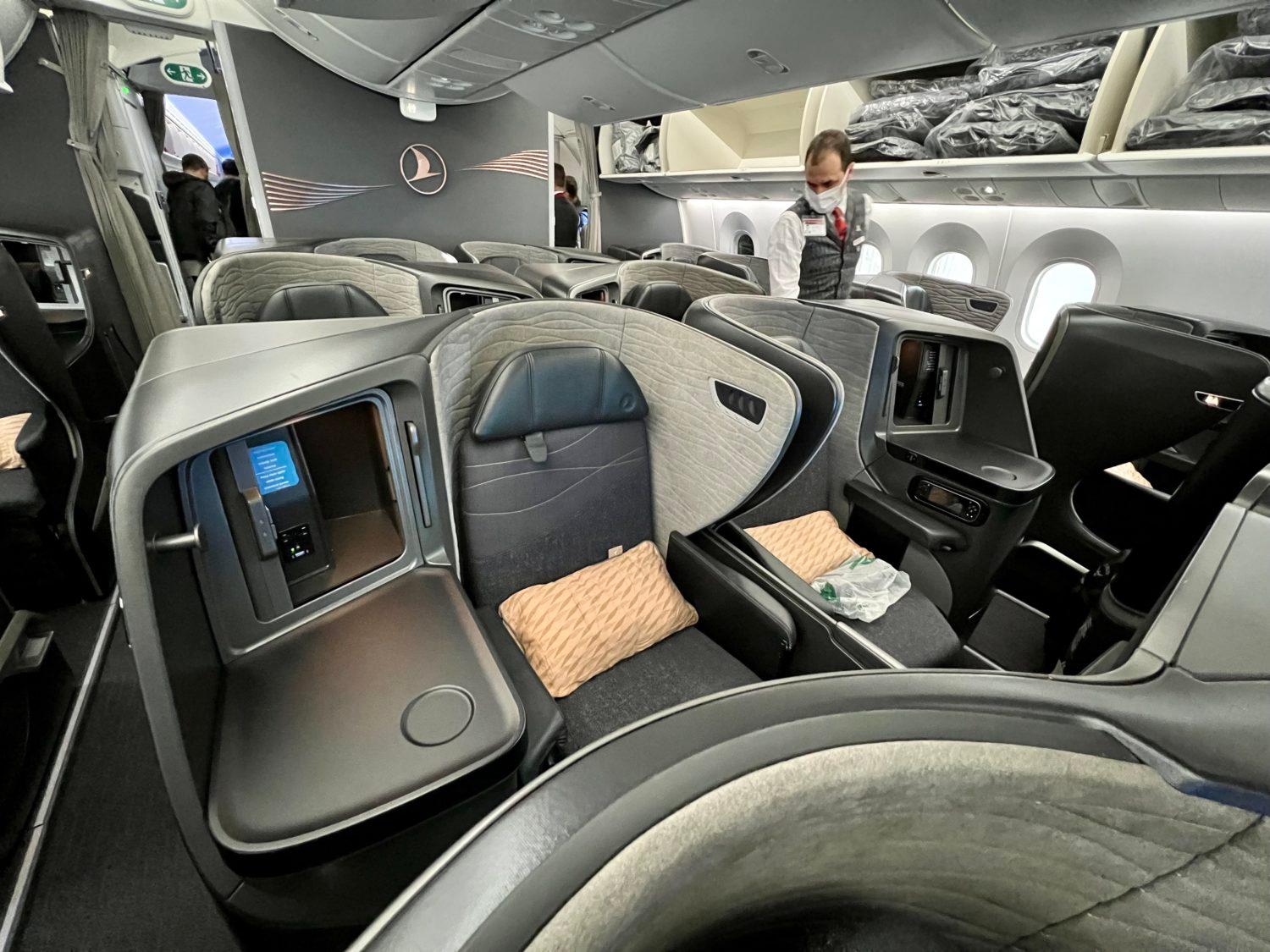 Read our full review of flying Turkish business class from Istanbul to San Francisco! 
A Summer Trip to London for 44K Miles
You want to go to London in the summer, I get it. Here's the problem: So does everyone else. And that means it can be hard to find the seats you want to fly in and out of London-Heathrow (LHR), no matter how many miles you've got.
Until a deal like this hits your inbox.
This deal is long gone now – get the next alert to use your United miles with Thrifty Traveler Premium+!
That's right: A trip to London and back in the middle of summer (or spring or fall – whatever you fancy) for just 44,000 miles and a few hundred bucks in mandatory taxes and fees.
This deal popped up about a year ago, giving Thrifty Traveler Premium+ a way to plan a summer 2022 trip to England for fewer miles. United's got plenty of nonstop routes to London: From Newark (EWR), Boston (BOS), Washington, D.C-Dulles (IAD), Chicago-O'Hare (ORD), Houston-Intercontinental (IAH), Denver (DEN), San Francisco (SFO), and even Los Angeles (LAX).
But – and stop me if you've heard this before – this one was bookable from almost every airport in the country. That meant you could start your trip from Minneapolis-St. Paul (MSP), Fargo (FAR), Peoria (PIA), Kansas City (MCI), you name it – all for just 44,000 miles roundtrip.
Or Fly United Business Class to London
Want to cross the pond in comfort using your United miles? We got you. How about this?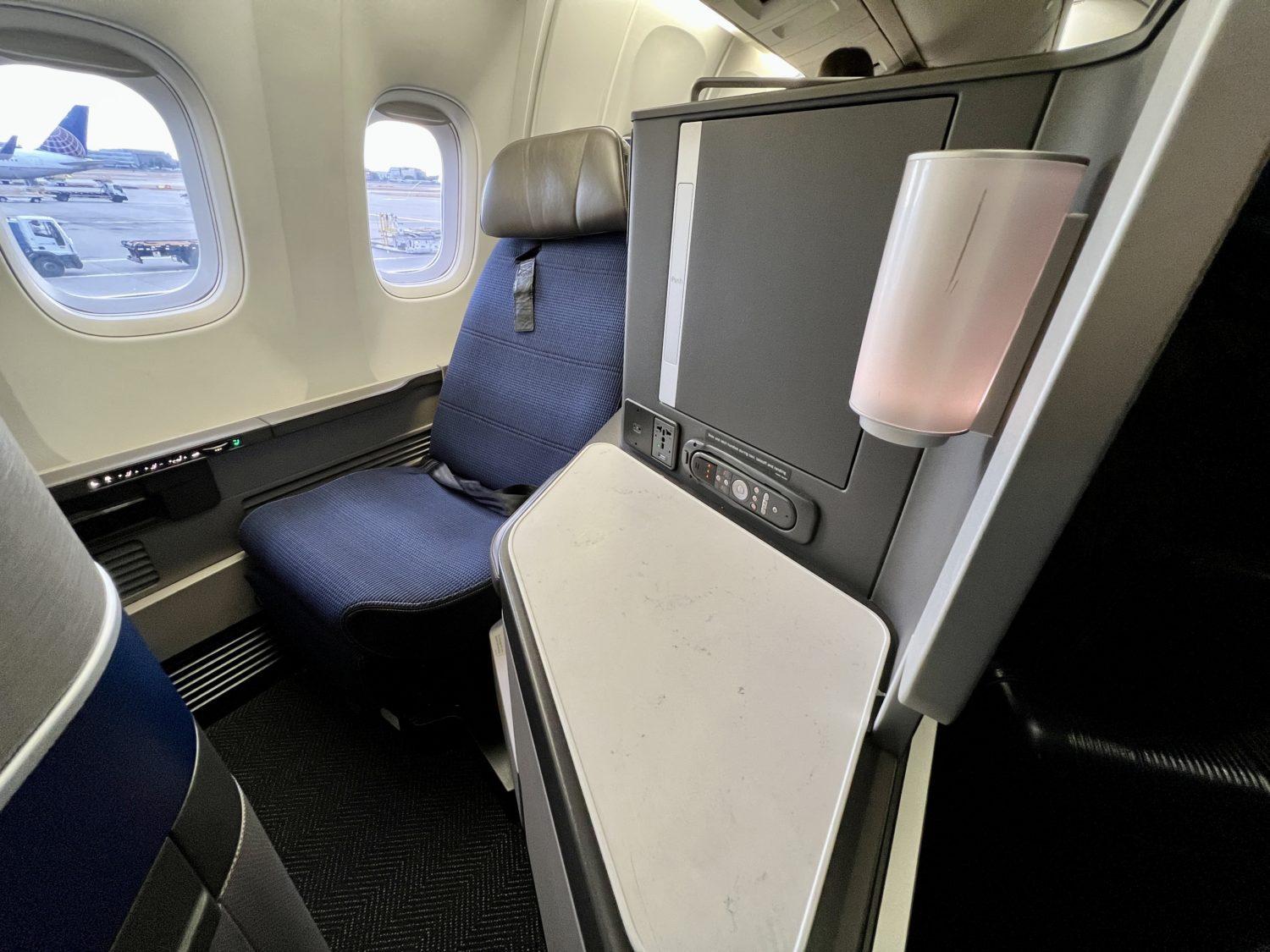 Read our full review of flying United Polaris business class to London!
We're always hunting for rare business class award space to head abroad using airline miles and United Polaris has been a bright spot lately, especially on flights to London-Heathrow (LHR). We've sent Thrifty Traveler Premium+ 10 alerts in the last few months alone to book United's top business class seats to London – including several for summer travel!
You could get an even better bargain booking these exact same flights using just 45,000 miles from the Turkish Miles & Smiles program, which is a Capital One transfer partner and a Citi transfer partner, too. But if United miles are what you've got, you may not find a better way to use them than booking a business class flight that typically costs $5,000 or more.
Anywhere in the World for 42K Miles Roundtrip
If your travel wishlist is so long you've lost track, this was the United mileage deal for you.
"Anywhere in the world" isn't a stretch: This United award sale from back in 2019 could get you to almost any corner of the planet and back home for just 42,000 miles.
Want to shop or catch a football game in Milan (MXP)? You could have booked it for 42,000 miles. Got your heart on Hong Kong (HKG)? Also 42,000 miles roundtrip. Auckland (AKL), Tokyo (HND), Tahiti (PPT), or even Guam (GUM)? Yes, 42,000 miles total.
This was United's first foray into the deeply discounted award sales that have become a fixture over at Delta with their SkyMiles flash sales. It was a doozy, a massive deal the likes of which we haven't seen since.
The list of potential destinations you could get to for just 42,000 United miles was nearly infinite … but so were the departure cities, with almost every airport in the country getting into the mix. Here's just a small sample.
We find cheap flights and points & miles deals from 200-plus cities – more than any other flight deal service!
Another Unicorn: 60K Miles Business Class to New Zealand
When you're flying all the way to New Zealand, a lie-flat business class seat is paramount. But booking those seats (and beds) isn't cheap: It'll typically cost you 300,000 United miles or more just for a one-way flight.
Take a look at this.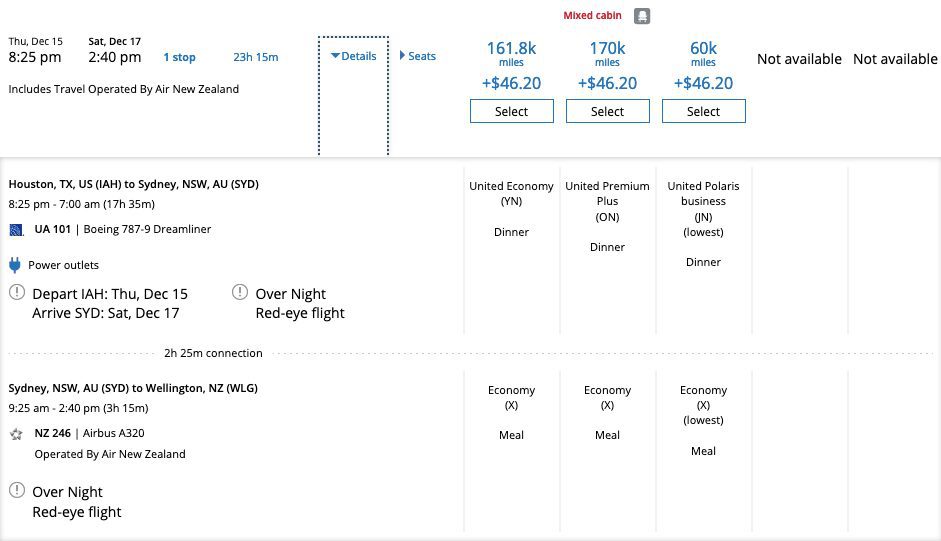 That's right: Just 60,000 United miles for a business class seat all the way to Wellington (WLG) in New Zealand with just a quick connection in Australia. You know you're getting a deal when flying business class costs a fraction of a cramped economy seat.
This unicorn fare popped up last spring. It came and went fast, but not before Thrifty Traveler Premium+ members jumped on it for a trip to the land down under later in 2022 or even 2023 – including New Zealand's peak summer!
How to Earn United Miles
Lucky for you, there are plenty of ways to earn United miles.
Yes, you can earn miles flying with United and its partner airlines. But the best way to earn a bunch of United MileagePlus miles is with credit cards – and not just United's own Chase cards.
That's an option, of course. United has a handful of co-branded cards with Chase including the United Club℠ Infinite Card, the United Quest℠ Card, the United Explorer℠ Card, and the United Gateway Card℠.
The United Explorer℠ Card is almost always the best place to start: You can currently bonus_miles_full Plus, you'll get a credit that covers the cost of signing up for either Global Entry or TSA PreCheck.
Learn more about the United℠ Explorer Card.
But we'd argue the best way to earn United MileagePlus miles isn't from a credit card with United's name on it. It's via Chase Ultimate Rewards cards like the Chase Sapphire Preferred® Card or the Chase Sapphire Reserve®. United is a Chase transfer partner, which means you can instantly turn a stash of 60,000 Chase Ultimate Rewards into 60,000 United miles.
The Chase Sapphire Preferred is our go-to recommendation for most travelers thanks to its reasonable annual fee of just $95. But most importantly, you can currently earn 60,000 Chase Ultimate Rewards points after spending $4,000 within three months.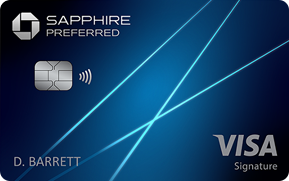 Learn more about the Chase Sapphire Preferred Card.
It's also worth hard look at either the Chase Freedom Flex or the Chase Freedom Unlimited® cards. They form a perfect tandem with a Sapphire Card. And though they're marketed as no-annual-fee cashback credit cards, you can transfer the cashback earned from either card directly into your Chase Ultimate Rewards account, turning that cashback straight into Chase points.
Small business owners (and trust us, you might be one and not even know it) should also give a long, hard look at the Chase Ink Business Cash® Credit Card and the Chase Ink Business Unlimited® Credit Card. Both cards are currently offering a bonus of $900 cashback (or 90,000 Chase points!) after spending $6,000 in the first three months of card membership.
Read more: Got a Chase Sapphire Card? Here's What You Should Do Next
Renters, though, should look at one card in particular.
The Bilt Rewards Mastercard® allows you to earn 1x point per dollar you spend on rent each month without paying extra fees – and there's no annual fee for holding the card, either. It's a no-brainer option for renters.
Bilt Rewards sweetens the deal with what it calls Bilt Rent Day: A monthly promotion that allows you to accelerate on the first of each month. So long as you make at least five transactions every month with your Bilt card, you normally earn 3x points per dollar spent on dining, 2x points per dollar spent on travel, and 1x points on other purchases. On Bilt Rent Day, that doubles: You get 6x points per dollar on dining, 4x points on travel, and 2x points on all non-rent expenses.
Here's the beauty of earning Bilt points: You can transfer them to your United Airlines account on a 1:1 basis, so 50,000 Bilt points gets you 50,000 MileagePlus miles.
Bottom Line
This list is by no means exhaustive. We could spend tens of thousands of words poring over the best deals we've found to use your United miles.
If you've got United MileagePlus miles to burn and aren't sure how best to use them, Thrifty Traveler Premium+ is here to help by, sending you alerts for the best flights you can actually book with your points and miles.