Bilt Rewards, the transferrable points program that allows you to earn points on rent, announced a new monthly bonus today for purchases made with its Bilt Rewards Mastercard on the first of the month. The loyalty company calls it Bilt Rent Day – but that doesn't mean you'll earn extra points paying your rent through Bilt.
Here's how it works: On the first date of every month starting Oct. 1, Bilt cardholders will earn double points on all non-rent expenses for 24 hours. That means you'll earn twice as many points for any purchases made on Oct. 1, Nov. 1, Dec. 1 – you get the picture.
While you'll earn at least 2x points on all non-rent purchases on the first of every month, it really adds up on spending that already has bonus categories, like dining and travel.
Here's what you'll earn for purchases made on the first of every month, starting this Saturday, Oct. 1, 2022.
Dining: Earn 6x points (regularly 3x)
Travel: Earn 4x points (regularly 2x)
All other spend: Earn 2x points (regularly 1x)
You can earn up to 10,000 bonus points each Bilt Rent Day. That's a pretty high threshold for one day of spending each month, so it shouldn't be an issue for 99.9% of travelers with the Bilt Mastercard in their wallets – like me.
Earn Double Points on Dining
This bumps my Bilt Rewards Mastercard to the top of my wallet if I'm ringing in the turn of a new month by dining out or ordering take out. At 6x points per dollar spent, a $40 dinner will net me 240 points. And if I'm out with a group of friends, picking up the tab for a $200 dinner bill would give me 1,200 Bilt points.
At 6x points per dollar on the first of each month, the Bilt Rewards Mastercard vaults ahead of the 4x you'd earn on dining on the American Express Gold Card® – otherwise the go-to card for restaurants.
Earn Double Points on Travel
You can potentially rack up even more points with a big travel purchase on Bilt Rent Day.
Take this nonstop Delta flight from New York City (JFK) to Cancun (CUN) for $353 roundtrip. If you were to book this fare on the first of the month, you could earn over 1,400 points with that single purchase. Traveling with a family of four? You'll earn over 5,600 points.

Fares can change any time so you shouldn't wait to purchase a cheap flight deal just for the chance to earn more points. But, if you find a good deal on the first of a month, it's a good reason to pay for it with your Bilt Rewards card.
Even with 4x earning, the Bilt Rewards card might not be your best bet for maximizing your airfare purchases. That distinction goes to The Platinum Card® from American Express, which earns 5x Membership Rewards Points for every $1 you spend on airfare booked directly with airlines or through Amex's travel portal (on up to $500,000 a year). That makes it the best card for booking flights, if you ask us.
But beyond flights, the Bilt Rewards Card is tough to beat for other travel expenses on the first of the month because Bilt's travel category covers a wide variety of purchases. You'd also earn 4x points on Airbnb stays, hotels, or car rentals directly through the company, or, through an online travel agency with the Bilt Mastercard on Rent Day. That's not the case with the Amex Platinum Card.
Again, you wouldn't want to wait to book a hot deal, but if you see a good price and are ready to book travel on the first of any month, using your Bilt Mastercard is now a great option to rack up even more points that are otherwise fairly difficult to earn.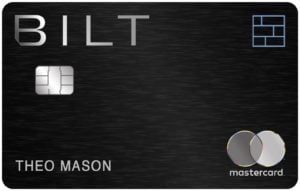 Click Here to learn more about the Bilt Rewards Mastercard. 
Earning Points on Rent with Bilt Rewards
While Bilt Rent Day is all about earning points on non-rent spending, the easiest way to earn Bilt Rewards is to simply pay your rent through the Bilt Rewards app.
You can set this up regardless of where you are renting. My landlord is old school and only accepts a check in the mail. I simply set up a payment in the Bilt Rewards app and Bilt automatically sends a paper check to my landlord each month via USPS First Class mail.
No matter where you live, these rental payments via Bilt have no fees.
If you hold the Bilt Mastercard and make at least five transactions per statement period, you'll earn one point for each dollar of rent (up to 50,000 annually). This means $2,000 rent = 2,000 Bilt points every month.
The best part … there is no annual fee. If you are renting, this card is a no-brainer.
Read More: Bilt Rewards: Earn Transferable Points for Paying Rent (+ No Fees)

How to Use Bilt Rewards Points
Just because the points are difficult to earn, doesn't mean they aren't useful – just the opposite. There are many ways to use Bilt points. Once you've got them, they're some of the most valuable points in the world of travel.
The easiest way to use them is to book through the Bilt Rewards travel portal where each point will be worth 1.25 cents apiece – meaning 10,000 Bilt points are worth $125 toward travel.
But you'll get the best value for your Bilt points by transferring points to one of its 14 travel partners, including World of Hyatt, American Airlines, Turkish Airlines Miles & Smiles, United Mileage Plus, and recently added British Airways Avios.
Here's the full list:

| Program | Type | Transfer Ratio |
| --- | --- | --- |
| Aer Lingus Avios | Airline | 1:1 |
| Air France/KLM Flying Blue | Airline | 1:1 |
| Air Canada Aeroplan | Airline | 1:1 |
| American Airlines AAdvantage | Airline | 1:1 |
| British Airways Avios | Airline | 1:1 |
| Cathay Pacific Asia Miles | Airline | 1:1 |
| Emirates Skywards | Airline | 1:1 |
| Hawaiian Airlines HawaiianMiles | Airline | 1:1 |
| Iberia Avios | Airline | 1:1 |
| Turkish Miles & Smiles | Airline | 1:1 |
| United MileagePlus | Airline | 1:1 |
| Virgin Atlantic Flying Club | Airline | 1:1 |
| World of Hyatt | Hotel | 1:1 |
| IHG Hotels | Hotel | 1:1 |
Bottom Line
Bilt Rewards is doubling earning opportunities … but only on one day each month.
You'll earn double points for most purchases made on Bilt Rent Day, the first of each month starting this coming Saturday, Oct. 1. This is especially lucrative if you book travel or dine out on the first of each month as you'll earn 4x or 6x points, respectively – or 2x points on all other purchases.
Renters may want to start pulling out their Bilt Rewards card on the first of the month for their non-rent purchases.