We're a strange bunch here at Thrifty Traveler and that means the people that subscribe to our flight deal service are going to get some strange flight deals in their inbox from time to time.
For example, what if I told you we sent our Thrifty Traveler Premium members a lie-flat business class deal…for a two-hour flight. Or if I told you we sent a deal highlighting a sub-$200 flight from Hawaii to Australia on an airline you've maybe never heard of called "Jetstar"?
When you spend all day every day looking for the best flight deals for our subscribers, we can come up with some wacky stuff. But in the end, there's something amazing about every deal we send, otherwise, we wouldn't send it.
Allow me to explain why, although strange, all of these deals are, in fact, awesome. And how they could lead to the trip of a lifetime.
Lie-Flat Seats for a 2-Hour Flight
You might be thinking: Why on earth would I want a lie-flat seat for a flight that's only two-and-a-half hours long?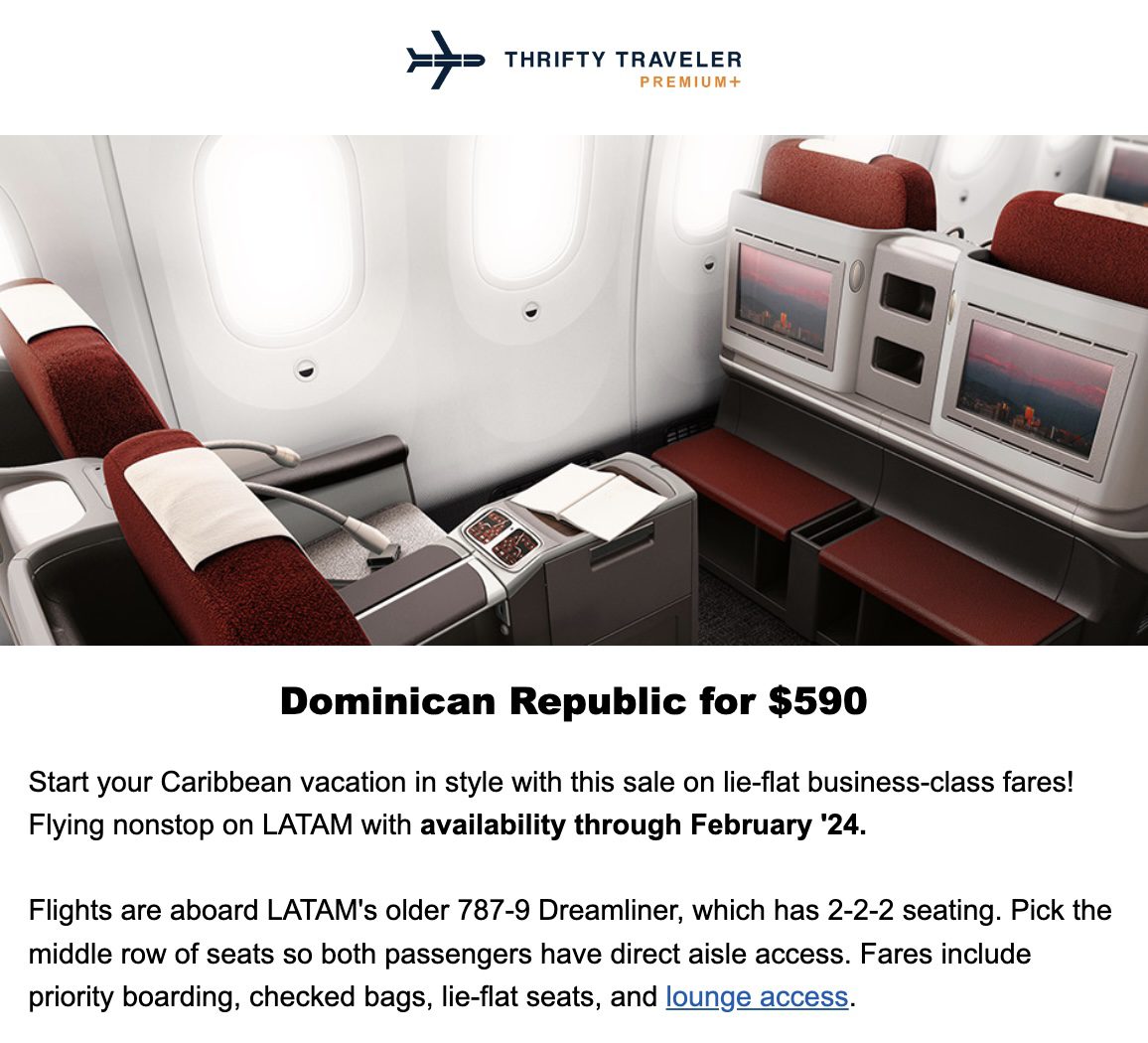 I get why you're skeptical, but that's probably the cheapest lie-flat fare you're going to find at $589 roundtrip, and if you've never experienced a full business class experience before, this is an amazingly cheap foot in the door.
Plus, you get all the bells and whistles of a typical business class experience like meals, comfy seats, extra drink service, and LATAM VIP Lounge access in Miami (MIA) so you can wine and dine before your departure, too.
This is certainly a strange one, but if you've ever dreamed of flying business class, this is a perfect taster of what it's like on this strange MIA-PUJ route.
Flying Jetstar Airlines & Other Hawaii Fun
You might be thinking: I would love a flight deal to Hawaii or to Australia, but why would I want one between the two…and flying something called "JetStar" no less?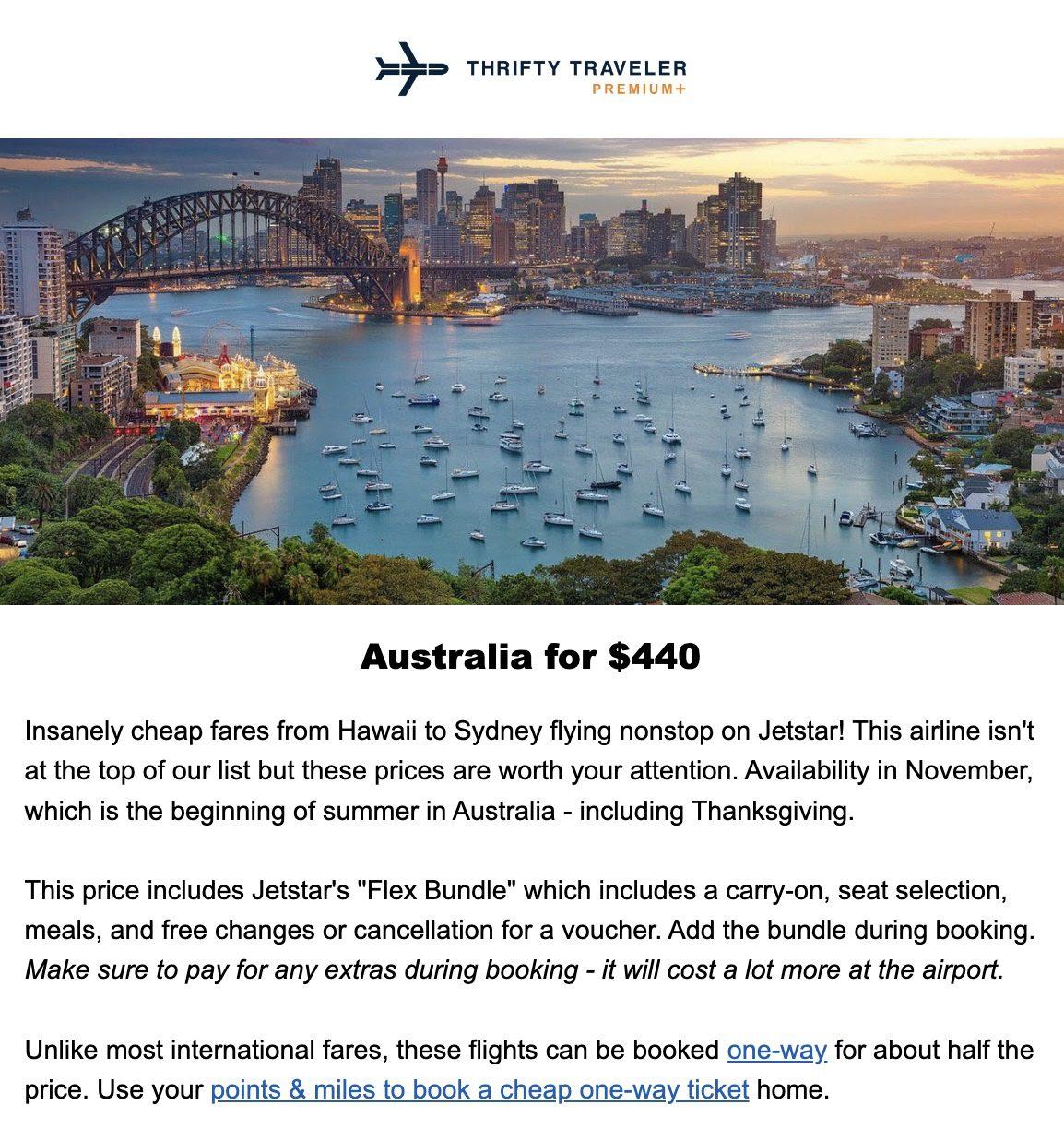 I'm sure we had a few Thrifty Traveler Premium subscribers squinting at this flight deal when it hit inboxes earlier this year wondering what was going on here. But there are a few things that make this deal – and others like it – really cool.
For one, we have more than 300 Premium subscribers that call Hawaii home, and we're searching for cheap flights from Honolulu (HNL) and Kona (KOA) Airports every single day. They may live in paradise, but Hawaiians love to travel, too!
They might have the JetStar deal for a vacation to Australia for only $440 roundtrip. That fare was an absolute steal!
The same goes for this Tokyo (NRT) fare flying Hawaiian Airlines for less than $700 roundtrip.
But there's something epic hidden in here for non-Hawaiians who received this deal: The best stopover ever.
Think about it: We send cheap flight deals to Hawaii all the time. Book one of those, and then pair it with one of these flights to Australia or Japan with a day or two in Hawaii on each end. As soon as we sent this next deal, my mind starting racing.
Here's what I would do. Book the cheapest flights you can find to Hawaii, and then book this ultra-luxurious ANA First Class seat from Honolulu (HNL) to Tokyo in "The Suite" for a Hawaii-and-Japan combo trip that would melt your friends' brains.
If you don't do it…I will.
Australia/New Zealand and Fiji…For the Price of One?
You might be thinking: A layover in Fiji? Isn't that just cruel? How can you go to Fiji and not leave the airport?
Well my friends, let me introduce you to a concept called the Fiji stopover. You already wanted to go to Australia and/or New Zealand, but it seems like a waste to just fly right over the stunning island nation of Fiji in the process, right?
Fiji Airways built us a beautiful solution to that conundrum.
All of the fares listed on this deal are eligible for a free Fiji stopover, meaning you can get off the plane in Fiji (NAN) for a few days before continuing on to your final destination in Australia or New Zealand.
This is a beautiful, strange flight deal that I'm sure made someone's year when they booked it. We've almost never seen prices like this that include a free stopover in paradise, but we're looking every day to make sure we catch when they pop up again.
Wait … Can You Even Go to Cuba?
You might be thinking: Can Americans even go to Cuba? Don't I have to fly to Canada or Mexico first? Will I be allowed back in the U.S.?
Take it from someone who booked an almost identical deal a year ago and just got back from Cuba: Yes, Americans can safely and easily travel to Cuba.
And I'll also be the one to tell you that you absolutely should!
Right now, flight prices to Cuba are as cheap as I've ever seen them from all over the U.S., even airports as small as Bangor, Maine (BGR), Des Moines, Iowa (DSM), and Manchester, New Hampshire (MHT) can fly roundtrip to Havana (HAV) or a few other Cuban airports for less than $400. And once you're there, food and drinks are less than half of what they would cost in the United States, too.
It's extremely cheap to travel to Cuba right now, and if you're willing to jump through a few (very simple) hoops, it's an incredibly rewarding travel experience.
I can't stop thinking about my week in Cuba and I'm already plotting my next one. Maybe I'll see you there!
Isn't that Airline Like…Really New and Ultra-Low-Cost?
You might be thinking: Norse Atlantic is a brand new, ultra-low-cost carrier, right? Why would I want to fly an airline like that to Europe?
I don't blame you if you're skeptical about flying budget carriers, that's why we normally don't highlight them in the deals we send to our Thrifty Traveler Premium members. The only exceptions we will make are if the fares are just too good not to show you, or if we've flown the product ourselves and can assure you that it's not too uncomfortable.
Norse Atlantic Airways checked both boxes with some of these fares to Europe last month.
Read our review of what it's like to fly Norse Atlantic Airways! 
These nonstop routes to places like London (LGW), Paris (CDG), Berlin (BER), and Rome (FCO) are some of the lowest you could possibly find for travel this fall. In fact, many of the same nonstop routes (or some with layovers) are running over $1,000 for the same dates. Is a nonstop trip at that price worth it for you to spend a few hours on a low-cost carrier? That's up to you, but at prices like these, I think so.
Plus, on Norse Atlantic, they have a surprisingly comfy Premium Economy product that I also reviewed. For just a few hundred more dollars, you could book one of these comfy seats for your overnight journey, too.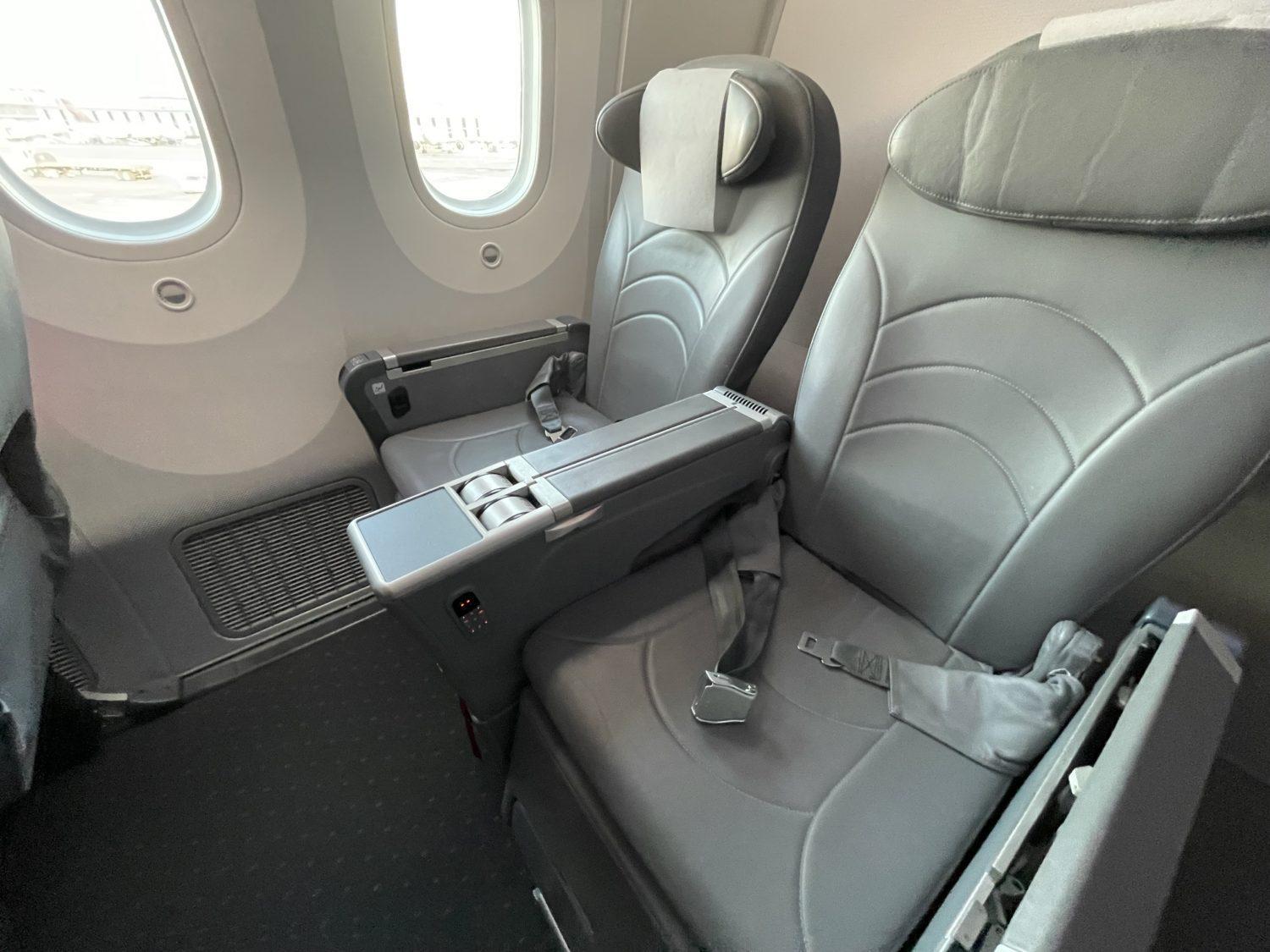 Norse Atlantic, when booked at the right price, is definitely worth it. And while you might be skeptical when you see a flight deal for a budget carrier ending up in your inbox, deals like these deserve your attention.
Flying Singapore Airlines (or Emirates) Nonstop to…Europe?
You might be thinking: Am I crazy, or is Singapore (and the United Arab Emirates, for that matter) not in Europe or the U.S.? 
You're not crazy! Singapore is decidedly not the U.S. or Europe, but Singapore Airlines runs something called Fifth Freedom routes between the U.S. and Europe (and actually Tokyo, too!) and we're all better off for it. I won't bore you as to why these routes exist, but it's no doubt that having a five-star airline like Singapore running extra Europe routes for us is amazing!
Singapore Airlines runs both this New York (JFK) to Frankfurt (FRA) route and a deeply weird Houston (IAH) to Manchester (MAN) route with its swanky business class, comfy premium economy, and well-appointed economy seats in tow every time.
As I mentioned, it also runs a Los Angeles (LAX) to Tokyo (NRT) route, which is usually pretty cheap (like this fare below listed at about a $300 discount off regular rates) and helps drive competition to Japan as well.
But Singapore isn't the only airline to do this. Remember that weird, 2-hour lie-flat seat flying LATAM between Miami (MIA) and Punta Cana (PUJ) from above? That's also a Fifth Freedom route.
And the uber-swanky Emirates Airlines also has some U.S. to Europe Fifth Freedom routes you should know about.
Emirates – based in the U.A.E. and not in either New Jersey or Greece – runs this nonstop route between Newark (EWR) and Athens (ATH) that's a huge boon for U.S. travelers looking to visit Greece.
The airline also runs its classy birds between New York (JFK) and Milan (MXP) to help get passengers to Italy as well.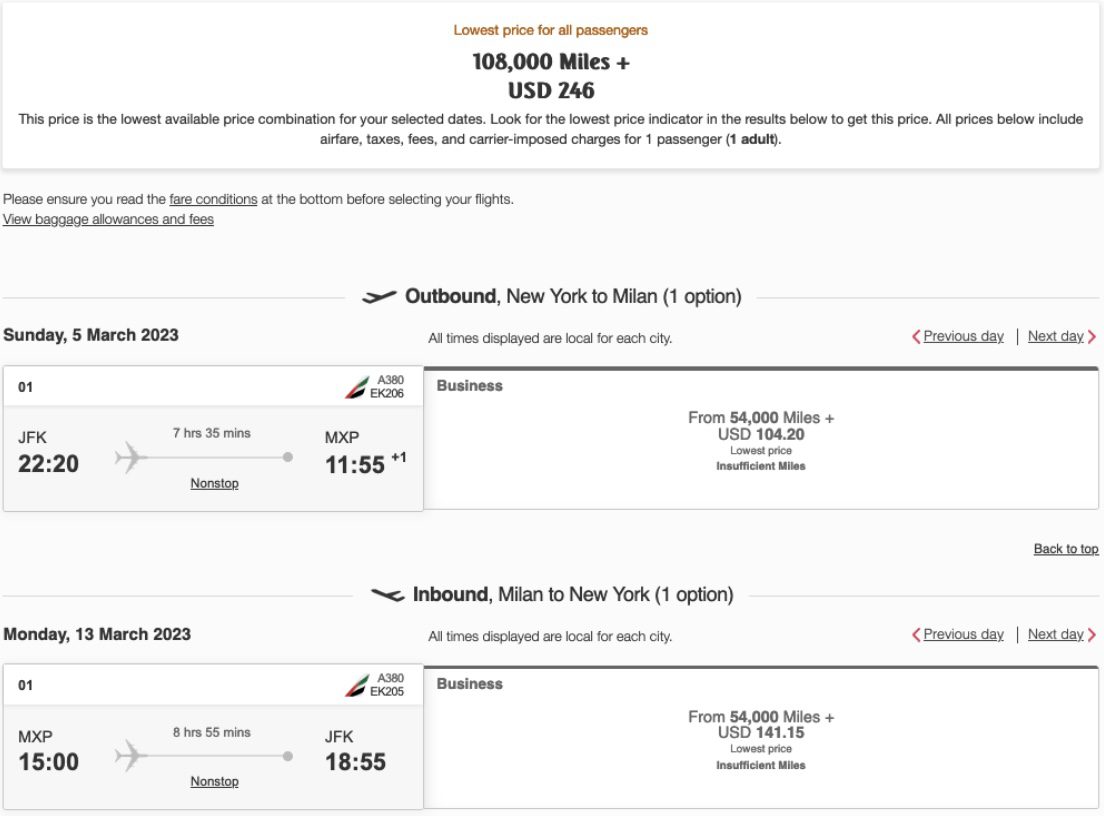 It's extremely strange to fly an airline called Singapore and never get anywhere near Singapore, but these routes are a huge boon for U.S.-based travelers, as strange as they are.
Booking Delta Flights With…Not Delta SkyMiles?
You might be thinking: The best way to book international Delta flights has to be with Delta SkyMiles, right?
If only it were that simple! Sadly, using your Delta SkyMiles to fly internationally on Delta is actually a terrible value proposition. For instance, this search below is for the nonstop Delta flight between Minneapolis (MSP) and Seoul, South Korea (ICN)…yeah…please don't book these rates.
Instead, book the deal at the top of this section for just 70,000 Virgin Atlantic points roundtrip. Same exact Delta flight, for half the rate it would cost to book with Delta SkyMiles – if you have the points to transfer to Virgin Atlantic. And odds are you do! American Express, Capital One, Chase, Citi, and Bilt Rewards all transfer to Virgin Atlantic, meaning you could have Virgin points and not even know it!
This doesn't just work over the Pacific Ocean, either. You can use this trick of booking Delta flights with Virgin points to fly to Europe as well. In fact, a ton of nonstop Delta flights went on sale using your Virgin points a few weeks ago, leading to some insane savings for our members.
The best part? These fares were almost all for peak summer flights, too. One member of our team booked a dream trip to Iceland (KEF) using this deal and we heard from tons of other Thrifty Traveler Premium+ members who did the same.
And your Virgin points can take you all the way to South Africa (CPT), too!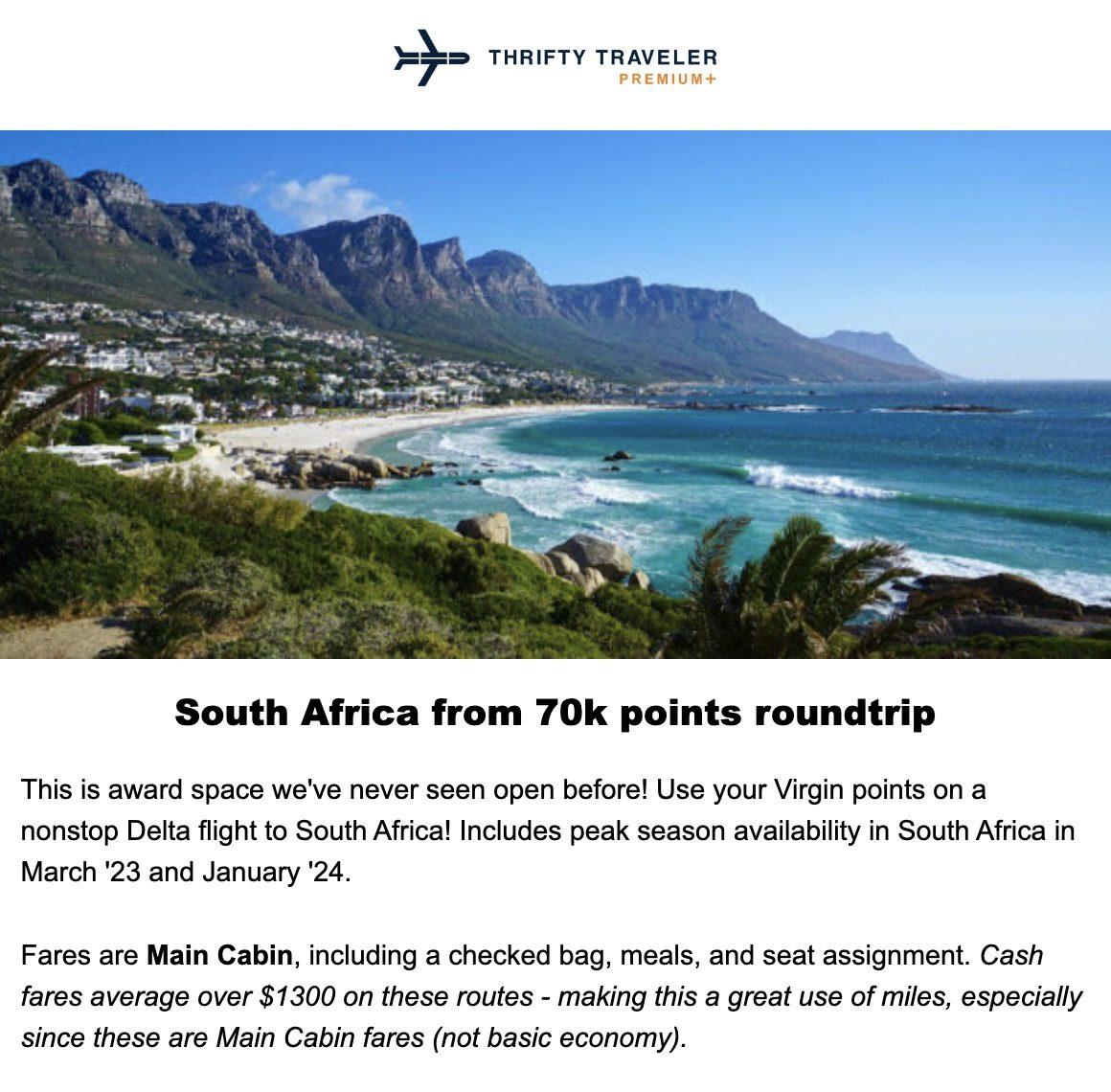 If you want to book long-haul Delta flights, you should start collecting Virgin points (or points that transfer to Virgin) instead. While it might not make sense on its face, those willing to work around the SkyMiles system will be rewarded big time!
Iceland and Finland…in Peak Winter?
You might be thinking: Why would I want to go to Iceland or Finland in the darkest months of the year? 
There are no airline tricks or workarounds for this deal. This one is all about one thing: The Northern Lights.
Finland and Iceland are two of the best places on earth to see the elusive Aurora Borealis. And in northern Finland, they shine every other clear night on average between October and March. It's an amazing time to see the phenomena, and you can spend your (admittedly short) days dog-sledding, winter hiking, and enjoying some peace in quiet in the least-tread tourist season in Finland.
What seals this deal for us, however, is the Iceland stopover. You can tack on up to three free nights in Iceland on the way to or from Finland to make this trip extra memorable, and to give you one more great shot at the Northern Lights there, too.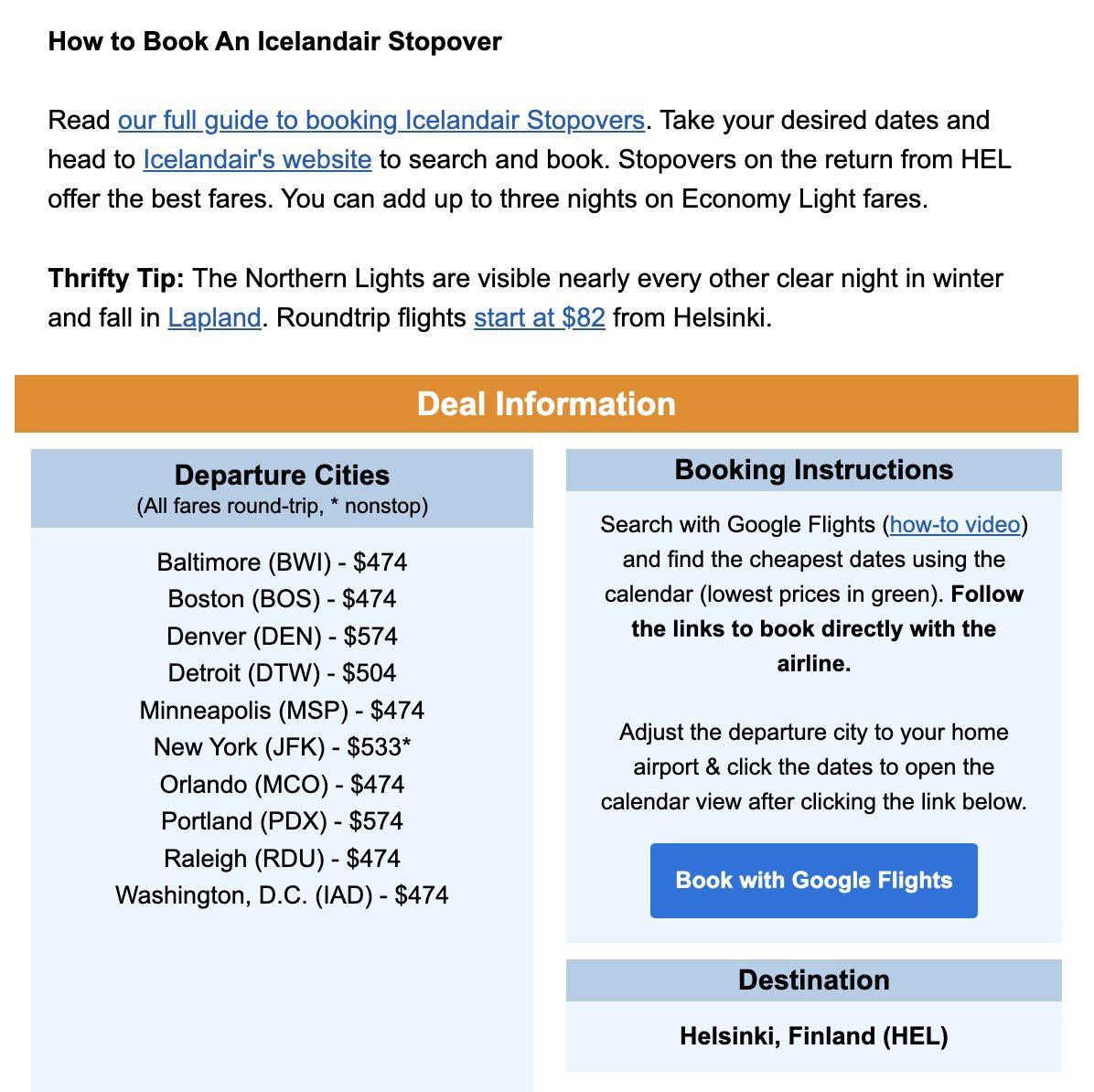 People love to try and travel during peak season in Europe, but I've visited Europe in the dead of winter the last two years and both experiences were sublime. You'll have the place to yourself, and if you're up in Finland or Iceland, a chance to see one of the prettiest sites on the planet.
I Don't Need Flights To My Home Airport…
You might be thinking: Hey, Thrifty Traveler, aren't you based in Minneapolis? Why would you want flight deals to MSP?
We're so glad you asked! My favorite hack for Thrifty Traveler Premium users is to use the flight deals to your home airport as the ultimate flight deal for yourself. Here's why:
For flights within the U.S., the fares always work in reverse, too. That means, when we send our friends in Austin, Texas (AUS) an Austin deal, it's actually just a list of cheap flights from their home airport that they can peruse and book!
For instance, on this latest MSP flight deal, we had a sizzling list of nonstop flights to choose from. It's almost too much!
But from the list I found the nonstop flights to places like Albuquerque (ABQ), Colorado Springs (COS), Burlington (BTV), and Denver (DEN) were all included and on sale (if you use our crafty Virgin-Delta booking workaround!)
The flight deals that are to your home airport are probably the most valuable deals you receive! It's actually just a list of cheap flights from your hometown. What's better than that?
Bottom Line
We know we've sent our Thrifty Traveler Premium members some weird and probably confusing flight deals, but we ask you to forgive us.
We promise you, even though the deal might seem strange on its face, there's something awesome about each one we send, otherwise we wouldn't send them!
We hope you give deals like these a chance the next time you find one in your inbox. It might lead to the trip of a lifetime.