It's not just The Business Platinum® Card from American Express getting shopping credits at Dell. Now the personal version of one of the best travel rewards credit cards is getting in on the action.
The Platinum Card® from American Express cardholders just got a brand new offer: Spend $100 or more at Dell on your card, and get a $100 credit. While these offers are typically targeted, it seems this one is very widespread.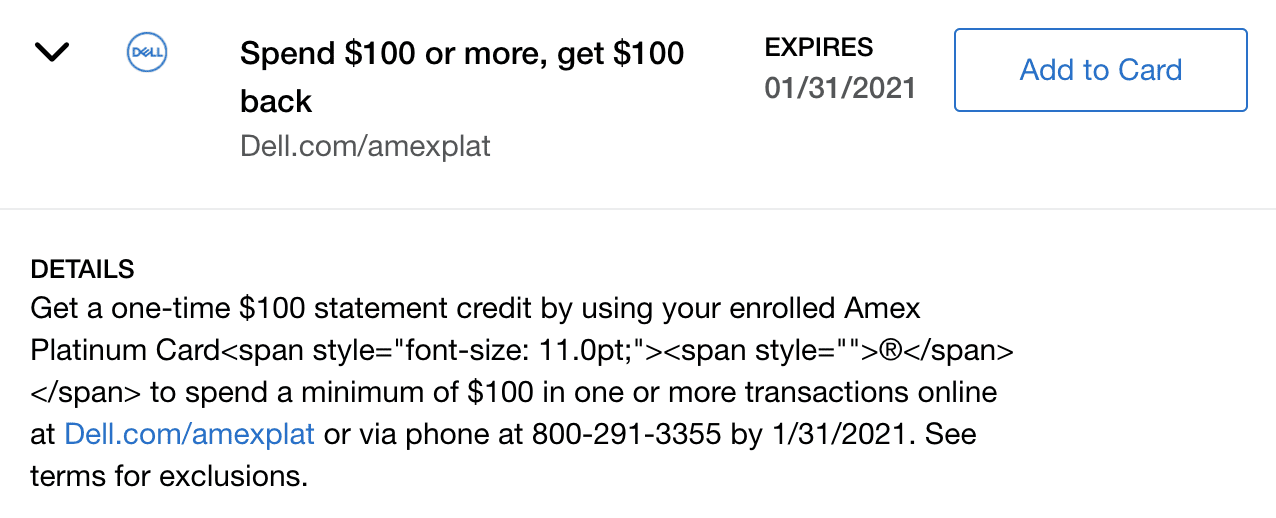 It's shockingly similar to the Dell credits on the Business Platinum card. American Express doubled those credits during the pandemic, adding another $200 in credits – for a total of $400 to use throughout 2020.
But unlike the credits on the Business Platinum card, this new credit on the Personal Platinum won't kick in automatically. You'll have to log in to your Platinum account and add the offer to your card first.
Not sure how to spend this new $100 credit? From Bose headphones to Amazon Echos and even Google Nest Thermostats, Dell sells lots more than just laptops and desktop computers. Check out some of the best ways to use this credit.
Where to Find Amex Offers
If you haven't used Amex Offers before, simply log into your American Express account and scroll down near the bottom of the screen and there should be a box called Amex Offers & Benefits (this is available through the Amex mobile app as well).
If you see an offer you like, just add the offer to the card and make a qualifying purchase at that business with your card. You should receive a statement credit for the offer within a few days of making a purchase – if not immediately.
Not familiar with Amex Offers? See our complete guide to using Amex Offers.
Bottom Line
Now this we like to see. Amex Offers are a great way to earn points or cashback on your spending, helping to justify the card's $550 annual fee.
But this one is different. Rather than giving you a portion of your purchase price back, this acts like a $100 shopping credit. And given all the things you can buy at Dell, you shouldn't have a hard time putting this to use.