Flight prices seem to keep ticking higher and higher if you've got a trip to Europe in mind for this summer. Don't count on using points and miles, either – especially in business class, as award availability is borderline nonexistent. Except for this.
We found and sent Thrifty Traveler Premium members an award alert last week for a chance to book SWISS business class from New York City (JFK) to Geneva (GVA) for two to four passengers … all summer long. That means you can book a trip to Switzerland in style for the family in July, August, or September using miles instead of forking over a (not so) small fortune.
And thanks to a 20% transfer bonus from Capital One to Avianca LifeMiles through the end of March, you can book these seats for as few as 52,500 points each way! Keep reading for instructions to see how it's done!


Some of the availability in May and June has been snatched up in the days since we first sent our Premium members an award alert. But take a look at how easy it is to book two or more SWISS business class seats on this route in July and August.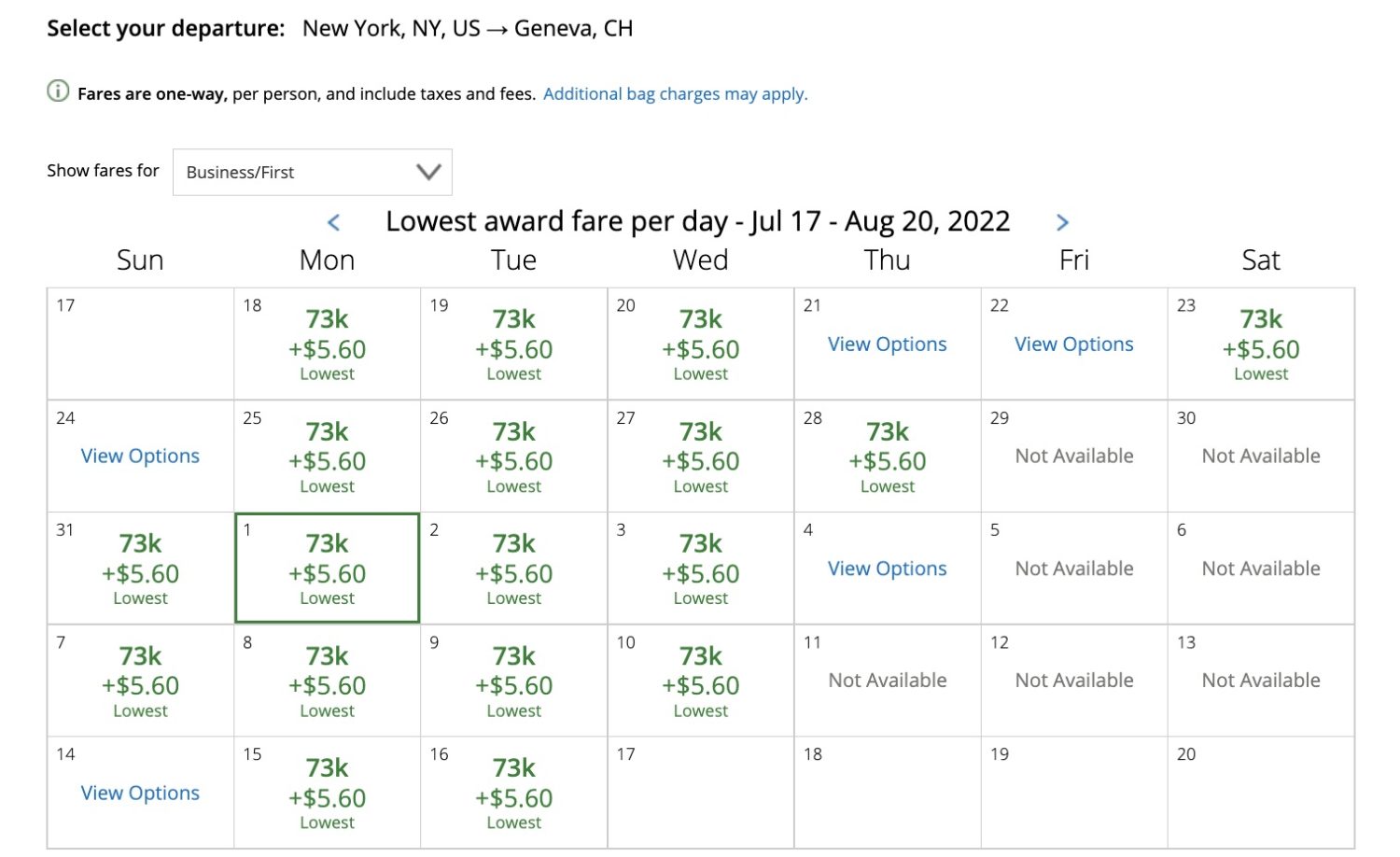 Thrifty Traveler Premium members get award alerts like this one to use their miles wisely, plus cheap domestic and international cash fares!
This is unprecedented for peak summer. Finding just one or two business class seats to Europe using miles is a rarity, as almost every airline is angling to sell seats at a high cost rather than allow travelers to redeem them using miles. But here, you can pick almost any date from early July into the fall and beyond.
Return availability is solid too, if you want to make a roundtrip in business class. Sadly, SWISS's nonstop routes from the U.S. to Zurich (ZRH) aren't available, though you can find some seats flying from Montreal (YUL) to Zurich starting in early September.

While most travelers might automatically search for flights into Zurich, Geneva is an underrated starting point to explore Switzerland thanks to its location in the far western part of the country. Plus, getting in is easy: Switzerland dropped nearly all travel restrictions requiring proof of vaccination or a recent negative COVID-19 test for entry last month.
No matter the time of year, SWISS is one of our favorite ways to fly business class to Europe thanks to its comfortable seats, solid service and great food onboard. That you can snag one of these seats using miles for a trip this summer almost seems too good to be true.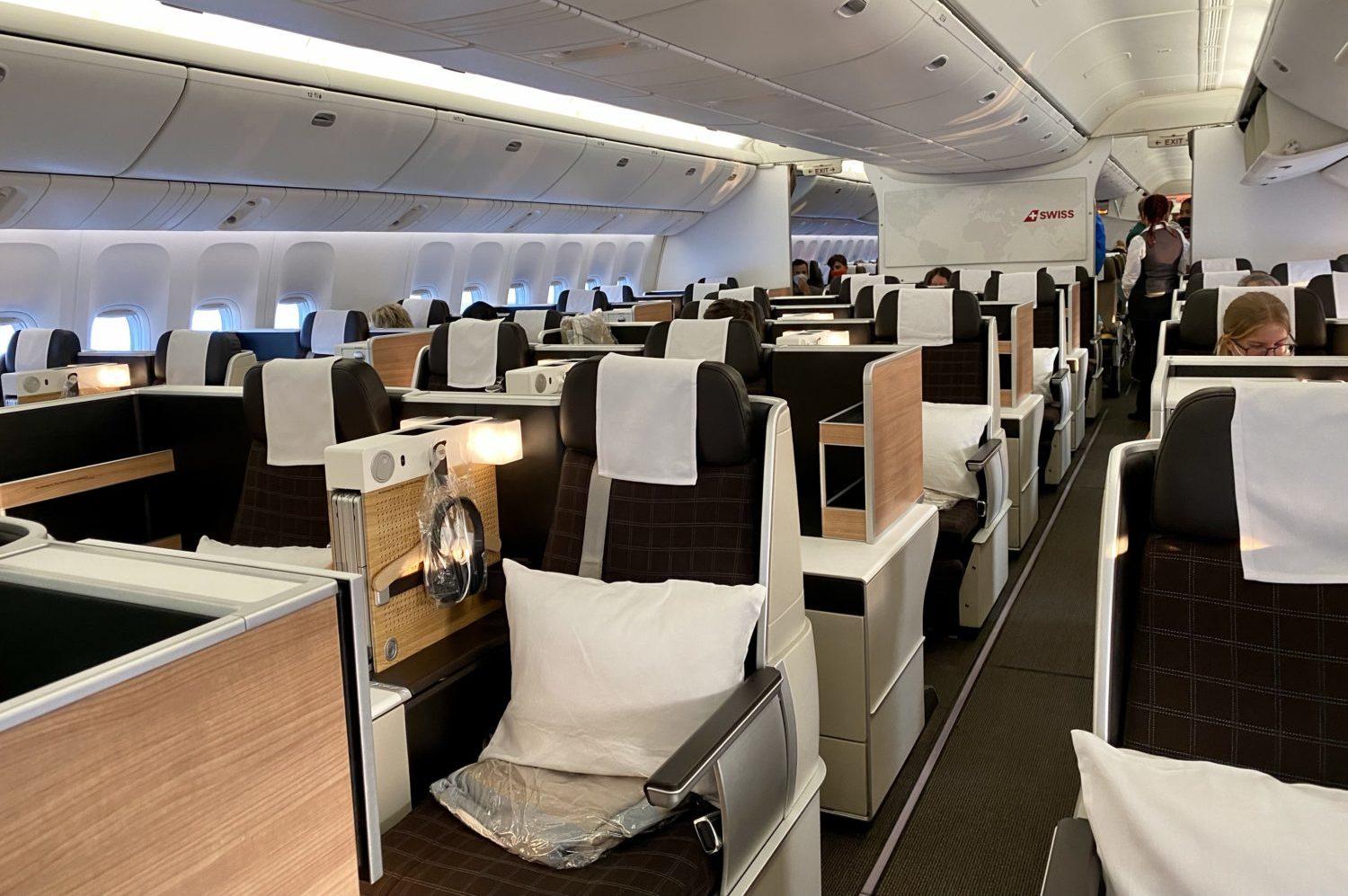 Read our full review of SWISS business class!
How to Book SWISS
SWISS is a member of the Star Alliance, which leaves you with plenty of options to book these business class seats. But travelers with a big stash of miles after getting the Capital One Venture X Rewards Credit Card are in luck with a steal of a deal.
Avianca LifeMiles is one of the best Capital One transfer partners and one of the best ways to book any Star Alliance business class ticket thanks to reasonable award rates of just 63,000 miles each way plus low taxes and fees, too. But it gets even cheaper thanks to a 20% bonus on Capital One transfers to LifeMiles.
That means you need only transfer 52,500 Venture Miles to get enough LifeMiles to book a one-way ticket in Swiss business class – Capital One is unique in that they allow cardholders to transfer Venture Miles to airlines in increments of 100 (with a minimum of 1,000). But time is running out, as this transfer bonus ends March 31.
There are a few other ways you could book these seats and still come out way ahead:
Air Canada Aeroplan is a great option, as the airline charges just 60,000 miles each way. Aeroplan is a Chase transfer partner, Amex transfer partner, and a Capital One transfer partner, too.
You can also book using 73,000 United MileagePlus miles, which are transferrable from Chase as well
If you're set on booking through LifeMiles but don't have Capital One Venture Miles to spare, they're also an Amex transfer partner and a Citi transfer partner.
While the savings using Capital One miles through LifeMiles are nice, there is one downside: LifeMiles charges $150 if you need to change your dates and $200 to cancel your award ticket to get your miles back. On the flipside, Aeroplan is allowing free changes on all award tickets booked by April 30 while United allows free change and cancellation so long as you cancel at least 30 days before departure.
But before you transfer any points, you'll want to scope out award availability to make sure the flights you want are bookable – though with this much availability, it shouldn't be too hard. We recommend turning to United.com, whose ability to filter for nonstop business class flights and get a monthlong view makes it even easier to zero in on what you want to book.
Just be sure to search for how many seats you want: 1, 2, 4, or more. Use United's handy tools to filter only for nonstop results in business class, too. If you see a result through United bookable at 73,000 miles, that should be bookable through other airline programs like LifeMiles or Aeroplan.

Just plug your date into LifeMiles or Aeroplan and confirm the seats you want are there – and they should be.
Bottom Line
This is a unicorn: Wide-open business class availability to Europe during the middle of summer? And on a great airline, to boot?
Book it while you can. And if you've got Capital One miles burning a hole in your pocket, take advantage of the 20% transfer bonus to LifeMiles before it ends March 31 to make this unbelievable opportunity even cheaper.
Get alerted to more opportunities to use your points and miles with Thrifty Traveler Premium – try it for just $7.99 a month!