From Machu Picchu to Patagonia and from the wine regions of Argentina to the iconic Christ the Redeemer statue in Rio, there is something in South America that has earned a spot on travelers' bucket lists. But getting deep into South American has typically been fairly expensive. 
Yet that has changed for a trip in 2021 – and even into early 2022. Even amid the onslaught of cheap airfare through the spring and beyond, the emergence of cheap flights to South America stands out. With a slew of recent mistake fares and fare wars between the airlines, flight prices to South America have fallen to historic lows.
We're not joking. In just the last few months, we've seen roundtrip flights to Chile as low as $63. Flights that are normally $800 or more have fallen below $400 or less for travel in 2021 – and into winter 2022 (peak summer in South America). Even business class fares are regularly going for a bargain.
Here's a look at what we've been seeing and why these ultra-low fares are so noteworthy.
Low, Low Fares to Lima
Got Machu Picchu on your bucket list? You're in luck.
Whether you're departing from a major airline hub or a small regional airport, there has been no shortage of sales to Lima (LIM). Normally $800 to $900 roundtrip, we've seen consistent (and massive) sales to Peru's capital with fares hovering around $300 – and sometimes much less! For instance, we've seen fares as low as:
Minneapolis-St. Paul (MSP) to Lima (LIM) at $205 roundtrip
Savannah (SAV) to Lima (LIM) for just $166 roundtrip
Atlanta (ATL) to Lima (LIM) for just $111 roundtrip
Baltimore (BWI) to Lima (LIM) for $211 roundtrip
Want instant notification for deals like this? Give Thrifty Traveler Premium a try for $5.99 a month!
But these aren't one-off sales from just a few airports. The scope of these sales has been shocking. Here's a glimpse at what we're talking about: 80+ U.S. cities to Peru under $400 roundtrip through fall!

Prices are Dropping to Patagonia
The insanity continues if you're itching to get to Chile.
At the start of the year, we would have been stunned to see any fares in the $500s to Santiago (SCL). But these days, we're repeatedly spoiled by sale after sale to this gateway to Patagonia. What's normally a $1,000-plus flight has dropped as low as $63 roundtrip thanks to a recent mistake fare.
Here's a quick glance at some of the other insanely cheap fares as a part of that mistake fare.
Minneapolis-St. Paul (MSP) to Santiago (SCL) for only $186 roundtrip
Orlando (MCO) to Santiago (SCL) for $146 roundtrip
Gulfport (GPT) to Santiago (SCL) for $116 roundtrip
Chicago-O'Hare (ORD) to Santiago (SCL) for $260 roundtrip
But once again, this isn't just a one-off mistake. Again and again, we're seeing cheap fares down to Chile – one of the farthest south points in the continent, and a destination that typically costs triple or more these prices.
You could get to Chile on this recent deal we found for just $324 roundtrip through February 2022 – peak summer in South America!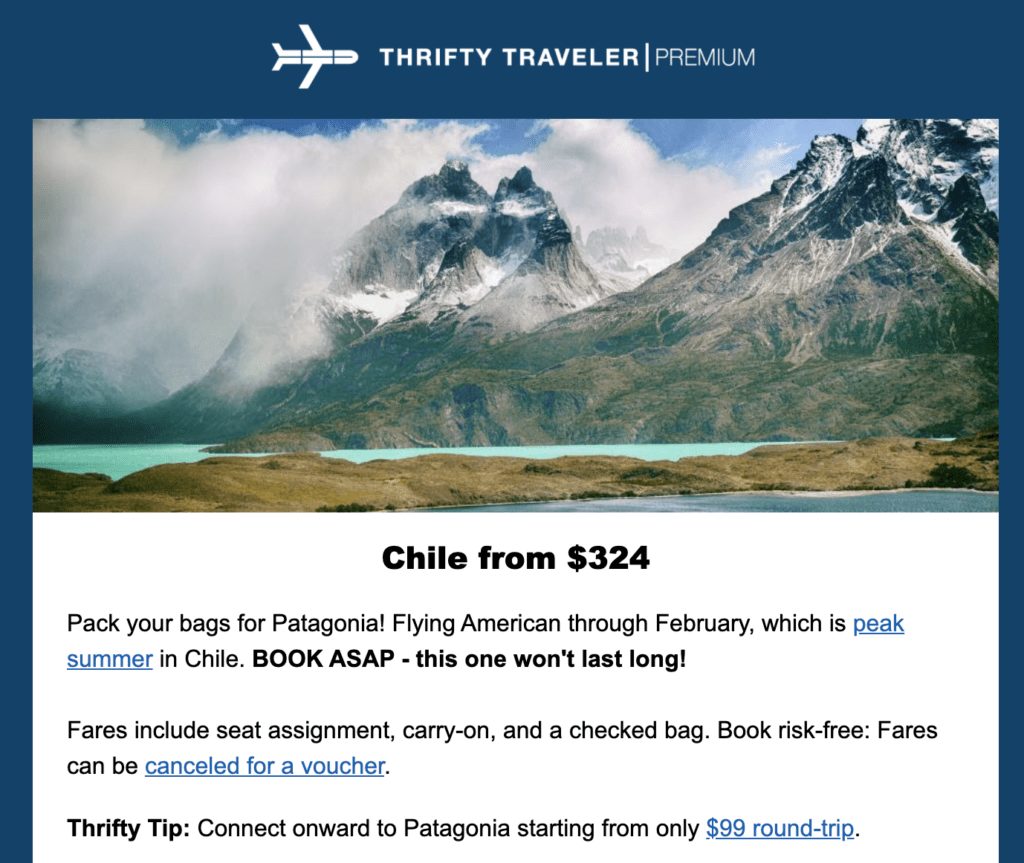 Want to fly to Patagonia in style? You could have flown in comfier Premium Economy seats to Chile for under $300 roundtrip on this mistake fare we recently found and sent to our Thrifty Traveler Premium members! It doesn't get much better than this:

These deals are no longer live, but the trend is undeniable: Flights to South America are cheaper than ever, and the deals just keep coming.
Amazing Fares to Argentina
Like Chile, Argentina can be quite a hike from the U.S. And it's typically one of the most expensive destinations to reach from the states.
But these aren't typical times. We may sound like a broken record, but Argentina is popping up again and again in these fare sales. You don't have to pay $1,000+ to get here!
One of our favorites was a great opportunity we sent to Thrifty Traveler Premium members to put your SkyMiles to use thanks to Delta's awesome flash sale, with flights to Buenos Aires available through October. These fares typically cost at least 70,000 SkyMiles – and best of all, SkyMiles bookings are easily refundable!

While they are much more limited, there are also solid cash fares to grab if you're planning a trip to Buenos Aires next year. These sales aren't as prevalent as other South American destinations, but we're starting to notice a slight uptick.
We've seen fares to Buenos Aires as low as $290 roundtrip for summer 2021:

Buenos Aires, Argentina is another great Patagonia gateway – roundtrip flights Ushuaia in Patagonia are often under $100.
Bargains to Brazil, Too
Beautiful beaches, tasty food, breathtaking scenery, and extremely affordable are all good reasons to travel to Brazil when you're ready to see the world again. And it won't break the bank, as we've seen a slew of sales to this popular South American destination – at prices we once thought impossible.
Our Premium members recently got this flight deal alert: roundtrip to Brazil for as low as $300 into fall!

And no, not just from major hubs. The east coast got some major flight deal love on this one!

Why Are Cheap Flights to South America So Prevalent? 
It all boils down to geography. And travel restrictions.
For years, airlines have focused their flash sales on Europe and Asia, with popular tourist destinations where they could win over new consumers with a cheap fare. But those destinations are largely off-limits, thanks to lengthy quarantine requirements and outright travel bans.
Desperate for revenues and drumming up ticket sales, airlines have cranked up the flight deals – and slashed flight prices – to the places American travelers can go. And that has led them to turn their eyes to the south, resulting in record-breaking prices on cheap flights to South America into winter 2022.
Cargo is another big factor, too: In many cases, Airlines need to send these planes down south to move cargo, a precious revenue stream during the downturn in travel. So why not sell some seats that would otherwise go out empty?
Some of South America is already open to tourism today with COVID-19 testing requirements. Still, there's no guarantee this trend of dirt-cheap flights to South America will last much longer.
Bottom Line
If visiting South America in 2021 or 2022 is on your wish list, there may be no better time than right now to book yourself a cheap flight.
The combination of unthinkably cheap airfare with free change and cancellation policies is the epitome of a win-win for travelers. Take advantage of these jaw-dropping deals while they last.
Want in on these dirt-cheap fares to South America, plus other international and domestic destinations? Join Thrifty Traveler Premium so you don't miss the next one!