From Machu Picchu to Patagonia to the Galapagos Islands, from the wine regions of Argentina to the iconic Christ the Redeemer statue in Rio, there is something in South America that has earned a spot on travelers' bucket lists. But getting deep into South American has typically been fairly expensive … until now.
As the pandemic has reshaped travel, that has changed, too – and it's a win for travelers with a trip to South America on their wishlists. Even though flights are more expensive across the board, the deals down to even some of the most exceptional sites throughout South America just keep coming.
Even as we've seen incredibly cheap fares to the Hawaiian islands, down to Mexico, and throughout Europe, the emergence of cheap flights to South America still stands out.
We're talking sub-$250 fares nationwide to Colombia that normally cost $800 or more; flights down to Peru to visit Machu Picchu for less than $300 roundtrip; and even bucket-list destinations like the Galapagos Islands or Patagonia for less than half the normal price. And that's just a small sample of the incredible deals we've sent to Thrifty Traveler Premium members lately.
Here's a look at what we've been seeing lately and why these ultra-low fares are so noteworthy.
Cheap Flights to Visit Machu Picchu
High in the Peruvian Andes Mountains is a place you've probably heard of: Machu Picchu. At least that's what it's been called for centuries, even though recently historians have determined that we have been calling it the wrong name!
The Incan Citadel was built in the 15th century and was abandoned soon after. Now, it's one of the Seven Wonders of the World, drawing hikers and travelers from all over the world eager to scratch this incomparable destination off their bucket list.
The hike is rough, but just getting to the gates of Machu Picchu is no walk in the park, either. First, you need to get to Peru, and preferably for cheap. Luckily, that part has gotten easier these days … and cheaper!

Thrifty Traveler Premium members received this deal to Lima, Peru with fares starting at just $221 roundtrip from the U.S. That's less than most domestic flights!

That's just one of the latest dirt-cheap fares among a slew of low fares down to Peru we've found over the last several months. In fact, just a few days later, we sent our subscribers another Lima deal including cities like Chicago-O'Hare (ORD), Los Angeles (LAX), and Orlando (MCO), among others.

These phenomenal values will get you into Peru, but another quick, cheap flight is required to get you into the Andes so you can start your journey up the mountain. Connecting flights into Cusco normally run around $100 roundtrip.
Cheap Flights to Ecuador & The Galapagos Islands
How many hammerhead sharks have you seen in your life? Or blue-footed boobys? Do you get to see a lot of land or marine iguanas during your daily walks?
The Galapagos Islands can help you check those boxes and hundreds of other animal species you've never even thought about. How about some racer snakes, lava herons, fur seals, pink iguanas, batfish, flamingoes, lava gulls…OK, I'll stop.
There are actually too many incredible, exotic species of animals to count in the Galapagos Islands, which is why it's one of the wildest places on earth.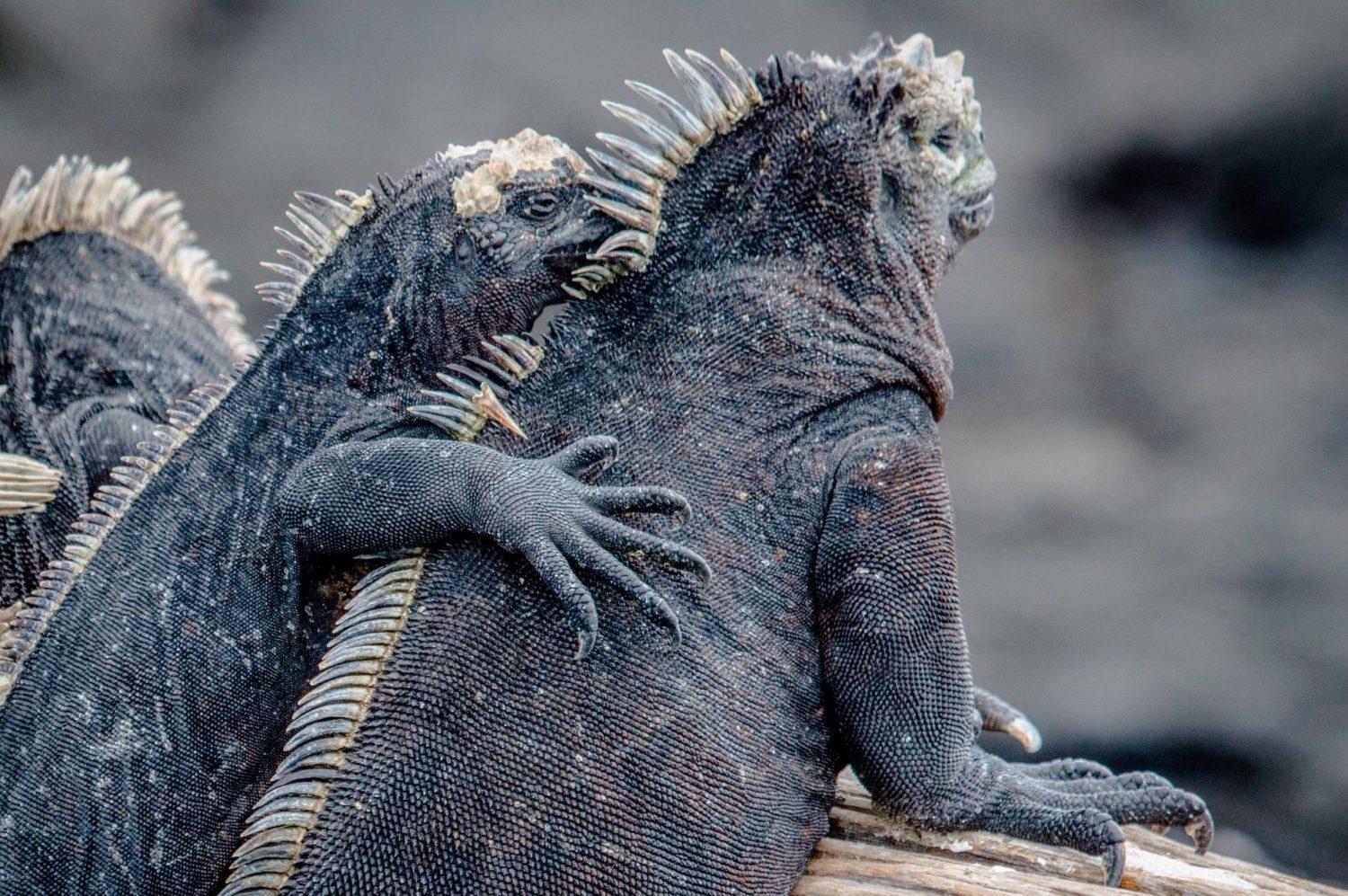 Set in the Pacific Ocean off the west coast of Ecuador, the Galapagos Islands are high on the list of many nature enthusiasts. The well-protected wildlife hotspot isn't always easy to get to, but flight deals to Ecuador or even directly into the Galapagos themselves aren't out of reach.
This deal was rare, offering one-stop flights straight onto Baltra Island (GPS) in the Galapagos for under $500! We couldn't believe our eyes.

Even if this crazy Avianca fare from New York City (JFK) isn't available, we find Ecuador flight deals pretty regularly and send them to our Thrifty Traveler Premium subscribers. With these deals, you can explore the beautiful, mountainous mainland of Ecuador and then book a cheap connecting flight onto the islands to supplement your trip!

Both Quito (UIO) and Guayaquill (GYE) have been destinations featured in Premium deals over the last few months, meaning your Ecuadorian getaway is closer than you think – and cheaper, too.
Cheap Flights to Patagonia and Chile
Patagonia is almost mythical in its beauty. Take a walk in Torres del Paine National Park and you'll see crystal clear, blue-green waters, a sprawling glacier, and jagged peaks all in one frame. It's screensaver stuff, but you'll want to leave your laptop behind for this journey.

It seems like most people are resigned that they'll never see Patagonia beyond their computer screen, but flights to Chile are really affordable right now. In fact, flights down to Chile might be cheaper than ever.
Case in point: We sent this fare a few months ago to head directly into the mountains of Patagonia for less than $650 roundtrip!

The fares weren't for the offseason, either. Thrifty Traveler Premium members got a chance to book these in Patagonia's peak summer months!

More recently, we've unearthed some great value to get you to the Chilean capital of Santiago (SCL) for as little as $331! From there, connecting flights to Patagonia aren't hard to come by, starting at just $95 roundtrip.

Flights to Chile are really cheap right now, but they aren't record lows. That record belongs to one of the most incredible mistake fares we dug up back in 2020. This is not photoshopped – we booked it!


It was perhaps the wildest fare we've ever seen in the history of Thrifty Traveler Premium. Roundtrip Delta flights to Santiago in Chile for $62 – a fraction of what most short domestic flights cost. It's mind-blowing stuff.
While you shouldn't hold your breath for another $62 fare to Chile this year, Premium subscribers will get notified as soon as we find something close. Patagonia is not out of reach if you know where to look.
Cheap Flights to Colombia
Colombia might not have a spot on your bucket list, but we think it deserves your attention.
The beautiful South American country borders two oceans, has a picture perfect climate year-round, and boasts a pair of vibrant, distinct cities where you'll never been searching for something to do.
Maybe the best part about visiting Colombia this year or next? The flight prices. It stands out as one of the absolute best destinations for cheap flights right now. Take a look at this.

These low prices are long gone now, but you can get the next deal sent to your inbox with Thrifty Traveler Premium!
Why use cash when you can use miles? This Delta SkyMiles flash sale to Bogotá (BOG) is just one example of how cheap it can be to fly to Colombia.

Our editor Kyle was just in Colombia and loved the country. He said it was a destination worthy of a few more days of exploration, so don't skimp on the length of your trip if you can. Plus, out of the blue, he found what might be his favorite hotel in the world in Hotel Las Islas Baru near Cartagena. Speaking of Cartagena…

That's right! It's not just Bogotá deals that we've sent our subscribers. If the UNESCO World Heritage site of Cartagena is the object of you eye, you could fly right there, too.
Cheap Flights to Brazil and Argentina
Never overlooked or forgotten are the South American staples of Brazil and Argentina. The two largest nations on the continent have so much to offer travelers.
From Carnival in Rio de Janeiro to the World Tango Festival of Buenos Aires and everything in between, these two countries have a seemingly endless supply of memories that are yours for the making. Cheap flights to these hotspots aren't always easy to find. Thrifty Traveler Premium members wouldn't know that, though….

That fare was part of a slew of deals down to Buenos Aires (EZE) and São Paulo (GRU) over the last few months, helping travelers get to these sought-after destinations for cheap!

Plus, if you're hoping to ride in style on your way to Brazil, we also sent out this phenomenal United Polaris business class deal to our subscribers.

Thrifty Traveler Premium members also get rare business class deals, mistake fares, points and miles alerts, and more!
So go catch a fútbol match, celebrate the in the streets during February's Carinval, or hike the sprawling Amazon rainforest this year or next!
Bottom Line
While many travelers are waiting for flight prices to drop to the busiest destinations, savvy travelers are looking to visit these once-in-a-lifetime South American destinations.
With a cheap flight, you can see impossibly rare wildlife species of the Galapagos Islands, hike the Incan citadel of Machu Picchu, or see Patagonia with your own eyes this year. Cheap flights to South America are here, and it's time to get booking.