Frontier Airlines is going wild on its all-you-can-fly pass heading into the busy summer travel season, sweetening the deal while cutting prices yet again for the summer-long flight promo. But with all the restrictions and extra costs to take advantage, could it be worth your while?
Frontier has been pushing hard on its GoWild! All-You-Can-Fly passes since launching late last year with a year-round pass starting at almost $2,000. Now, the airline is trying to drum up interest with a summer-specific pass valid on flights through the end of September, cutting the cost down to just $499 and making it a bit easier for travelers with a pass to lock in flights over the next month or so. This latest deal is available through May 31, or until it sells out.
But Frontier is a budget airline, so of course there's an even bigger catch. Frontier is trying to cash in on seats that it wouldn't otherwise sell, so you'll have to plan at the very last minute. Plus, there are plenty of blackout dates, extra fees for seats and bags, and a tricky auto-renewal policy that could put you on the hook for another summer of "free" flights with Frontier at an even higher price.
Let's drill into this latest promo and see who might want to jump on Frontier's unique summer flight pass.
GoWild! Summer Pass Details
Here are the main things you need to know about Frontier's GoWild! Summer Pass: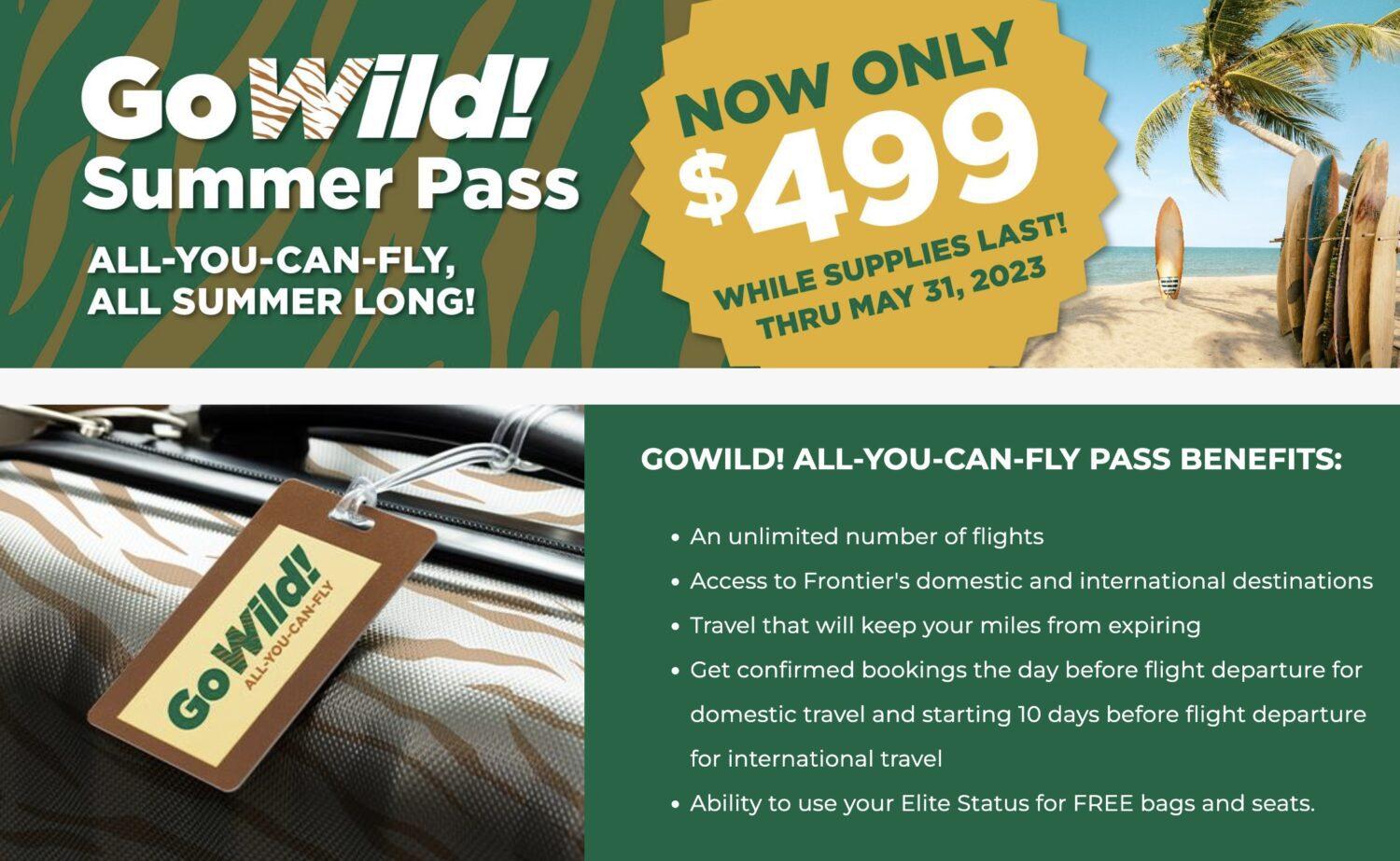 When does it go on sale? Now through May 31 (or while supplies last) at FlyFrontier.com.
When can you use it? The GoWild! Summer Pass is valid for select flights from now until Sept. 30, 2023. 
Cost? $499 (normally $999, though Frontier reduced the price to $699 earlier this summer)
What routes? All of them! Any route Frontier flies, domestic and international.
How to book: You can only book domestic flights one day prior to travel (or 10 days for international) if there's room on the plane for you. Flights can only be booked at FlyFrontier.com.
Early booking window: Between now and May 16, GoWild! Passholders can book in advance – outside of the one- or 10-day window – for flights between May 16 and June 8.
Extra fees: Prepare to pay up. These GoWild! fares do not include seat assignment, carry-on bags, checked bags, the ability to earn miles, or any other ancillary benefits.
Visit the GoWild! All-You-Can-Fly Pass sale page for full terms and conditions.
Read the Fine Print
If this sale seems too good to be true, it's because it might be.
Unless you are a very flexible traveler, the fine print on this deal could creep up on you. Here's what to be aware of.
Return Flights Aren't Guaranteed
You cannot book roundtrip tickets using this promotion. Instead, you have to log back on to flyfrontier.com the day before your desired return flight and try your luck at booking a seat on that plane.
While it may be cheap to fly where you want to go, returns are not guaranteed in this promotion. That means flying with your GoWild! Pass could leave you stuck in your destination until a flight back home opens up.
Automatic Renewal
This is possibly the biggest thing to beware of when buying the GoWild! Summer Pass. When you purchase the pass, you are automatically set up to renew for the next year unless you cancel ahead of time – and pay even more next year.
Even crazier: You have to cancel before Sept. 30 this year to make sure you're not charged the renewal price of $999 for next summer!
You can cancel at any time before Sept. 30 on your Frontier Miles account to avoid this charge for 2024.

Blackout Dates
Just because you've got a GoWild! Pass doesn't mean you can book a seat on any Frontier flight this summer.
Frontier designed this pass to make some money off seats that might otherwise go unsold. Given how full flights are these days, you might have a hard time finding flights that work with the pass. Plus, Frontier is blacking out the GoWild! Summer Pass from 15 different days throughout the summer, including:
May 25, 26, 29
June 29, 30
July 1-5, 8, 9
Aug. 31
Sept. 1, 4
It's Not Completely Free
Free flights isn't quite accurate with this promo.
You will pay $0.01 for each fare plus the taxes and fees. Within the United States, that will be about $15. For international travel, the fees can be up to $100.
No Seat Assignment or Bags Included
Want to pick your seat or bring anything more than a backpack? You'll have to pay for it.
The GoWild! Summer Pass does not include seat assignment, carry-ons, checked bags, or the ability to earn miles. Check out our full guide on Frontier baggage fees to see what you can expect to pay.
No Free Changes or Cancellations
Change and cancellation fees apply to these fares if you need to adjust your itinerary in the short time after you booked but before you fly.
Passes Are Non-Refundable and Non-Transferable
The $499 you pay when you purchase the pass is not refundable for any reason.
You also cannot transfer your pass to other travelers or purchase flights for anyone without a GoWild! pass.
Who is the GoWild! Pass Best For?
There are a number of ways I could envision making the GoWild! Summer Pass worth it, but it should probably start and end with where you're based.
If you live in a city with a good handful of Frontier route options, this pass is certainly more valuable than if you live somewhere with only one or two routes. If places like Denver (DEN), Las Vegas (LAS), or Orlando (MCO) are on your list, Frontier runs robust operations out of all of those airports. That gives you a much better chance at finding an eligible flight if that's your origin or destination.

But most importantly, the traveler that will get the most value out of this pass has to be extremely flexible. Even outside of blackout periods, there's no guarantee you'll be able to get a (nearly) free seat on a flight you want. And because return flights are not guaranteed, you could get stuck at your destination for days at a time before you can get home. Frontier doesn't fly all of its routes every day, either, so you could get stuck somewhere for a week or more. Maximum flexibility is key to taking advantage of this pass.
If you have one or more international flights coming up this summer to places where Frontier flies, this pass could be well worth it, too. Frontier has opened up all of its destinations to this promotion, meaning you could fly to and from Guatemala, Costa Rica, the Dominican Republic, Antigua, El Salvador, Mexico, the Bahamas, and more for just $0.01 plus mandatory taxes and fees. If you have a reason to visit these places or any of Frontier's other international destinations even just twice, the $499 could be worth it.
Additionally, if you are planning to travel somewhere Frontier flies between May 16 and June 8, taking advantage of the early booking promotion is another great use of the GoWild! pass. Then all you have to do is travel once or twice more this summer to make the pass worth it.
Finally, I think the Frontier GoWild! Summer Pass would be a fantastic gift for a student, post-grad, or young traveler in your life. It's up to them to make the $499 worth it, but I would have jumped at this promotion while I was in college (or shortly after graduating) as a way to visit friends, see new places, and wander around on the cheap.
In its announcement, Frontier said the pass is also great for "teachers, families, friends, retirees, solo travelers, remote workers, and individuals in long distance relationships." All of those also make a ton of sense to me as potential beneficiaries of the pass.
Bottom Line
The Frontier Airlines GoWild! Summer Pass could be an incredible value … but it's not for everyone.
If you can work around the fact that you're not guaranteed return flights, the tricky auto-renewal policy, the lack of baggage or amenities, and the blackout dates, you could get a ton of value from the GoWild! pass. If not, it's probably safe to move on.
Check out the GoWild! sale page and see if the $499 Summer pass is right for you.