Growing up in the U.K., I have fond memories of Virgin Atlantic. It's the first airline I flew overseas to the U.S., known for its cheeky-yet-classy vibe. In the sky and on the ground, it makes the airline stand out in my mind.
But before getting on board, it's time to stop by the lounge. Virgin Atlantic has a great Clubhouse Lounge in New York City (JFK) and several other U.S. cities, but the flagship lounge is at their home base in London-Heathrow (LHR). The Virgin Atlantic Clubhouse London is widely regarded as one of the best business class lounges in the world, with a swanky setup and fun amenities you won't find at almost any other lounge.
But as we exit the pandemic, has the lounge lost that luster? Read on for a full review.

Getting Into the Virgin Clubhouse Heathrow
I've been fortunate to visit the Virgin Upper Class Lounge Heathrow a handful of times over the years, most recently in August 2021 – about a month or so after it reopened after a long pandemic closure.
There are a few ways to get into the Virgin Atlantic Clubhouse Heathrow:
Have a ticket in Virgin Atlantic Upper Class or Delta One business class
Be a top-tier elite with Virgin Atlantic Flying Club (Gold) when flying Virgin that day, Delta Medallion Status (Diamond & Platinum) or Air France Flying Blue (Platinum) with either a Virgin Atlantic or Delta ticket, or Virgin Australia (Gold, Platinum & The Club) with a Virgin Atlantic ticket
It's worth noting that many of Virgin Atlantic's other lounges outside of London are now part of the Amex Global Lounge Collection, which means you can get in to Clubhouse lounges in New York City (JFK), Newark (EWR), San Francisco (SFO), Washington, D.C. (IAD), and even Johannesburg (JNB) using The Platinum® Card from American Express. But the Clubhouse at London-Heathrow is far more exclusive.
On this particular trip, I was traveling in Virgin Atlantic Upper Class. And the special treatment began before I set foot in the lounge: My Upper Class ticket allowed me access to the special Upper Class Wing at Virgin's Terminal 3 at Heathrow. This is a private area with its own vehicle access and even a dedicated security checkpoint, making for an exclusive and efficient check-in experience.

It's not quite as exclusive as, say, the Lufthansa First Class Terminal – an entire private terminal reserved only for travelers in Lufthansa First Class complete with a private chauffeur on the tarmac to your plane, but it's still quite nice. Following a quick trip through security, a long walk through the duty free shops is required to reach the lounge.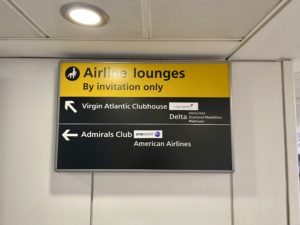 The lounge is located at the top of a rather grand set of marble stairs, which give off quite the 70's vibe!

There's even an elevator with a couch in it to get up to the lounge – talk about classy!

The Clubhouse Lounge in London
After scanning my boarding pass, I was warmly welcomed into a lounge by a member of the staff. The bar and several seating areas are the first thing you see as you enter, and I'm always taken aback by the space-age feel that emanates from this space.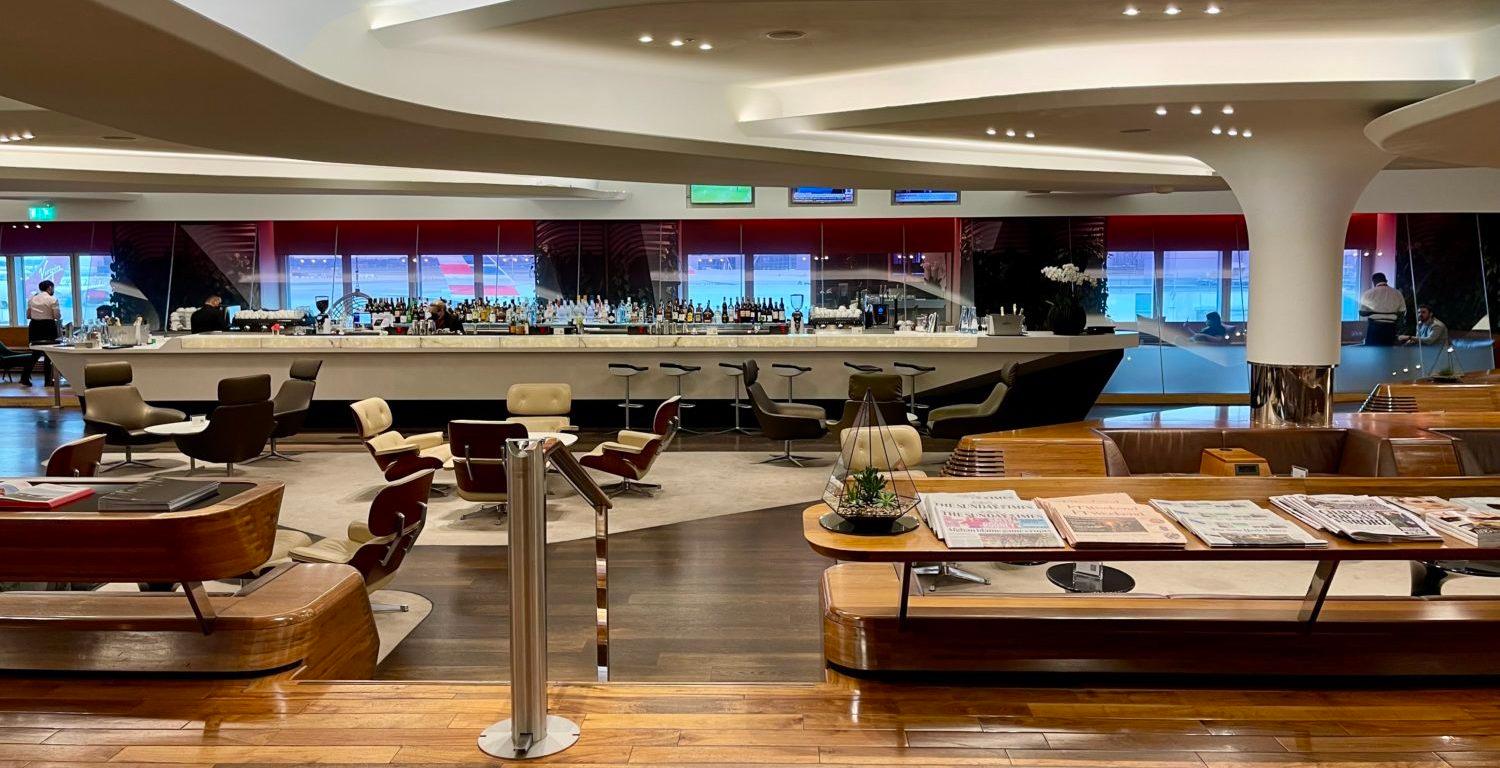 The lounge is split into several unique areas across two different levels. Some are more private, such as this space at the far end.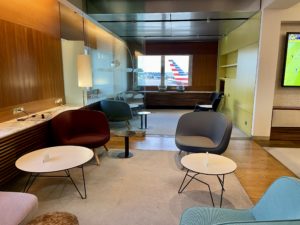 Other areas are more fun, such as this swing seat.

The assortment of seating and decor gives the lounge the fun, quirky vibe that Virgin Atlantic truly embodies. My favorite spot, however, is the small outdoor garden located upstairs, just past a full-size billiards table.

It's a great spot if you're an aviation geek like me and want to watch planes come and go from around the world. It also happened to be a rare sunny day in the U.K. during my visit!

Back downstairs, I explored some of the other parts of the lounge, including this sunken living room setup with bench seating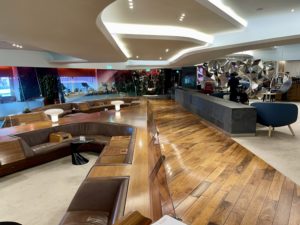 There's also a more bright and quiet gallery area separated by glass from the rest of the lounge that affords some great views of the tarmac.

Can we talk about how nice the chairs are in the Clubhouse? This is one of at least a dozen iconic Eames armchairs dotted throughout the lounge, each retailing for roughly $7,500 (and is absolutely a life goal to own one day!)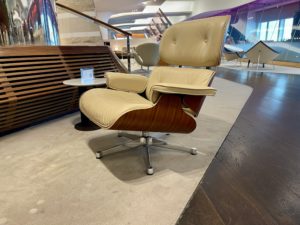 There's also a quiet lounging area with a wall of TVs playing various sports and global news channels.

I appreciate the combo of fun and classy that the Clubhouse embodies – it fits right in with the on board experience of Virgin Atlantic.

Dining at the Clubhouse Heathrow
After entering the Clubhouse, I grabbed a seat in one of the Eames armchairs, and noticed one of the biggest pandemic changes to the lounge.
Rather than waiting for paper menus to be distributed, most tables now feature QR code menus, which you can scan to peruse the options and have food delivered straight to your seat. Some buffet-style setups have returned since my visit, but QR codes are the norm inside the Virgin Clubhouse London these days.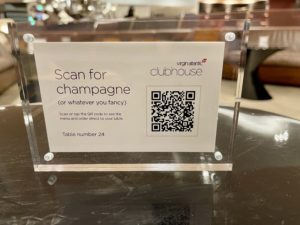 There was a wide range of breakfast offerings, and the lounge switches to a lunch menu at 11 a.m. You can also find information on lounge amenities – more on those later.

I decided to start things off with a sausage buttie – a simple British sandwich featuring sausage and "brown sauce." My order arrived at my seat less than five minutes later.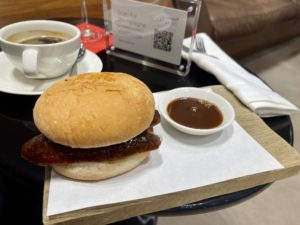 I washed this down with a coffee and a mimosa, both of which were fresh and tasty.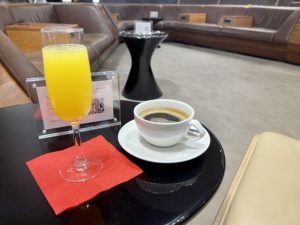 While it may seem like it detracts from a premium service, I appreciate the mobile ordering, as it can sometimes be hard to flag down staff in lounges to order food, especially during busy periods. Being able to specify exactly what you want is nice – it's a function that I hope the Clubhouse lounge continues to offer moving forward.
In addition to "dine on demand" service, there's also a deli counter that features cold cuts, cheeses, fruits and cereals. It's a great option for a faster or lighter bite before your flight.

It's worth noting all the food options are available anywhere in the lounge, which is a nice touch. But after my light bite, I decided to head to the lounge's beautiful formal dining area for a full meal. This dining area also has QR code menus at every seat, though you could also order from a server with a printed menu if you prefer.
I ordered the Shakshuka, along with a Virgin Redhead cocktail. This is a serious drink featuring Prosecco, gin, and strawberry liqueur. Both the drink and food were absolutely amazing – I was left very full … and a little tipsy!

Amenities Inside the Clubhouse Lounge
Before COVID-19, the Virgin Atlantic Clubhouse in London offered a very impressive list of amenities you couldn't find almost anywhere else inside an airport.
That includes getting a haircut at a full-service hair salon, complimentary massages, and at one point, even a soak in a hot tub. Sadly, many of these services have been cut from the lounge, and there's no guarantee they'll ever return.
But one important amenity remains: Showers. In my opinion, there's nothing better than a shower before a long flight (or during a connection) to feel refreshed. The Clubhouse offers some very well-appointed shower suites. And unlike many other lounges that offer these on a first-come, first-served basis, you can book a shower at the Virgin Atlantic Clubhouse Heathrow via the same QR code system used for ordering food.
Picking a time is easy, and I had no issues securing a time slot that worked for me during my stay.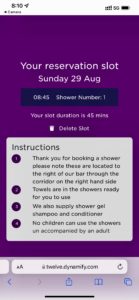 When it was my turn, I checked in and was shown to one of the shower suites. Its a nice space, with towels provided and rainfall-style shower available.

There's even a steam function that can turn the space into a sauna of sorts! It takes a while to get going, but once fired up it's a fun experience!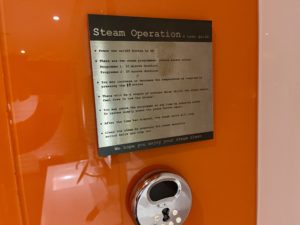 Toiletries from both Ren and Aveda brands were available in the showers, bolted to the wall to prevent them from wandering.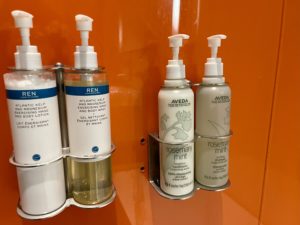 In place of the hair salon that used to be available in the lounge is a set of three Peloton bikes. I didn't see them in use during my entire stay at the lounge, but I suppose its a nice option for a quick workout before a long flight. I'd still prefer a massage, though!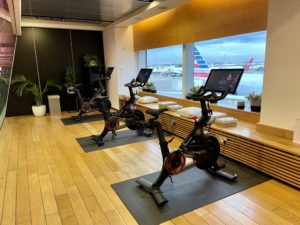 If you're looking for a more sedentary lounge experience, the Clubhouse offers a variety of newspapers and magazines to browse.

Service
Pandemic or not, I have visited the Clubhouse Lounge at Heathrow several times over the years. And by far the most consistent aspect of the lounge is the excellent service.
Throughout my stay, I was frequently asked if I would like another drink or a bite to eat. After its prolonged pandemic closure, there was a sense the staff were all excited to be back working in the lounge. You won't find better service in many other airport lounges.
Bottom Line
So does the Virgin Atlantic Clubhouse at London-Heathrow still live up to the hype? Has it maintained its spots as one of the best business class lounges in the world? If you ask me, absolutely.
While it's a shame that some services like the spa and hair salon have been eliminated following the lounge's reopening, the other aspects of the lounge remain unchanged. The a la carte food, service, and the space itself all remain top-notch. Whether you're flying Virgin Atlantic Upper Class, scored a Delta One Suite, or have top status, it's easily worth checking out on your next trip through London-Heathrow.