Yes, I was one of them: A loyal Delta flyer who still bought the airline's cheapest basic economy fares.
Over the last few years, I rarely paid up for the more expensive (and more generous) standard economy fares on my preferred airline. Delta basic economy fares were more generous than what you get on most airlines – including a sneaky way to select seats for free that almost always paid off. That case was even stronger throughout much of the pandemic, with largely empty planes and free change and cancellation on every fare.
But Delta has admitted that it doesn't really want flyers like you and I to buy basic economy. In reality, they're designed to lure people in with a cheap price, then convince travelers to pay more to avoid all the restrictions.
"Really, the success of that product isn't how many people buy it, in our mind, but how many people don't buy it and choose another product," President Glen Hauenstein told investors a few years back.
I have to hand it to Delta: They've succeeded. Here's why.
No More SkyMiles or Status
As the old saying goes, this was the straw that broke the camel's back.
Earlier this month, Delta went where no other airline has gone. As of Dec. 8, basic economy fares on Delta no longer earn Delta SkyMiles. Delta's cheapest fares also will no longer earn towards Delta Medallion Status.

Before, a $300 Delta basic economy ticket would earn at least 1,500 Delta SkyMiles – or even more if you'd managed to earn Delta Medallion Status. Today, that same ticket would earn you 0 Delta SkyMiles.
The move generated understandable outrage. Other airlines have barred basic economy flyers from earning status, but even the likes of Spirit and Frontier still award redeemable miles on all tickets. After billions of dollars in bailouts over the last two years, taking away the ability to earn SkyMiles from their most budget-conscious customers felt like a slap in the face.
For me, it's a bit different. While it might have been the final push, this wasn't the driving factor in my decision to spring for standard economy tickets going forward.
From a business perspective, there's no question it makes sense for Delta to do this. It's yet another pain point that will convince travelers to pay more for the benefits they once got free. Still want to earn Delta SkyMiles or work your way toward status? You'll have to pay Delta $50, $70, maybe even $150 more for a main cabin fare now – and that's the point.
Believe it or not, there were plenty of travelers out there who were happy to save $70 or more in exchange for boarding last and entering the seat selection lottery. I was one of them. But another change to Delta basic economy goes even farther.
A Hefty Fee to Cancel
If there was one silver lining to the pandemic, it was the unprecedented flexibility airlines gave travelers to book tickets worry-free. For more than a year, even the cheapest basic economy fares could be changed or canceled for free.
But that change and cancellation free-for-all is over now. While most U.S. airlines did away with change fees for good, basic economy fares weren't included in that policy change. Delta went a bit farther than most airlines, giving free change and cancellation to any basic economy ticket with travel through the end of 2021. But as the year drew to a close, Delta threw basic economy another bone to make up for taking away SkyMiles.
Going forward, you can now cancel Delta basic economy fares and get a Delta eCredit … for a fee. Canceling a flight within the U.S. or to Mexico, the Caribbean, or Central America will cost $99. That's not unprecedented – JetBlue has done something similar. It gives some option to cancel even the cheapest tickets as plans change without losing all your money. Before the pandemic, these fares could not be changed nor canceled, period.
But for travelers whose main goal is traveling on the cheap, forking over $99 to cancel a domestic ticket is still quite steep. With our Thrifty Traveler Premium flight deal alerts, I can't remember the last time I paid more than $200 for a domestic roundtrip flight – in fact, I frequently pay closer to just $100 or $150 total.
So let's say I book this $127 roundtrip flight from Minneapolis-St. Paul (MSP) to Denver (DEN) in basic economy. If I wind up needing to cancel, I'd get a Delta eCredit of just $28 after subtracting. By paying $50 more for a main cabin fare, I'd get the full $177 back as a Delta eCredit.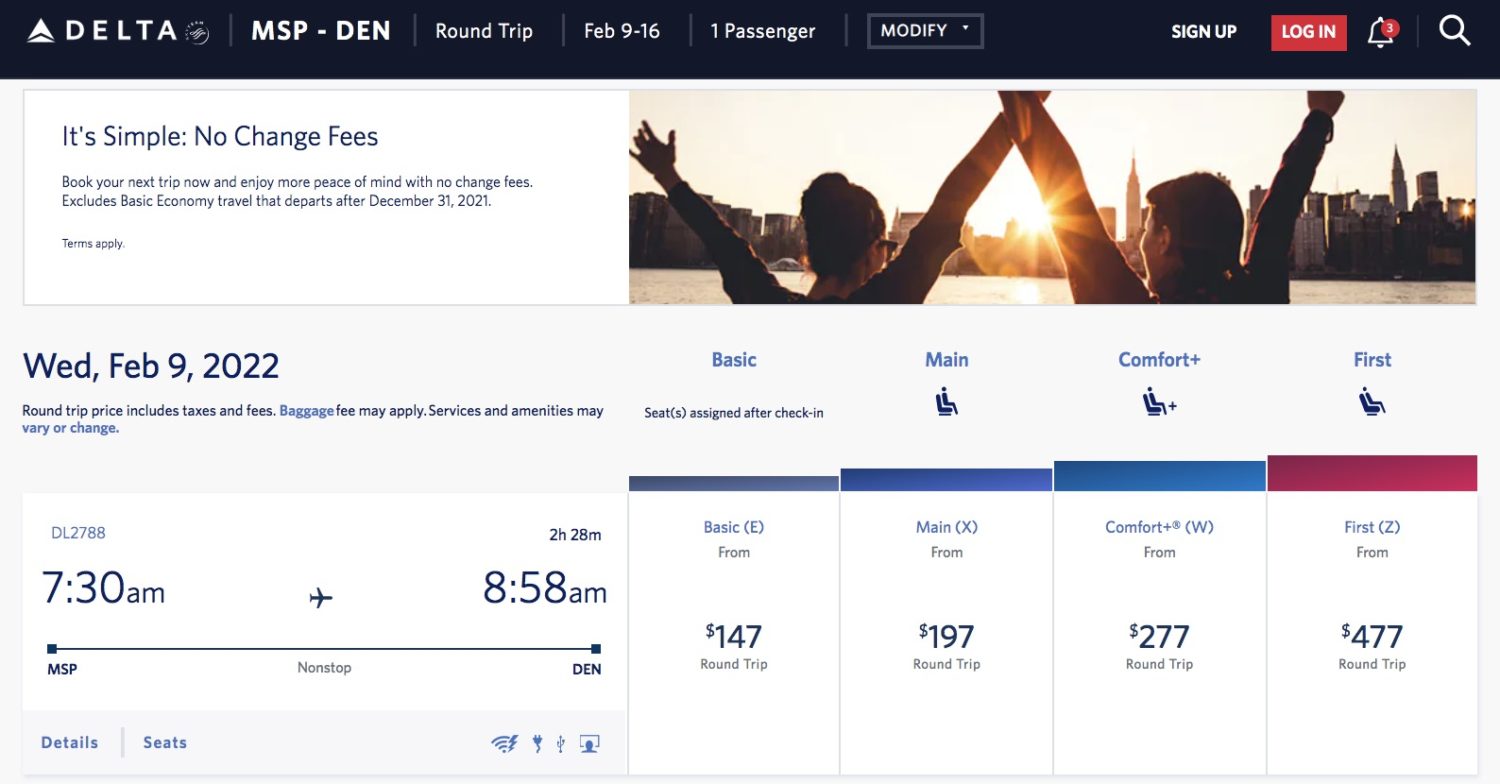 Sure, getting $28 back is better than nothing, as was the norm prior to the pandemic and before Delta made this change. But the uncertainty that has shrouded travel for the last two years isn't going away anytime soon.
That makes paying $50 to $70 for a main cabin fare a no-brainer, if you ask me. If your plans change, it'll save you from losing $99 down the road.
Planes Are Filling Up
Look at this graph tracking load factors (how full planes are, on average) in the U.S.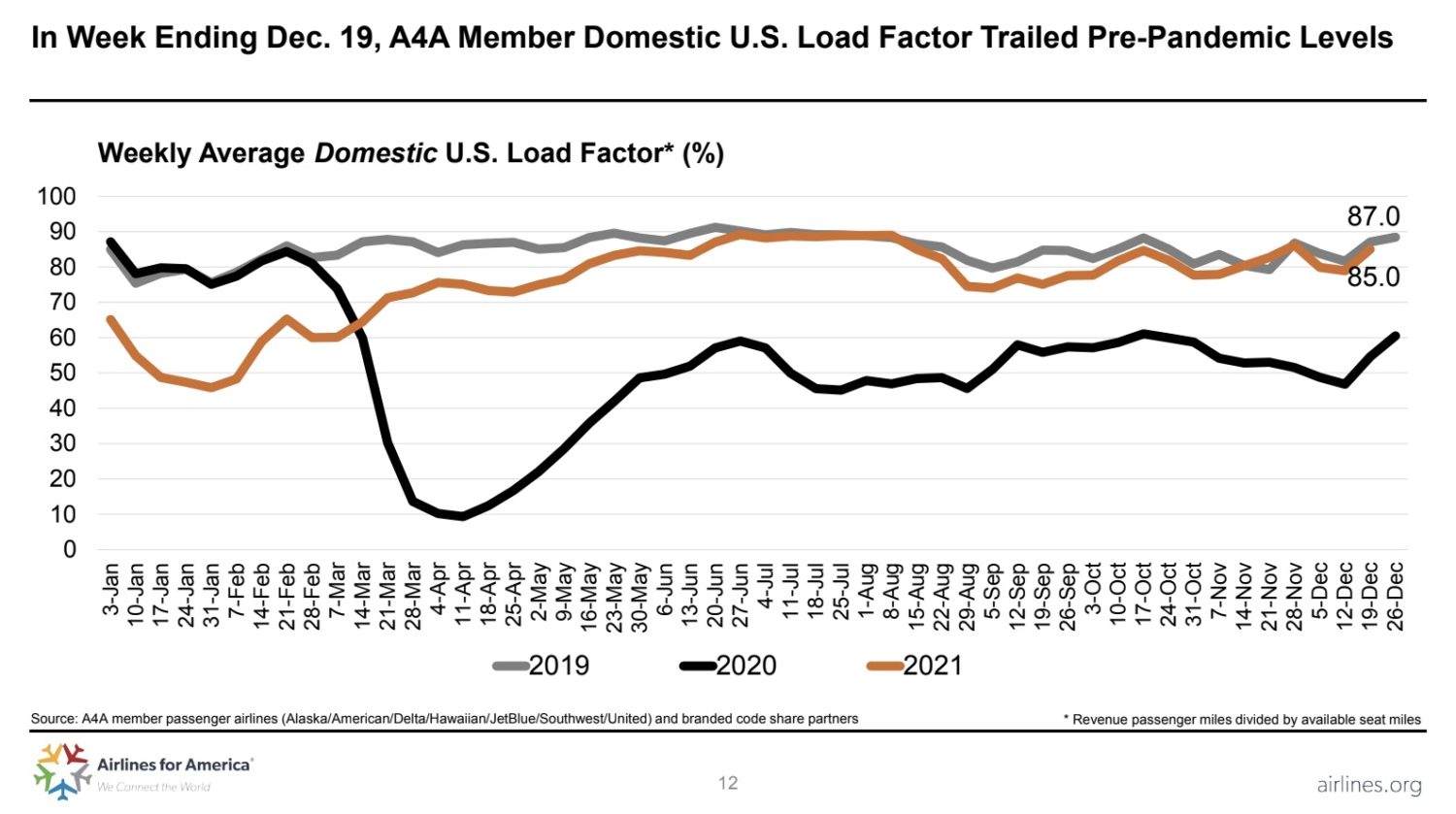 After bottoming out at the start of the pandemic and slowly climbing back up, planes are generally just as full as they were pre-pandemic – and in many cases, they're completely full. We've warned travelers repeatedly throughout 2021: If you're flying these days, you should assume your next flight will be full.
One advantage of flying Delta basic economy – and one of the primary reasons why I was fine flying basic economy over the years – was the ability to pick seats rather than get stuck in a dreaded middle seat. It's not something Delta really advertises, but I used it to great effect.
Starting when the check-in window opens 24 hours before your flight, Delta allows you to move about the cabin to any open seats … at no cost. That's your chance to check the seat map and pick the best of whatever seats are left.

Before the pandemic, I had this trick down to an artform. Out of probably 20 Delta flights, I managed to avoid a middle seat in all but one of them. Even when traveling with my wife or a friend, we were frequently able to snag seats together.
But this isn't a slam dunk: It only works when your flight isn't full. As airlines ease their way out of the pandemic, they're still not back up to 100% capacity – and Delta has been slower than most in ramping flights back up. That's a recipe for full flights, and therefore fewer seats to pick from.
In my experience over the last six-plus months, Delta flights are routinely completely full. I've lost confidence I can win the free seat lottery when flying Delta basic economy. And that's just another reason to pay a bit more to get free seat selection.
Bottom Line
Flyers everywhere are doing the mental math and voting with their wallets after Delta's latest move. In some ways, I'm the case study of why Delta decided to axe SkyMiles and status from basic economy fares.
I enjoy flying Delta over their competitors – and seeing as I'm based in their Minneapolis-St. Paul (MSP) hub, I don't have much of a choice. I'll pay more for the sake of getting free change and cancellation, a free seat assignment, and a few thousand SkyMiles on  – most of which were benefits that came with any fare not too long ago.
I'm not thrilled about it, but I'm paying more. And that's exactly why Delta is doing it.