CLEAR® can be a major timesaver at the airport, but it doesn't come cheap. Sadly, an easy (and free) path to substantially reduce the $189 annual cost is taking a big cut.
The company has begun notifying current members who took advantage of discounts available through both Delta and United that their prices are going up. Unless you've got top-tier Delta Diamond Medallion or United 1K status, it's a big change and a major hit to one of the best ways to get signed up for CLEAR®.
Travelers who link their free Delta SkyMiles or United MileagePlus accounts will soon pay $179 a year (up from $119)
Travelers with Delta or United status (or a co-branded Delta SkyMiles Amex card – or one of United's Chase cards) will soon pay $149 (up from $109)
United 1K or Delta Diamond Medallion status will still get CLEAR® for free as a perk
These price increases aren't yet reflected on CLEAR's dedicated pages for their partnerships with either Delta or United, but Doctor of Credit reports current members have been informed of the hike coming as soon as Feb. 1. Neither United nor Delta immediately responded to a request for comment on the pricing change for their flyers.
CLEAR® is a privately run security program that uses biometrics (think fingerprints or iris scans) to allow you to cut to the front of the line. On its own, you can skip to the front of the standard security line. In tandem with TSA PreCheck, you can skip to the front of that shorter, faster line – keeping your coat and shoes on and keeping electronics inside your bag, too.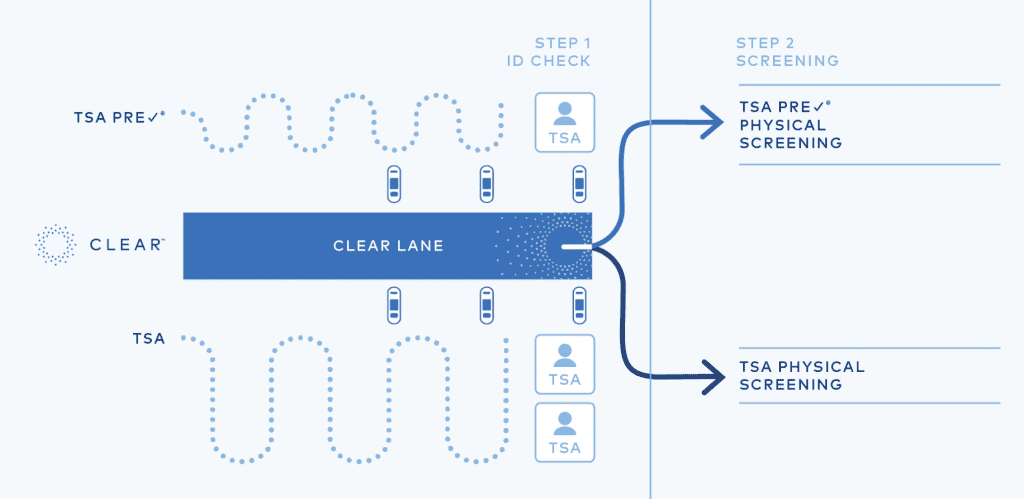 But CLEAR's growing popularity has outpaced some airports' capacity to handle all the travelers signing up, leading to long lines and negligible time-savings. No matter how you slice it, a price hike of up to 50% is tough to swallow for an already expensive program, especially at a time when the cost of a TSA PreCheck membership is going down – for a five-year membership, to boot. While it can easily make sense for many frequently travelers, doing the math on whether CLEAR® is worth the cost just keeps getting harder.
It's a double whammy for travelers with The Platinum Card® from American Express or the *Amex Green Card*. Both cards have annual credits of up to $189 to cover the cost of CLEAR, but these airline discounts made it possible to use that credit to get CLEAR® for two. That's no longer the case: At $149 at the lowest plus $60 to add another traveler through a Family Plan, you'd now have to pay out of pocket.
Both United and Delta own a stake in CLEAR®, opening the door for these membership discounts and also spurring CLEAR's drastic expansion to more and more key airports for both airlines. But as the number of airports where CLEAR® is available has grown along with travelers signing up, so has the price.
This isn't the first big hike in price for loyal Delta flyers. Before a previous price increase in April 2019, all SkyMiles members could register for just $99 a year – or just $79 with a Delta SkyMiles card or Delta Medallion status. Just last year, the rack rate for CLEAR® increased from $179 to $189.
Bottom Line
On the fence about joining CLEAR®? You might want to sign up for a year before it gets even more expensive.
Whether you're an everyday SkyMiles member, have a United credit card tucked in your wallet, or have status with either airline, big discounts for getting signed up with CLEAR® are about to get much smaller. And that means even longtime CLEAR® members will start to pay more each year, too.