There's good news for those looking to use Turkish Airlines miles to book flights on partner airlines. After several months of not displaying these redemptions on its website, it's now possible to book partner awards online again, including amazing sweet spots like United flights to Hawaii for 15,000 miles roundtrip or flying business class to almost anywhere in Europe for 45,000 miles each way.
As first discovered by Frequent Miler, this means it's easier to book these awards … but like before, it's still no walk in the park.
Finding flights via Turkish's website on partner airlines like United, All Nippon Airways (ANA), and countless others has always been wonky. But for most of this past summer, searching for partner award redemptions using Turkish's Star Alliance award search tool produced zero results online. You'd simply get a message that said, "Sorry, no suitable flights could be found."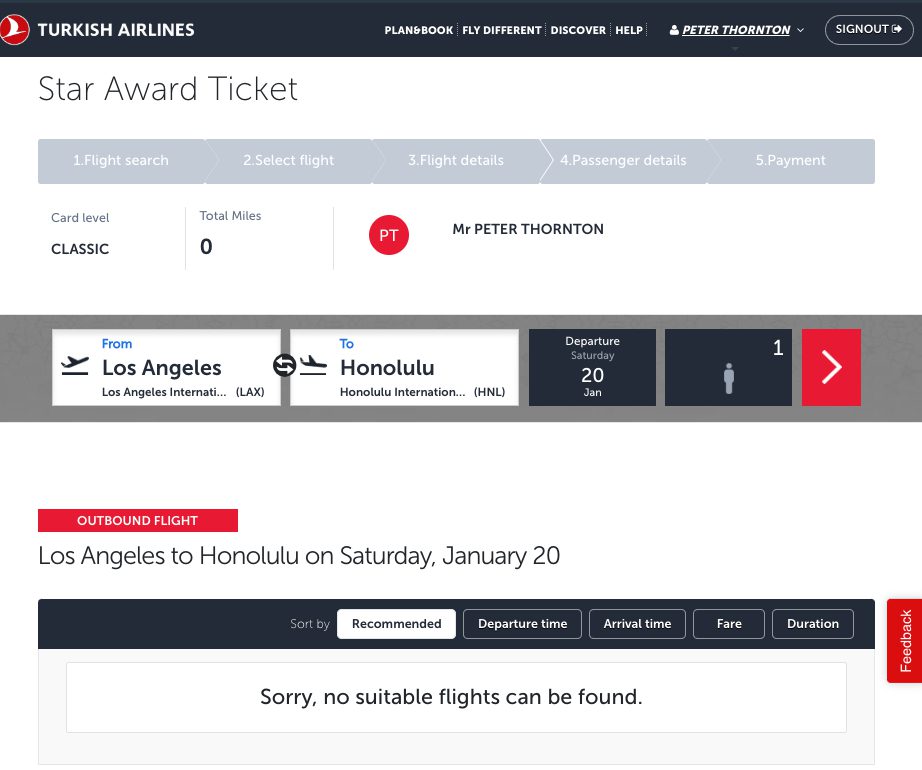 We first wrote about this quirk last month after seeing it crop up on Flyertalk and Reddit way back in late June. The airline did not initially respond to a request for comment, but earlier this month we learned their IT department was working on a fix.
That fix is now live and you can search and book some of these partner awards online again like this flight from Chicago (ORD) to Frankfurt (FRA) flying United Polaris business class for just 45,000 miles one-way.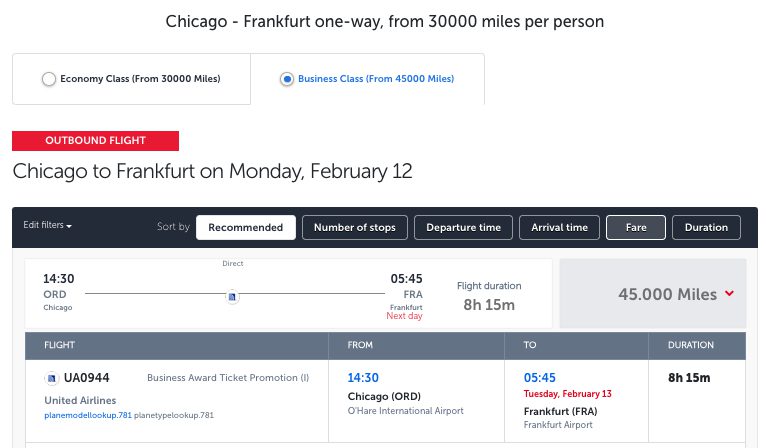 It's even easier to find this search tool on Turkish's website than it used to be, too. If you log in to your account and follow this link to book an award ticket, you'll now see an option to click on the "Star Award Ticket" tab if you're looking to book a flight on one of Turkish's partner airlines.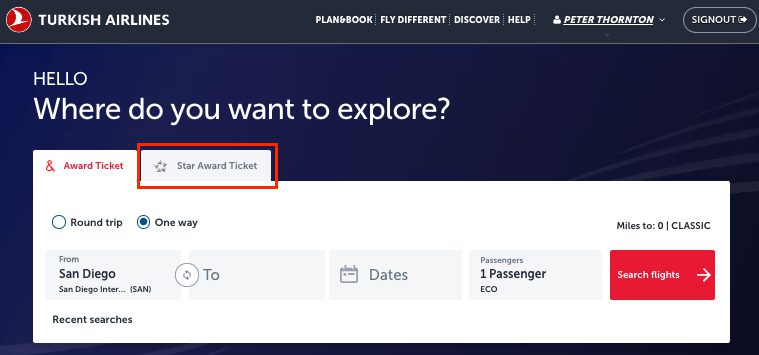 But the search functionality works more or less the same as it used to, which means you may still need to call or email Turkish in order to get your flights booked.
For example, this nonstop United flight from Los Angeles (LAX) to Honolulu (HNL) is available at the lowest-priced "saver" award in economy. You can tell because it's stamped with both "Saver Award" designation as well as the "X" fare class in parentheses.

This means that this flight should be bookable with partner airline miles. As you can see, there's no problem finding this flight when searching on Air Canada's site using Aeroplan points.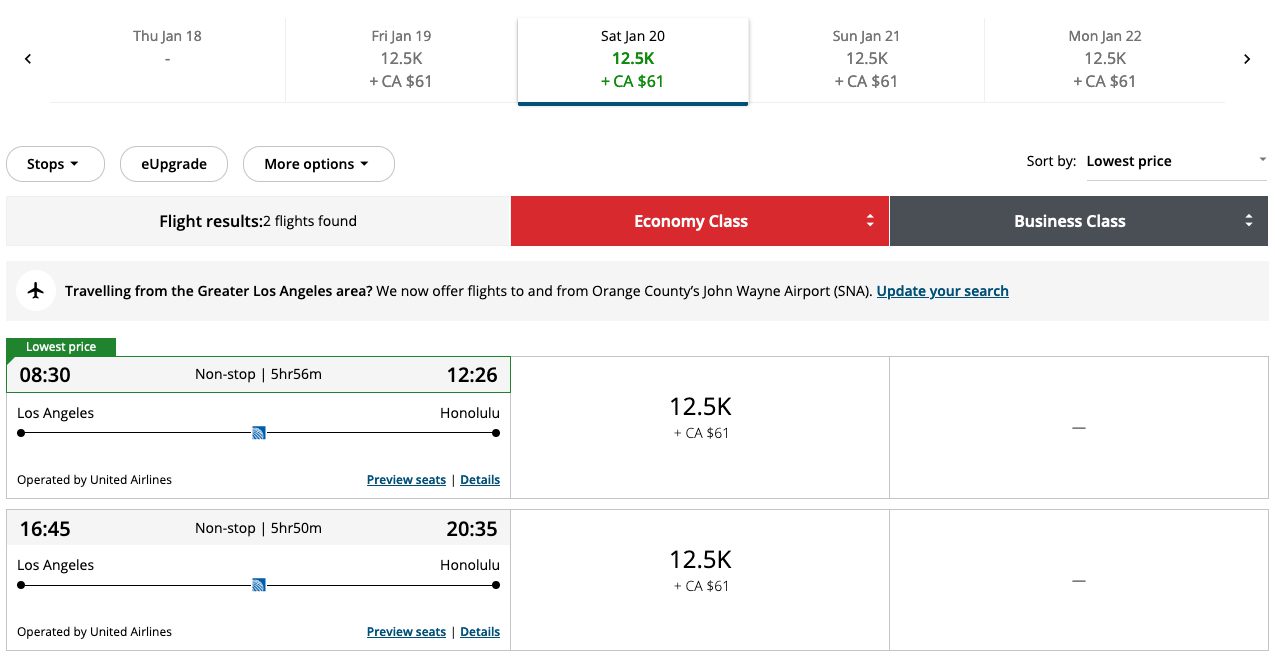 But if you search for this using Turkish's Star Award Ticket search, it only gives you the option to book a flight with a connection in San Francisco (SFO). That's not ideal.
Pulling up these partner flights directly at turkishairlines.com has always been spotty at best. As in the above example, many nonstop flights you can find through other sites like United or Air Canada don't always show up. But it's still possible to book these flights by contacting the right Turkish Airlines agent … if you're patient.
How to Book Flights with Turkish Miles by Email
Contacting a Turkish agent has long been one of the best ways to book a flight on partner airlines like United. While you can now once again book some partner awards online, you still may need to contact an agent to book others.
And you'll need to be pretty savvy in order to do it, as it's not even as simple as making a phone call. I've tried calling the Turkish Airlines call center (at 1-800-874-8875) several times to see if they can book United flights where I've found "saver" award availability on United's website. In every case, the agent has responded they cannot find those flights. They've even tried to put me on absurd connections flying Turkish Airlines instead, like flying from Houston (IAH) to Cancún (CUN) with a connection in Istanbul (IST). No thanks!
It may be a matter of finding an agent who knows how to search for and book these tickets … but that's clearly a tall task. Instead, I'd highly recommend emailing several ticket offices, giving the exact details of the flights you're looking to book.
I recently tested this out by emailing all 11 city offices in the U.S. found in the "Our offices" section of the Turkish "Contact Us" page. I requested different flights for my brother and myself in each email just to test this out. Here's an example of the email I sent.

Several offices didn't respond at all while most simply told me to call the call center. However, I did get lucky and got positive responses from both the Boston and Los Angeles offices. I can't guarantee you'll have the same luck but those were the only two offices that replied to me with actual assistance.
Remember the nonstop Los Angeles (LAX) to Honolulu (HNL) flight I searched for earlier but came up empty-handed? An agent from the LAX office replied to my email promptly and actually put a reservation on hold for 72 hours.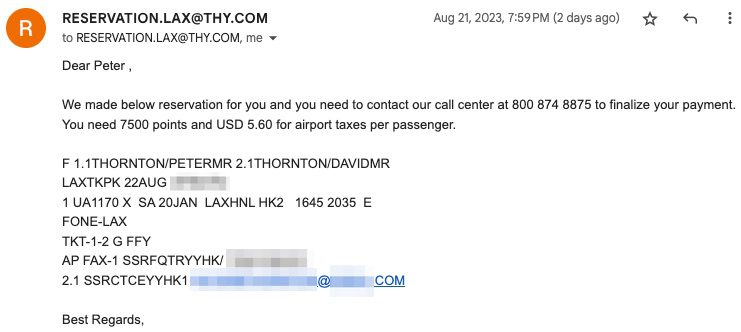 With a confirmation number in hand, I went to the Turkish website to see if it showed up there. Sure enough, it looked like I had a reservation.

The next step would be to call Turkish Airlines and give them the confirmation number from the start in order to pay the taxes and fees and ticket the award. Unfortunately, this final step can't be done online or via email.
Long story short: Booking flights on partner airlines with Turkish miles can be done … but sometimes it's not easy.
Redeeming Turkish Miles for Turkish Flights is Easier
For many flyers, the tedious process of booking certain partner awards with Turkish miles is more trouble than it's worth. But Turkish miles are also incredibly valuable to fly Turkish Airlines itself. Turkish is a transfer partner of Bilt Rewards, Capital One, and Citi, which makes it easy to get the miles needed to book. This means points you earn on cards like the *venture x* can be transferred to Turkish miles.
Plus, it's relatively easy to book Turkish Airlines flights online using Turkish miles. For example, you can easily book Turkish Airlines business class nonstop from Atlanta (ATL) to Istanbul (IST) for just 45,000 miles and roughly $200 in taxes and fees one-way.

Or you can tack on a connection and head to the Middle East for just 2,000 more miles, like this example from Atlanta to Amman (AMM) for 47,000 miles one-way in business class.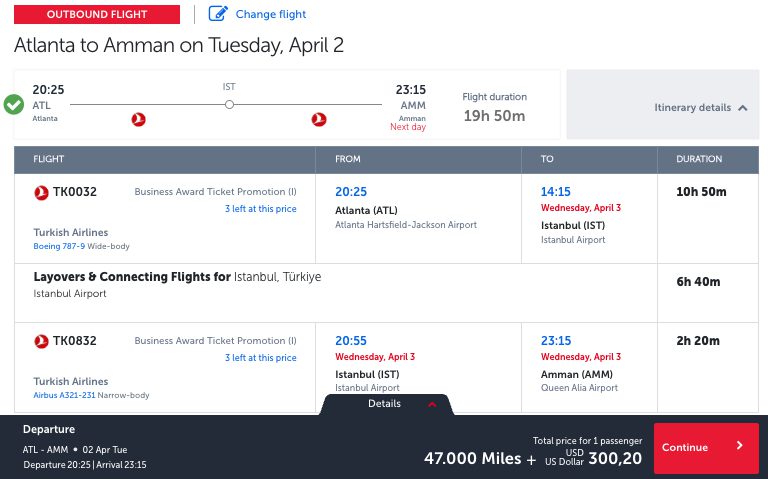 If you do plan on using your Turkish miles to fly business class on Turkish Airlines, you'll do yourself a solid by routing on flights where Turkish is flying its Boeing 787 Dreamliner or Airbus A350 aircraft. These planes have Turkish's best seats: all with direct aisle access, which is not the case if you were to fly on the airline's older 777s.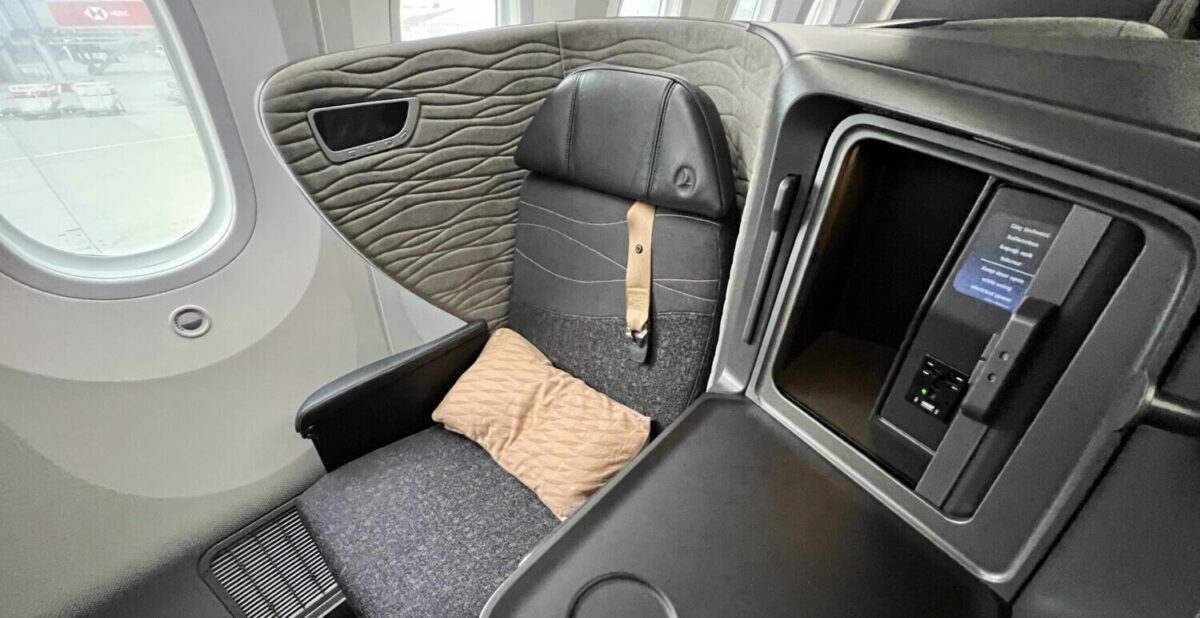 Read our full review of Turkish Airlines business class flying the 787 Dreamliner!
Bottom Line
After several months of Turkish completely removing the ability to book partner awards online, it's now possible to book some partner award tickets online again. That's great news!
But as it was before, not all flights will show up online and it'll still require some luck and patience to book some of these awards. Redeeming Turkish miles has always taken some extra effort. For some, it's never been worth the trouble.
But now that it's possible to book United and other partner flights online again, you may want to put this underrated mileage program back on your radar.