After flying under the radar for years with a modest annual fee and amazing lounge access policies, big changes have officially taken hold for the *citi aa executive*. But it's not all bad news…
To offset the sting of some negative changes like a higher annual fee and a new charge for authorized users to enjoy Admirals Club access, Citi and American have upped the ante with a bigger welcome bonus: You can earn 70,000 AAdvantage miles after spending $7,000 in the first three months. That's up from the card's old standard welcome bonus of 50,000 miles.
While it's clear that this bigger bonus is designed to lure in new applicants for the card, and convince them to fork over nearly $600 for the annual fee, it's still a stellar offer. Beyond the welcome bonus, Citi and American have sweetened the card with some annual statement credits for select travel purchases and bigger bonus categories for ongoing spending.
Since the card recently got a facelift, let's take a closer look at all its benefits and see just how far 70,000 AAdvantage miles can take you.
Related reading: Why You Should Earn American AAdvantage Miles (Even If You Never Fly Them)
Citi AAdvantage Executive Card Overview
The Citi AAdvantage Executive Card is Citi's top-of-the-line credit card, offering perks like free Admirals Club lounge access, free checked bags, priority boarding, and earning even more Loyalty Points toward status with AA.
Those perks make this card the best fit for loyal AA flyers. In fact, you might be able to justify the card's new $595 annual fee for Admirals Club access alone. If you would otherwise buy club access, it would cost you $850 each year – making the AA Executive card's annual fee look like a bargain in comparison.
Here are the full details on the card:
*citi aa executive bonus*

Admirals Club membership: The primary cardholder and authorized users will still get their own Admirals Club membership (along with two guests) but it will now cost $175 for the first three additional card members – and $175 more for each card after that.
Earn up to $120 back on eligible Avis or Budget car rentals every calendar year.
Earn up to $120 in Lyft credits ($10 credit each month after taking three eligible rides).
Earn up to $120 back on eligible Grubhub purchases (up to $10 statement credit on each monthly billing statement).
Get up to $100 credit on a Global Entry or TSA PreCheck application fee, now issued every four years so you can easily take care of your Global Entry renewal.
First checked bag free for the primary cardmember and up to eight companions on the same reservation, but only for American Airlines-operated domestic flights.
25% savings on eligible American Airlines inflight food and beverage purchases when using the card.
Earn 4x AAdvantage miles on up to $150,000 in eligible American Airlines purchases each calendar year. After spending $150,000, cardmembers will then earn 5x AAdvantage miles on eligible American Airlines purchases for the remainder of the year.
Earn 10x AAdvantage miles on eligible car rentals and hotels, only when booked through aa.com/cars and aa.com/hotels.
Earn 1x AAdvantage miles on all other purchases
Annual Fee: $595
Learn more about the *citi aa executive*.
Loyalty Point Bonuses
Loyalty Points are the new currency for earning American Airlines status. And now Citi Executive cardholders have a path to earn even more of them.
Whether you're flying American Airlines (or a Oneworld partner airline) or swiping this co-branded AA credit card, you're earning Loyalty Points toward status. Generally, every $1 you spend on a co-branded credit card gets you 1 Loyalty Point. But as you rack up those points, you'll get a bonus as you hit certain tiers with this card in your wallet:
A 10,000 Loyalty Point bonus after reaching 50,000 Loyalty Points in a status qualification year.
Another 10,000 Loyalty Point bonus after reaching 90,000 Loyalty Points in the same status qualification year.
It's clear that AA has re-evaluated who their most loyal (and profitable) customers are and it's no longer the road-warriors spending days of their lives on AA flights. If you're going after AA status or already have it and want to get to the next rung a little quicker, this card can help.
Travel Insurance
Another positive to come out of these changes is that the Citi AAdvantage Executive Card will once again include some added travel protections in the event your trip goes awry:
Trip Cancellation & Interruption Protection
Trip Delay Protection
Lost Baggage Protection
Worldwide Car Rental Insurance
While the details of these benefits are still murky, the card includes protection if your trip is delayed, cancelled, or interrupted, if your baggage gets lost, or if you have an accident while driving a rental car. This additional travel insurance should put the card largely in line with the coverage offered by many of the other top travel credit cards on the market.
How Good is This Offer?
There's no denying the value of AAdvantage miles – whether you're looking to fly American domestically or one of their Oneworld partners to a far flung international destination – AA miles can quite literally take you far.
This means that the card's current 70,000-mile bonus offer can be worthwhile for even occasional American flyers. Of course, much of the card's long-term value will require you to travel with AA on a regular basis, but for some this card could be worth getting for the stash of miles alone.
Earlier this year American implemented a new, "simplified" award chart for flights operated by AA, but left its award chart untouched for partner bookings. And even with American's move toward dynamic award pricing, there have still been plenty of good deals to be had. That's all to say that there's no telling exactly what you'll need to pay for a given American Airline's flight when using AAdvantage miles. But you can readily count on getting use of these miles no matter how you redeem them.
For example, let's say you're planning a family trip to Disney World and need to get the whole gang to Florida for some fun in the sun. Roundtrip flights from Minneapolis-St. Paul (MSP) to Orlando (MCO) are available most days for 19,000 AAdvantage miles and $11.20 in taxes and fees. This means that after meeting the spending requirement for the current bonus on the Citi AAdvantage Executive Card, you'd have enough miles to fly a family of four to Orlando and back home again. Not bad!
While Disney's Epcot can trick you into thinking you're somewhere else, another option would be to use your new pool of miles for something a little more exotic. How does a safari in Africa sound?
Since AA is partners with one of the best airlines in the world, Qatar Airways, you could use your new sign-up bonus to fly through their hub in Doha (DOH) and connect on to much of the world. Roundtrip flights from the U.S. to Nairobi, Kenya (NBO) will cost you 80,000 AAdvantage miles and $145.35 in taxes and fees in economy – meaning that the sign-up bonus on this card is nearly enough to get you there and back.
Or you could do it in style, by flying Qatar's top-notch Qsuites business class, as one-way flights will only cost 75,000 AAdvantage miles. Unless you've already got a pile of AA miles banked up, you'll need to look elsewhere for your return trip.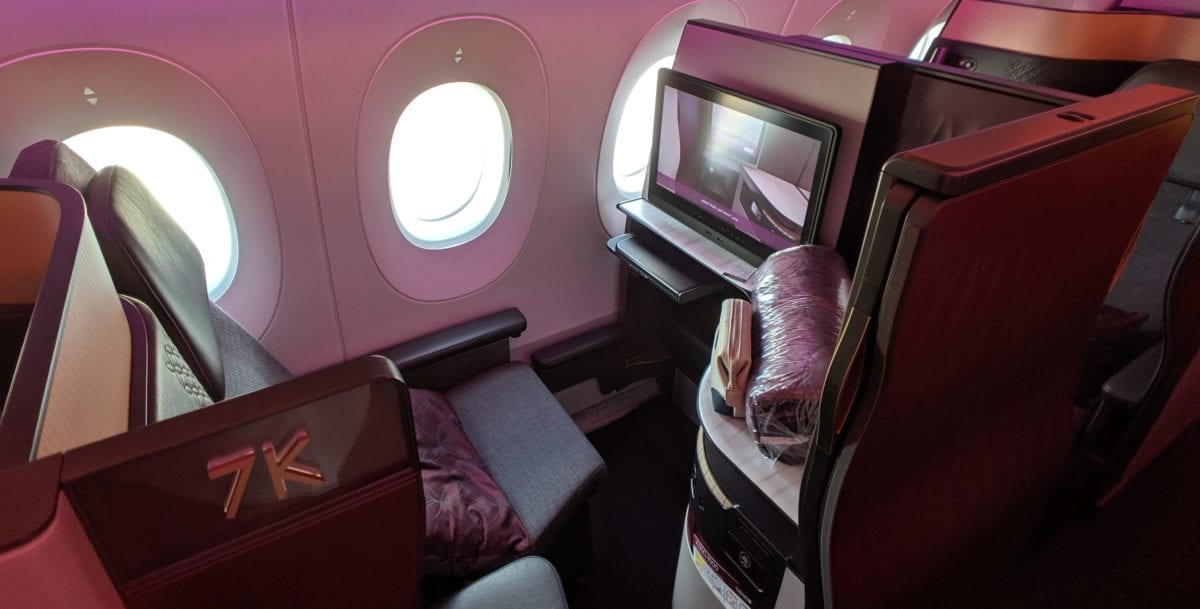 Finally, if you're looking to put your miles to use for something fancy, you could spend them on a business class seat and all the finest Japanese cuisine and sake your heart desires. Since American partners with Japan Airlines (JAL), you can book those flights to Tokyo and beyond with AAdvantage miles.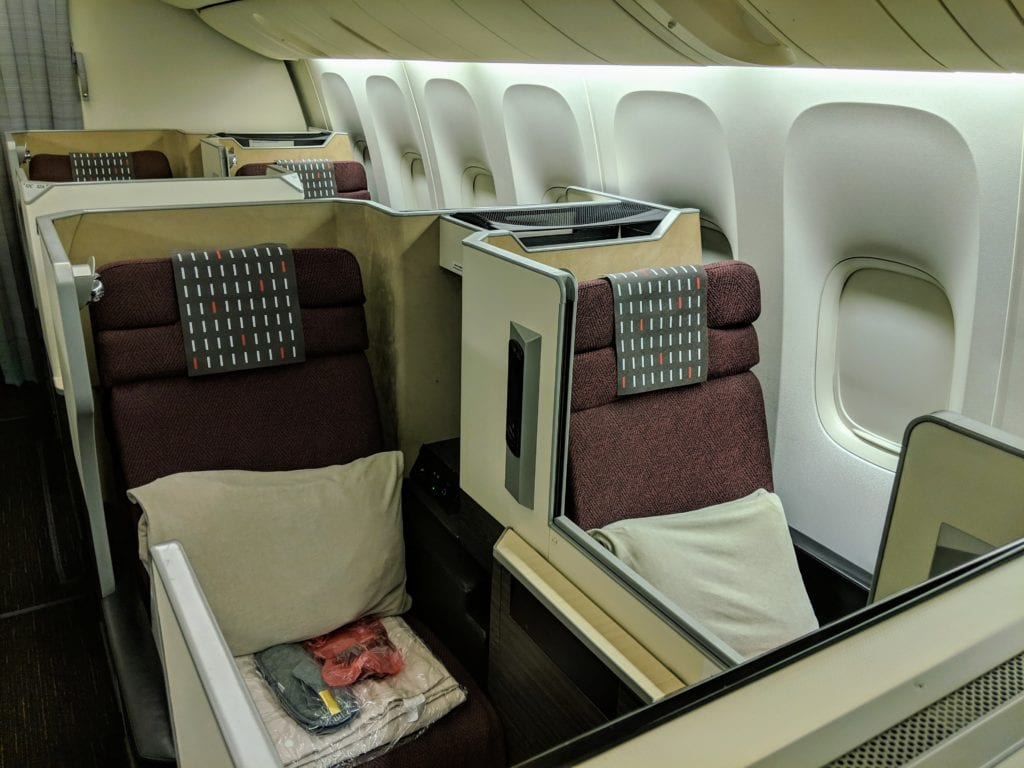 With the current welcome offer, you'd easily have enough miles to fly to Asia in business class! These one-way business class flights from the U.S. to Tokyo on Japan Airlines cost just 60,000 AAdvantage miles and $5.60 in taxes and fees.
Check out our full review of Japan Airlines business class! 
These examples are really just the tip of the iceberg with what's possible when you've got a big pile of AAdvantage miles. With the 70,000-mile bonus on the Citi AA Executive Card, you should have no problem getting to any corner of the world.
Related reading: How to Quickly Earn 100K American Airlines Miles
Bottom Line
The Citi AAdvantage Executive Card recently underwent some big changes, a higher annual fee, and a new 70,000-mile bonus offer.
The card's changes come at a cost. But with added statement credits, point-earning opportunities, and this huge welcome bonus, now is a good time to apply for anyone in the market for a new travel card and some AAdvantage miles.
Learn more about the *citi aa executive*.