It's easy to make costly mistakes when booking travel. I've made too many of them myself.
At Thrifty Traveler, we're all about giving people the basics and knowledge to become smarter travelers – and avoid costly mistakes. That's why we cover everything from how to find cheap flights, using Google Flights, and the best day to book flights all the way up to how to use points and miles to fly to Hawaii, Europe, or Japan – and the biggest mistakes travelers make using their points.
There are members of our Thrifty Traveler team who have flown first and business class cabins across every ocean using points and miles … and some of us are just getting started on our journeys learning how to travel more for less. The common thread between all of us: We're all still learning.
So I thought I'd confess five of the biggest travel mistakes I've made over the years and cop to those fumbles and foibles so you can do better than I did.
Please withhold judgment as I lay my travel sins bare in this travel confessional.
Overpaying for Flights
As a flight deal expert finding fares to send to our Thrifty Traveler Premium members, I love seeing our subscribers book dirt-cheap flights to their favorite destinations around the country – and across the globe. But it's also painful: I've realized how much I've overpaid to fly to some of these destinations in the past.
Here's an example: Fresh out of college, I booked a trip in February 2016 to the Swiss Alps, flying from Minneapolis-St. Paul (MSP) to Zurich (ZRH). I paid about $800 for a roundtrip economy fare. So you can imagine my pain when we discovered this deal to three Swiss cities … starting at just $255 roundtrip.

Knowing I could have booked nearly the same flights from my home airport for under $300 was rough – I could have bought two tickets for less than I paid back in 2016. Worse yet, just days after we found that first Swiss deal, we clued Thrifty Traveler Premium+ members in on a way to fly to SWISS business class for just 50,000 points.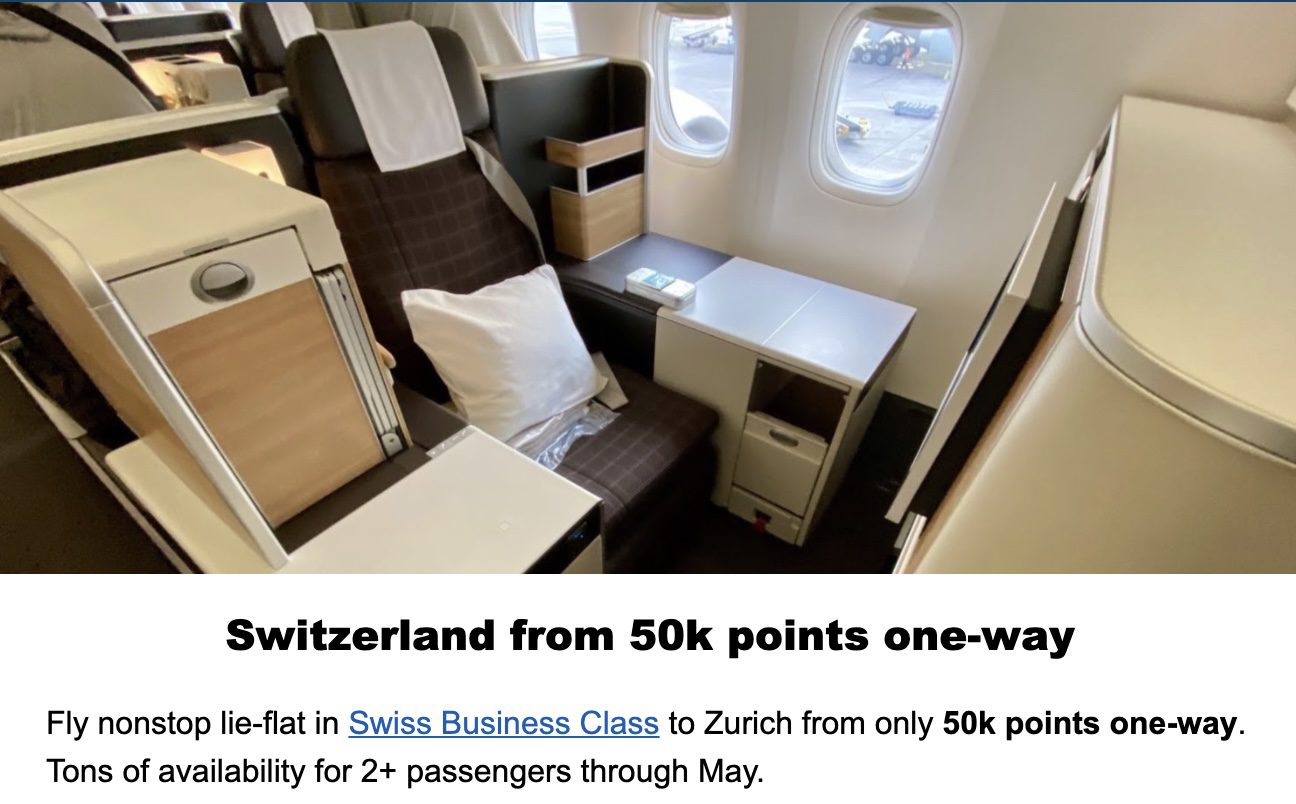 Had I been a subscriber back in 2016, this all could have been at my fingertips – and my lean, post-grad bank account would have thanked me.
Breaking the Flight First Rule
When it comes to planning travel, this is a mistake we see all too often. It could easily cost you hundreds of dollars that could be used on making your trip better. And I've made it, too.
In the past, I'd choose a destination and decide on my travel dates, then request time off from work. That's when I started looking for flights … with my dates locked in and my options therefore limited.
At Thrifty Traveler, we have a rule. It's called the Flight First Rule.

Instead of deciding on the dates of your trip before booking your flights, start by searching for flights, letting the price guide you to the cheapest dates possible. Flexibility is crucial if you want to save on flights – and trust us, it makes a big difference.
You might be shocked at how much you can save just by departing a day earlier or later than you initially planned. By traveling during cheaper seasons, you could save even more.
I used to book travel around pre-determined dates or destinations – and paid $800 to fly to Switzerland as a result. Now I let cheap flights and deals lead the way.
Can't be flexible? Travel dates set in stone? Set a Google Flights Price Alert to get notified when the price of the flights you need drop!
When I get a Thrifty Traveler Premium alert in my inbox, I book the fare at its lowest price and start building a trip around that cheap fare. Part of the reason I can confidently do that is the 24-hour free cancellation policy guaranteed for nearly all flights to, from, or within the U.S. That's a 24-hour window to determine whether those dates will work – and if I can get time off.
I know this story is about my travel woes, but allow me to brag for one minute by illustrating a (rare) instance where I did things right!
When my colleagues and I at Thrifty Traveler Premium put out this sizzling deal to Havana, Cuba (HAV), I immediately followed the link to book it directly with the airline! I booked two tickets from Minneapolis-St. Paul (MSP) to Havana (HAV) for $354 each.

As soon as I booked it, I called my wife and asked her if she could make the trip work. She gave me an emphatic thumbs up. Then, I emailed my boss to ask for the time off. Approved.
And just like that, we had an April trip to Cuba on the books! Cuba wasn't a place we had high on our list and wasn't something we were locked into doing in mid-April. Instead, we planned a dream trip based on the cheapest flights possible.
Flights are almost always the most expensive part of any trip, so making sure you do the best you can on that expense should always be your priority when booking travel.
Being Too Slow to Book Flights
When you see a good fare, book it! Handle the rest later. Utilize that 24-hour free cancellation window to handle the logistics and decide if your decision was too impulsive.
My list of mistakes on this front is too long to recount. Far too often, I've dragged my feet on booking a cheap flight to a favorite ski destination, only to return to it later and found it's increased by $100 or more.
The 24-hour change-your-mind rule is possibly the most helpful budget travel tool there is. If you see something great in the airfare space, it's not likely to last. Book it! Then start asking the big questions about your travel companions, your time off requests, and who is going to watch the kids and dogs. So long as you can come up with answers within 24 hours, you're in the clear.
Another tactic I wish I had used more as a nascent traveler is capitalizing on fare differences. That's right: On major U.S. carriers like American and Delta, when the price of your previously booked flight drops, you can change your reservation online and get an e-credit for the difference in the fare. 
Read next: Have a Flight Booked? Get a Credit if the Price Drops!
Say you booked two main cabin economy, roundtrip tickets for a vacation to Lake Tahoe (RNO) for $300 each. As soon as you're done booking, record your flight price somewhere, and then go find your flights on Google Flights and setup a Google Flights Price Alert. If and when that price goes down, Google will send you an email alerting you to the price change. Then, all you have to do is go change your flight if you're flying American or Delta, or cancel and re-book your flight at the lower rate if you're flying another airline.
There's also no better example of the need to act fast than when a mistake fare crops up. When Delta is selling a $63 fare down to Chile that should cost $800 or more, you buy it – and you buy it fast, before Delta catches their mistake and fixes it.

The second you see a mistake fare or a unicorn deal like this, drop everything and book it. Ask your boss for time off after your tickets are booked. Book a ticket for your favorite travel companion rather than try to align schedules first – the fares could easily disappear before you get a response.
Not going to work? You've got at least 24 hours to cancel and get all your money back. If it all works out, you've got plenty of money left over to stay at a nicer hotel or book a sweet rental car.
Read more: All About Mistake Fares, and How to Find & Book Them
Being Too Loyal to Airlines and Hotels
Your loyalty to one particular airline or hotel chain is costing you money, plain and simple. I know it cost me plenty over the years.
Sure, we've all got our go-to airlines that we prefer over competitors. But strict hotel or airline monogamy means those brands are beating you at their game. Airlines and hotel brands are making millions of dollars from customer loyalty.
That's been especially true the last few years as airlines rolled over status all the way through 2022. That meant more and more travelers had status, all competing for the same complimentary upgrades. That made whatever status you managed to earn inherently less valuable.

As a Minneapolis resident, my Delta loyalty is tempting. They have a great onboard experience and tons and tons of nonstop flights to some of my favorite destinations. I'm guilty of paying much more to fly Delta, even when Alaska, American, or United are offering lower nonstop fares. All in the name of chasing status…
Now, I'm a free agent, traveling on the lowest fares from a handful of different airlines and saving hundreds in the process, all while earning miles on a handful of different airlines. And that's the right course of action for almost every average traveler out there.
I do the same thing for hotels and rental cars now, too. Instead of continually throwing money at just Hertz or Marriott, where status can be hard to earn and isn't that valuable, I cast a wide net and get myself the best rates instead.
Swiping the Same Old Credit Card
This is my biggest travel mistake, and for the longest time I didn't understand why. When I did the math, I realized I was leaving valuable points on the table, even if I was earning a few miles with every credit card swipe.
For years, I swiped my Delta SkyMiles® Gold American Express Card every chance I got, telling myself earning SkyMiles to fly on my favorite airline was the wise move. During that time, I earned just one credit card welcome bonus, earning just a few hundred extra SkyMiles each year for my everyday and travel spending.
The points earning was slow, giving me 1 SkyMile for each buck I spent. And when it came time to use them, I was handcuffed to just Delta SkyMiles.

Now, I have a few different credit cards that earn flexible points like Chase Ultimate Rewards and American Express Membership Rewards – points that I can transfer to a few dozen different airlines and hotel chains. Plus, I've earned more than 200,000 points in welcome bonuses in a matter of months – much more than I would have earned if I just kept swiping my Delta card.
Critically, I've gotten over my fear of annual fees with credit cards. Whether it's $95 or $695 a year, it's a big roadblock for many travelers. But I realized that with the amount I spend on travel each year, even costly travel credit cards are saving me money – especially with deep benches of benefits like Uber credits, airline fee credits, and more.
Just so we're clear, credit cards are serious business. It's important to go slow and never spend more than you can afford to pay off in full, each and every month. No matter how many points and miles I've earned, staying debt-free is far more important.
As you travel more, it's important to branch out beyond your go-to credit card – and even more important to focus on credit cards that earn flexible points.
Bottom Line
If you'll forgive my travel sins, hopefully, you can learn from them as I did.
Was there pain along the way? Absolutely. Is there sleep-depriving regret? For sure. So please learn from my mistakes so you don't make them, too.