Rejoice, Minneapolis-based travelers: After being closed for more than a year and a half, The Escape Lounge at Minneapolis-St. Paul (MSP) is finally open once again.
At long last, the fan-favorite lounge in Terminal 1 of Minnesota's largest airport opened its doors on Tuesday, Aug. 10. Even as other Escape Lounges across the country reopened, the Minneapolis location had been closed since March 2020 when the pandemic first upended travel.
But it won't look exactly the same as travelers left it. For starters, Escape Lounges have been rebranded as Escape Lounge – Centurion Studio Partner Lounges thanks to a deeper partnership with American Express. And the lounge has also gotten a facelift, with new furnishings and even a new "maitre d' level of service," where travelers order food from their seats rather than serve themselves at a buffet, a lounge spokesperson said.
We're excited to give the refreshed MSP Escape Lounge a test run in the days ahead, so stay tuned for a review.
But there's one other big change to keep in mind: The operating hours. Currently, the MSP Escape Lounge is only open from 8 a.m. to 4 p.m. daily. For a lounge that was once open nearly around the clock, that's quite restrictive. A lounge spokesperson said they're looking forward to returning to full hours at an undetermined point.

Read our full review of the (old) MSP Escape Lounge!
The Minneapolis Escape Lounge quickly became a go-to for travelers since opening in 2016. Despite its small size at just 5,000 square feet, it was often far less crowded than the nearby Delta Sky Club. The Escape Lounge hasn't been expanded for its reopening, and the lounge's bathrooms are still located outside of the space itself.
Still, there's a complimentary bar (with premium drinks available for an extra fee), and the hot food and salad bar has always been a step above what you'll find in most U.S. airport lounges.
Getting into the Escape Lounge
The real allure of the Escape Lounge is access. Unlike the Delta Sky Club, anyone can get into the Escape Lounge in Minneapolis – no matter which airline you're flying.
For starters, day passes are available starting at just $40 if you prepay online – or $45 at the desk. But for frequent travelers, there's a better way.
For several years, the Escape Lounge MSP – and all Escape Lounges – were part of the Priority Pass lounge network. But that changed in 2017, as Escape Lounges left Priority Pass.
And that leaves the Platinum Card® from American Express as the best way to get in – either the personal or small business version will get you in for free. Plus, you can also bring two additional guests for free, too. Additional guests will cost you $45 apiece – though children under 2 won't count toward your guest count.
Just show your Platinum Card, boarding pass, and an ID at the check-in desk, and you're on your way.
One other option to get in free is with the Delta SkyMiles® Reserve American Express Card. But that'll only work if you're on a Delta flight that day, and guests will cost you $30 apiece.
The Escape Lounge is located behind security at Terminal 1 in MSP, which means you'll need to be flying out of Terminal 1 to get in. It's located on the upper level near the entrance for concourse E – just look for the signage and head up the stairs or hop in the elevator.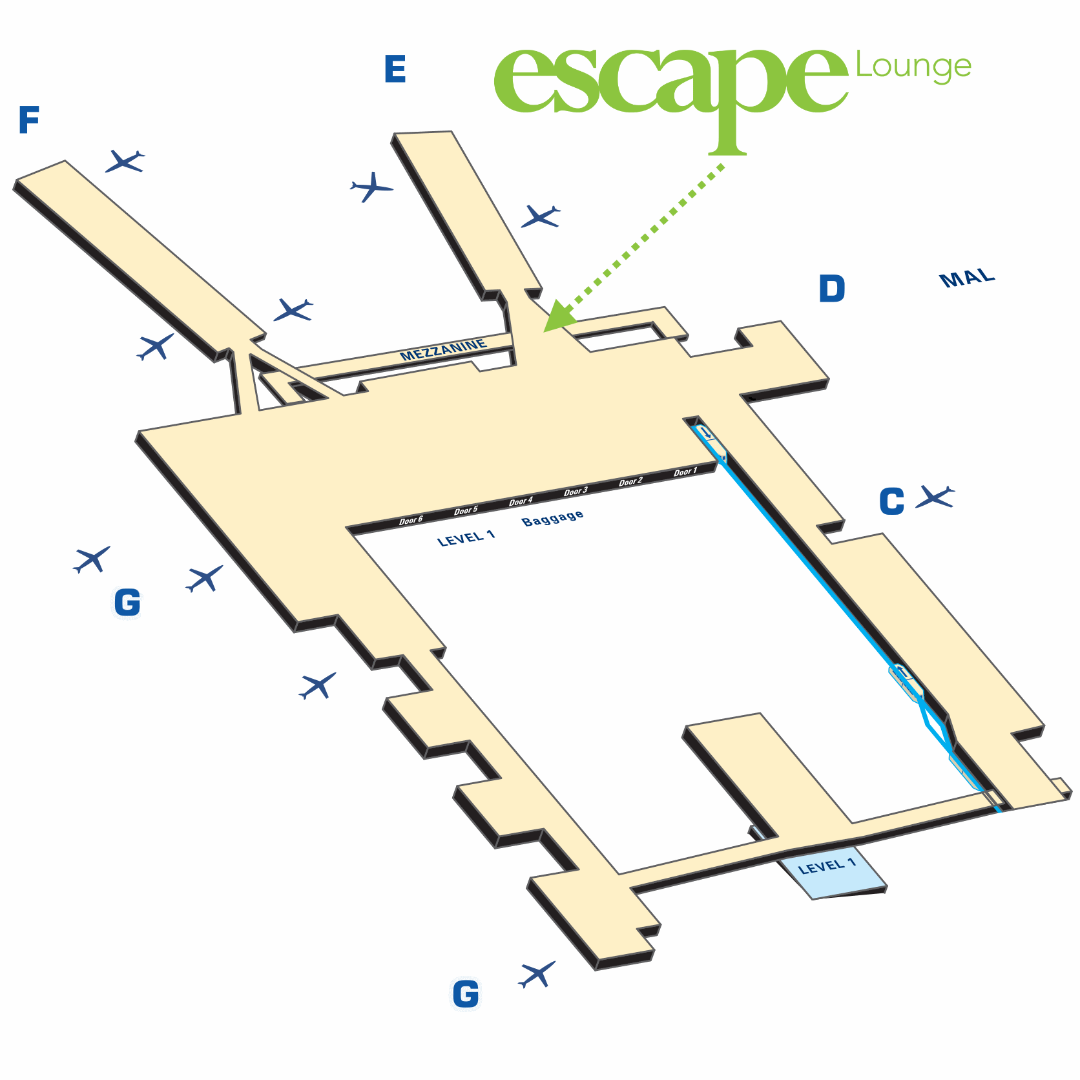 Before it closed due to the pandemic, the Escape Lounge was open from 4 a.m. to 9 p.m. daily. But that's not the case currently: It's only open from 8 a.m. to 4 p.m.

Bottom Line
We're ecstatic to see our favorite lounge at our home airport reopen its doors, and we know we're not alone. Stay tuned for a full review of the new and improved MSP Escape Lounge!
Photos courtesy of Escape Lounge