In December, we covered how United was testing their new Basic Economy fares in the Minneapolis market. Those dreaded fares have now been rolled out nationwide. The fares don't include overhead bin space, seat selection, or earn elite credit towards status. They are terrible fares, which have now replaced your normal economy fare, which included carry-on (for the same price).
United Airlines (all domestic fares now basic economy)
No carry-on bag
Seat selection and upgrades are not available
Flight changes and refunds are not allowed
Will not earn elite credit
United started offering the basic economy fare for customers to have more "choice". The reality is the new basic economy fares are now the same price as the old economy fares which included carry-on. The whole basic economy concept is just a way to squeeze more money out of passengers. You will now have to pay additional fees to bring your carry-on.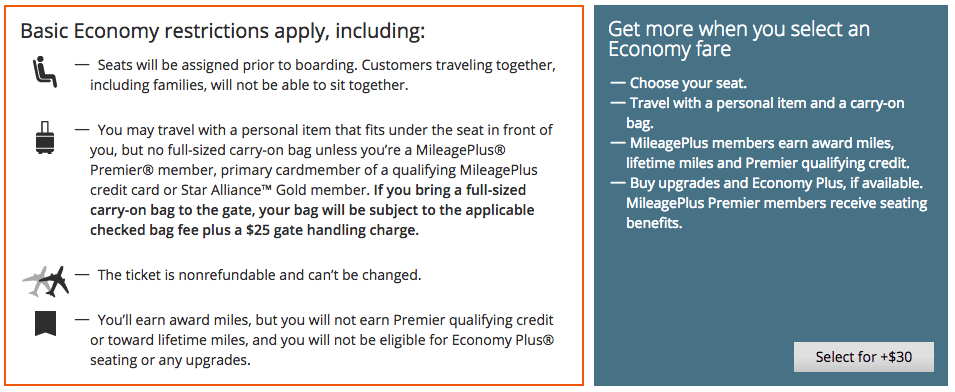 Careful when searching!
If you are searching with Google Flights you will be notified of a United basic economy fare. You will have to crunch the numbers and see if it's worth flying United and paying the additional fee for carry-on, versus flying other carriers.
Priceline is even trickier. They barely give you any warning at all (except the small highlights below) and I expect many customers will buy their ticket without realizing they are getting a basic economy fare. United will charge you $25 at the gate if you try to bring a carry-on aboard.
Delta Air Lines
Delta has rolled out their basic economy fares almost nationwide and even on some international routes. Their fares at least allow carry-on but no seat assignment until check-in or at the gate. I'd avoid Delta basic economy on international routes as there is nothing worse than 8-10 hours in a middle seat. Mrs. TT flew basic economy recently and other than no seat assignment, until she arrived at the gate, it wasn't a big change.
No seat assignment until boarding or at the gate
No same day changes or refunds
Not eligible for upgrades or elite benefits
American Airlines (currently only in test markets)
American is currently testing their basic economy fares in several smaller markets. Similar to United, American basic economy fares do not allow carry-on. At least American fares still earn elite credit.
No access to overhead bins
Seat assignment at check-in
Not eligible for upgrades
Nonrefundable
Bottom Line
I no longer post United domestic fares to this site as we have the minimum expectation of carry-on bags on domestic flights. Make sure to watch out for those basic economy fares next time you're searching for a cheap flight. I recommend filtering out all United flights next time you're searching using Google Flights or your favorite OTA. Flying United just isn't worth it, and I'd gladly pay a few more dollars to fly Delta or American. Sadly this is the state of things and we can only expect American & Delta to follow suit over time.
Lead Photo: Courtesy of United