The words "Napa Valley" and "cheap" don't mix well. Until now.
The country's foremost wine region can be exorbitantly expensive, but it doesn't have to be. If you plan it right, you can take a truly thrifty trip to Napa. Here are some tips to make it happen.
Book a Cheap Flight First
Before you commit to dates and lodging, start with an affordable flight! Waiting for a cheap flight first and planning everything else around those dates is the first key to cheap travel anywhere, especially Napa.
Not sure where to fly into? The city of Napa is about an hour drive from five different California airports. 
San Francisco Airport (SFO) is an hour and a half south, but traffic in and out of SFO can be crazy. Avoid flying in and out of SFO if possible. Oakland (OAK) is a few miles closer to Napa city and will have a bit less traffic than SFO. San Jose (SJC) is a bit further south, but is another Bay Area option.
Sonoma County/Santa Rosa Airport (STS) is an hour northwest of Napa. It's the smallest and easy to get in and out of, but cheap flights into this small airport are rare. Finally, Sacramento (SMF) is an hour northeast of Napa. Traffic is manageable, and from my hometown of Minneapolis, I found cheap direct flights into SMF.
Depending on where you're traveling from, one of these five airports will be your cheapest option. I recommend searching for flights into these five airports using Google Flights. Simply input the airport codes with commas in between, and the cheapest options will show up in the results.
Visit in Off-Season
The best tip we've got to save on a trip to Napa? Visit in the off-season to save on flights and lodging.
Peak summer is a popular time to visit, so avoid visiting from June through August to beat the crowds and save. Harvest season from August through October can also be a pricey time to visit. To get the best deals (and more individual attention at wineries!), visit Napa from November through May.
While it may not be the "best" time to visit Napa, you'll save a small fortune. And for many travelers, that's worth it.
Cut Your Lodging Costs
In the off-season, there are some affordable Airbnbs or cottages like these that will help you stay on a budget. But if you're looking for a truly thrifty stay, the secret is using hotel points.
There are some great bargains to be had in wine country if you've got the hotel points to make it happen. Always-valuable World of Hyatt Points can shine in and around Napa. Take, for example, the Andaz Napa, a four-star hotel downtown and minutes from wineries. It often runs more than $400 a night on weekends, but you can book it for just 25,000 World of Hyatt points.
Or stay in nearby Sonoma at the Hyatt Regency Sonoma Wine Country. It's a great deal at just 15,000 World of Hyatt points per night. Don't have Hyatt points? You can quickly transfer them from Chase Ultimate Rewards!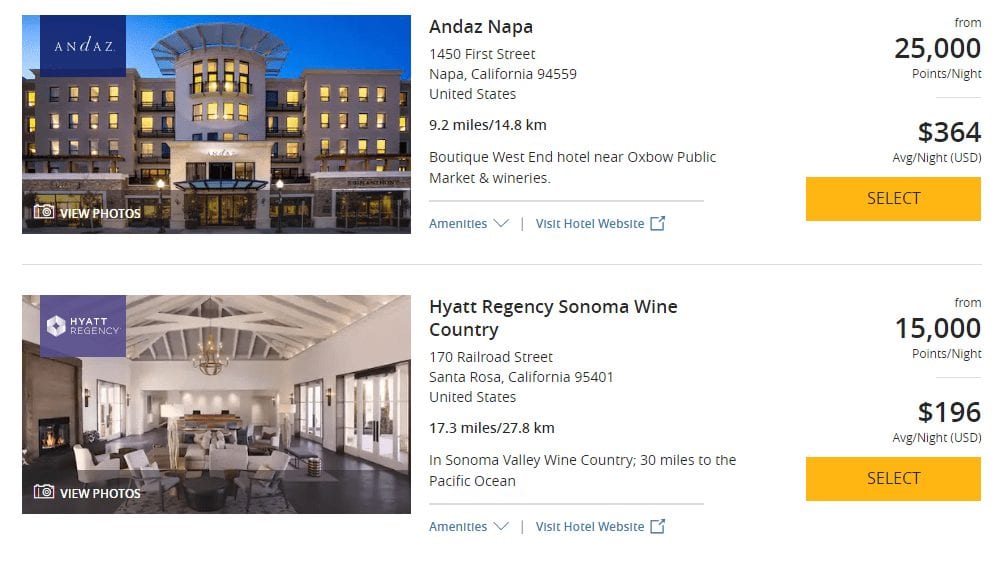 Or go a bit quirky and utilize an amazing sweet spot first highlighted by our friends at Frequent Miler. Using Choice Hotel Points – which are transferrable from American Express cards like American Express Platinum – you can book the quaint, quasi-bed and breakfast Hotel Napa Valley for just 12,000 points per night!
Be Smart About Transportation
Private drivers or buses feel fancy and bike tours or the train can be fun, but the most affordable way to see Napa Valley is by rental car. Rent a car to drive the hour to and from the airport, and make the most of your rental by driving around the valley. Designate a driver in your group for each day, and you'll have the freedom to visit the wineries that are at the top of your list.
Planning to rent a car? Check out our tips to book the cheapest rental car possible. And, if you haven't yet, check out Turo! It's like Airbnb for cars and is an affordable way to rent the car you want with ease.
Thrifty Tip: Curious about Turo? Read about my experience renting a car with Turo.
Organize Your Itinerary by Region
Napa Valley is actually a collection of many areas, called appellations. From Calistoga in the north to Los Carneros in the south, Napa Valley is easily an hour drive long, without traffic.
To make sure you're not spending half the day driving, plan to visit wineries near each other and tackle just one appellation a day and calculate the drive time into your itinerary. Check out this Napa Valley map to start planning.
Looking for even more affordable alternative? Check out the Sierra Foothills near Sacramento, where many wineries offer free tastings. You could make the short drive to Sonoma for a more laidback vibe. Or head for Paso Robles in central California.
Save on Dining
Dining can be a bit pricey in Napa Valley, but it doesn't have to be. If you're staying at a hotel, take advantage of those free breakfasts and fuel yourself for the morning. If not, make a pit-stop at a grocery store and pick up some easy breakfast and snack foods for your stay. Make your own charcuterie tray to enjoy with a new favorite bottle of wine you pick up!
While the restaurants near the wineries can be pretty expensive, there are some more affordable options in downtown Napa. I highly recommend Oxbow Public Market for an affordable lunch spot. There are numerous different restaurants and shops in this open-air market, so everyone in your group can pick what they want.
Choose Affordable Wine Tastings & Tours
Wine tastings and tours don't have to be expensive! Do you have some favorite wineries you're dying to visit, or are you looking to visit some new ones? Do some research beforehand on the wineries you're most interested in and find out their tasting and tour prices.
There are many wineries that charge a reasonable $20-$30 per person for a tasting of four to seven or more wines. However, there are some wineries that offer complimentary tastings and/or tours, like Sutter Home. Do a tasting, get a tour of the mansion, and stroll in the Sutter Home rose garden!
The fun part about visiting a winery in Napa Valley isn't just tasting the wines; it's taking a tour and learning about the winery history, too! Another of my favorites with affordable tasting and tour prices is Robert Mondavi Winery. For just $25, you can take their introductory walking tour and taste a few wines.
Especially if you're visiting during peak season, I'd highly recommend booking your tours or tastings in advance. This way, you can build out your itinerary beforehand and avoid the disappointment of showing up to a winery that's booked out for the day.
Savor and Enjoy Napa
To really savor your experience in Napa, plan just two to three tastings or tours each day. That will give you enough time to relax and enjoy your tastings and tours without having to rush to the next one.
Plus, many wineries have amazing patios that are the perfect spot to spend an afternoon sipping wine! One of my favorite spots was Napa Cellars: do a tasting of four wines for just $30, then take a glass outside and enjoy the vineyard from an Adirondack chair under the trees and twinkle lights. Anyone for a game of cornhole?
Looking for things to do beyond tastings and tours? Walk and window shop in Downtown St. Helena and Napa. In the summer, you can catch free outdoor concerts or movies in Downtown Napa, St. Helena, Calistoga, and Yountville.
Bottom Line
Don't let the fear of Napa Valley's high cost deter you from a trip to wine country. Plan a thrifty trip to Napa by basing your trip on affordable flights, accommodations, and transportation. Pick your favorite wineries for tastings, and enjoy other free activities Napa has to offer!