Beach? Who needs a beach when there's this much culture, food, history, and color?
Oaxaca City, (pronounced wah-ha-ka), may not be on the ocean, but it should still be at the top of your list. Located in a state with the same name in southern Mexico, Oaxaca has absolutely earned its reputation as the place to go in Mexico for delicious food and mezcal.
Wander its unbelievably clean streets, visit its museums, and get a glimpse into a thousand years of life in this region. You'll never get bored – or go hungry.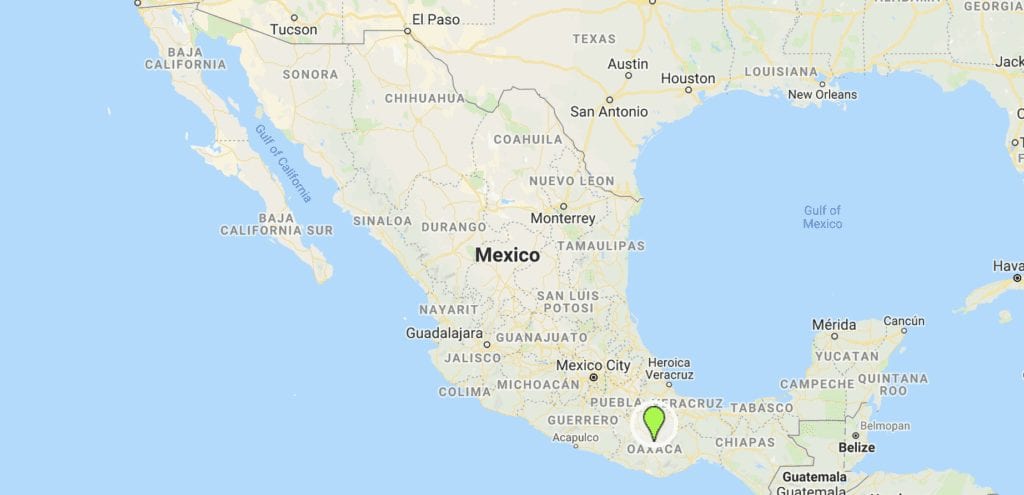 How to Get There
If you're already sold on Oaxaca, you have a few options to get there. But unless you live in Dallas or Houston, you won't find a nonstop flight to this hidden gem.
Within the U.S., only Dallas-Fort Worth (DFW) and Houston-Intercontinental (IAH) have direct flights to Oaxaca (OAX). So any itinerary will take you through those airports. You could also fly through Mexico City (MEX) and take any number of regional carriers onward to Oaxaca, including Aeromexico.
Oaxaca's laid-back vibe hits you as soon as you arrive at the airport. Unlike Cancún and other tourist hotspots, there's no infamous "Shark Tank" full of tour guides and taxi drivers begging you for business here. Oaxaca's airport is small, simple, and quiet.
After clearing customs and immigration, there's really only one way to get to your hotel or Airbnb – taxi. Uber is not available in Oaxaca, and there's only one taxi company available at the airport. Fortunately, their set rates to get into town are reasonable, and the entire process of booking a cab is slick.
Head for the taxi counter near the exit with your address in hand. You'll pre-pay for your cab, then get a receipt to give to a driver waiting outside. Getting into the heart of Oaxaca cost about 138 pesos per person, or about $7 USD.
Where to Stay
There are plenty of Airbnbs and lots of great boutique hotels throughout Oaxaca, but you'll want to stay in the Centro neighborhood – or close by. This is where you'll find the bulk of the sights, restaurants, food stalls, and bars of Oaxaca. And that's why you're here.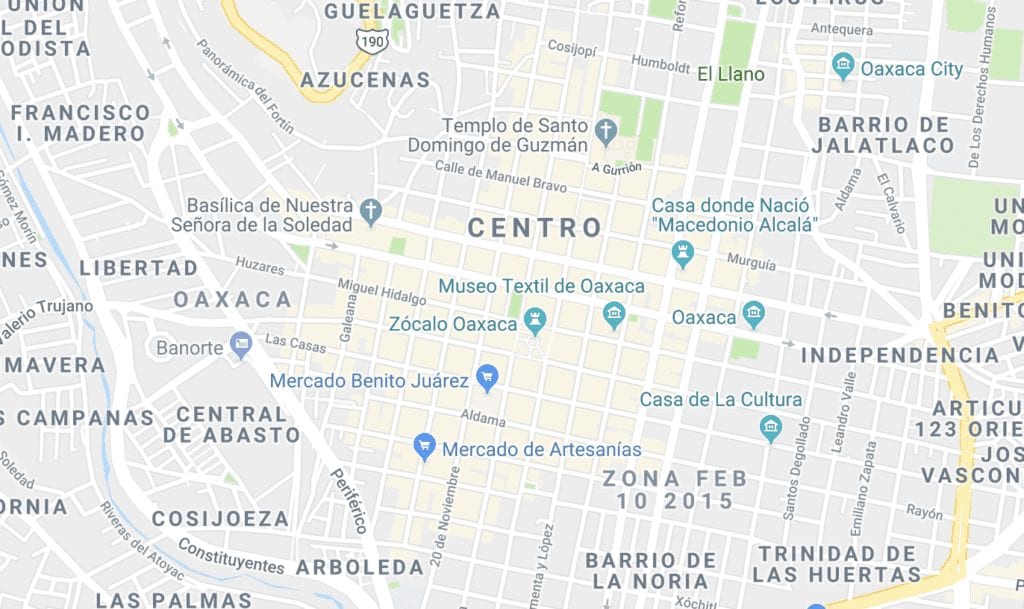 Thrifty Tip: If you stay at an Airbnb, make sure to ask for food recommendations. You will almost always get a great list of places that you wouldn't have found on your own. It's one of our top reasons for picking an Airbnb over a hotel.
Places to See in Oaxaca
Though it may not have the reputation of bigger tourist magnets in Mexico, Oaxaca is a fairly big city, with more than 600,000 residents. And you'll find plenty to do just exploring the center of town.
From museums to theater, dancing, and gardens, there is something for everyone.
Wander the Streets
Oaxaca is one of the cleanest cities in Mexico we have ever seen. Heck, Oaxaca is one of the cleanest cities we've been to, period!
You'll rarely see even a scrap of garbage on the streets of Oaxaca, and it makes wandering around town that much more enjoyable. Enjoy the quaint cobblestone streets, lined with vibrantly painted shops and buildings. Watch for the green-tinted bricks that compose many buildings. These bricks are sourced from local volcanic rock, containing amounts of copper that give them their signature green hue.
Oaxaca is also known for its amazing street art. It truly is everywhere, so make sure to pay attention as you stroll through the city.
Jardin Etnbotanico
This massive garden stretches more than 2 acres of land, just behind the Templo Santo Domingo de Guzman. Here you'll find a collection of hundreds of plants from all around the state of Oaxaca – a great showcase of its diversity.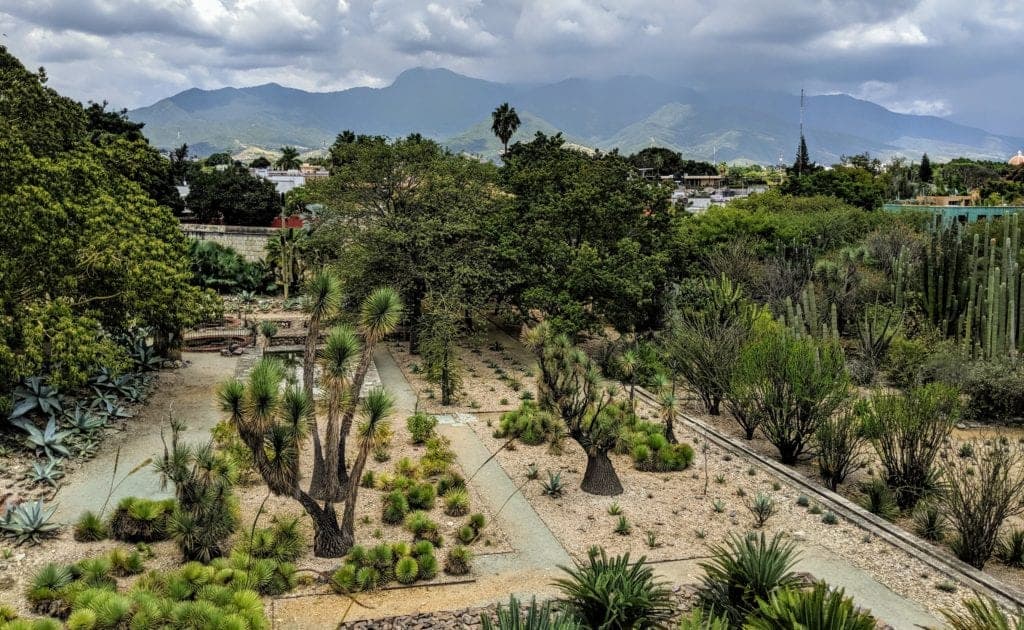 The minders at the garden don't let visitors wander around on their own – you can only walk through on a guided tour. English tours take place Tuesdays through Thursdays and Saturdays, starting from 11 a.m. to 1 p.m. and cost 100 pesos per person (about $5 USD). Spanish tours happen more frequently at 10 a.m., 12 p.m., and 5 p.m. Monday through Saturday and only cost 50 pesos per person.
Thrifty Tip: If you miss the tour or can't make it, you can see the botanical gardens from above in the museum attached to the church.
Santo Domingo de Guzman
Originally built for Dominican Friars, this gorgeous church and attached complex were used as a monastery. Construction began in 1572 but wasn't completed until 1731. The monastery was active until 1857 and it was then used as military barracks until the early 1900s. The church was restored in the 1930's . You can visit the church Monday through Saturday from 9:30 a.m. until 1 p.m. and 4 p.m. through 7 pm.
The cloister was turned into a museum in the 1970s and only fully restored in the early 1990s. Today, you can visit the museum for 75 pesos per person (just under $4 USD) Tuesday through Sunday from 10 a.m. until 6 p.m. The museum contains room after room of Oaxacan artifacts dating from the prehispanic era up through the Spanish conquest. Marvel at the beautiful Jade jewelry, necklaces made from jaguar teeth, pottery, and more modern suits of armor.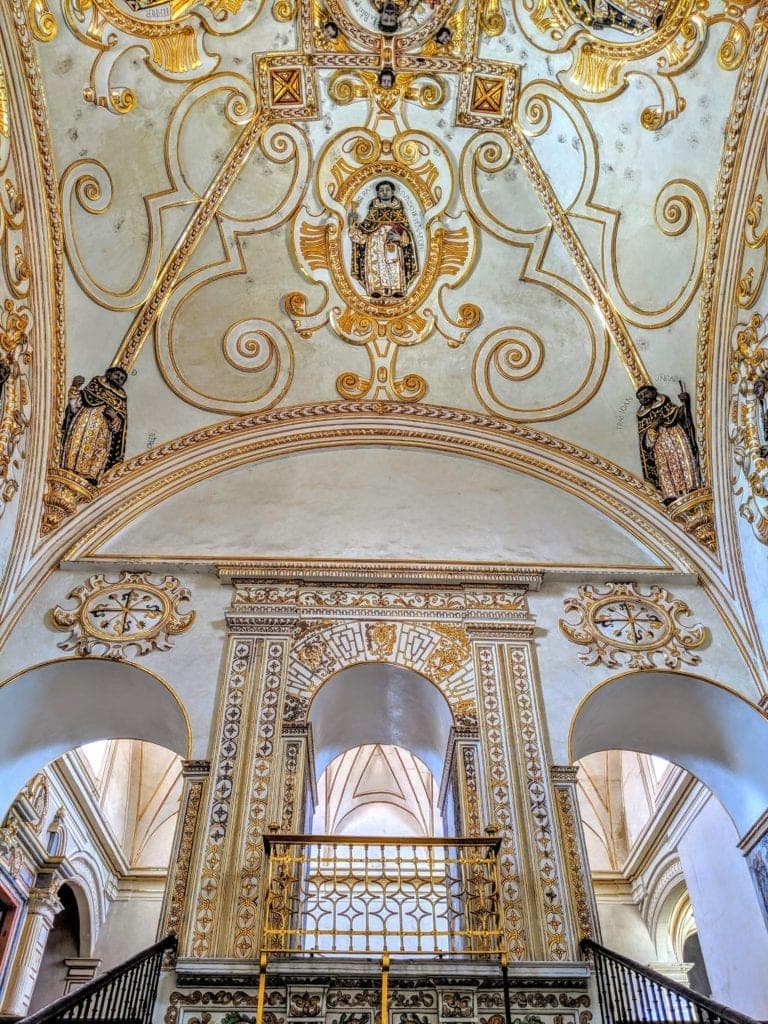 And don't skip the library on the first floor. Thousands of volumes of books, some hundreds of years old, reside in this library. Anyone can come in and take a look at any of the books as long as they wear gloves and a face mask.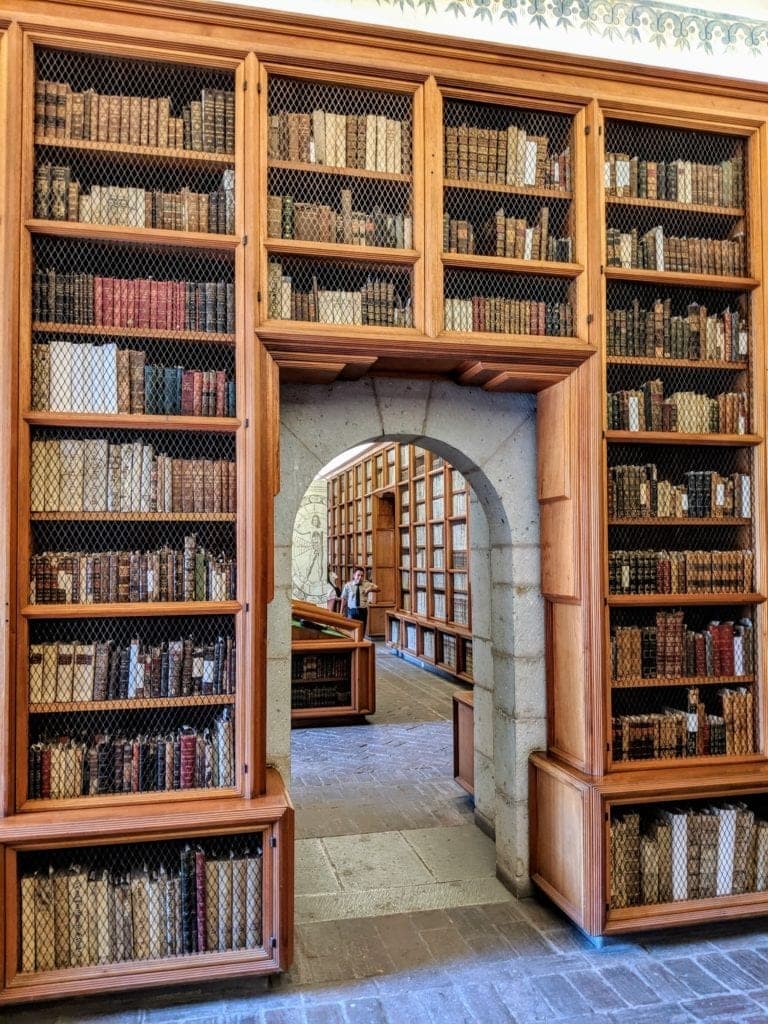 One of the best parts of the museum is the views that overlook the surrounding area. Take in the sights of the botanical garden and the courtyard in front of the church.
Thrifty Tip: You may be approached in the courtyard by someone offering a short English tour through the museum for around 300 pesos (roughly$15 USD). Take them up on it! While it's good to be wary of scams while traveling, this wasn't one of them. We thoroughly enjoyed our 30-minute tour and learned way more than we could have on our own.
Go to the Theater
The Teatro Macedonia Alcalá was built in 1903 and only has 800 seats. It regularly hosts operas, film festivals, ballets and more, with tickets starting at just $7 USD. If you want to catch a show, you'll have to go purchase tickets in person at the main entrance.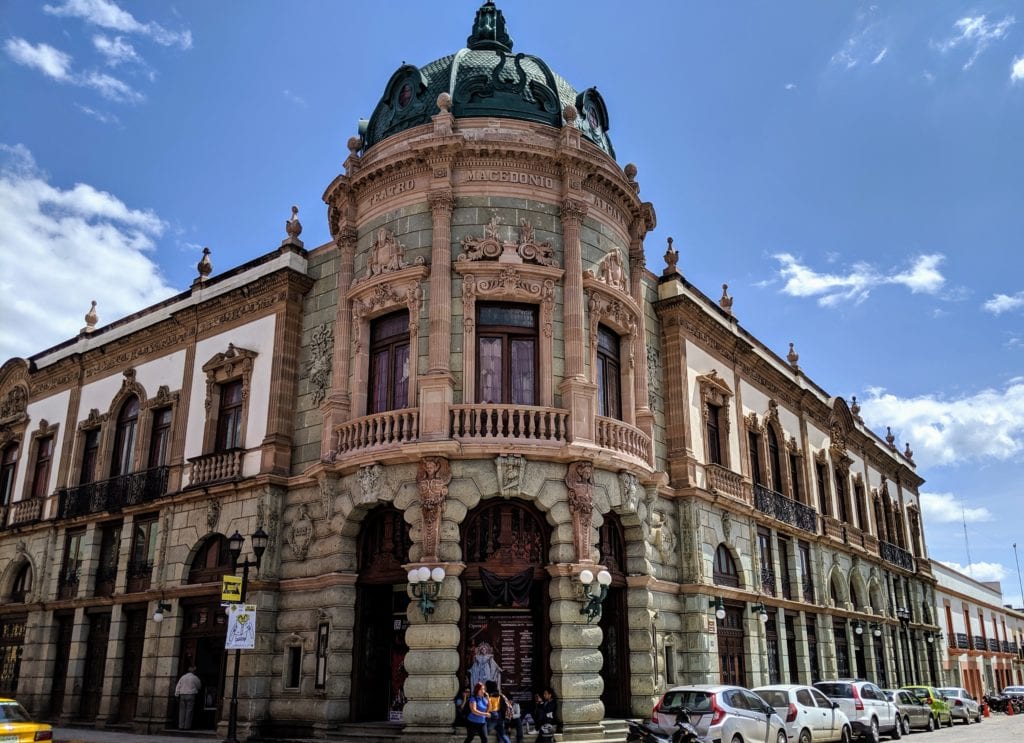 If opera is not your thing, or there isn't a performance during your trip, you can still tour this beautiful theater. Tours take place Mondays through Thursdays at 12 p.m. and 1 p.m. for 53 pesos (just under $3 USD) per person. Tours are about 20 minutes and all in Spanish, so it's helpful if you have someone along that speaks a little bit. I don't speak any Spanish and still enjoyed seeing the beautiful theater.
Thrifty Tip: You won't find much information online about tours, so we just showed up to the main entrance and asked. We happened to be there on a Friday just before noon. And although the sign said tours were only available Monday through Thursday, they let us in anyway!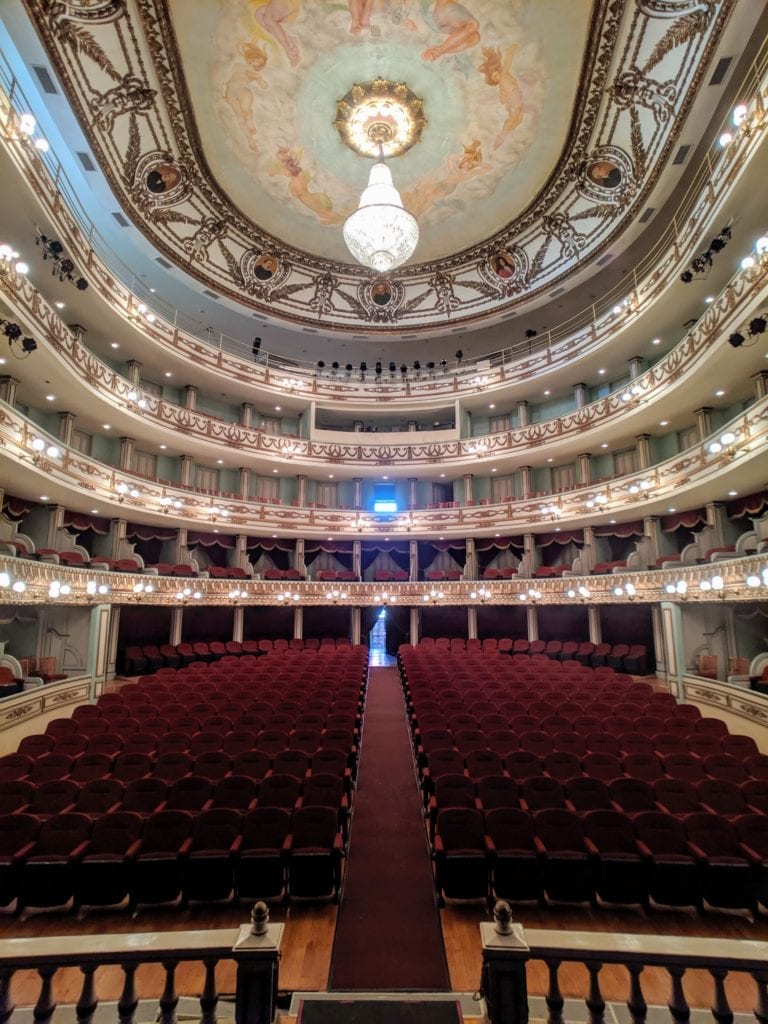 People Watch at the Zocalo
The Zocalo is the center square of the city, and it's always bustling. There are stands with scarves, blankets, painted trinkets, food and more lining the square.
It's a hub for musicians to perform and artists to create. It's also a local meet up spot, with people relaxing on benches or curbs. Spend some time here to get a feel of the city and the people.
Go Dancing!
There are dozens of clubs in the center of town where you can dance the salsa, cumbia, reggaetón, and any Latin style dance you can imagine. You can also find some jazz and top 40s if you look hard enough. The best times to go are late-night and weekends.
Shop at a Collectivo or Market
Collectives, or collectivos, and markets, or mercados, are all over the city. Small businesses throughout Oaxaca share spaces together to save costs, grow, and get more exposure.
Stop by an art collective to find some unique and original souvenirs.
Eating at a food collectivo or a mercado is a great way to try a lot of different amazing local food – plus it's extra cheap! Check out the beautiful and fun Collectivo 8 Regiones.
Eat & Drink
You're in the food capital of Mexico. Eat it all!
Oaxacan food is deep and rich in flavor. From the famous mole sauces made from chiles and chocolate, to tlayudas (big tostadas), spicy soups, and of course tacos, you'll never get bored of the local fare. If you're feeling really adventurous you can find a dish made with grasshoppers and other insects on almost every menu.
There are also a lot of great bakeries in Oaxaca. Stop at Boulenc for a pastry in the shop or eat a full breakfast in the café – it's one of the best breakfast stops in town.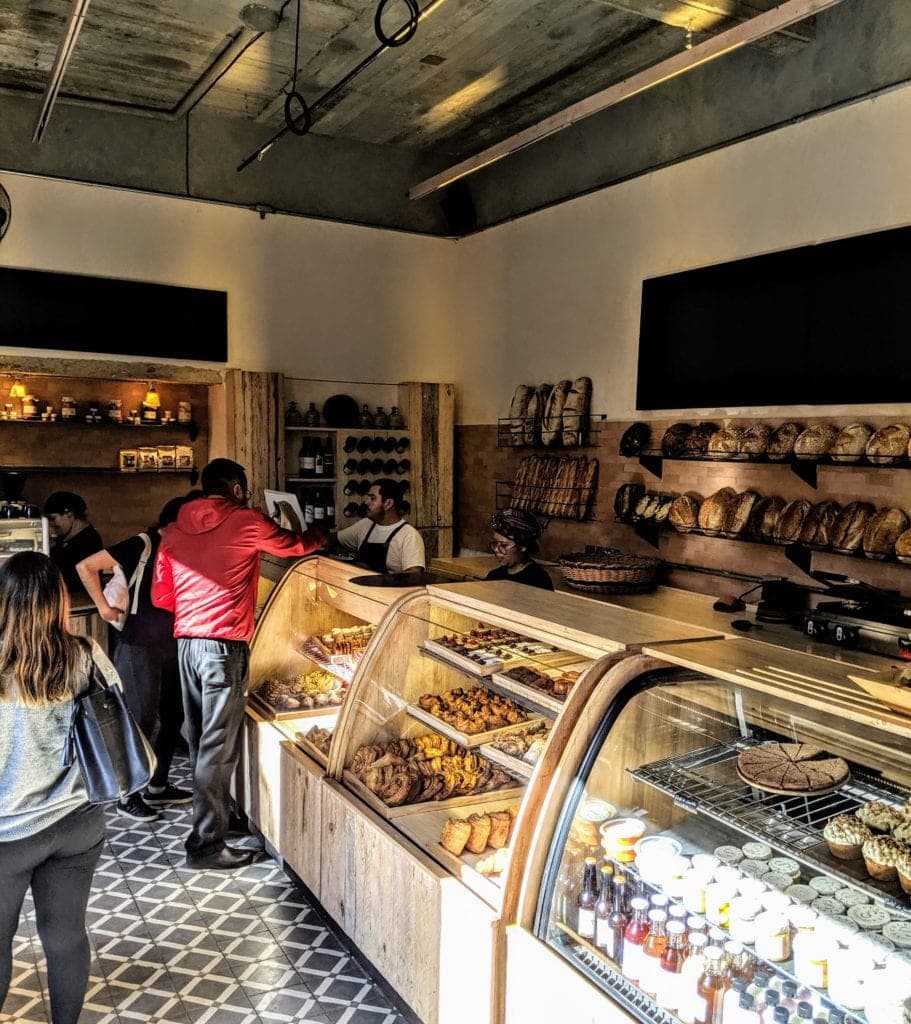 For an amazing, traditional soup that comes from the north of Oaxaca, head for to Caldo de Piedra. These flavors are incredible, and the way it's made is unusual, to say the least. Caldo de Piedra translates to "hot stone." Just as in the days before ovens and stovetops, they gather stones from a riverbank in northern Oaxaca, put them in a fire for two hours, and put them in the bowl of raw ingredients to cook your soup!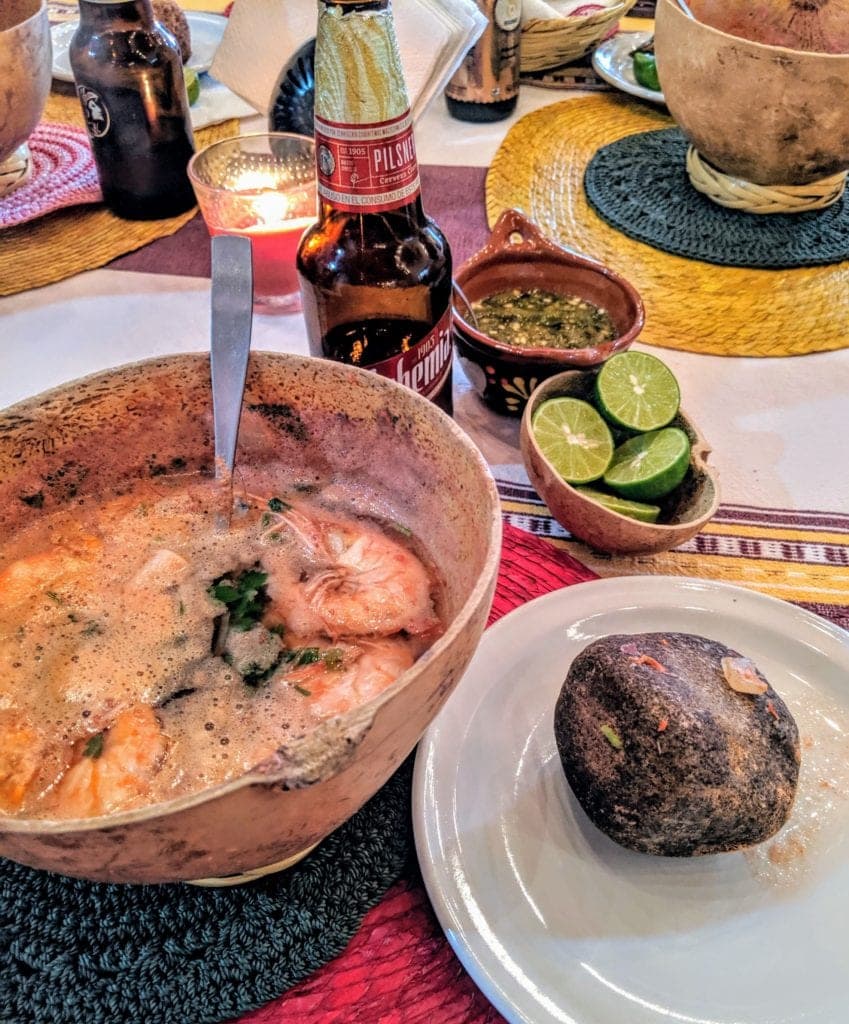 Street food tacos are key. There is nothing quite like freshly made tortillas filled with chorizo or squash blossoms and quesillo, Oaxacan cheese. Tacos del Carmen is near Santo Domingo de Guzman and is a perfect place to stop for a taco or two (or four).
Read More: The Top 9 Foods and Treats You Need to Eat in Oaxaca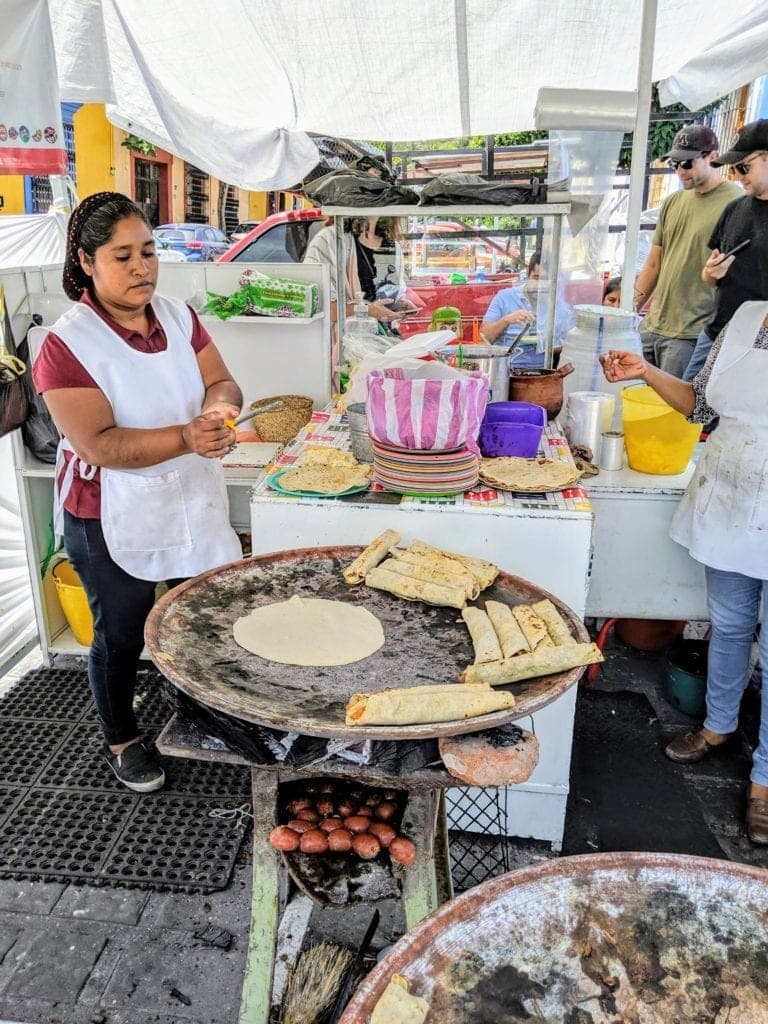 Tequila may be king in Mexico, but not in Oaxaca. The local booze is called Mezcal, and it's Oaxaca's pride and joy. Think of it like a grown-up version of tequila.
Much like tequila, mezcal is made with agave – but with an entirely different, artisanal process that gives it the signature smokey, complex taste. Head into any mezcaleria, like Mezcaleria Los Amantes and order an ounce of Espadín. This kind of Mezcal is the perfect place to start if you've never tried it.
Mezcal comes in a shot glass, but it's meant to be sipped slowly or as the Oaxans say "besitos" of Mezcal – little kisses. If you are with a few people order a few different kinds and pass them around. They are all wildly different so it's fun to compare.
Read More: Move Over Tequila: It's Time for Mezcal, The Spirit of Oaxaca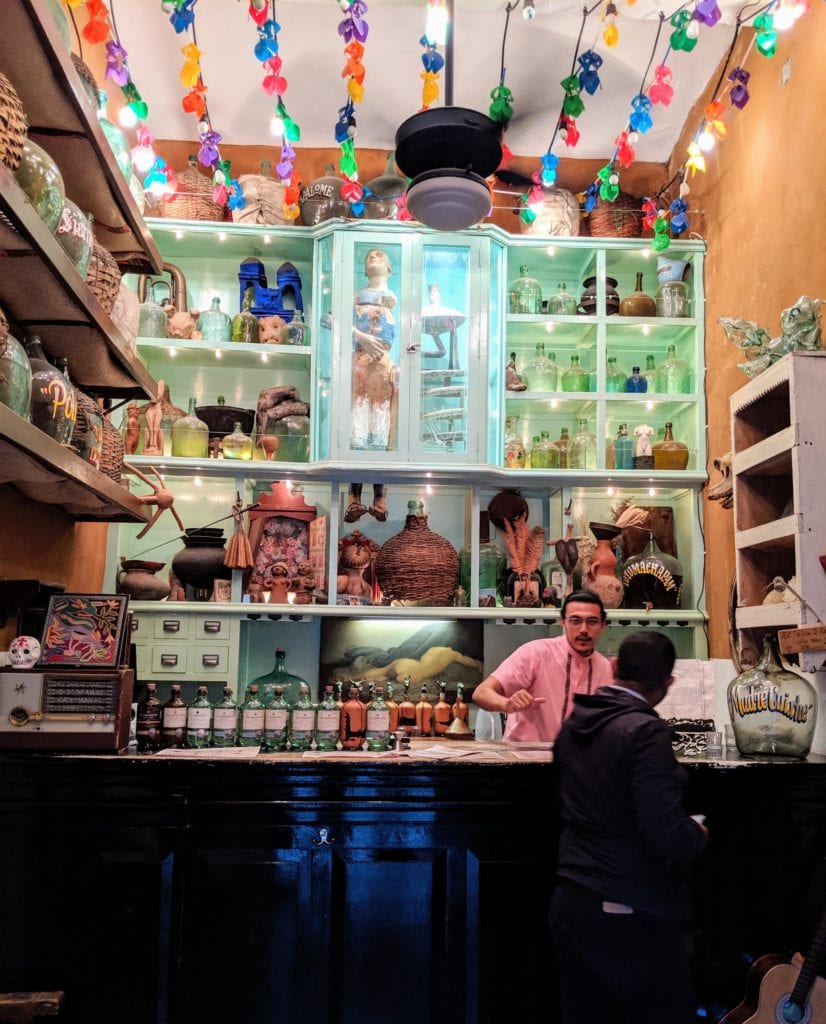 Along with sipping Mezcal at a Mezcaleria make sure to head to a cocktail spot, preferably one with a view like the Terraza Los Amantes. There are rooftop bars everywhere and it's a must. You'll pay a bit extra for the scenery – think $7 USD for a cocktail rather than the norm of $5 USD. But for this view, it's worth it.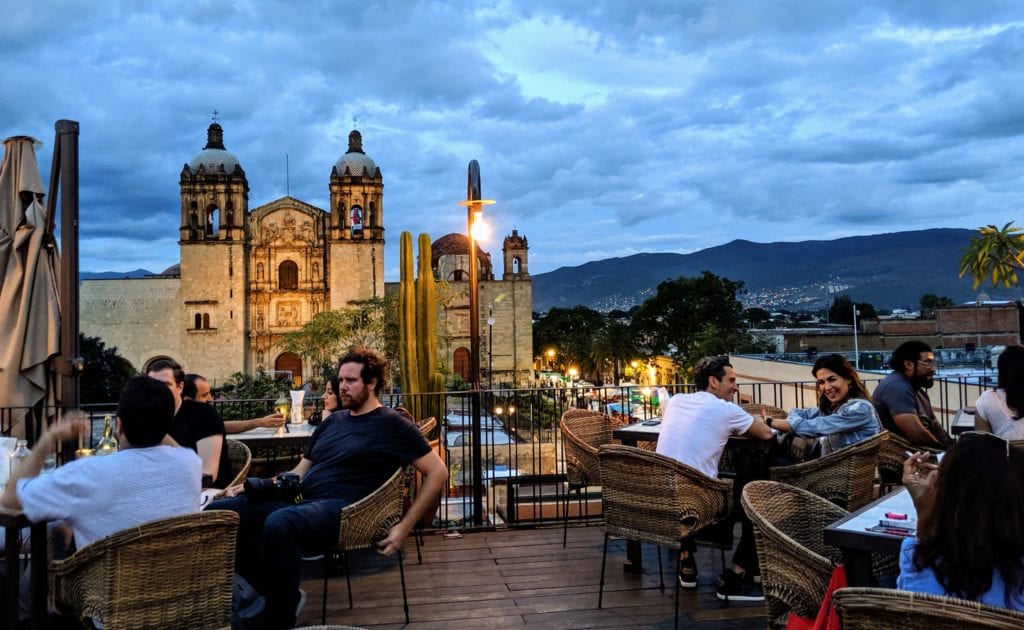 Get Outside the City
There is so much to do right in the center of town but don't forget to check out some of the amazing sites nearby. Here are just a few.
Monte Alban
Only a  20-minute taxi ride from Oaxaca Centro, Monte Alban is an easy half-day trip. This is the most important Archeological site in Oaxaca. It was home to the Zapotecs, Mixtecs, and Olmecs for more than 1,500 years. These people greatly influenced the prehispanic era and current-day culture, food, and customs of the local people.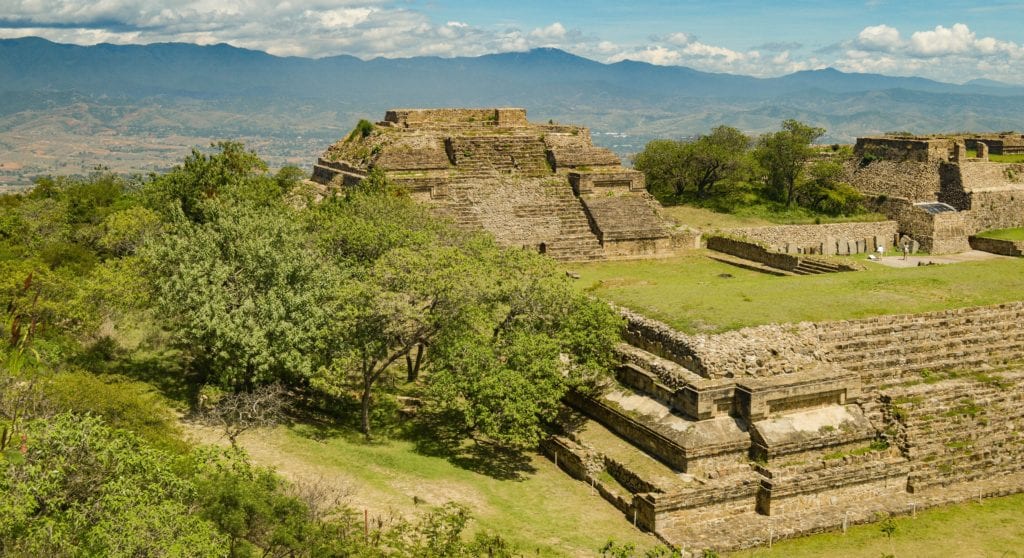 You can find many of the artifacts excavated in the Santo Domingo de Guzman museum.
Hierve el Agua
Hierve el Agua is a bit farther out of town – roughly two hours by car, depending on traffic. If you don't want to shell out for a long taxi ride or rent a car, scour Tripadvisor for day-long tours that include this site.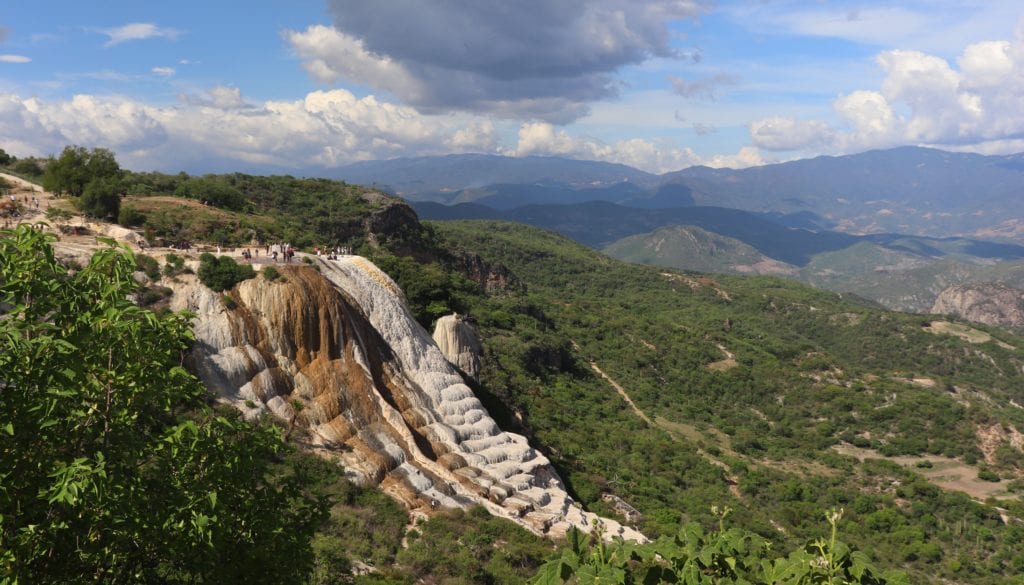 Hierve el Agua, "the water boils", is a site of unusual rock formations that look like waterfalls. It is also an important archeological site. The Zapotecs build an extensive irrigation system with miles of canals and terraces. Few of these canals remain, but the area has not been explored thoroughly.
There are two artificial swimming pools plus a few smaller natural pools with hot springs to swim in, so bring your suit! You will also find a few small restaurants, places to change and show, and a few rustic accommodations if you decide to stay overnight.
Bottom Line
A rich history, food with a depth of flavor to match, mezcal, culture, and amazing people made Oaxaca one of our top destinations. We're certain it will be one of yours, too.
Want the best flight deals and travel tips delivered to your inbox?
Sign up for Thrifty Traveler, and like us on Facebook or follow us on Twitter & Instagram

Editorial Note: Any opinions, analyses, reviews, or recommendations expressed in this article are those of the author's alone, and have not been reviewed, approved, or otherwise endorsed by any card issuer.