You could spend months diving into the flavors and foods of Oaxaca and still only scratch the surface.
From the amazing chocolate that Oaxaca is known for (and the delectable mole sauces it goes in) to its signature drink, mezcal, there's perhaps no better city in all of Mexico for food lovers. The state of Oaxaca has eight different regions in all, each with a different flair in its cuisine – and you can get them all in its capital city.
If you're feeling adventurous, you could try crickets and other crunchy bugs – staples of the area – or try a taste of the delicacy huitlacoche, fungus that grows on corn. But if you're looking for a place to start, here are some of the best foods to try in Oaxaca city.
Thrifty Tip: Ask a local where to eat! If you're staying at an Airbnb your host is the perfect person to tell you about great local spots. Another great way to dip your toe into the local food is to book a food tour through Airbnb experiences.
Breakfast of Champions
OK so it's not a specific food or dish, but it still deserves a spot on the list. Many travelers skip breakfast or hit the grocery store to save money. Oaxaca is cheap, and it starts with the most important meal of the day!
There are plenty of great cafés, panaderias (bakeries), and coffee shops that are perfect places to start your day.
Boulenc has wonderful pastries, bread, confections, and a great all-day café. Sit down for a leisurely breakfast that features local items like molletes, bread with beans and cheese, served with salsa. They also serve international food from France, the U.S., and even shakshuka, an egg dish from the Middle East and Northern Africa.
Get a cup of coffee or chocolate, hot or cold, and stop in the bakery on the way out for some souvenirs like agave honey, local jam, or local chocolate bars.
Chocolate of the Gods
The history of chocolate, or cacao,  consumption in Oaxaca, (and Mexico as a whole) goes back hundreds of years, with roots in prehispanic Mesoamerica and an integral role in rituals and celebrations.
Today, Mexico may not be a large grower of cacao beans or producer of chocolate, but it remains one of the largest chocolate consumers in the region. Look through any menu at any time of day, and you'll find some form of chocolate or cacao. From drinks to food, in sweet, savory, and spicy forms, and even just plain chocolate, many Oaxacans have some form of chocolate all day long.
In the mercados (markets), you will see sacks filled with cacao beans. Locals buy them and grind them using a metate, a large square stone with a stone rolling pin that is used to crush the beans into soft melted cacao that can then be made into bars for use later in drinks and cooking.
Just don't expect the hot or cold chocolate to be like the drinks you find in the U.S. or Europe. There's no cocoa butter, vanilla, or other additives used here to make the chocolate smoother. Your standard chocolate in Oaxaca is unsweetened and unflavored.
Going for a glass of hot chocolate? You'll have the choice to make it with milk or water, then add sugar, cinnamon, or chili spice. Try it multiple ways to see what you like!
Mole, The Special Sauce
Speaking of chocolate, mole (pronounced mohl- ay) sauce is one of the most important ways it is used in Oaxacan cuisine. Mole is a general term for a slow-cooked sauce made from a blend of chiles, spices, and herb,s with different additions based on the region and local cuisine. But one of the signature moles in Oaxaca is mole negro (black) which contains local chiles, chocolate, and indigenous herbs.
After hours or even days of work, the result is a rich and complex sauce with a hint of sweetness and spice. It's usually used in tamales, enchiladas, and tlyudas (flat tacos).

There are many different kinds of moles that vary in color, spice and name based on the types of chiles used. You can find mole verde (green),  mole poblano (type of chile), mole coloradito (red-ish), or the mole amarillo (yellow),  pictured above with enchiladas from Colectivo 8 Regiones. 
Quesillo, Mexican Mozzarella
You're in Oaxaca. It's not queso – it's quesillo.
Quesillo is the cheese of Oaxaca. Unlike queso fresco that you'll find throughout much of Mexico, quesillo is soft, stringy, and hand-pulled, similar to mozzarella. You'll find it in almost every dish, from tlayudas, quesadillas, tacos, and more – even if the menu doesn't specifically list it.
Tlayudas
You will see this word everywhere. Tlayudas are unavoidable in Oaxaca.
It's basically a large, flat, and slightly crispy taco, though slightly different from a tostada and a staple of Oaxacan cuisine. The base is a tortilla that's partially fried, toasted, or cooked in a wood oven. Much like a flatbread, you can order tlayudas with almost any topping. Typically, beans are spread across the tortilla and then topped with things like quesillo, some sort of meat, veggies, mole, salsa and more.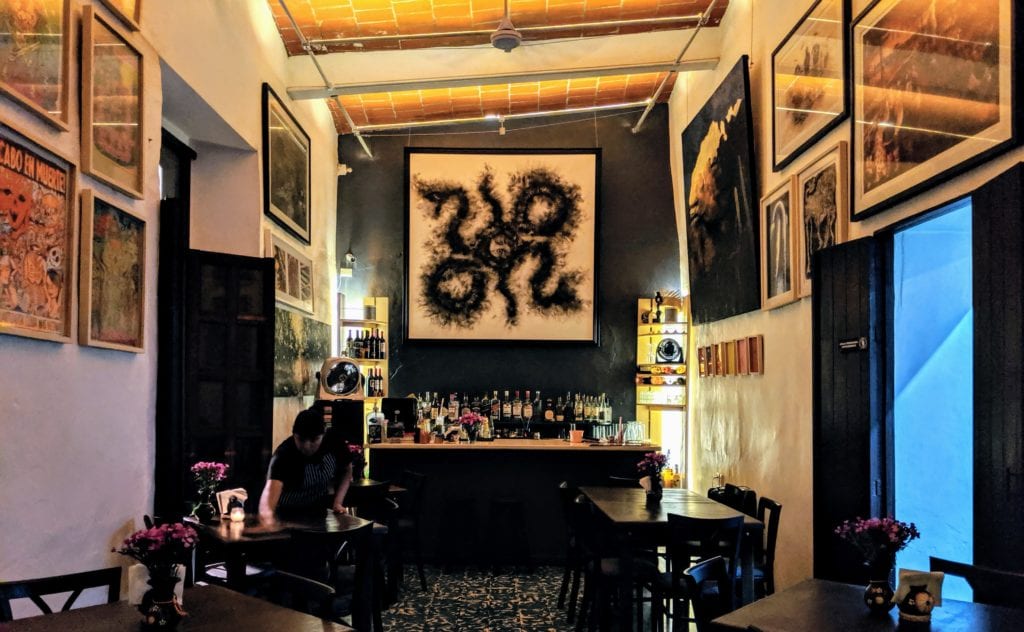 La Popular and its sister restaurant just down the street, La Otra has a diverse menu of tlayudas. Try the mole negro with chicken or the pork tlayuda with quesillo, avocado, radishes, and onions. Wash it down with a beer or and ounce or two of mezcal.
Tacos, of Course
Tacos are a mainstay everywhere you go in Mexico and you don't want to skip them in Oaxaca. Try some street tacos with chorizo, or quesillo and squash blossom,  or if you're feeling crazy fried crickets.
Tacos del Carmen is a great place to stop for a taco or two while you're wandering the Centro Oaxaca neigborhood.

Soups
Just because it's hot outside doesn't mean you can't slurp down some amazing soups.
Caldo de piedra, hot stone soup, is cooked with a hot stone. Not only is it delicious, but it's amazing to watch your servers make this fresh and complex dish from northern Oaxaca. Stones the size of a baseball or smaller are heated directly in a fire pit before being placed, scalding hot, into a bowl of raw ingredients like shrimp, fish, or both. Try it at Caldo de Piedra. 
Another great shrimp soup that Cabuche Cochina Mexicana is known for is levantamuertos, which translates literally to "raises the dead." This slightly spicy chile-based shrimp soup might not bring you back to life, but it will certainly awaken your taste buds.
Pozole, a soup that actually originates in the Mexican state Jalisco, is made with hominy, maize kernels, and chiles. You can get pozole verde or rojo, based on the types of chiles used for the base, with any sort of meat or seafood. Toss in some onions, radishes, and avocado, and you're ready to feast.
Agua Fresca
Agua fresca, or fresh water, is a flavored still or sparkling water with sorbet added. You will find many different flavors to choose from including guava, pineapple, mango, or tamarind. Order the mango agua fresca at Colectivo 8 Regiones to accompany a plate of fried plantain, fried queso, and a garnacha (little tostada), or two!

Horchata
Horchata's reputation spreads far beyond Oaxaca, but you have to try it here.
This drink made from plants, rice, and seeds can be found throughout central America. In Mexico, it's made from rice and flavored with cinnamon, then sweetened with sugar. Grab a cup or order a coffee drink with some horchata in it.
Pal' Dolor Cocina makes a delicious horchata ice cream with mezcal soaked melon balls and strawberries.

Bottom Line
There are so many amazing local dishes and foods to try in Oaxaca – this is just a start. Head to Oaxaca with an open mind (and an empty stomach) and be prepared to eat it all.
Read More: Don't Miss Oaxaca, Mexico's Up-and-Coming Hot Spot, Move Over Tequila: It's Time for Mezcal, The Spirit of Oaxaca
Want the best flight deals and travel tips delivered to your inbox?
Sign up for Thrifty Traveler, and like us on Facebook or follow us on Twitter & Instagram