Coronavirus has reshaped the world of travel as we know it, with no signs of that slowing anytime soon. So now reality is setting in: For American travelers, international trips are largely off-limits.
Aside from a handful of Caribbean islands and other destinations, most countries are closed to U.S. tourists. Even those destinations that are open come with major complications: 14-day quarantines, negative COVID-19 tests results taken just days before departure, and more.
Read more: A Country-by-Country Guide to International Travel Restrictions
So while we all love international travel, it's become increasingly clear that an international trip in the near future may not be in the cards. Don't fret.
It's time to turn inwards and look to domestic destinations instead. This is the year of the road trip, the outdoor adventures, and exploring the United States.
Domestic Destinations for History Buffs
Bummed about canceling your European trip this year? Dreaming of art galleries, museums, and historical tours? Whet your appetite for travel by visiting some historic destinations in the U.S. instead.
Head to stunning Savannah to spend time in a quaint Southern town, and soak up the local history. Check out our guide to Savannah to make your trip a mix of learning and pleasure. Here's a few places to start your planning:
Walk through Forsyth Park, Savannah Historic District, and East River Street
Explore Telfair Museums and the Mercer Williams House Museum
Take a tour of Bonaventure Cemetery, famed location from the book Midnight in the Garden of Good and Evil
Need a cheap flight to get you there? Our Thrifty Traveler Premium now includes domestic flight deals.
We recently found flights to Savannah (SAV) as low as $56 roundtrip from over 70 U.S. cities and sent instant alerts to our Thrifty Traveler Premium subscribers!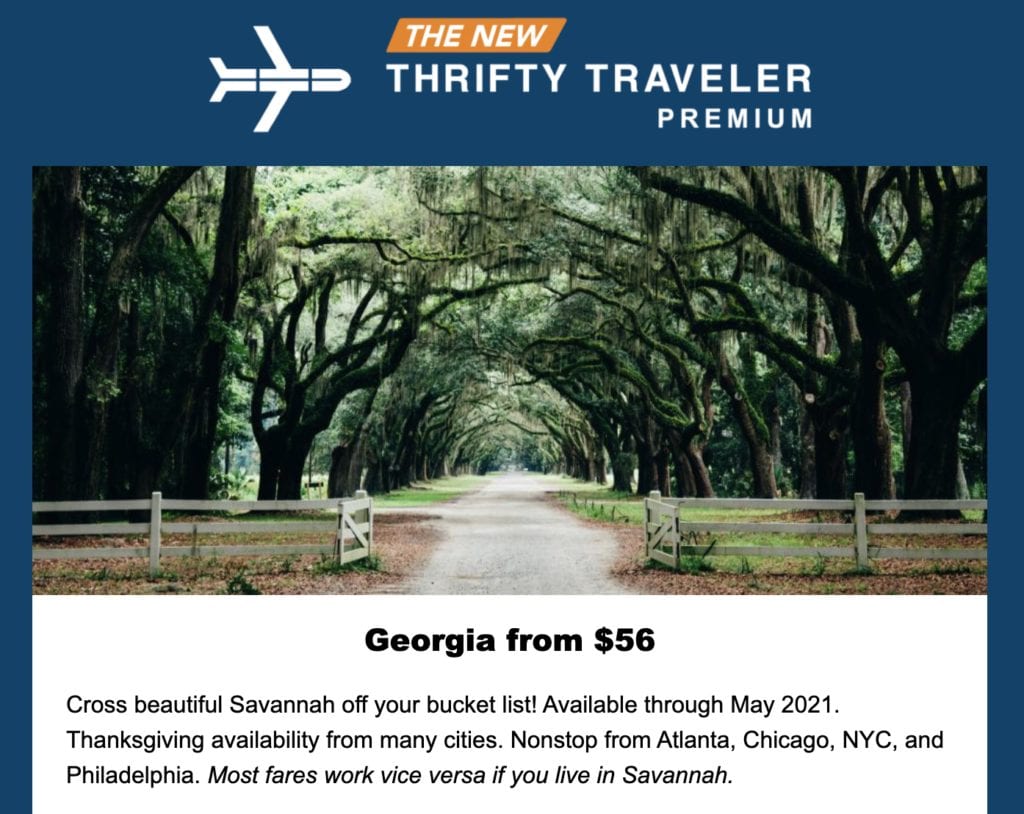 70+ cities to Savannah, Georgia: ALL under $198 (Was: $550)
Looking for another destination for history buffs – especially after watching Hamilton for the 50th time on Disney Plus? Head to Washington, D.C.! We've seen crazy cheap flights nationwide to our nation's capital recently, with availability all the way through May 2021. This recent Premium deal featured fares as low as $76 roundtrip – even from Midwest and West Coast cities: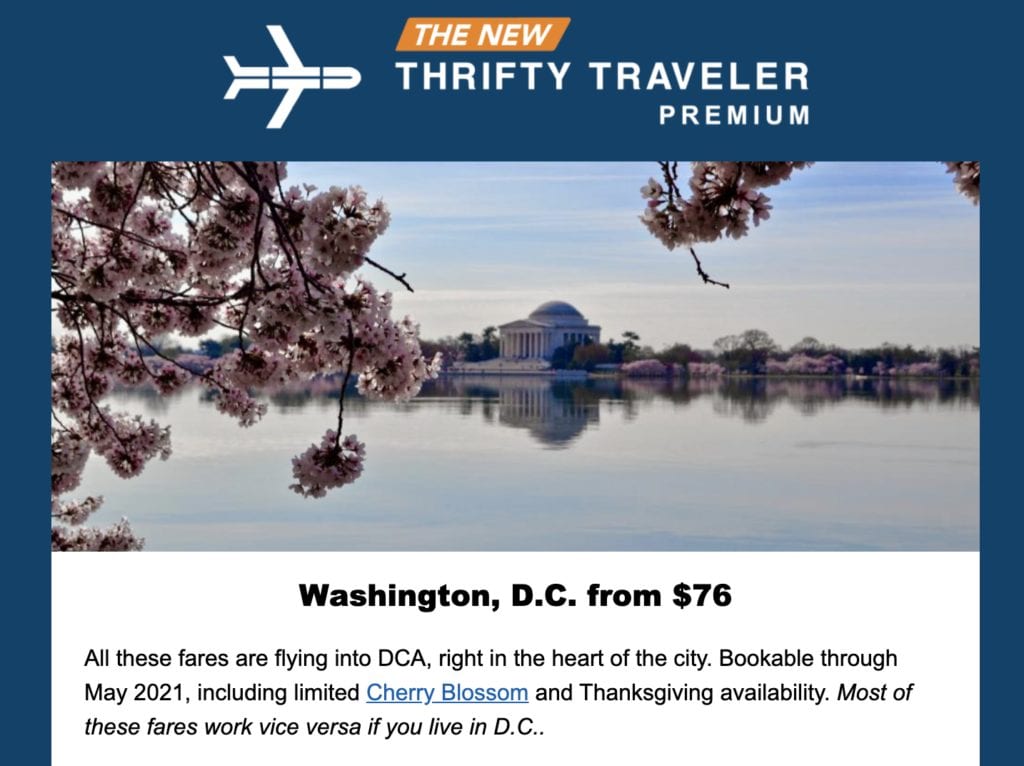 80+ cities to Washington, DC: ALL under $198 (inc'l nonstop – Was: $450)
Beachy Getaways for Snowbirds
Already dreaming of your winter getaway or spring break 2021? If a tropical international destination isn't in the cards, book a tropical domestic trip instead!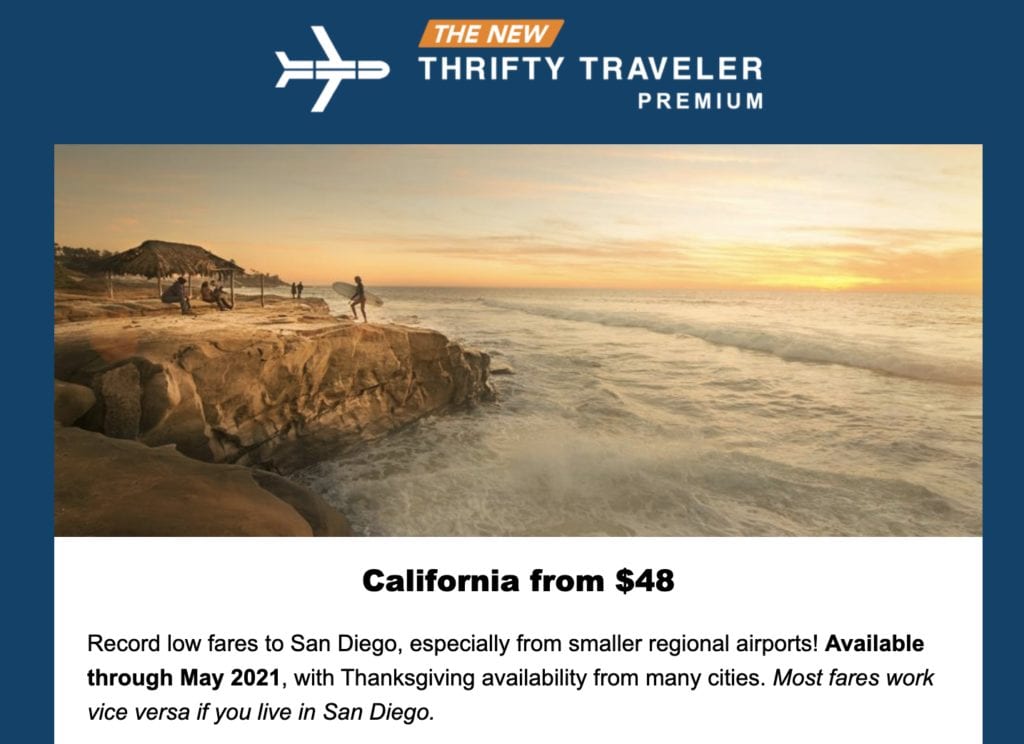 50+ cities to San Diego, California: ALL under $200 (Was: $450)
Now's your chance to book a winter Southern California getaway! We've seen record-low fares to San Diego under $200 recently, even from smaller regional airports. These were a few of the 50+ airports included in this recent Premium deal:
Augusta (AGS) – $200
Bangor (BGR) – $197
Billings (BIL) – $181
Bismarck (BIS) – $181
Cedar Rapids (CID) – $183
Colorado Springs (COS) – $181
Des Moines (DSM) – $179
Fargo (FAR) – $181
Fayetteville (FAY) – $200
Gainesville (GNV) – $200
Greenville (GSP) – $200
Lubbock (LBB) – $181
Norfolk (ORF) – $174
Oklahoma City (OKC) – $181
Omaha (OMA) – $195
Peoria (PIA) – $200
Sioux Falls (FSD) – $181
Tulsa (TUL) – $181
Wichita (ICT) – $181
Wilmington (ILM) – $200
Want to head to for the other coast? How do $100 roundtrip flights to Key West sound? This was one of our most popular domestic Premium deals recently, available from over 70 U.S. departure airports!
70+ cities to Key West, Florida from $115 (Was: $450)
Hey, Adventurers: Here's Where to Explore in the U.S.
Are you more the outdoorsy type? If you're mourning the cancellation of an international adventure, there are plenty of domestic alternatives.
There are so many stunning national parks to explore in the U.S., and they're just a cheap flight deal away!
If you haven't been to the Grand Canyon and surrounding Utah National Parks, it's a must! Don't miss these parks:
Bryce Canyon
Arches
Canyonlands
Zion
Capitol Reef
Thrifty Tip: Curious which parks are open now? Check out our guide to national parks' reopening.
Sound like a blast? We just found this rare sale to Grand Canyon Village this week and notified Premium members of the price drop: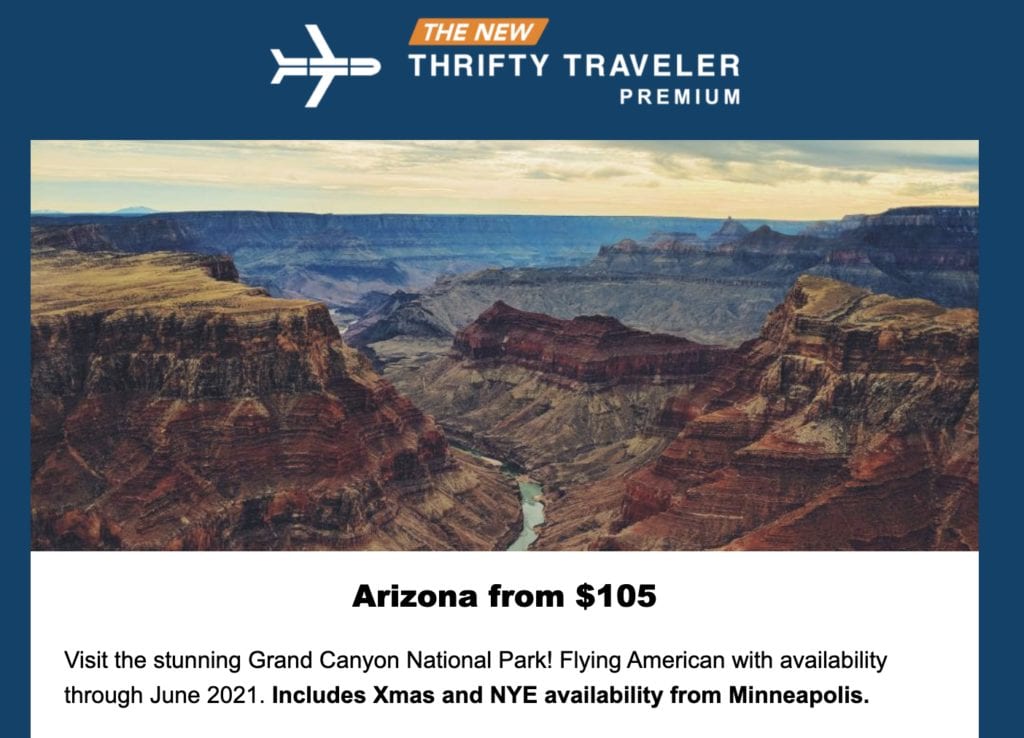 20+ cities to Grand Canyon Village, Arizona: ALL under $198 (Was: $450)
If you're up for even more adventure, it's time to cross Alaska off your bucket list. We recently unearthed a bigger nationwide flash sale to Anchorage than we've ever seen! Premium members from over 100 U.S. cities got an alert about this hot deal:
Nationwide to Anchorage, Alaska: ALL under $298 (Was: $475)
Bottom Line
This is a tough year for travel. Many international trips have been canceled, and others are questionable at best. But now's the time to explore the great United States of America – you'll find there's plenty to see and do domestically.
Whether you're planning a trip for the next few months or as far out as summer 2021, we've got you covered on cheap domestic flight deals. Join Thrifty Traveler Premium for domestic flight deal alerts from your home airport!