When I visited Beijing for the first time, I had a picture in my head of a city packed with tourists, overrun with cabs, and filled with underwhelming tourist attractions.
I was wrong.
Exploring China's capital city with friends and wandering around on my own made me fall in love with this sprawling metropolis. I loved the time I spent in each neighborhood of Beijing, because each had something different to offer. Here are my top recommendations of must-see spots in Beijing, and how to get to them by subway.
Beijing Subway System 
While each neighborhood is walkable, the fastest (and next cheapest) way to travel to and between the neighborhoods of Beijing is by subway.
While taxis and rickshaws are available, it can be difficult to navigate giving directions if you don't speak Mandarin, and the prices are not fixed. If you'll be in Beijing for more than a few days, I highly recommend getting a Beijing Transportation Smart Card (also known as Yikatong Card). Load 100 to 150 yuan ($15-$22 USD) onto the transit card and move swiftly through the public transportation.
Check out a full map of the Beijing subway system, and download an app with the Beijing metro map to your phone for easy use when out and about. I suggest mapping out your must-see attractions in Beijing and their corresponding subway stops, and planning your days around that. The more you can see with the least amount of transit transfers each day, the better! Below you'll see my top suggestions of places to visit in Beijing, with their corresponding subway stops.
Tian'anmen Square Area (Beijing subway stop: Qiánmen)
My first stop on the Beijing subway: the Tian'anmen Square neighborhood. This is where quite a few popular hostels are located, so if you're staying at 365 Inn or Leo Hostel, this is your stop, too.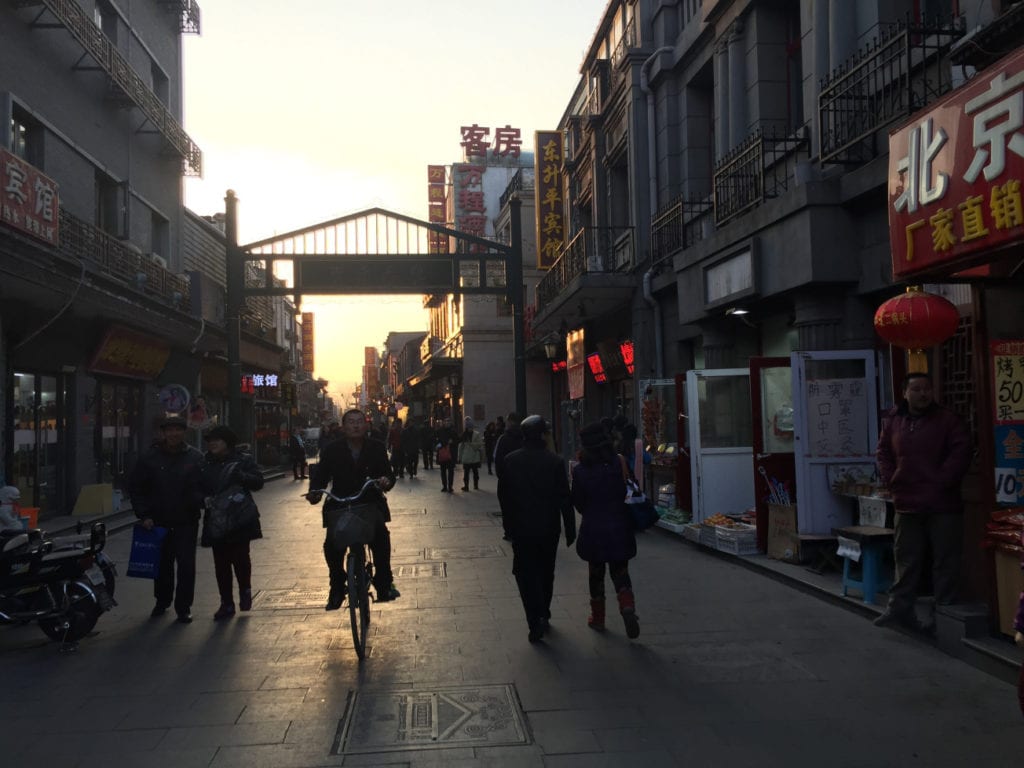 I've stayed at 365 Inn a few times now. It's just a five-minute walk from Qianmen subway stop and Tian'anmen Square in the heart of Beijing. The 365 Inn hostel managers are so fun and helpful, and I like the low key atmosphere with an attached bar and lounge. Not sold on hostels? Read up on why you should consider staying in a hostel on your next trip.
The 365 Inn is tucked in a hutong – essentially an alleyway with lots of shops and restaurants. There are some great small restaurants in the hutong to stop for some xiao long bao (steamed buns with meat and/or veggies inside), which I highly recommend for a cheap breakfast or snack. It was a lively and authentic atmosphere; much more fun than a hotel far out of town!
Don't leave Beijing without eating roast duck at least once. Deyuan Roast Duck restaurant near the 365 Inn hostel is simply delectable! I went several times over the course of my three trips to Beijing: it's that good.
Peking Duck is famous in Beijing and once you get a taste, you'll know why. Take your crispy duck meat and place a few slices into a warm rice wrap along with sweet sauce, vegetables, and other condiments, Wrap it all up and enjoy! It isn't crazy cheap like other options, but roast duck is by far one of my favorite foods in China.
Right outside of the Qianmen subway stop, you'll find Tian'anmen Square. In this area, you'll also find the Mausoleum of Mao Zedong (supposedly where Chairman Mao is buried) and the Monument to the People's Heroes. Security is tight in this square because of the Tian'anmen Square protests of 1989. Going through bag checks, required backpack lockers, security, and passport checks took up a lot of time.
The Chinese people aren't are allowed to know or learn the history or political significance of Tian'anmen Square riots, so there is no recognition of the riots in the square itself.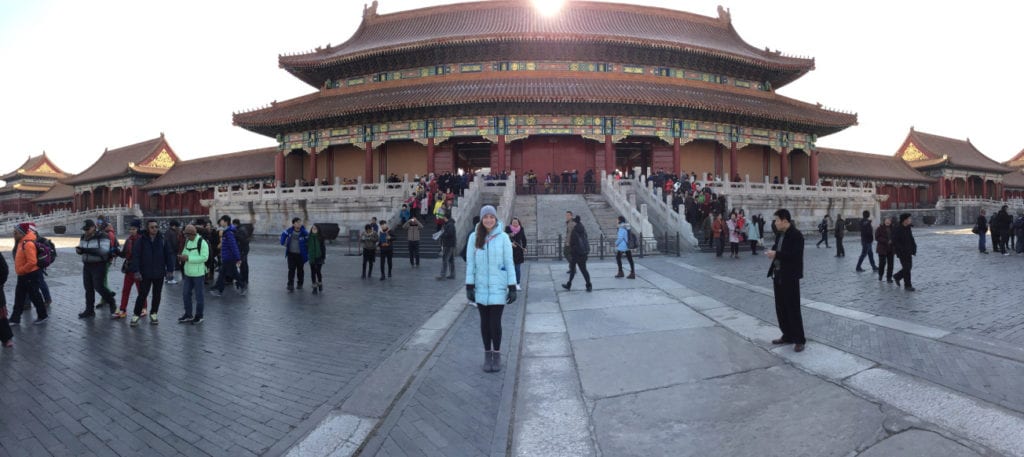 Directly north of the Tian'anmen Square lies the Forbidden City. This was the imperial palace from the Míng dynasty, built in the 1400s. It covers a massive area and is full of buildings with impressive ancient Chinese architecture. Inside the buildings are cultural relics and artifacts – a joy to wander through. The Forbidden City is open from 8:30 a.m. to 5:00 p.m., and I'd recommend visiting early and leaving at least a few hours to go through the buildings and exhibitions.
Tickets are roughly $9 USD. If you're a student, be sure to bring your ISIC student discount card to get an even cheaper ticket. Entrance is cheap, and if you can avoid the crowds, it's a great way to experience the dynastic history.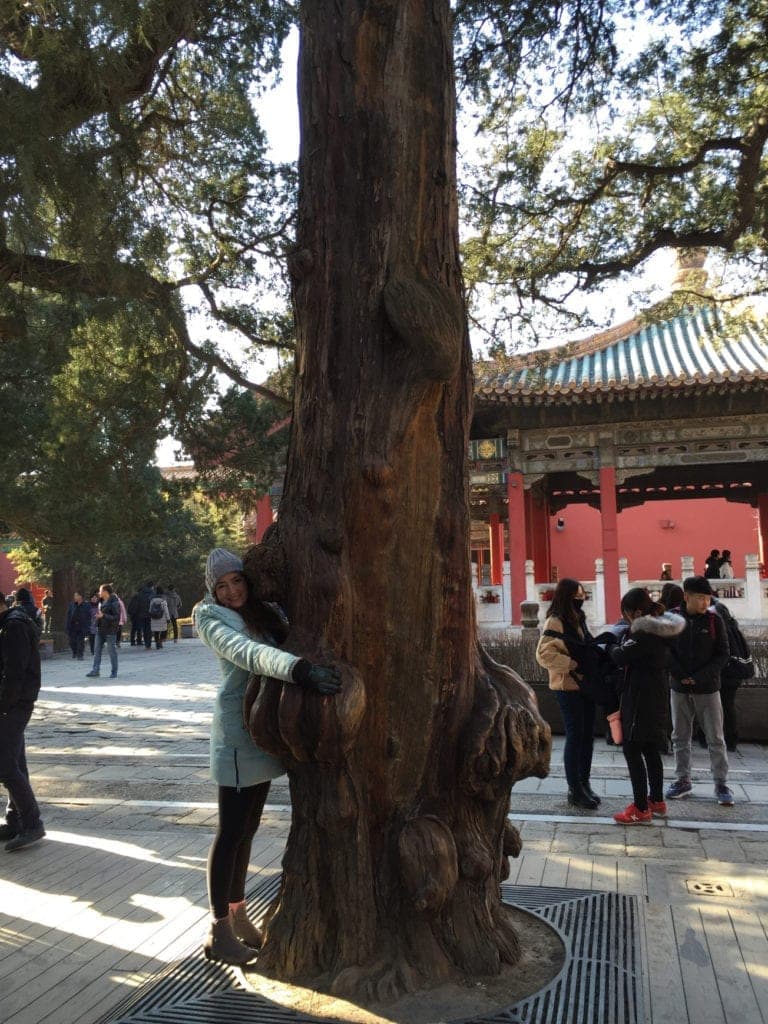 At the far north end of the Forbidden City, you'll find a beautiful little garden called Yangxingzhai. This park boasts ancient gardening styles, lush ponds, and very old trees. Make sure to walk across the street after you exit this last part of the Forbidden City. Just north of this garden is the beautiful Jingshan Park. In this park, you can walk up the hill to get a 360-degree view of the city. The view of the Forbidden City from Jingshan Park is spectacular!
Hutongs Shopping (Beijing subway stop: Nanluoguxiang)
Further north of the Jingshan Park – and just a step out of the Nanluoguxiang subway stop – are the largest and most popular collection of hutongs. Hutongs are traditional narrow streets and alleys. The main alleys of popular Nanluoguxiang hutong are lined with small antique, handicraft, and trinket shops, as well as street food and cozy cafes. Wander off into the side streets and you'll find other funky shops and themed restaurants. You can also see the quaint residences on these less-traveled side street hutongs. This is one of my favorite places to bring Beijing first-timers: their eyes light up when they see all the street food, souvenirs, and adorably themed cafes!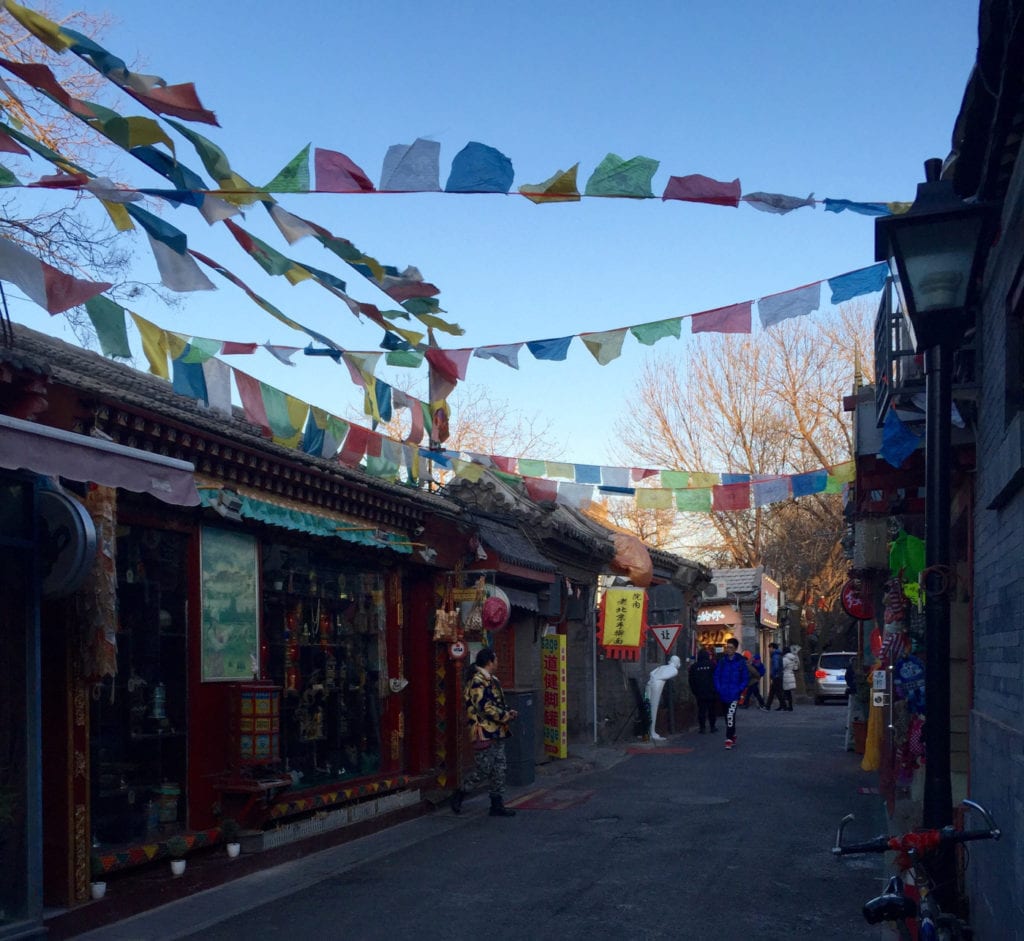 At the end of the winding Hutongs area lies the Bell and Drum Towers. For cheap entry, you can climb the massive steps to the top of the tower for another great view of the city. They have great historical information (in English!) about the role that these towers played in keeping track of, announcing, and understanding time in ancient times. They also hold a free drum performance every hour that is quite spectacular to see.
Finally, on the way back from the towers towards the center of the city is Behai Lake. This area is also easily accessible via the subway stop Shichahai. Along the side of the lake are many tea houses, souvenir shops, and street food vendors. There is also a stunning temple hugging the right side of the lake. During the winter, the lake is buzzing with both locals and tourists alike who have come out for a day of ice skating, cross country ski chairs, and ice skate bikes. This is a wonderful area to stop for a cup of tea or a beer during the summer as well.
Temple of Heaven Area (Beijing subway stop: Tiantandongmen)
If you're looking to get your fill of Chinese architecture during your stay in Beijing, take the Beijing subway to theTiantandongmen stop to visit the Temple of Heaven Park. This park houses a few temples with various ancient artifacts on display inside. Give yourself a few hours to walk around the area and take in the architecture and history.
A short walk from the entrance of the Temple of Heaven park is the Pearl Market. Yes, this is one of the famed knock-off markets of Beijing! I visited a few markets during my time in Beijing, and I personally found the Pearl Market to be much better than the Silk Market. The Pearl Market had a mind-blowing amount of items for sale on every square inch of this mall, from trinkets to electronics to knockoff bags and shoes. Make sure you bring your bargaining skills – I got most of my purchases for 80% less than the starting price. Of course, with anything, make sure you fully inspect and try on (or try out) the item you're purchasing. Remember that a cheap price also oftentimes means lower quality. However, I found several purses, some tennis shoes, and souvenirs for friends back home that suited me for the price.
Wangfujing Area (Beijing subway stop: Wangfujing)
Last but not least, I recommend first-time visitors check out the Wangfujing area. For the most part, this area outside of the Wangfujing subway stop is just shopping malls and hotels. However, hidden down one unassuming street marked with a tall red gate lies one of the most famous food markets in all of China. Here you can eat Chinese specialties such as dumplings and barbecued meats, noodles, and more. But most people come for the exotic food on a stick!
Take your pick of tarantula, cricket, seahorse, starfish, and many other options to be deep fried, salted, and handed to you at a steep price. I tried the scorpions, and I must admit they had a nice crunchy texture.
I recommend visiting Wangfujing at night. It may be packed, but it's a fun atmosphere to experience and a great spot to try out some new foods. The prices aren't cheap, so I recommend sharing with a travel buddy or picking a few favorites to try.
Looking to go beyond the city and make a visit to the Great Wall of China? Read my guide on how to see the best part of the Great Wall – and save some money, too.
Bottom Line
These are just a few of my favorite neighborhoods to visit in Beijing. Grab yourself a Beijing subway pass, make your itinerary with these top recommendations, and enjoy all the history, architecture, culture, and food this city has to offer.