We want to travel the world and so do you. That's why you're here, right? But fueling that wanderlust isn't free, and we also need to be gentle with our bank accounts when planning any trip.
All that careful planning starts with flights. Learning how to find cheap flights is more art than science: It requires using the right tools like Google Flights, being flexible, and booking your flights first. But there's one other big factor in lowering your travel costs: Picking the right place to go.
Airfare is constantly changing. Deeply discounted deals and even mistake fares can pop up at any time – to almost anywhere. Some airports get lower prices than others. And of course, flying to some corners of the world like Europe or Asia will almost always cost more than a short domestic flight.
But the quest for cheaper airfare doesn't have to mean compromising on your trip. And no matter where you want to go, some destinations are simply cheaper than others. In this guide, we've compiled a list of some of the cheapest places to fly to around the world, highlighting some of the best deals you can find whether you're staying close to home or heading halfway across the globe.

Cheapest Places to Fly in the U.S.
Let's start close to home. No matter your taste, there's a lot to do and see in across the U.S.
Even better, airfare to popular locations (especially places like New York City, Las Vegas, and Miami) remains affordable for the most part of the year.
Throughout the COVID-19 pandemic, Thrifty Traveler has seen domestic airfare drop to all-time lows, with flights across the country dropping to less than $200 roundtrip – and sometimes even under $100 roundtrip.
Here are some cities you can fly to on a budget in the United States.

Boston
Depending on where you're departing from, a roundtrip flight to Boston shouldn't cost you more than $200 or so roundtrip. That said, being flexible with your schedule is important for scoring a good deal to Boston.
Springtime flights to Boston tend to creep up in price as more tourists head there. Moreover, annual festivals and other events across the city can drive up airfare costs.
All in all, the fare isn't outrageous for the thrifty shopper, and Boston is one of the most lively, unique, and historically significant cities in the United States.

San Francisco
Home to the Golden Gate Bridge, San Francisco is another popular U.S. city that you can fly to on a budget. The average round trip airfare ranges from $250 to over $300, depending on where you're flying from.
With Thrifty Traveler Premium, we've seen roundtrip flights dip into the $100s from across the U.S. – and even under $100 when flying from the West Coast or the Rocky Mountains.

Whether you're flying in the U.S. or heading abroad, get the cheapest flight deals sent straight to your inbox with Thrifty Traveler Premium!
If you're looking to score a deal to San Francisco, fares tend to be cheapest during the winter. Spring is a little more pricey and fares are typically most expensive in the summer and early fall, when the Bay Area's weather is at its best.
Minneapolis
If you want to head for the home of the gargantuan Mall of America (the largest shopping mall in the U.S.), it's not hard to score flights for $200 roundtrip or less to Minneapolis. The city is also home to the Minneapolis Institute of Art, great breweries and restaurants, walking trips, and plenty of professional sports teams to catch a game.
Plus, there are a ton of great places to visit throughout Minnesota. And you won't be limited to just Minneapolis. It's the Twin Cities, after all, so you'll have the chill state capital of Saint Paul to enjoy as well.
New York City
If you're planning to visit the Big Apple but want to save money on airfare, you're in luck. Few cities have more flights.
But you'll want to plan ahead. New York City is no stranger to business travelers booking last-minute tickets, so airlines tend to charge a lot more when booking two to three weeks in advance.

Los Angeles
Getting to Los Angeles might be a bit more expensive than some other cities on this list, but it's still not that hard to find a cheap fare.
Average fares into Los Angeles (LAX) seem to hover around $250 roundtrip. Occasionally, we see that drop into the $100s nationwide. Reasons to go? It's LA. Enough said.
Seattle
Depending on where you're flying from, you can find cheap flights into Seattle (SEA) in the mid- to upper-$100s. It sure doesn't hurt that Seattle is the hub of Alaska Airlines, an affordable yet high-quality airline.
Looking for the cheapest flights? Consider going in January and February, when rainy season keeps many tourists at bay.
Chicago
Getting to the Windy City on a budget shouldn't be a challenge.
Chicago is perfectly positioned in the middle of the country with service from almost every airline big and small. That's a recipe for lots of cheap fares. You can choose from flying into Chicago-O'Hare (ORD) or Chicago-Midway (MDW), which is positioned closer to the heart of downtown Chicago.
Expect to pay under $200 from most cities across the U.S. – and often under $100, like this recent fare from all the way over in Miami (MIA).

Denver
The Mile-High City isn't just the home of the Rocky Mountains, with some of the best skiing in driving distance. It's also home to some major budget airlines, which means consistently low fares flying into Denver (DEN).
Even if you're not flying Frontier Airlines, competition with other airlines keeps fares low. Plus, Southwest Airlines has a major presence at Denver. That means you can regularly score roundtrip fares to Denver for less than $150 from across the country – especially from the West Coast, Midwest, or down South. Fares under $100 roundtrip are fairly common, too.
Cheap Destinations in Canada
You don't have to go too far north.
While there are plenty of beautiful, exciting, and culturally rich destinations for travelers on a budget all across North America, a trip to Canada can feel like a world away – without breaking the budget to do it.
There are plenty of great cities to fly to in Canada if your budget is tight, but these stand out among the pack.
Montreal
Montreal is somewhat reminiscent of Europe, being the second-largest French-speaking city after Paris complete with cobbled streets and beautiful architecture.
While average airfare into Montreal (YUL) can be on the higher end, Thrifty Traveler Premium members regularly see fares under $350 and sometimes even under $250 roundtrip.
Read our guide to exploring Montreal!
Vancouver
Set just north of Seattle, Vancouver might just be Canada's coolest city. And it's also regularly one of the cheapest places to fly to in Canada, too.
While fares to Vancouver (YVR) are often over $400 – if not much higher – we regularly see roundtrip airfare dip below $300 total. Occasionally, you can snag a flight for around $200 or even less.
Cheapest Places in Mexico
Heading just south of the border is a surefire way to get some beach time on a budget.
There's lots to love about Mexico, from the bustling center of Mexico City to the foodie paradise of Oaxaca. But the cheapest places to fly to in Mexico tend to be the tried-and-true beach destinations where spring breakers and sun-seekers head every year.
Cancún
Few Mexican cities see more flights from near and far than Cancún, as people flock to the city for its incredible beaches and plethora of world-class resorts – including our favorite all-inclusive resorts that are bookable with points, Hyatt Ziva and Zilara.
All that competition helps keep prices low, with average trips to Cancún (CUN) hovering around $350. When that competition really heats up, we've seen prices drop under $200 roundtrip from around the U.S.

San Jose Del Cabo
This is where many Americans head to explore the deep blues of the Pacific Ocean. On a lucky day, you might even spot a whale or two! Best of all, San Jose Del Cabo can be comparatively cheaper than many other popular cities nearby, with fares regularly as low as $250 and sometimes less.
Just be sure to book ahead and try to avoid December, March, and April if you can. That's when a surge of holidaymakers and spring breakers head south, leading to inflated airfare prices and hotel rates, too, as well as crowded beaches.
Puerto Vallarta
Tourists flock to Puerto Vallarta year in and year out – especially from April to June. But this is another beachside destination in Mexico that doesn't break the bank.
While seeing flights for $800 or more roundtrip isn't out of the norm, it's not hard to get there and back for less than $400 if you time it right. We occasionally see roundtrip fares from the U.S. to Puerto Vallarta (PVR) under $300 – or even less than $200 total!
Caribbean & Central America
Getting to the sandy white beaches of the Carribean islands or those that flank some popular Central American countries is a must for a winter escape, with palm-lined views that are to die for.
From the U.S. Virgin Islands and Puerto Rico to Belize, Costa Rica, and far-flung islands like Turks and Caicos or Aruba, there is no shortage of options. But you'll have to be a bit choosier if finding a cheap flight is your top priority.

Puerto Rico
Known for its beautiful landscape, jungle vines, mountains, and cultural aspects, Puerto Rico is the perfect place for vacation this year. It's open to vaccinated travelers, with no testing requirements to fly back home to the mainland U.S.
An average flight to San Juan (SJU) from the continental U.S. will cost you around $400, sometimes more. But lately, we've sent Thrifty Traveler Premium members dozens of fares in the $100s – and occasionally under $100 total! Thanks to the pandemic, it's quickly become one of the cheapest places to fly to for terrific tropical vacations.
U.S. Virgin Islands
They might not get as much attention or hype as the neighboring British Virgin Islands or others farther south, but there's plenty to love about the U.S. Virgin Islands. Plus you can, leave your passport at home!
And there's one major reason: Getting to the U.S. Virgin Islands can be seriously cheap whether you're flying to St. Thomas (STT) or St. Croix (STX). Long considered a more-expensive getaway, we've sent plenty of fares to Thrifty Traveler Premium members for $200 or less roundtrip in the last few years.

Costa Rica
Filled with beautiful beaches, stunning national parks, incredible biological reserves, and dormant (we hope!) volcanoes, Costa Rica is nirvana for nature lovers.
You can fly into Liberia (LIR) or the capital city of San Jose (SJO) without breaking the bank. While flights tend to hover between $400 and $500 roundtrip, we've seen roundtrip fares tumble to around $250 roundtrip and sometimes even closer to $180!
Dominican Republic
The Dominican Republic is all about waterfalls, sea fishing, and scuba diving – it's basically a vacation for travelers looking for the best water activities. For a budget-friendly trip to the area, your best bet is by looking for a flight into Punta Cana (PUJ), where you can regularly fly from the U.S. for around $500.
But recently, we've seen some phenomenal deals for about half that price!

Cheap Places to Fly in South America
South America has an irresistible charm and diverse range of cultures that will leave you hungry for more. Best of all, you can see some of South America without spending an arm and a leg on airfare.
Apart from the countries detailed below, you can also travel to popular spots such as Argentina, Chile, and Brazil, but the airfare tends to be much higher. However, if you book flights in advance and keep your eyes open for flash sales, you might have better luck saving a few bucks – maybe even a few hundred bucks!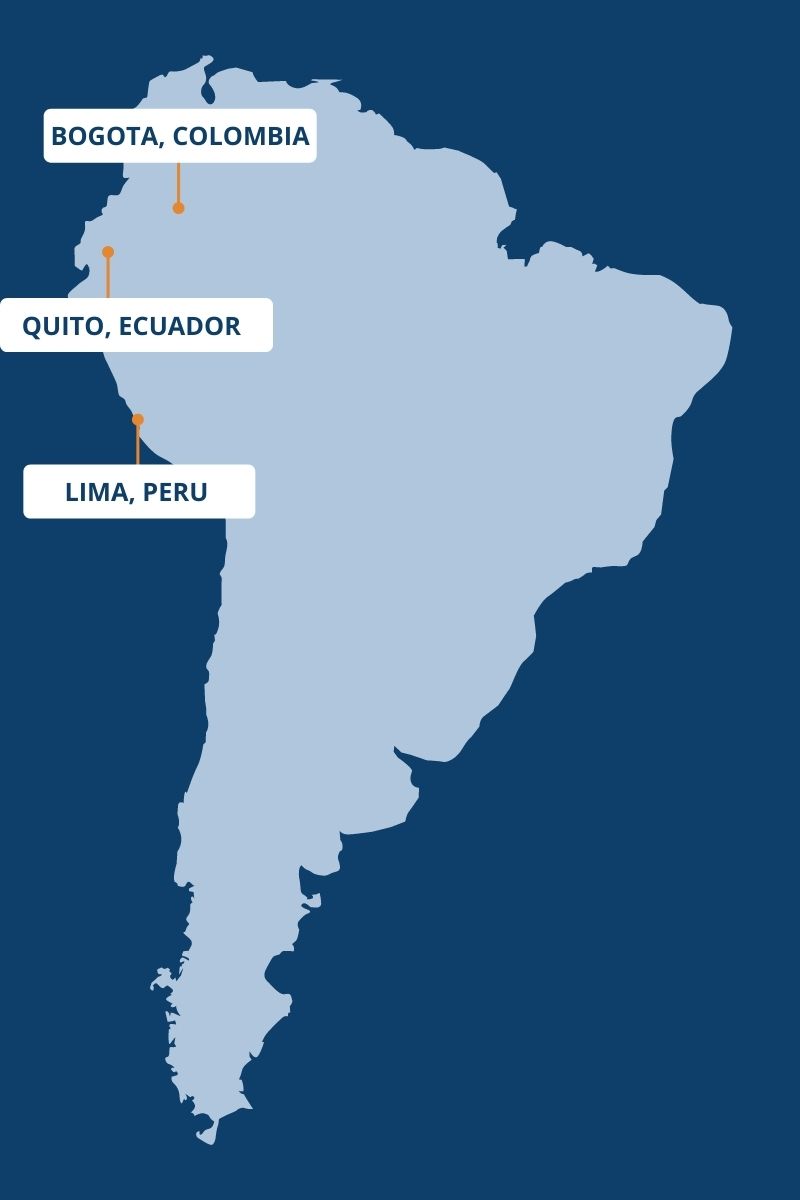 Ecuador
Quito, the capital city of Ecuador, is the cheapest capital city in South America and also a cheap place to fly to as it's not as well-known as some other regions in South America, as tourists tend to head elsewhere.
Head for Quito (UIO) for your best bet for finding cheap flights from the states. It's also a great starting point to head elsewhere within Ecuador on an even cheaper fare. Besides some areas of the Amazon Rainforest, you can also easily visit the Cotopaxi volcano in Ecuador on a budget.
Historically, average roundtrip fares down to Quito will run you at least $600. However, with tons of airlines competing for the best prices to Ecuador, we've seen record low fares for less than $200!
Colombia
Colombia's popularity has surged over the last few years. Any good bargain down to Colombia starts with a flight to Bogota (BOG).
Yes, heading to Bogota is your best bet if you're seeking a great deal, as flights seem to hover around $500 roundtrip, on average, but we've seen flights dip as low as $200ish roundtrip – and sometimes even less.
Occasionally, you can catch a deal straight to other Colombian hotspots like Medellin (MDE), Cartagena (CTG), and Cali (CLO).
Peru
Scoring a great deal to Lima (LIM) isn't always the easiest thing to do, but it's worth taking a stab at it.
With average pricing from around $600 roundtrip from the U.S., Peru can sometimes be a tough destination to reach on the cheap, but if you're patient and do enough digging you can find deals for about half that. And that's worth it for this gateway to see the incredible
Thrifty Traveler Premium members were even lucky enough to have the opportunity to book a mistake fare with deals as low as $111 roundtrip last year! Beat the airlines at their own game!

Cheap Places to Fly in Europe
Flights to Europe from the U.S. can be long … and they can be expensive if you don't do it right. But thanks to the rise of budget airlines, transatlantic airfare has dropped to record lows in the last four to five years.
Still, some countries are cheaper to fly to than others. One major hub you won't find on this list? London, where high taxes and fees push the cost of most flights much higher than what you'll find elsewhere in Europe.
Here's what stands out instead.

Portugal
Thanks to steady competition and the rise of budget carrier TAP Air Portugal, flight deals to Portugal can easily be found throughout much of the year.
A deal in the $400s and even $300s shouldn't be that tough to find, depending on your airport. Recently we uncovered over a dozen fares to Lisbon (LIS) for less than $300 roundtrip!
Spain
Spain is another reliably cheap country to travel to in Europe.
Look no further than Barcelona (BCN) or Madrid (MAD) when you're trying to book a cheap flight to Spain. These two airports are at the forefront of some of the best flight deals we've ever seen to Europe from the U.S.
Widespread sales in the $400s and under have become commonplace in recent years. But the cheapest flight we've ever recorded to Spain was $195 from New York (JFK) to Madrid (MAD). Yes, if you time it right, you can get to Europe for under $200. And even then, roundtrip fares in the $200s are fairly common.


Iceland
Iceland may a notoriously pricey country with high costs for food, drinks, and gasoline if you're driving around. But getting to the tiny island nation doesn't have to be expensive.
You'll generally find the cheapest flights to Iceland from airports with direct flights to Reykjavik (KEF) – especially in the spring and early fall. Icelandair, Delta, and United commonly battle for the cheapest fares to Iceland, making it fairly easy to find a deal in the $400s from several cities.
Even when traveling on a budget out of peak season, you can spot the Northern Lights; Iceland enjoys them from September to April.
France
Paris, the City of Love (and Lights), is on many a honeymoon wishlist but frequently outside the range of many budgets.
Forget that.
Similar to other countries in Western Europe, France is actually a great spot to begin looking for cheap flights to Europe, if you know where and when to look. With tons of competition into Paris (CDG), cheap deals to France are surprisingly abundant. On average, you can expect to pay around $550 for a flight to Paris, but we've seen record low fares in the $200s roundtrip!

Italy
Traveling to Italy can be pretty expensive, but if you make the decision wisely, you can bag a great deal.
Rome (FCO), Venice (VCE), and Milan (MXP) are the three airports where you'll likely find the best deals. On average, you'll likely pay over $600 for a flight to Italy, but recently, we've seen sales as low as the $300s from most U.S. cities nationwide – and sometimes even less!

Netherlands
Amsterdam (AMS) is a great destination if you're wanting to score a decent deal to Europe. There's plenty to see and do throughout Amsterdam, but it's also a great starting point to explore the rest of the continent.
Typically, a roundtrip flight will cost you around $600 or a tad more, depending on where you're starting from. With tons of nonstop options from the U.S., we've even seen widespread deals in the $300s.
Switzerland
With just how expensive the cost of living is, airfare could be the least expensive part of your trip if you have Switzerland in mind!
Getting a good deal to Switzerland is all about timing. Lately we've seen nationwide sales to Zurich (ZRH) in the $300s, which is a bonkers low price to get from the U.S. to the heart of continental Europe. More commonly, prices hover around double that.
Cheap Places to Fly in Africa
Africa may be a cheap continent once you get there, but flying there is another matter entirely. Still, some destinations across the continent stick out as cheaper to fly to than their neighbors.

Egypt
If you want to see the pyramids on a bargain, get on a flight straight to Egypt since airfare is cheaper as compared to some other African countries right now – then head onward to see Hurghada, Luxor, Sharm El-Sheikh, and, of course, Cairo.
Cairo (CAI) should be your starting point for any trip, as it's the best destination to find a flight deal – while other cities rarely see cheap flights. Typically, a flight will cost you about $800 on the low end to reach Cairo. Lately, we have seen an increase in competition to Cairo leading to much lower fares. Dozens of airports in the U.S. will offer fares in the $600 range all year.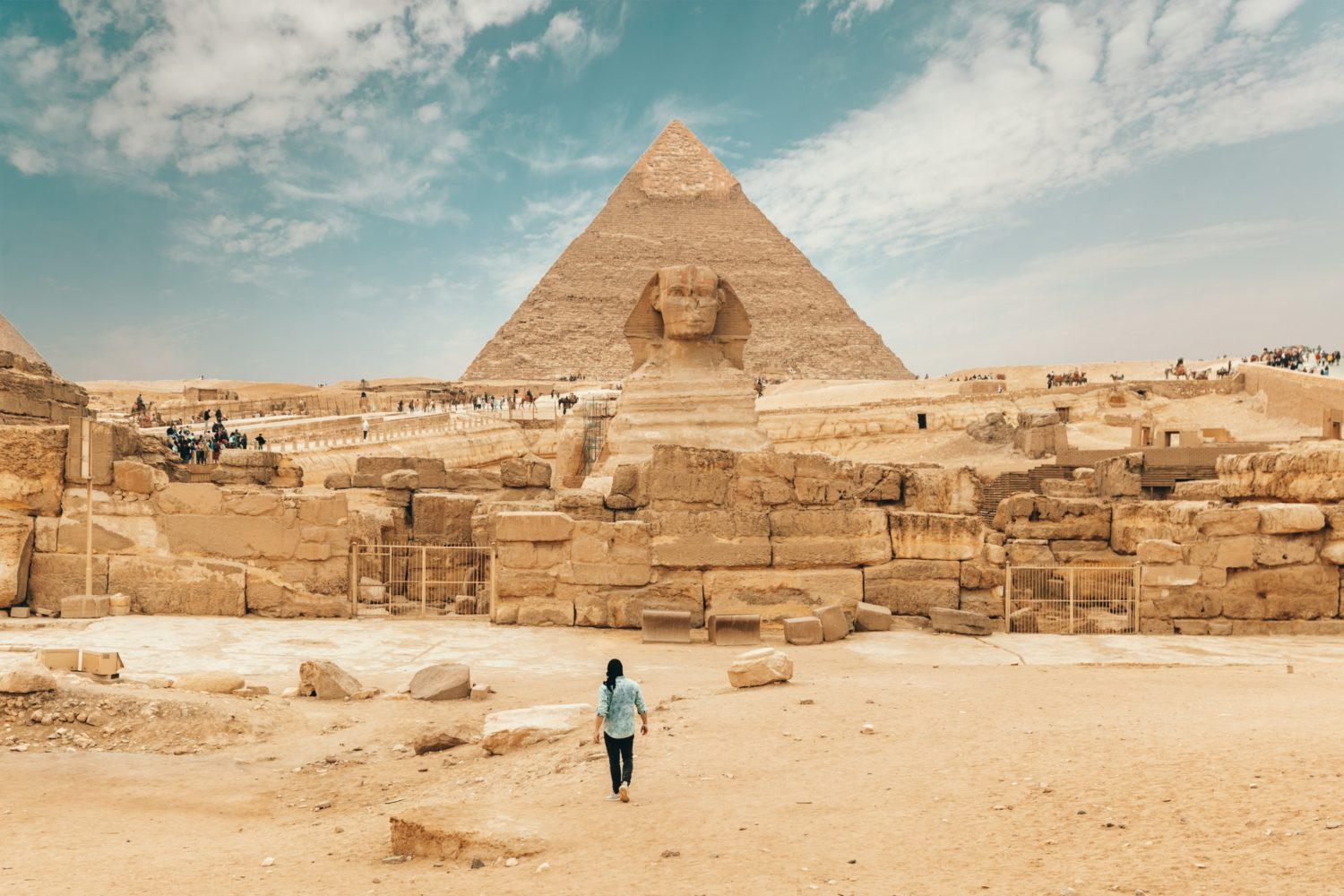 Morocco
Another cheap African country to travel to is Morocco. Apart from the famous Marrakesh, make sure to visit Tangier, Fez, Larache, and Asilah for big dollops of culture, amazing food, and wonderful weather.
Flights to Morocco will typically cost you at least $700 from much of the United States. Casablanca (CMN) and Marrakesh (RAK) should be the only two main airports that you'll need to focus on for great sales, even if you want to explore elsewhere. We sent deals as low as the $400s and even $300s at times to Thrifty Traveler Premium members.
Kenya
If traveling to East Africa is on your bucket list, Kenya will likely be your best place to start if you're looking for the most affordable flights.
Over the past few years, we've consistently seen airfare from across the U.S. for around $650. Sometimes, we'll even see fares in the $500s – typically into Nairobi (NBO).
Tanzania
Tanzania may not be a tourist magnet … but it totally deserves it as this magnificent country is rich with destinations like Mount Kilimanjaro, the pristine beaches of Zanzibar, and it's also one of the best and cheapest places to enjoy an African safari.
The cheapest flights will almost always be into capital city Dar es Salaam (DAR), with flights year-round at fairly cheap rates.
You'll want to be flying from one of the major U.S. hub cities: Think Los Angeles, Chicago, New York, and Washington, D.C. Fares from these cities can frequently be found in the $600s.
South Africa
Over the last three decades, South Africa has rapidly become a popular tourist spot – especially the cities of Cape Town and Johannesburg.
With just two nonstop routes from the U.S. to South Africa as of publication, finding bargains on a nonstop flight is tough. Fares at around $900 for a roundtrip seem to be the norm. But we've commonly seen fares dip as low as the $600s from several U.S. cities. Watch for great deals on flights that connect through the Middle East before flying to South Africa, especially deals with Qatar Airways, one of the best airlines in the world.
Cheap Places to Fly to in Asia
Asia is as diverse as it is expansive. It's a must-have on any wanderlust wander-list, whether you go far down into Southeast Asia or head for India and the islands just south.
Flights to Asia are long and generally more expensive than what you'll find flying to Europe. But many countries throughout Asia have weaker currencies than the USD or Euro, meaning it's much cheaper once you get there.

Hong Kong
Being one of the world's most important centers of commerce, Hong Kong usually has sales on airfares, and you might be lucky to get a flight for as little as $288 – the lowest price we've ever seen.
On average, a ticket to Hong Kong may cost $900 … but you can find an even better deal if you time it right.
Lesson learned.

Japan
Much like Hong Kong, Japan has also had many sales on airfare in the past year, with some flights as low as in the $200s. April is the perfect time to travel to Japan, as you can catch the tail-end of Japan's incomparable cherry blossom season as well as a cheap fare.
Historically, a roundtrip flight to Tokyo would run you close to $1,000 no matter which U.S. city you're traveling from. But over the past few years, we've seen several sales featuring deals in the $400s and $500s.
But it can get much cheaper than that. The best deal we ever found to Tokyo was a shockingly low fare out of Pittsburgh (PIT) for only $172 roundtrip!


Will flights to Tokyo always be that cheap? Of course not – but that shows just how cheap it can be to fly to Japan.
Thailand
Thailand is popular for tons of reasons, but deals on flights are rarely one of them. Flights to either Bangkok (BKK) or Phuket (HKT) tend to be around $1,000 or more per roundtrip. But not always.
Flying to Thailand is easier said than done, as there are no direct flights from the U.S., but flights can get as low as the $500s or $600s per roundtrip if you look hard enough and have some flexibility. We've even seen rare deals to Bangkok for less than $400 total, so it's totally doable to get to Thailand on a budget.
Vietnam
As of publication, there are no direct flights between the U.S. and Vietnam – though that could change. Like Thailand, deals on tickets to Vietnam can be on the spendy side, but good deals do pop up.
The cheapest flights tend to be on itineraries with two stops on your way to Hanoi (HAN) or Ho Chi Minh City (SGN). You can find cheaper flights in the $600s if you time it right and wait for the right deal to come to you.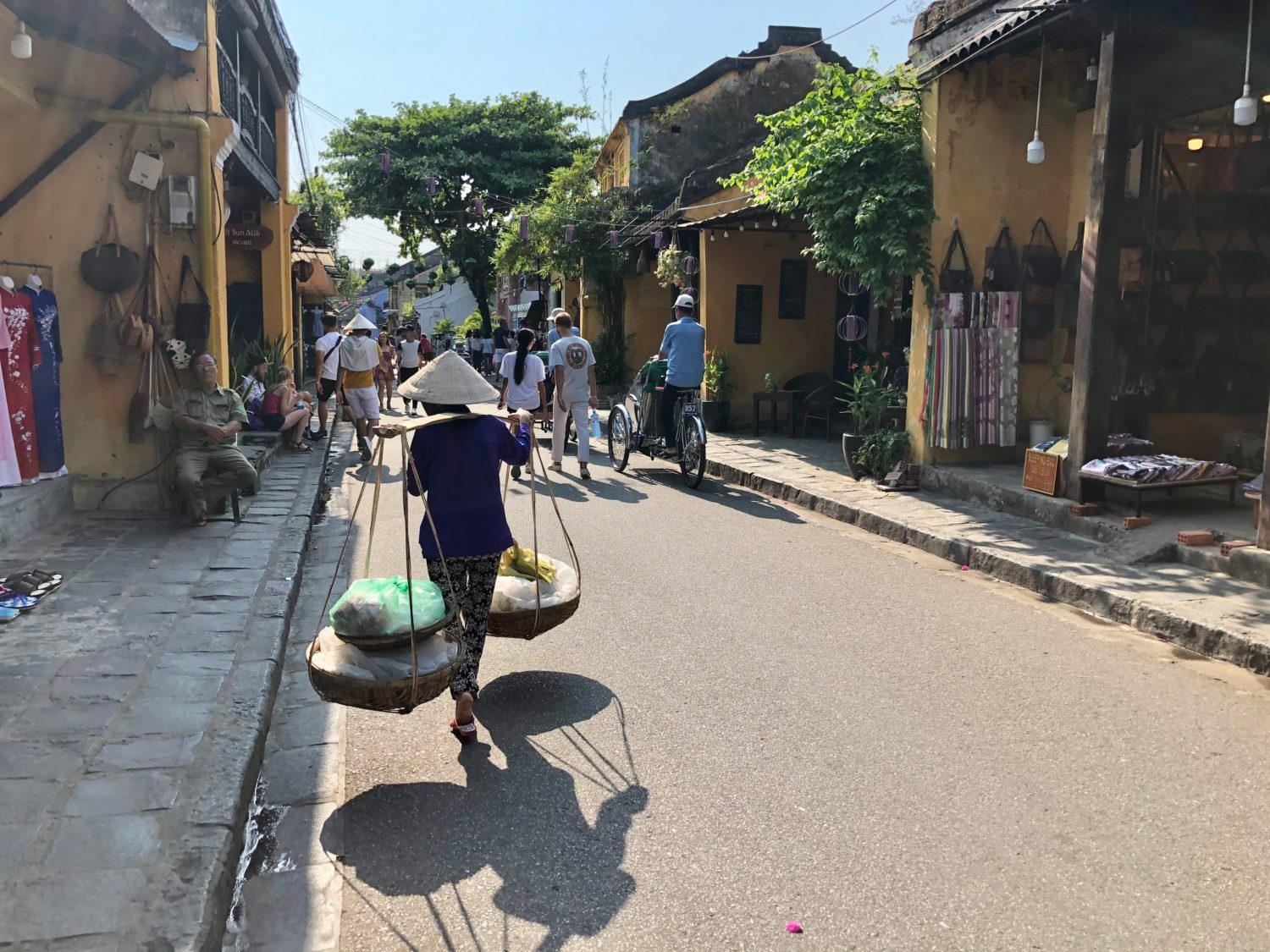 Read more: The Flight First Rule – The #1 Way to Save on Travel
India
Getting to India on the cheap can be an even taller task, but it can be done.
A solid deal to India would be anything in the $600s. Getting to India for less than $600 is rare, but cheaper fares crop up from time to time.
Your best bet is to fly out of cities with nonstop routes to India such as Chicago-O'Hare (ORD), New York City (JFK), and San Francisco (SFO) if you want to score the best deals. While you can also fly into Mumbai (BOM) or Bangalore (BLR), the cheapest fares are typically into New Delhi (DEL).
Bottom Line
Whether you're flying somewhere near or far, airfare doesn't have to be so expensive.
Flight prices are notoriously hard to pin down: It hinges on where you're flying from, the time of year, and where you're going. But no matter how you plan your trip or what destination you have in mind, these can be some of the cheapest places to fly to.
Use this list to narrow down your wander-list to fly on a budget!