You can visit our website, snag a cheap flight or pick up on some travel tips, save a few hundred bucks and call it good. That's what we're here for.
But as travel comes back, if you want to do more, we get it. Here's our guide to making the most out of everything we here at Thrifty Traveler have to offer.
Go Premium
We feature a few flight deals every day here at ThriftyTraveler.com and on our Facebook, Twitter, and city Instagram pages. But those are only a small fraction of the deals we're finding each day. Subscribing to Thrifty Traveler Premium opens up a new world of travel. Literally.
We send 90% more domestic and international flight deals (and the best of the best) to our Premium subscribers. Once you sign up, you'll get flight deals sent straight to your inbox: Think Europe for $400 or less, Hawaii under $300, and domestic fares regularly less than $100.
You can even tailor your settings so you only get deals departing from the airports you want. And trust us: We find deals from your home airport, with 170 U.S. and Canadian airports and counting.
Read more on how Thrifty Traveler Premium works!
Our alerts on these fare sales go straight to your email inbox, which is critical as you may need to jump on these deals fast before the prices disappear. Then you just book directly with the airline … and save $200 or much more on each flight. 
Premium members also get award alerts to use points and miles, like Delta SkyMiles flash sales and hard-to-find business and first class seats. Plus, we offer free credit card consulting to all members, helping them build points and miles strategies to travel more for even less.
A Thrifty Traveler Premium subscription costs just $49.99 for an entire year – less than a latte a month. And you'll easily offset that investment when you book the first flight deal that saves you hundreds of dollars. We're sure you will be, but if you're not satisfied, we offer a 100-day money-back guarantee. 
Be Flexible
Whether you're tracking our flight deals on social media or eyeing your inbox for Premium fare alerts, the number one way to get the best deal isn't a new tool or credit card. It's your mindset.
Going into your travel planning with your schedule set gives the airlines all the power to charge you whatever they want. 
Instead, follow what we call The Flight First Rule. It's exactly what it sounds like: Search for your flights first, letting the cheapest dates guide you. Whether you've got a wide-open calendar or can only travel at certain times of the year, it can save you hundreds of dollars of flights.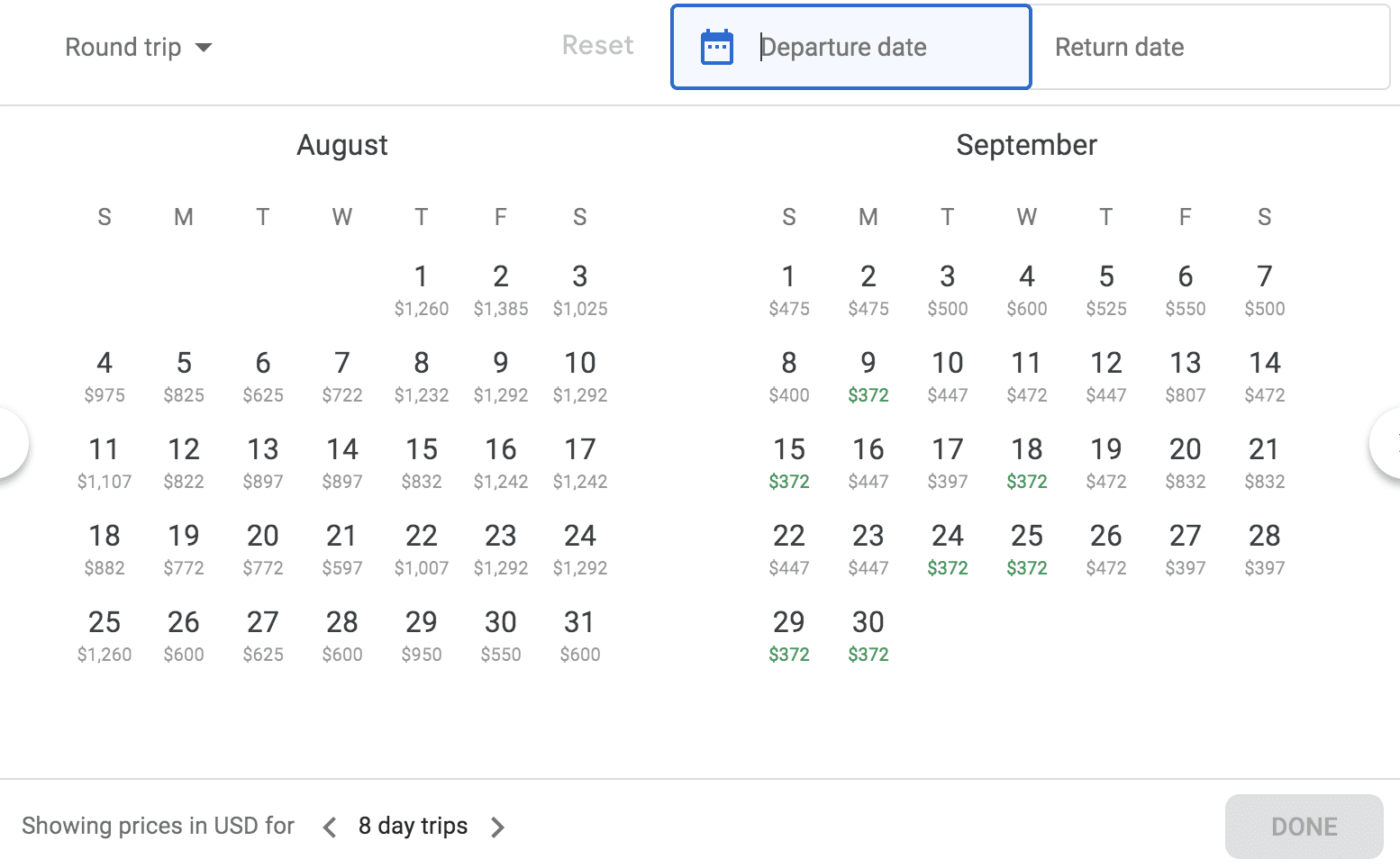 Thrifty Tip: Forget the other search engines: Use Google Flights to find the cheapest flights – and the cheapest days to fly.
When you let the cheap flight be your guide, you don't have to spend $550 to fly. Instead, you can shift your travel plans by just a day or two and save $250 or more.
It can pay to be flexible on where you want to travel, too. If you've already decided where you're heading on your next trip, chances are we'll find you a fare to get there cheaper at some point. But it might not come in time, or the dates may not work.
But what if the flight deals help you plan? You can see more of the world for pennies on the dollar by jumping on a deal that appeals to you, visiting some places that may never have been on your radar.
Live for the Long Weekend
There's one surefire way to score a weekend getaway on the cheap: Make your weekend longer. 
At Thrifty Traveler, we're not breaking any rules or unearthing mysteries of the airfare world to bring you great deals on flights. We just find the best deals that are out there. Whether it's a mistake fare accidentally published by the airline or just a classic example of a flash sale. 
And while we'll publish every Friday-Sunday flight deal we can, the maxim about the cheapest days to fly holds true: Weekdays and Saturdays are where the deals are. It's up to you to ensure that doesn't limit your travels or ability to seize on a great deal. Book the flight and take an extra day off!
Look Beyond Your Home Airport
Don't be dissuaded by higher prices from your smaller home airport – especially for a big international trip. You can still score some serious savings.
The trick is booking a positioning flight to get in place for a longer journey is common – especially for massive sales and mistake fares we find. It works like this:
Book that dirt-cheap international fare from a major airport – and focus on a city that you can fly to cheaply
Book a separate positioning flight from your home airport to that city (just be sure to give yourself a few hours between flights in case things go wrong)
Even if you add in the cost of an initial connecting flight, be it in miles, points, or cash, it's still easy to save hundreds of dollars when you capitalize on one of our fare deals.
So as you see the fare alerts we post on your social media feeds or send to your inbox, don't focus on just your hometown. Think instead about how easily you can jet off to wherever you need to be to catch them!
Look Past the Final Destination, Too
Stop thinking of the airport at the end of a cheap flight as your final destination, too. Just like you may need to book a positioning flight to snag one of the incredible flight deals you find here, you can book an onward flight to go even farther. This is an especially effective approach in places like Europe and southeast Asia, where competition between airlines and a wealth of established low-cost carriers make it easy to travel on the cheap.
Want to head to Europe as it reopens this summer? Flying to Madrid (MAD) is regularly the cheapest way to cross the Atlantic Ocean, with fares regularly hovering around $300 roundtrip – and sometimes even less. Lisbon (LIS) in Portugal is another solid option.
Maybe Madrid isn't your thing – or maybe you're content to spend just 24 hours in Spain's capital city. But few cities are better to catch a flight to almost anywhere throughout Europe.
You could connect onward to Seville or Barcelona if you want to explore more of Spain, or head out to lovely Lisbon or Porto in neighboring Portugal. Or hop over into Germany, France, Italy, or almost anywhere in western Europe – regularly for just $100 roundtrip or less.
If you look at the end destination of a flight deal as a hub for your travels, you can see more of the world on the cheap. Or better yet, take a chance on a great fare to a city you're unsure about, then continue on to other spots on your bucket list.
Thrifty Tip: Use the "airlines and destinations" section of any airport's Wikipedia page for a quick look at all the direct flights you can catch.
Pay With Points
We preach about this all the time, but it's worth repeating: Booking a cheap cash fare with your points should be in your repertoire. 
Whether you're booking through the Chase travel portal or using Delta's Pay with SkyMiles feature, this is one of our favorite ways to use points to travel for less.
Why's it so great? For starters, this is the only way to book a flight that's truly free. When you use airline miles to book an award ticket, you'll always pay at least a small cash fee – and sometimes hundreds of dollars. When you pay using your points, those taxes are covered in the final cost.
But you can also keep earning miles when you book directly with bank points like Chase Ultimate Rewards. The only thing better than a free flight is a free flight that earns you some miles to fuel your next trip.
Combining the dozens of flight deals we find each week with this strategy is a surefire way to make your miles go farther and see the world for nearly free.
Act Fast
Some cheap fares last hours, not days. You have to move quickly to book them. Between hotels, finding rental cars, coordinating with a companion, and lining up vacation days, there are so many logistics that go into planning a vacation beyond a flight.
It's easy to get paralyzed by all that planning. Take our advice: Book the flight and ask questions later. You have options. The Department of Transportation requires airlines to refund any flight that touches U.S. soil within 24 hours of booking. No fees, no questions asked.
Think of that 24-hour window as your "Book first, ask questions later" policy. If you can't make the cheap flight work, just cancel it and get a full refund.
Bottom Line
There are a lot of great tools out there to make your travels more affordable. We're a bit biased, but we think Thrifty Traveler is at the top of the list. 
But all the points strategies and fare alert portals in the world aren't enough. The most important part of being a thrifty traveler is your mindset.