Editor's Note: In honor of National Beer Day, we're republishing our favorite beer & travel story from a few years ago. Thanks for sharing this incredible story with us, Jesse!
You can travel the world to visit famed vineyards, saddle up to the bar in historic pubs, or grab the local specialty cocktail.
Or you can do what Thrifty Traveler Premium member Jesse D. does: crack open a Busch Light – a dirt-cheap light beer lovingly called "Busch Lattes" throughout the Midwest – and soak in the view.
Jesse shared the story of his hilarious travel tradition a few years ago, and we just had dig it up and republish it in honor of National Beer Day today on Thursday, April 7. For years, Jesse has packed those 50-cent cans of Busch Light into his luggage while visiting Greece, Ireland, Portugal, and even Japan.
And no, this isn't a Busch Light ad.
Beer and Travel: A Perfect Pairing
Jesse is a self-described beer connoisseur. He's an avid traveler. And he pairs these two passions together in the best way possible.
He makes it a point of packing some of his favorites while traveling the world, whether for work or fun. Here, he's enjoying a crowler from an excellent Minnesota craft brewery, Barrel Theory, with the Parthenon in Athens in the background.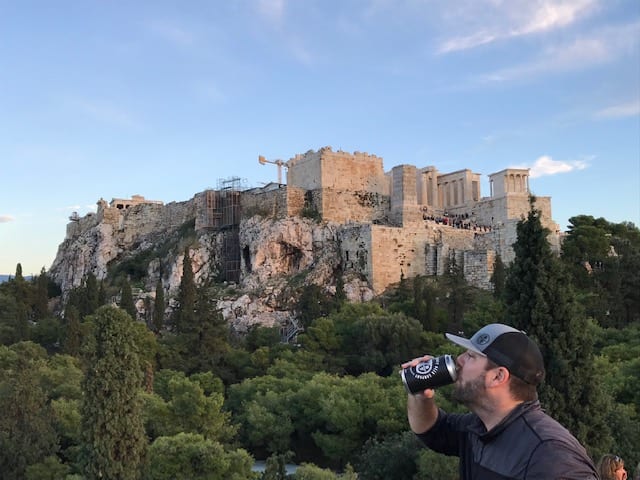 But it's not just fancy IPAs and sours that make the trip with Jesse. For years, he's been bringing Busch Light – a light beer that typically costs about $15 for a 30-pack.
"Being from a small town in Minnesota, I acquired an affinity for the sweet nectar that is Busch Light," Jesse said. "I usually throw a few Busch Lattes in the suitcase along with some of my favorite craft beers to enjoy with my fiancé during a long hike, or at a well-known landmark."
And he has the photos to prove it. Busch Light made the trip to the Cliffs of Moher in Ireland…

It stopped outside the Sensō-ji Temple in Tokyo…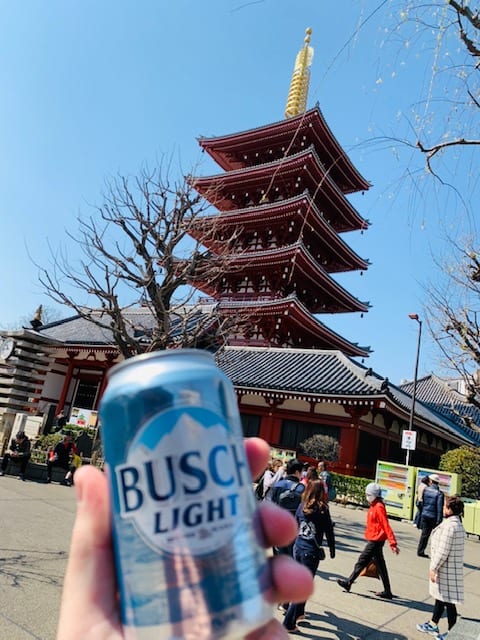 And Jesse even brought a can along for this stunning view in Lagos, Portugal…

In Nafplio, Greece, Jesse followed a trail at a dead end around a mountain and found this incredible viewpoint.

He broke out another limited edition Busch Light at Cinque Terre to take in the view.

It's important to recognize life's precious moments with something extra special. So when Jesse proposed to his fiance near Sintra, Portugal, they cracked open a special edition can to celebrate.

Jesse still loves trying the local brews in every country he visits – but he just can't break this tradition of bringing along his favorites.
"Sharing beer truly has the ability to bring people together and I've made some incredible connections around the world doing just that," Jesse said.
The company behind his beloved Busch Lattes couldn't agree more.
"Jesse is pursuing an amazing feat and we're proud to be along for the ride," Anheuser-Busch InBev Vice President of Value Brands Daniel Blake said. "We couldn't agree more with cracking a crisp, refreshing Busch Light after long hikes, at landmarks or wherever else his travels take him – it will be earned. We share his philosophy on beer bringing people together and value the loyalty he has to Busch Light!"
Bottom Line
Jesse's story is the perfect excuse to crack a cold one – preferably a Busch Light – and have a laugh.
Thanks to Jesse for sharing his amazing, unbelievable story with us. We love hearing from readers, subscribers, and members about where they've been and where they're going next – even if it doesn't involve a cheap can of beer.

All photos courtesy of Jesse D.