There is no shortage of ways to save big bucks on plane tickets and hotels. We've got plenty of tips to book the cheapest flights possible and saving on hotels.
And then there are Priceline Express Deals.
A relatively new entrant in the arena of booking cheap flights and hotels, Priceline has upped their game with these extra-special (and sometimes, extra cheap) discounts. But there are some critical things to know before you book.
Read on to learn more about Priceline Express Deals and how they can save you hundreds. First, let's go through what these deals are – and how Priceline is able to offer cheap prices.
What Are Priceline Express Deals?
If you search for flights or hotels often on Priceline, you've likely come across this box, notifying you of an "Express Deal." Priceline Express Deals can pop up when you search for a flight deal or hotel in Priceline.
For example, this Priceline Express flight deal offer is $141 less than the next cheapest flight to Europe on Priceline.
Priceline's website states that Express Deals can save users up to 40% off their flight ticket and 60% off a hotel stay for their desired departure, destination, and travel date range.
Here's how they do it: airlines give discounts to online travel agencies (OTA) like Priceline, allowing them to offer deals on airfare to consumers that won't be available elsewhere. And while there are some major factors to keep in mind with booking through an OTA versus an airline, the savings can be real.
And Priceline takes that to the next level with Express Deals.
7 Things to Know About Priceline Express Flight Deals
You're probably thinking to yourself, "This is too good to be true!" Luckily, Priceline makes it easy to understand why these flight prices are cheaper (we'll touch on hotel deals later).
There are a few critical components to keep in mind about Express Deals.
1. Express Deals are different from almost any airfare you buy. When booking through Express Deals, you'll see a list of several airlines the deal might be through. The airline you will be flying isn't revealed until after booking. This flight deal service is similar to the Hopper Secret Fare: The airline is shown only after you book the ticket.
2. But don't worry, these are major international airlines – not budget carriers. Typically, this option shows up for more popular international routes, and are not as common to see on domestic or less-traveled routes.
3. An Express Deal's full itinerary is not disclosed prior to purchase. This means that only details of general timing are given prior to purchase, such as "evening takeoff" or "morning takeoff", as seen in the photo below.
4. Click on the deal to see more details on your itinerary – most are either nonstop or one-stop flights. Exact departure and return times are revealed after purchasing the ticket.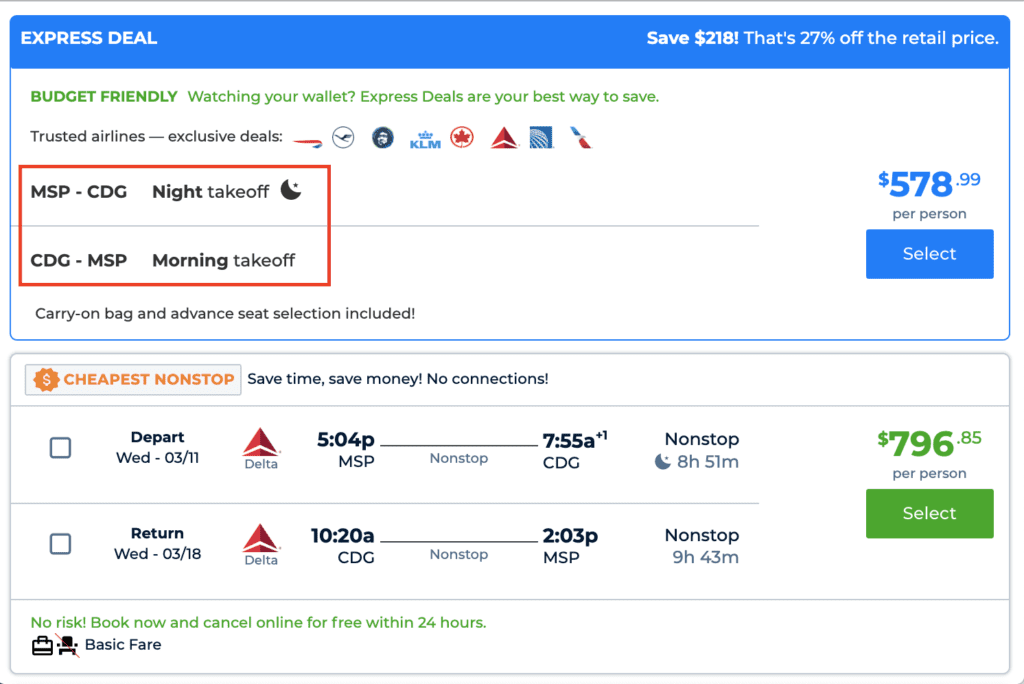 5. Make sure you read the fine print and are okay with the restrictions: Express Deal flights are non-refundable and non-changeable. Unlike other flights booked on Priceline, Express Deals are not eligible for the 24-hour cancellation policy.
6. Each Express Deal will be different, but some will include a free carry-on bag and advanced seat selection. Most other cheap flight options are basic economy and don't include seat selection. The Express Deal might be a few hundred dollars cheaper and get you more!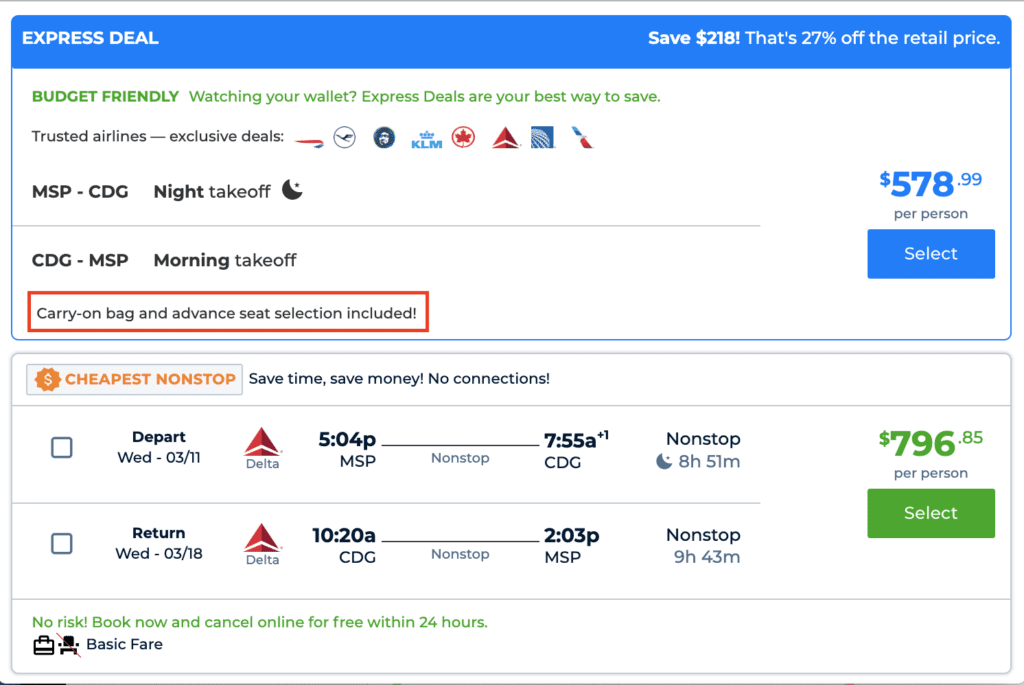 Note there are some drawbacks to booking with an online travel agency like Priceline instead of booking directly with the airline, especially during COVID-19. These fares won't be eligible for fee-free changes and cancellations airlines are offering. We always recommend starting your search with Google Flights and seeing what it costs to book directly with the airline. It may be a bit more expensive, but it can mean more peace of mind.
How Do I Use an Express Flight Deal?
Start by heading over to Priceline and entering your desired departure city, destination, and travel dates.
If there is an Express Deal available for that route, an "Express Deals" box will be listed in a blue box on the Priceline search results page. To learn more about the Express Deal, click "Select."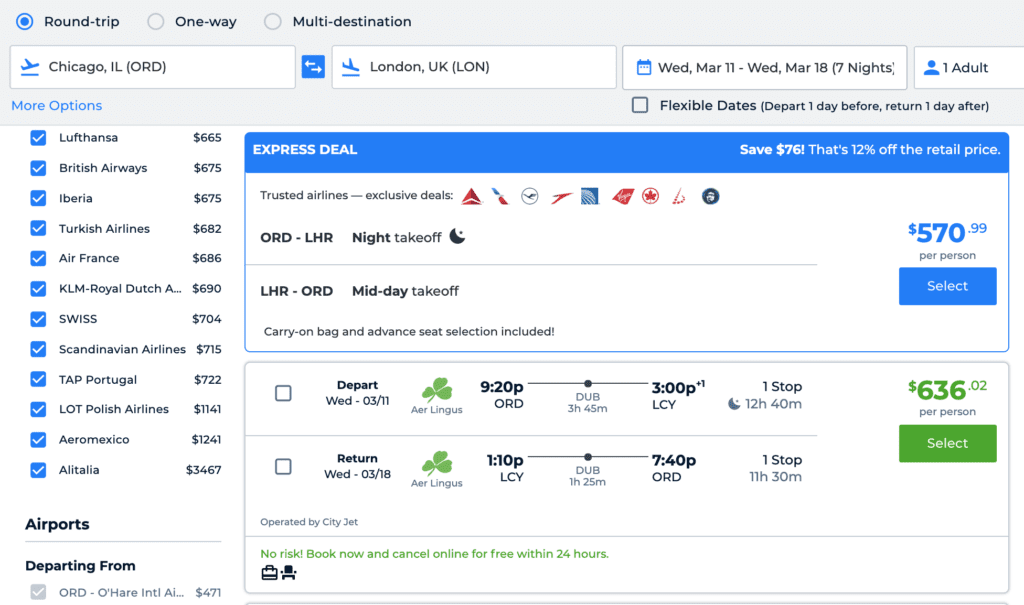 Priceline reminds you that the flight details will be revealed after you book. They also show several trusted airlines, one of which will be the airline you'll fly on for this deal.
You'll also see an estimation of when the flight will depart and arrive, as well as when it will return. For example, the deal above has a night takeoff for the departure and mid-day takeoff for the return.
If we click "Select" to see more details on this Express Deal, we can see that this flight is either nonstop or one-stop, with a maximum layover of 3 hours. And remember: you'll see all of these details once you've booked.
If that all sounds good to you and you're ready to book your cheap flight, click the green "Continue" button to fill out your personal and billing information. The total Express Deal price includes taxes and fees, but additional baggage fees may apply.
Once you confirm and submit, Priceline will immediately open a new window with your flight details, including exact departure and return times and the airline you'll be flying.
How to "Guess" a Priceline Express Flight
One of the most frequent questions we get is how to "guess" which airline a Priceline Express Deal will be on. Turn on your investigative skills: it's easier than you'd think!
Take this Express Deal below, for example. We know that this flight is on either Air Canada, Alaska, Lufthansa, United, or American. We also know it will be a night flight. We can click this deal to see that takeoff will be between 3 PM and 11 PM, and has zero or one stops.
What can we do with this information? Use it to filter the other flights that show up on Priceline as options! We'd filter your takeoff time filter to after 3 PM, select only the airlines listed as the Express Deal options, and select zero or one stop in the stop filter. Then, take a look at the flights that remain in the search results: this will give you a pretty good idea of which possible flights this "hidden" flight will be.

In this case, there's a high chance we'd be flying Lufthansa with one stop in another European hub. You might not be spot on each time, but filtering the search results will definitely give you a better idea of which flight the Express Deal might be.
Example Express Deal Flight Details
Curious what the details of a Priceline Express Deal look like after booking? We were, too. So we booked one to show you.
All flight details are disclosed immediately after booking on the Priceline site, as well as in a confirmation email. The confirmation email includes details about which airline you'll be flying, exact times and flight numbers, and layover duration and location.
Here's an example from a Priceline Express Deal we booked: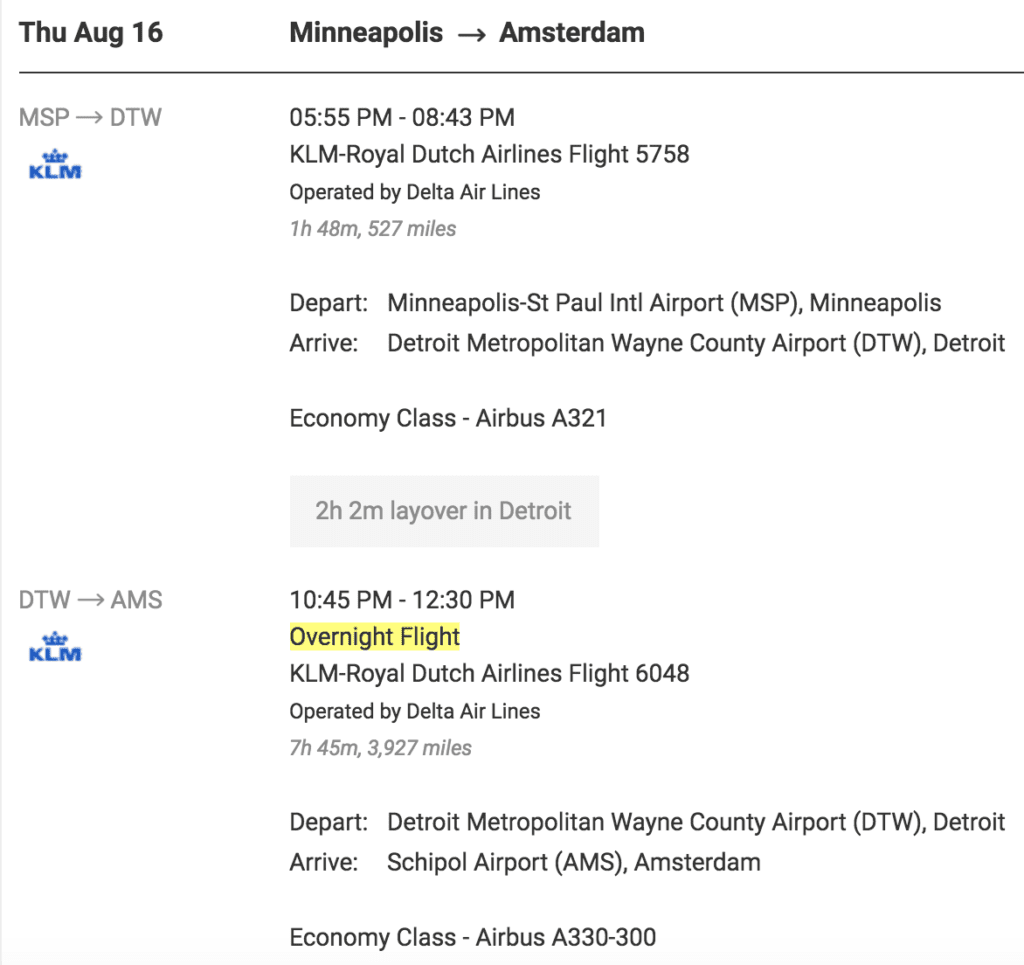 Again, Priceline states these fares may not earn frequent flyer miles but that may vary based on the airline you are flying, the ticket is not refundable, and other important details.
Booking a "mystery" flight isn't for everyone. But if you don't mind not knowing the exact flight times and airline before you book to save, Priceline Express Deals might be for you.
What About Priceline Express Hotel Deals?
Are you open to staying in most well-rated and reasonably-priced hotels? Are you willing to book a hotel stay without knowing the exact name of the hotel first? This might be for you.
Priceline also offers Express Deals on hotels in exchange for a substantial discount. To search, head over to Priceline's Express Hotel Deals page. Enter your destination and travel dates.
From here, your search results will be filtered for Express Deals (you can also turn this filter on in a general hotel search on Priceline).
You can filter for certain amenities, price range, guest rating, star rating, and more on the right-hand side, just like you would a general search. For each Express Deal, you'll see the following:
Star Rating (out of five stars)
General location
Amenities included
Guest rating
Price and discount off the normal rate
On each Express Deal hotel option, you can click to see all the amenities provided and a map of the area in which the hotel is located. If interested in seeing more and booking, click the "Choose" button.
If you're not loyal to or have status with a specific hotel brand, booking a Priceline Express Deal can save you up to 60% on your hotel booking. Just remember: these Express Deals are non-refundable, which could be a deal-breaker, especially during COVID-19.
How to "Guess" the Priceline Express Hotel
Trying to narrow down which hotel an Express Deal might be for? Here are a few tips.
Click on the Express Deal and you'll get a few more details about the property, including an amenity list and map.
For example, we can tell that this Express Deal hotel is:
In the blue area of the map
A 4-star hotel
Has a 9+ guest rating
Offers free parking, a pool, a fitness center, and an airport shuttle
Is part of one of the 7 hotel brands listed in the bottom right
Someone recently booked it for $129 (as seen in the top right)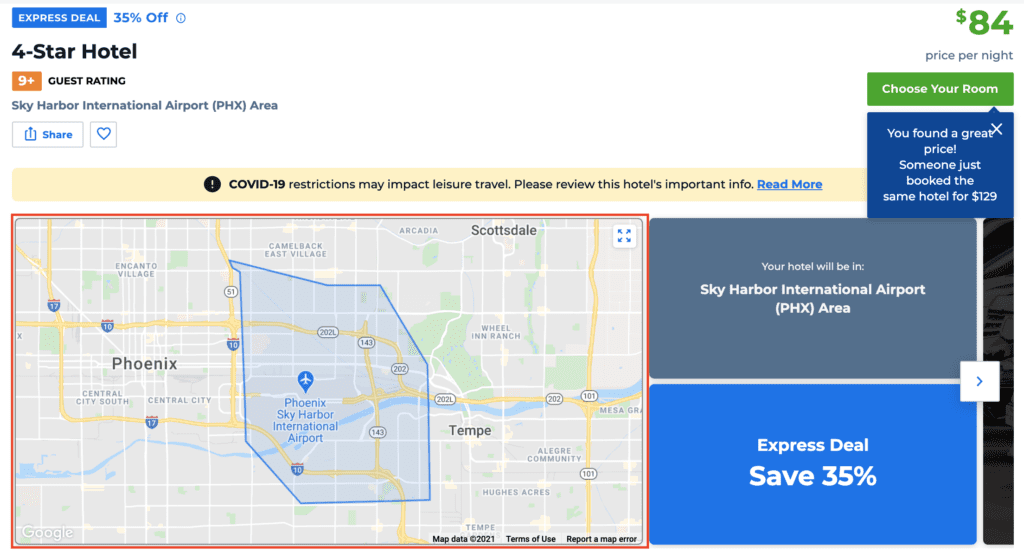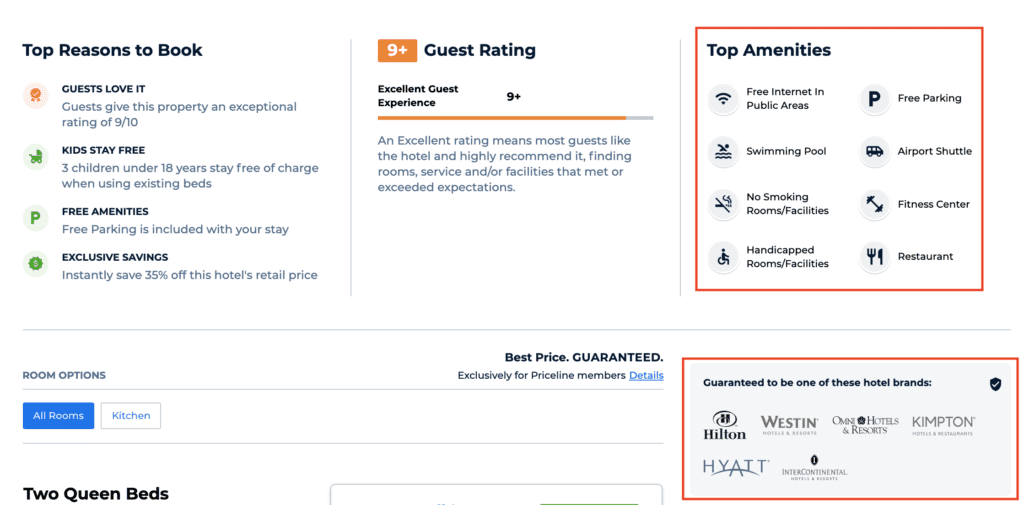 If you're a sleuth trying to make your best guess, take this information and do a little digging.
Open a new tab with a normal search for hotels on Priceline, and enter the same dates, area, and number of people. Once you've done that, take it a step further: set these exact same filters and parameters.
In this case, we would filter for only the amenities listed, 4-star hotels only with 9+ guest ratings. Refresh your results on the general Priceline hotel search result page, and you'll get a list of hotels that have the same criteria. This will give you at least a few ideas of what hotel you might be booking.
Want to take it a step further? Pay attention to the price Priceline Express Deals say that "mystery hotel" usually books for, and see if any match up on your normal results page. You can even look at how the hotel words the room options for more clues as to which hotel it might be.
Again, your guess may not be right each time, but that's the chance you take with a Priceline Express Deal. If you're not willing to stay at the possible hotels it could be, you're better off booking the hotel you want directly.
A Little Less Mystery: Pricebreaker Hotels
Not looking for quite that much uncertainty when booking a hotel? Priceline recently rolled out a new option for cheap hotels, called Pricebreakers.
Here's how it works: Priceline will show you three hotels that fit your travel dates, price range, and guest count in your destination city. They'll show you the average price for each hotel. Then, they'll make you an offer: for a lower price, you book and they'll pick which hotel you get. Once you've booked – just like an Express Deal – you'll see which of the three hotels you'll be staying at.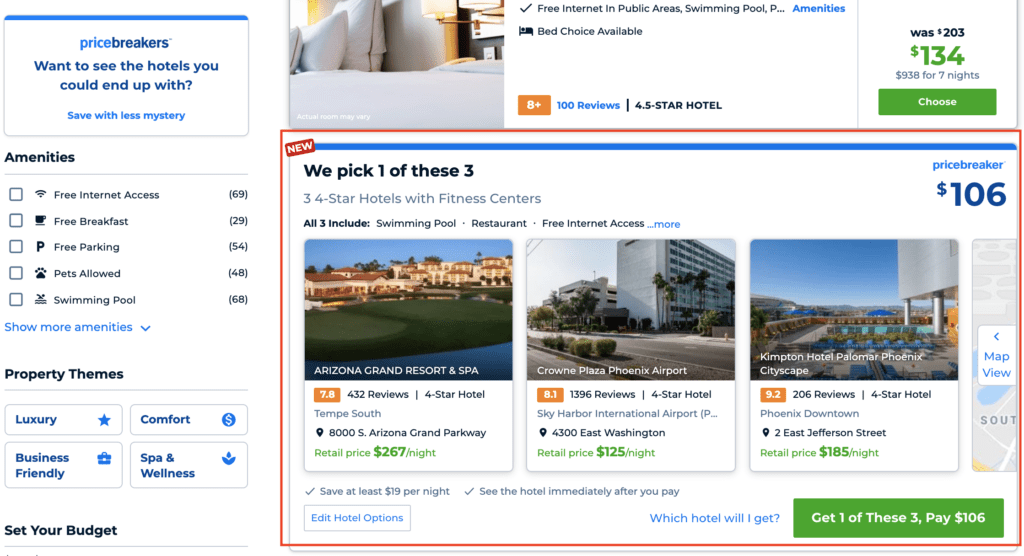 Before you book a Pricebreaker, do the following:
Review all three properties' photos, amenities, and locations.
Ask yourself: would I be okay with one of these three properties, or would I be disappointed if I got one of these?
Calculate the difference between booking the cheapest option of the three and the Pricebreaker price. Are the savings worth the mystery?
To see more Pricebreaker options for your trip, click on the Pricebreaker filter and you'll get a page of 3-part options to choose from. Each set will have a few things in common, such as 4-star hotels with fitness centers or 3-star hotels with airport shuttles.

This option takes more of the guesswork out of it, and offers similarly-rated hotels in the area at a discount. You'll know that you'll be getting one of the hotels listed, unlike the Express Hotel Deals.
Things to Consider with Priceline Express Deals
Before you book an Express Deal flight or hotel, here are a few things to keep in mind:
Priceline Express Deals are non-refundable and non-changeable. This could be a deal-breaker, especially during COVID-19 when airlines are offering fee-free changes and cancellations and hotels are offering free cancellations up to a day before you check-in when booked directly with the airline or hotel.
Priceline indicates that the Express Deal flights do not earn frequent flyer miles. However, we can not yet confirm this. We suspect this is highly dependent on the carrier you are flying. Typically, on non-Express Deal fares booked with Priceline or any other online travel agency site, you can still earn miles.
Even though there are ways to "guess" which airline you'll fly or the hotel you'll stay at, there's no way to know for sure which one you'll get. If the mystery just isn't for you, it's likely worth booking the flight or hotel directly instead.
Bottom Line 
If your schedule is flexible, you're open to flying most airlines and staying at most hotels, and you're willing to roll the dice, Express Deals can be a great way to save on airfare and hotels.
Compared to other deals you find via Priceline – or other search engines – Express Deals are often hundreds of dollars less. And many times, the flights even include advance seat assignment and hotels have perks you're looking for.
We still recommend checking Google Flights and Google Hotels to see how much it costs to book directly with the airline or hotel. But if you don't mind a bit of mystery about your trip, you could save big money with Priceline Express Deals.