We frequently receive questions regarding which travel apps and flight-finding technology we recommend for fellow travelers. One of the most popular questions is about Hopper flights.
Whether you've never heard of this mobile airfare app or you're a frequent fan of using Hopper to book flights, read on to learn about the flight-finding features it provides, and where the air travel app falls short.
What is Hopper?
Hopper is a mobile app that uses historical data to predict and analyze flight prices. Hopper provides information on typical flight prices over time, predicts increases and decreases in flight cost, recommends the best time to purchase, and notifies users when prices for their specific flights are at their predicted lowest points via push notifications on your smartphone.
Think of Hopper as a flight price search engine: it pulls in flight pricing from all the airlines to show you which has the cheapest fares. When you book with Hopper, you're not booking directly with the airline: Hopper is an online travel agency like Kayak, Expedia, Priceline, and many others.
Hopper has also added search options for hotels and rental cars. Unlike flights, there is not an option to see price change predictions or freeze prices. Hopper aggregates hotel pricing from other online travel agencies like Expedia, Booking.com, and others to show the best prices available. Similarly, hopper aggregates car rental prices from companies like Turo, Budget, Thrifty, Dollar, and other rental car companies to provide price comparisons.
You can't do any flight or car rental searching on Hopper's website: it only provides an option to search for hotels. For full access to flight, hotel, and rental car searches, get the app for your phone.
How to Use the Hopper App for Flights
Once you've downloaded the app for your smartphone, you can see the features of booking flights with Hopper.
First, enter your departure and destination airports. From there, you'll be able to see which dates are cheapest to fly on the calendar, color-coded from the cheapest in green to the most expensive in red. For example, flying from Minneapolis to San Francisco is very expensive in September and during Christmas, but is cheaper on select dates in October and December: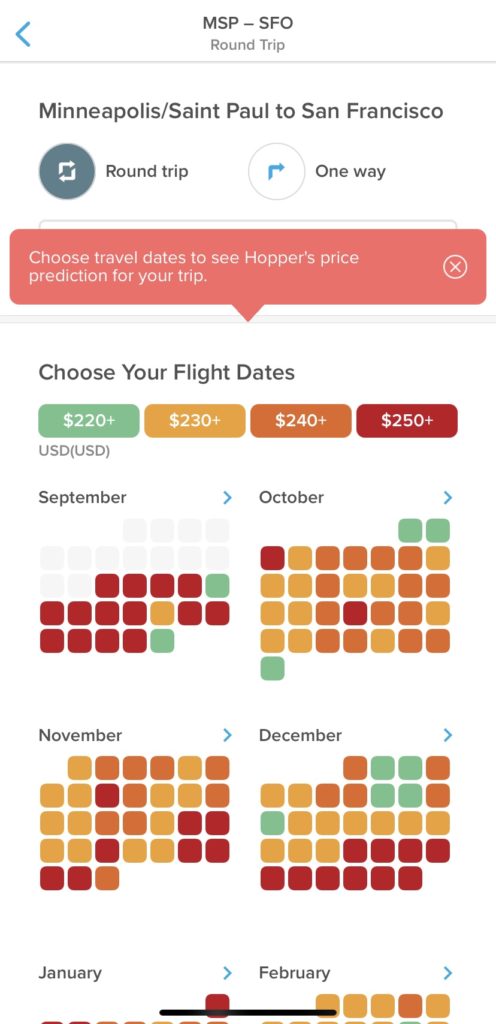 Select which dates you'd like to fly and you'll be taken to the price prediction page. Here, you'll see Hopper's recommendation of whether to book or wait for a cheaper price based on past flight pricing trends: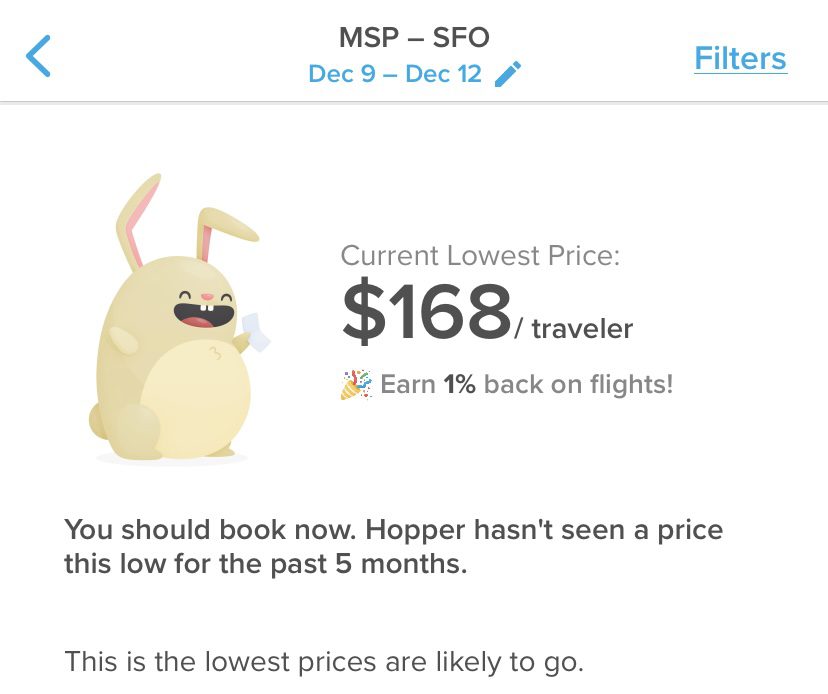 Hopper collects flight pricing data and its algorithms analyze pricing trends to predict how flight prices will change based on past pricing. This is how Hopper is able to predict whether to buy the flight now or wait for a better deal. This feature is similar to the Google Flights prediction feature.
On this page, you can select to watch a trip and get a push notification if prices change. This is similar to the Google Flights Price Alerts feature.

How to Book Hopper Flights
Once you've found a flight you want to book, select "View Flights" at the bottom of the page. You can also freeze your flight price – but we'll talk about that later.
Hopper will quote the cheapest flight available. From here, you can filter to avoid basic economy, see only fares that allow fee-free changes, limit the number of stops or layover duration, select departure or arrival time ranges, and filter by the airline. You'll need to select an outbound and return flight: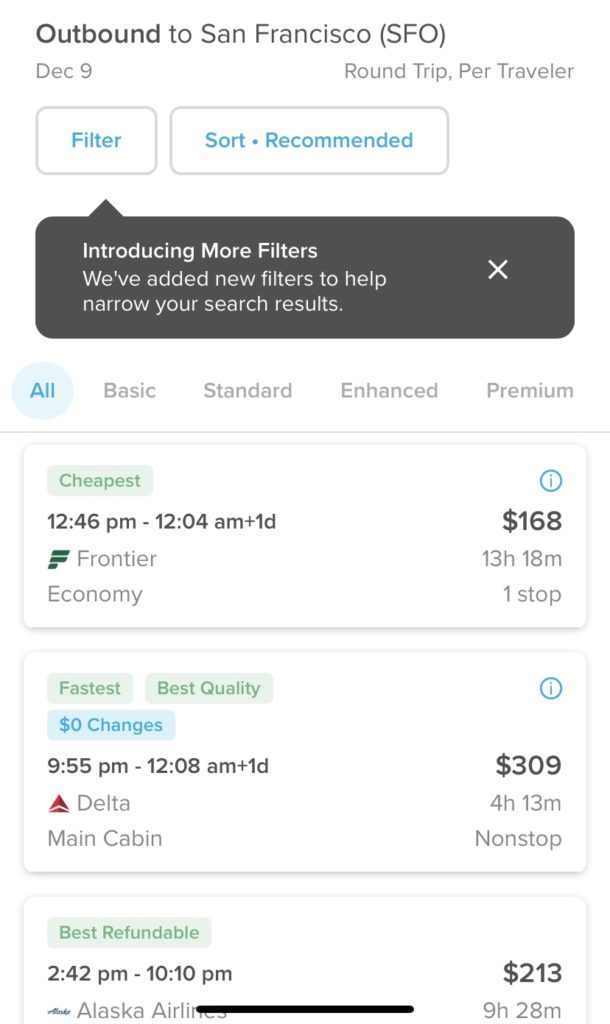 Remember that Hopper is an online travel agency like Expedia, Kayak, and other sites. This means that booking with Hopper adds an extra layer of complexity compared to just booking directly with the airline. Especially during COVID-19, we highly recommend booking directly with the airline instead.
From here, Hopper offers several add-ons, such as instant travel refunds:
And flight change guarantees: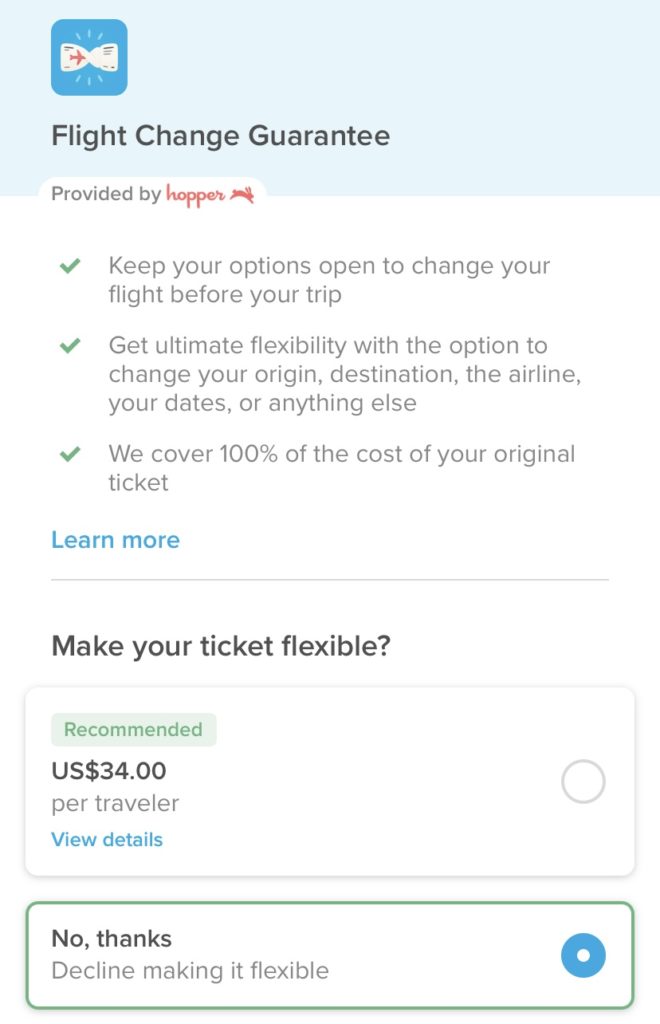 And trip protection:
These add-ons are not necessary and are up to you to decide what you need. Read more about COVID-19 and travel insurance, and remember that if you book directly with airlines instead, many are offering fee-free changes and cancellations on Main Cabin fares already.
OTAs are notorious for add-on fees: Hopper is no different. Watch out for fees they automatically opt you into, like tipping the app and VIP support: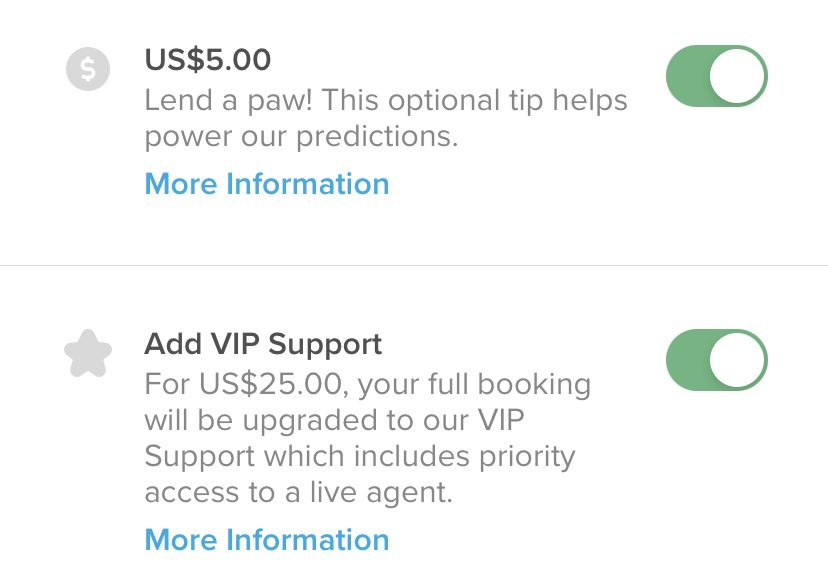 Because you're booking through Hopper, you'll need to sign up and create a free account before purchasing a flight.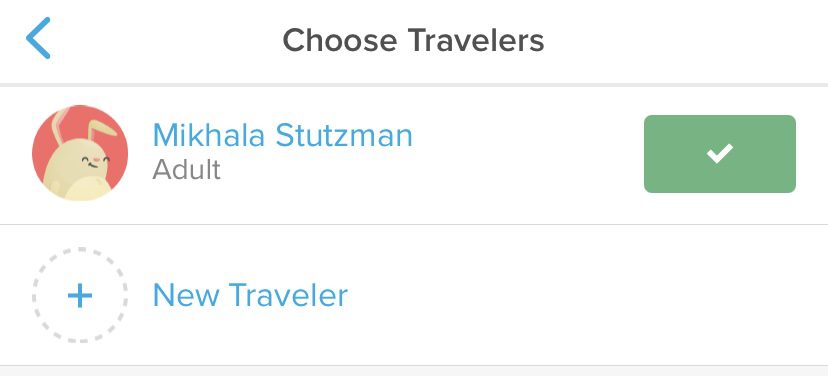 Note that you can only make six bookings per day (every 24 hours) within the Hopper app.
One nice benefit is Hopper's Price Drop Guarantee: Hopper will monitor the price of your flight after you book four times a day, for ten days. If the flight price drops lower than what you paid, Hopper will pay back the difference up to a certain amount in the form of "Carrot Cash". Think of Carrot Cash as credits to be used within the Hopper app on flights, hotels, or rental cars. Carrot Cash is valid for up to 12 months after you've earned it.
How to Price Freeze Hopper Flights
If you're not yet ready to book the flight but are worried the price will go up, you can "freeze" the price. But buckle up – this feature is pretty complicated.
Freezing a flight price requires a deposit price per traveler to freeze prices. Once you pick the flights you want to freeze, you'll have a certain number of days to book that frozen price (typically 3, 5, or 7 days depending on the fare). The deposit you paid goes towards that purchase of the flight.
For example, to freeze my price for 7 days at $168 for the MSP – SFO flight I'm looking at, the deposit would be $44 per person. Deposit prices and freeze time will vary depending on the fare.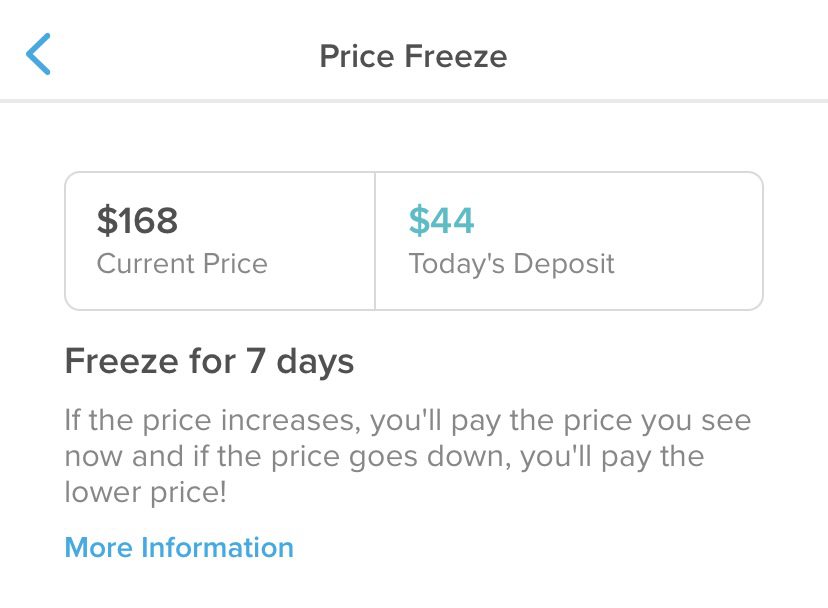 If you don't want to book the frozen price, you can use that deposit fee you paid as a credit towards any Hopper flight within the freeze window. Otherwise, you will lose the fee you paid to use Price Freeze.
The price freeze is only valid for the specific airline ticket you selected: if other airlines drop their prices, you won't be able to switch that frozen fare over. You can't change the flight, time, date, cabin class, the number of passengers, or names of passengers on the flight you freeze. If the flight you selected sells out or is canceled, your deposit fee will be refunded.
If the flight price increases, Hopper will cover up to a certain dollar amount per traveler in savings and keep your initial price frozen. This is considered a service cap: if your frozen flight increases beyond that cap, you'll pay the difference. If the flight price you froze decreases, you will pay that lower price.
For example, if I freeze the flight from MSP – SFO at $168, Hopper would cover up to a $100 increase in flight cost (up to $268). This will vary by fare. If the price decreases to $148, I'll get that price instead.
All Price Freeze fares are non-refundable and non-transferable. Once you've booked the frozen flight, any refunds or cancellations of the fare are dependent on the airline.
The Price Freeze details are pretty complicated. Before you take advantage, make sure you know what you're getting into. Refer to the Hopper Price Freeze terms and conditions before booking.
Hopper Flights vs. Other Airfare Services
Typically, we've found that Hopper is a great air travel app to use if you are looking for general information on the best time to purchase airfare and travel to your destination. The Price Prediction feature that Hopper offers insight into how flight prices generally fluctuate.
This works best if you have to fly to a specific destination on specific dates, since you're required to select dates before seeing the prediction. If you're flexible on destination and/or dates, you might be better off using a broader search like Google Flights Explore.
The Price Prediction feature gives users a timeline of when they should prepare to book their ticket. Of course, this makes Hopper most useful when the date of flying is 3-6 months away: users can watch airfare fluctuate and set up push notifications to get notified when prices drop. Therefore, Hopper is not as effective for users looking to purchase flights and travel sooner.
In my experience, Hopper seems to analyze airfare data based on natural price increases and decreases and some fare wars, but not mistake fares and flash sales. Therefore, while the savings can be up to a few hundred dollars for international airfare by booking during a certain time, it does not offer the crazy half-off savings that a mistake fare, flash sale, or fare war can provide.
Services such as Thrifty Traveler Premium notifies users of flash sales and mistake fares that are unpredictable, and often hundreds of dollars lower than airfare prices Hopper predicts. Mistake fares and flash sales do not follow a calendar pattern, so there's a bit more thrill in the hunt, with a reward of greater savings.
There are a few other downsides to using Hopper to book flights. Before you see the search results, options for filters are bare-bones: you can only select to exclude basic economy fares and limit layover time. You also cannot search multi-city or open-jaw flights with Hopper. Google Flights' filters and multi-city or open-jaw options definitely have Hopper beat.
Remember: Hopper is an online travel agency, and booking with a company besides the airline itself can get complicated if you need to change, cancel, or modify your travel plans. You can't use points or miles on Hopper fares, and there are other downsides to using OTAs – especially during COVID-19.
Who said you should use only one? If you've got a trip with specific dates you need to travel, set a Price Watch on Hopper and a Price Alert on Google Flights while waiting for a flash sale through Thrifty Traveler Premium. This will ensure sure you don't miss the best price possible.
Bottom Line about Hopper Flights
Hopper is a great way to watch a specific fare for a specific time period. Simply set a flight price watch, like you would on any other flight searching tool or mobile app. Hopper is also a great tool for learning when prices are likely to be lowest for flying to certain destinations, based on the season. You can use their Price Freeze tool too, but beware of the costs.
However, if you're looking to up your airfare game and get notification of flash sales and mistake flights that are even cheaper than seasonal price fluctuation, check out Thrifty Traveler Premium to save even more on your next flight.