Want unlimited buy-one, get-one flights for a whole year? Meet the Southwest Airlines Companion Pass. And Southwest is rocking our world with what is by far the easiest way to earn the Companion Pass yet.
Typically, it takes a lot of work to earn this coveted pass: Taking a ton of flights or earning a boatload of points in a single year. But Southwest and Chase are out with a new offer that will get you a full year with the Companion Pass from a single credit card bonus. Opening any of Southwest's co-branded credit cards and spending $4,000 within the first three months will get you there.
Once you've got it, it's up to you to use it well. Read on for some of the easy – and awesome – ways you can maximize the Southwest Companion Pass for a year (or more) of BOGO flights.

The Easiest Way to Earn the Southwest Companion Pass
In case you missed the huge news: Southwest and Chase just launched a brand new limited-time credit card offer with the easiest path to earning the Southwest Companion pass we've ever seen.
Here's how it works:
Open any Southwest credit card listed below and spend $5,000 within the first three months.
This will earn you the Companion Pass valid through February 2023. Book your Companion on any flight with you free – just pay their taxes and fees.
You'll get a 30,000-point bonus, too! Plus, you can use the bonus points to book flights – and still bring a companion with you for free.
Getting up to a year (or slightly more) of unlimited BOGO flights from just one credit card bonus is unparalleled. You typically need to get both a personal and a business credit card from Southwest to earn enough points to get this pass.
Of course, earning the Companion Pass through that normal route would get you close to two years of free BOGO flights. Whether this new offer is right for you likely depends on your ability to get approved for a business credit card – and how bullish you are about travel in the next year.
But you can a year with the Companion Pass if you get the Southwest Rapid Rewards Plus Credit Card, the Southwest Rapid Rewards Premier Credit Card, or the top-of-the-line Southwest Rapid Rewards Priority Credit Card. But once you get past this new bonus, what you get with each card differs.

In normal times, it takes a lot of work – or a lot of points – to earn this coveted pass. We've seen Southwest roll out this easy method to earn a year's worth of the Companion Pass just a few times, including a nearly identical offer a year ago. If you live in a Southwest hub, you can't pass this up.
Alright, now let's get down to business. In this post, we'll walk through four great ways you can take advantage of the Southwest Companion Pass.
Southwest flights are currently bookable through Sept. 5, 2022! Read up on the Southwest flight schedule.
1. Unlimited BOGOs on Domestic Flights
One great way to use the Companion Pass: Fly with a travel buddy to anywhere Southwest takes you! Have a few friends you want to treat to a vacation? Southwest allows you to change your Companion up to three times a year, so you can spread the love.
Curious how the Pass works? Read our full guide to using the Southwest Companion Pass.
Wondering just how much BOGO flights can save you and your travel buddy? Here are a few examples.
Get from Minneapolis-St. Paul (MSP) to the desert of Phoenix (PHX) nonstop for $134 … or with your Companion Pass, just add on about $11 in taxes to bring your buddy. That cuts the total cost to $72 each for roundtrip tickets!

Chicagoans, how about a $181 nonstop, roundtrip flight from Chicago-Midway (MDW) to San Diego (SAN) for a spring getaway That comes out to less than $100 per person if split with your free Companion.

These are just a few examples of the hundreds of cheap flights to and from cities across the U.S. that you can take advantage of with this promotion. Cheap flight + the Companion Pass = even cheaper flights for two!
Thrifty Tip: Don't know where you can fly on Southwest? Use this handy Route Search Tool to see all the places you can fly from your home airport!
2. $138 Roundtrip Flights to Hawaii Per Person?
You could book cheap BOGO flights to Hawaii. Need we say more?
There are plenty of sub-$300 nonstop and roundtrip flights from the West Coast to all of the Hawaiian islands! How about flying two from the Bay Area to Honolulu (HNL) nonstop this spring for just over $100 each? It can be done.
Use the Southwest low fare calendar to search for the cheapest dates. And with your Companion along for the ride, that shakes out to roughly $104 roundtrip flights to Hawaii for each of you.

It could get even cheaper – heck, they've even dropped to under $100 to get to Hawaii and back!
Thrifty Tip: You can book fares using Southwest Rapid Rewards points and still use your Companion Pass! That cheap fare to Hawaii drops to just over 12,000 Southwest points and $11.20 in taxes. Pay another $11 for your buddy and you've got a trip to Hawaii for two covered!

The cheapest fares to Hawaii on Southwest tend to be from the West Coast (and the Bay Area in particular). Not from Oakland, San Francisco, or Sacramento? Book a cheap positioning flight from your home airport to the West Coast for you and your companion!
3. Bring a Buddy to Mexico and the Caribbean for Free
Southwest also flies to Mexico, Central America, and throughout the Caribbean. This makes putting your Southwest Companion Pass to use during this year – or next winter – a no-brainer.
Southwest flies to the following tropical destinations:
Cancun, Mexico (CUN)
Cozumel, Mexico (CZM)
Havana, Cuba (HAV)
Liberia, Costa Rica (LIR)
Montego Bay, Jamaica (MBJ)
Nassau, Bahamas (NAS)
Punta Cana, Dominican Republic (PUJ)
Puerto Vallarta, Mexico (PVR)
Los Cabos, Mexico (SJD)
San Juan, Puerto Rico (SJU)
and more!
Some of the cheapest fares we're seeing for international destinations are $200 nonstop, roundtrip from Chicago-Midway (MDW) to Cancun (CUN):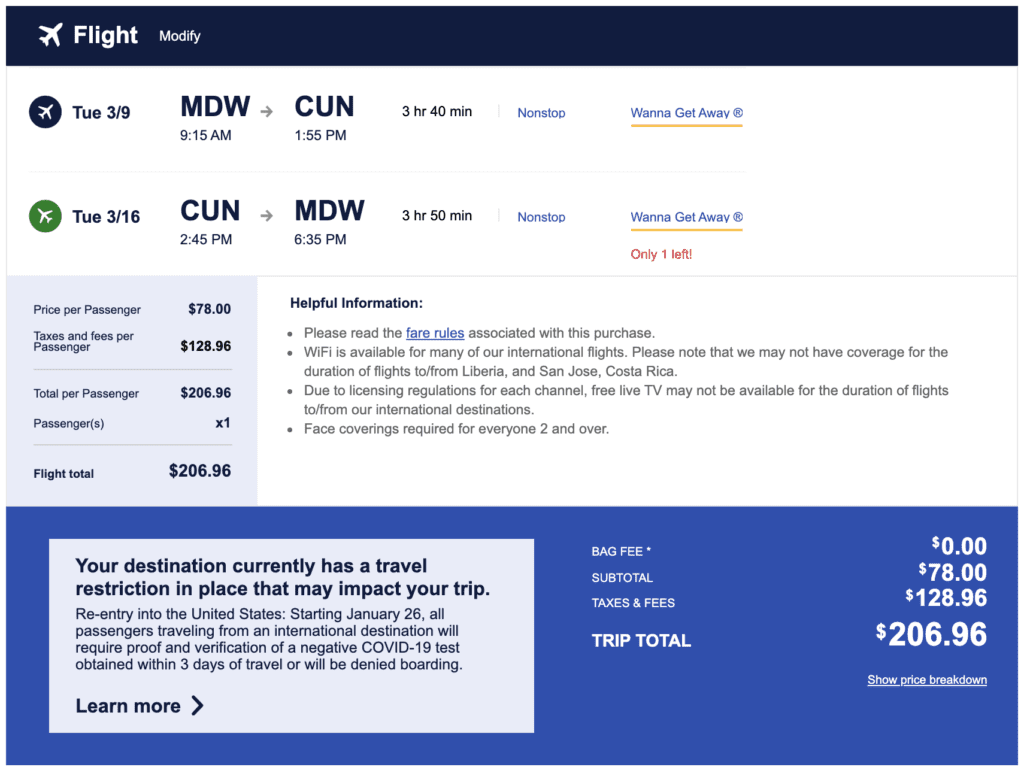 Yep, this means, taxes and fees included, you could get to Mexico for ~$150 per person with the Companion Pass!
As you'll see above, taxes and fees on flights to Mexico and the Caribbean will be higher than flights within the U.S., typically around $100 per person. And remember: you'll pay taxes and fees for your Companion, as well.
Not every departure city will have flights this cheap to these tropical international destinations. But even a $400 Southwest flight to paradise is essentially cut in half with a free Companion in tow!
4. Use Southwest Points to Book Free Flights for Two
It's crazy but true: the Companion Pass works on cash flights as well as bookings made with Southwest Rapid Rewards. And you'll earn 30,000 Southwest points by hitting the minimum spend on any of the three cards it takes to earn the Pass.
Once you have your Companion Pass, you can use your Rapid Rewards points to book any flight free – and still have your Companion join you for just the taxes and fees.
So just how far could you go with 30,000 points and a free Companion? Let's take a look:
Several domestic routes are bookable for as low as 5,000 points roundtrip. Take this trip from Boston (BOS) to Chicago-Midway (MDW), for example. You could use just a fraction of your points (and a few bucks in taxes & fees) and still get a free companion!

Chicago for two over St. Paddy's Day for just $22? Yes, please!
At that rate, you could get a total of twelve roundtrip domestic flights – six per person – for nearly free, using the points you earn with your card and Companion Pass. And you've got until February 2023 to make the most of your Companion Pass!
Thrifty Tip: Run out of Southwest points, or have Chase points to burn? Southwest is one of many  Chase transfer partners, which means you can top off your Southwest account with points from cards like the Chase Sapphire Preferred® Card or the Chase Sapphire Reserve®.
Why We Love Southwest Airlines
Southwest just does things differently, and that's a good thing. It's the reason that we have a love affair with the budget airline.
Perhaps our favorite thing about Southwest is that they do not charge for checked bags or for carry-on bags. Each and every Southwest passenger is allowed two free checked bags. And yes, this includes oversized bags like golf bags, skis, and even surfboards at no additional cost. You also won't see basic economy fares at Southwest Airlines.
And better yet, Southwest has never charged change and cancelation fees. You can cancel any Southwest flight and get a voucher for later use for no fee. If you book with points, you can also cancel with no fee and the points are re-deposited.
Read more: What Sets Southwest Airlines Apart: The Good and the Bad
Bottom Line
It has never been easier to earn the Companion Pass than right now. Earn a year of unlimited BOGO flights with this Pass if you get the Southwest Rapid Rewards Plus Credit Card, the Southwest Rapid Rewards Premier Credit Card, or the top-of-the-line Southwest Rapid Rewards Priority Credit Card.
Whether you're heading to your favorite U.S. destination with your bestie, treating mom to a trip to Hawaii, or getting away with your partner to the Caribbean this winter, getting BOGO flights is an insane deal. Change your Companion up to three times – and do all of the above!
And the best part? There's no limit on the number of flights you use this on. So treat yourself – and a travel partner – to a fun trip this summer, or a warm getaway next winter, all at half the price.