Nowadays, everyone is shopping online from the convenience of their home – especially with Black Friday and the holidays around the corner. Why not earn extra cash back (or credit card points) on items you were planning on purchasing anyways? Rakuten is the answer.
Shopping portals should be a must for any online shopping, and Rakuten is one of the best, period. It's incredibly easy to use, allowing you to earn a percentage of your purchase price back at hundreds, if not thousands, of participating stores with just a few clicks. The shopping portal regularly rolls out bigger bonuses of 10% or more, making it even more rewarding to click through Rakuten.
There's even more reason for travelers with American Express cards like *amex platinum* or the *amex gold* to shop through Rakuten. Rather than earning cash back, you can opt into earning valuable Amex Membership Rewards points on every purchase.
And if you've never used Rakuten before, there's no better time to start. First-time users can currently get a $40 bonus after completing your first purchase of at least $40 in the first 90 days after signing up. Full disclosure: We also get a bonus, so we appreciate it if you use our link!
With holiday shopping sprees just around the corner, let's dive into the basics of Rakuten and how to maximize this easy-to-use shopping portal.
Thrifty Tip: Add the Rakuten browser plugin to Google Chrome and Rakuten will alert you when you can earn cash back on your purchase through that retailer!

Why Shop Through Rakuten?
From airline portals to earning miles to independent sites that offer cash back, there are dozens of shopping portals out there to help you earn something extra back on your online shopping. Sites like Cashback Monitor can guide you toward the best site to use to get the biggest return.
Yet we regularly turn to Rakuten for almost any online shopping. No online shopping portal makes it easier or more rewarding to get something extra back on the spending you're doing anyhow. 
For starters, Rakuten partners with more than 3,000 online retailers – so if you're about to buy something online, odds are you can do so via Rakuten. Scan the full list of stores available on Rakuten and you'll see it includes everything from clothing and department stores to pharmacies and pet supply retailers, sporting goods shops, outlets that sell contacts and deliver flowers, and so much more. Even many major hotel brands, airlines, and travel sites are part of Rakuten.

These bonuses regularly get even bigger. It seems like every month we see Rakuten roll out cashback bonuses of 10% or more at hundreds of select stores. Timing it right with one of these regular promos can make shopping through Rakuten even more rewarding.
For travelers focused on earning Amex Membership Rewards points, shopping through Rakuten is a no-brainer because you can earn points instead of cash back. If a store is offering 10% cash back, that means you can earn 10x points per dollar – 1,000 extra Amex points on a $100 purchase.
If you're just getting started, Rakuten makes it even more alluring with excellent sign-up bonuses. You can currently earn a $40 bonus (or 4,000 extra Amex points) after completing your first purchase of at least $40 in the first 90 days after signing up. After that, you can refer your friends and family, giving them the same bonus … plus a bonus for yourself, too! This referral program is something you won't find on other similar sites, and it's incredibly lucrative.

No matter how you choose to get paid out, Rakuten will deposit your earnings on a quarterly basis: Feb. 15, May 15, Aug. 15, and Nov. 15.
Rakuten pairs perfectly with credit cards that already earn cash back or points on your everyday spending: You can stack them to get your items for even less! For example, you could get an additional statement credit of 3% on U.S. online retail purchases (up to $6,000 per year) when paying with your *blue cash everyday* on top of your return from Rakuten. Same goes for the flat 2x points you'll earn on every purchase with the *venture x*.
But above all, no other site makes it easier to earn rewards on your online shopping. Just head to Rakuten.com, search for the retailer you're eyeing, then click through and make your purchase as normal. The one downside to using Rakuten is that it sometimes doesn't play nice if you're trying to use a discount code … but Rakuten will often tip you off to (and automatically apply) discount codes that do work, like this example with PetSmart.

But you may not even need to remember to visit Rakuten.com before starting your online shopping. Instead, install the Rakuten extension for Google Chrome and it'll let you know whenever a store you're shopping at is eligible to earn Rakuten rewards. Just click to activate the cashback offer with Rakuten and you're set!

Convinced? Keep reading for a thorough walkthrough on how to get started – whether you want to earn cash back on your online shopping or pile up Amex points.
Get signed up for Rakuten now! 
Earning Cash Back With Rakuten
Rakuten is an incredibly easy-to-use online shopping portal – and that Chrome browser extension that makes it even easier. Think of shopping with Rakuten as using a cashback credit card with spending categories that get you bigger bonuses … you just get your discount at a later date.
Rakuten has a constantly changing roster of merchants that offer varying amounts of cash back, from as low as 1% to as high as 95%. But instead of being paid at the end of the month like you would with your credit card, you'll get paid out for the cash back you've earned every three months through either a paper check or a PayPal transfer.
To get started, head to rakuten.com and log into your account. Search for the online store you're planning to make a purchase at – and with 3,500-plus currently participating in Rakuten, odds are that the retailer you're looking for will be available.
Just want to see to see the best deals? Click "10% Cash Back" on the upper left to get a view of all of the highest cash back rates merchants are currently offering, then click "See All" on the bottom right.
From there, you'll see a full list of retailers currently offering elevated cashback rates. You can sort these results by clicking "Cash Back" in the upper right. As you can see, LifeLock from Norton recently offered a lucrative 80% cash back. I've seen Norton offering cash back via Rakuten from a standard 20% to as much as 95% throughout the year.

Ready to make a purchase? Click the retailer you're planning to shop at and a screen that looks like this should appear, indicating that the Rakuten extension is activating.
You can also simply head to a retailer's website directly if you've already got a store in mind. Just make sure the Rakuten extension is enabled by clicking the puzzle piece icon on the top right hand corner of Chrome.

And then make sure you click "Activate."

From there, just continue on with your purchase as usual. So if you make a $90 purchase with Norton with that 80% cashback rate from Rakuten, you'd get $72 back from Rakuten. Think of it like an 80% discount … but it's delayed.
Rakuten should track any cash back you've earned within a few days. That doesn't mean you'll get that money just yet – just that your purchase has been recorded. You'll have to wait until one of the quarterly payout dates (Feb. 15, May 15, Aug. 15, and Nov. 15.) to get that money.

You can get paid out quarterly either by paper check or a deposit straight to a PayPal account. To change how you're paid out from Rakuten, log into your account and navigate to account settings. You can switch between "Big Fat Check" payouts and PayPal, and even change which PayPal address gets the payment every three months.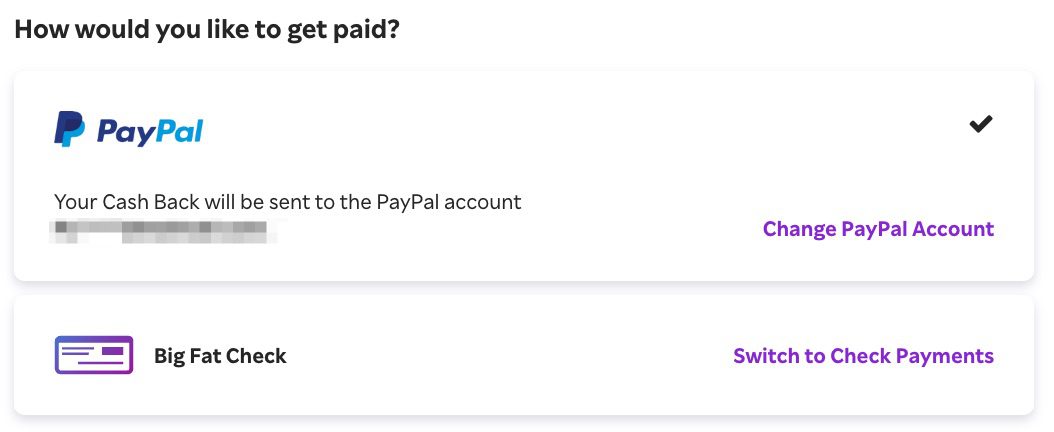 You'll need to have at least $5.01 in pending cash back with Rakuten in order to get that payout. If you're under that threshold, that balance will carry over to the next quarter.
How to Earn Amex Points via Rakuten Instead
If earning cash back is not your jam but credit card points are, Rakuten gives all members the option of earning Amex points instead!
Is a store showing 10% cash back? That means you can earn 10x Amex Membership Rewards points. Seeing a whopping 20% cashback return? That means 20x points for every dollar you spend by shopping through Rakuten.
So long as you have an Amex Membership Rewards card like the *amex platinum* or *amex gold*, you're eligible to earn Amex points purchases through Rakuten – sorry, co-branded Amex cards from Delta, Hilton, or Marriott won't cut it. Simply click under your name and go to "Account Settings." By default, payments will be set to be sent as a "Big Fat Check." Instead, click on American Express to link your account.

Read our guide to linking your Amex account to Rakuten
A word of caution: Stick with earning Amex points if that's your primary goal. If you revert to earning cash back, you'll no longer be able to switch back to earn Amex points again.
For travelers looking to add to their stash of points to fuel their future travels, linking Amex and Rakuten is a no-brainer. And there's no need to actually pay with an Amex card when using Rakuten in order to earn points. So long as your accounts are linked, you can earn Amex points no matter which card you use to pay.
Let's say you make a $90 purchase with Norton with an 80% cashback deal. Instead of receiving an 80% discount of $72 on this order, you would earn about 7,200 Amex points. Just multiple the purchase price ($90) by the multiplier (in this case, 80x) to calculate your potential earnings.
As you can see below, I've earned nearly 40,000 Amex points so far this year alone on online orders. Not a bad way to get your shopping done and rack up points for that next trip!

As with normally earning Rakuten cash back, don't expect to be able to use these points immediately. They're deposited into your Amex account on the same quarterly schedule: Feb. 15, May 15, Aug. 15, and Nov. 15 each year.
One last note: You need at least 501 Amex Membership Rewards points pending with Rakuten in order for those points to get transferred to your Amex balance/
Stack Your Purchase with Credit Card Earnings & Offers
Bonuses of 10% or more from Rakuten can make shopping through Rakuten a no-brainer. But you can do even better.
For starters, be sure to use a credit card that earns you more points on your shopping. A few strong options include:
The *blue cash everyday*, which earns an additional statement credit of 3% on U.S. online retail purchases (of up to $6,000 per year)
The *capital one venture card* and *venture x* both earn 2x Venture Miles on every purchase
The *freedom unlimited* is a great choice since it always earns 1.5% cash back – or better yet, there's a new welcome offer that gives cardholders a double cash back match on all spending for the first year of card membership, making that a 3% cashback return!
Thrifty Tip: Even if you're earning Amex points on your Rakuten shopping, you don't have to use an Amex card at checkout!
Better yet, many credit cards offer additional discounts with select merchants. So you'll want to look at your list of current Chase Offers, Amex Offers, or Capital One Offers just in case there's a way to double-dip on your savings. You often have to purchase through the direct link on your credit card portal or enable the offer for your discount to apply, but you can still activate your Rakuten rewards using the browser extension to earn even more back.

Bottom Line
We're heading into the holidays and that means many of us have plenty of shopping to do. Do yourselves a favor and get some extra cash back (or bonus Amex points) out of that spending.
Making Rakuten a part of all your online shopping is a great way to maximize your spending: No other online shopping portal makes it easier or more rewarding. And with Black Friday and Cyber Monday sales around the corner, we might see the return of 10% to 15% or more bonuses on hundreds of retailers through Rakuten soon.
Get signed up for Rakuten now!