New to the travel rewards world? Confused by how airline miles or hotel points work? That's is the beauty of using points from cards like the *venture x* or the *capital one venture card*: There's nothing simpler than redeeming miles to cover travel purchases using Capital One Venture Miles.
Along with the no-annual-fee *capital one ventureone*, these cards give you an easy option to cover the cost of your travels using miles. It's incredibly versatile: From flights to hotels to rental cars and even Airbnbs, you can use them to book almost any travel expense imaginable. Honestly, there's no easier way to book travel and make it free.
Here's how using Capital One Venture Miles to cover travel purchases works.
Related reading: 9 Unique Ways to Use Capital One Venture Miles for Travel

How to Use the Capital One Venture Miles to Cover Travel Purchases
There's a growing list of ways to put your Capital One miles to use.
Sure, you can earn miles on your Capital One card and transfer them to one of nearly 20 airline and hotel partners. You can even book travel directly through the new and improved Capital One travel portal. But the easiest way to use these miles – and arguably the easiest way in the whole wide world of points and miles – is to pay for travel with your Venture card, and then later remove that charge with Venture Miles.
Let's say you've recently picked up the *venture x*. Once you've spent $4,000 within the first three months of opening the card, you'll earn the card's current 75,000-mile bonus. Factor in the usual 2x miles per dollar you earn for spending that $4,000 sum, and you'll have at least 83,000 Venture Miles.
Using this option, you can redeem those miles toward any travel-related purchase for 1 cent apiece. That means you've got a cool $830 you can put toward travel sitting in your account.
Here's exactly how to put it to use:
Step 1: Put Travel-Related Purchases on Your Card
So, you've earned the big sign-up bonus – or perhaps you've continued spending on your Venture and racked up even more miles. Now it's time to use them on some travel expenses.
Start by putting any travel expenses on your Capital One Venture card … and we mean any. Capital One considers "travel costs" to contain a multitude – not just basic expenses like flights and hotels. From Airbnb stays to Uber rides, to flight and hotel purchases and even cruises – all of these count as "travel."
That's right: Just pay for your flight, hotel, Uber, or parking fee with your Capital One card. Then give it a few days for your purchase to finalize and post to your account.
One note: It's totally fine to purchase non-travel purchases on your card. You just won't be able to redeem your miles by "erasing" them. On the plus side, you'll still earn 2x miles for every dollar you spend on the Venture or Venture X card.
Now let's take a look at how to erase those travel purchases.
Step 2: Remove Travel Purchases
The second (and final) step in this process is to redeem your miles to cover the travel purchase.
Start by logging in to your Capital One account and click the Redeem button on your homepage.


Next, select how you'd like to redeem your miles: You can book flights or hotels directly through Capital One, get gift cards, redeem for cash, transfer Capital One miles to one of their partner airline or hotel programs, or the new option to redeem them for Apple products and other merchandise. Still, the easiest (and often our favorite) way to redeem Capital One rewards is the "Cover Travel Purchases" function.
From this page, select "Cover Travel Purchases."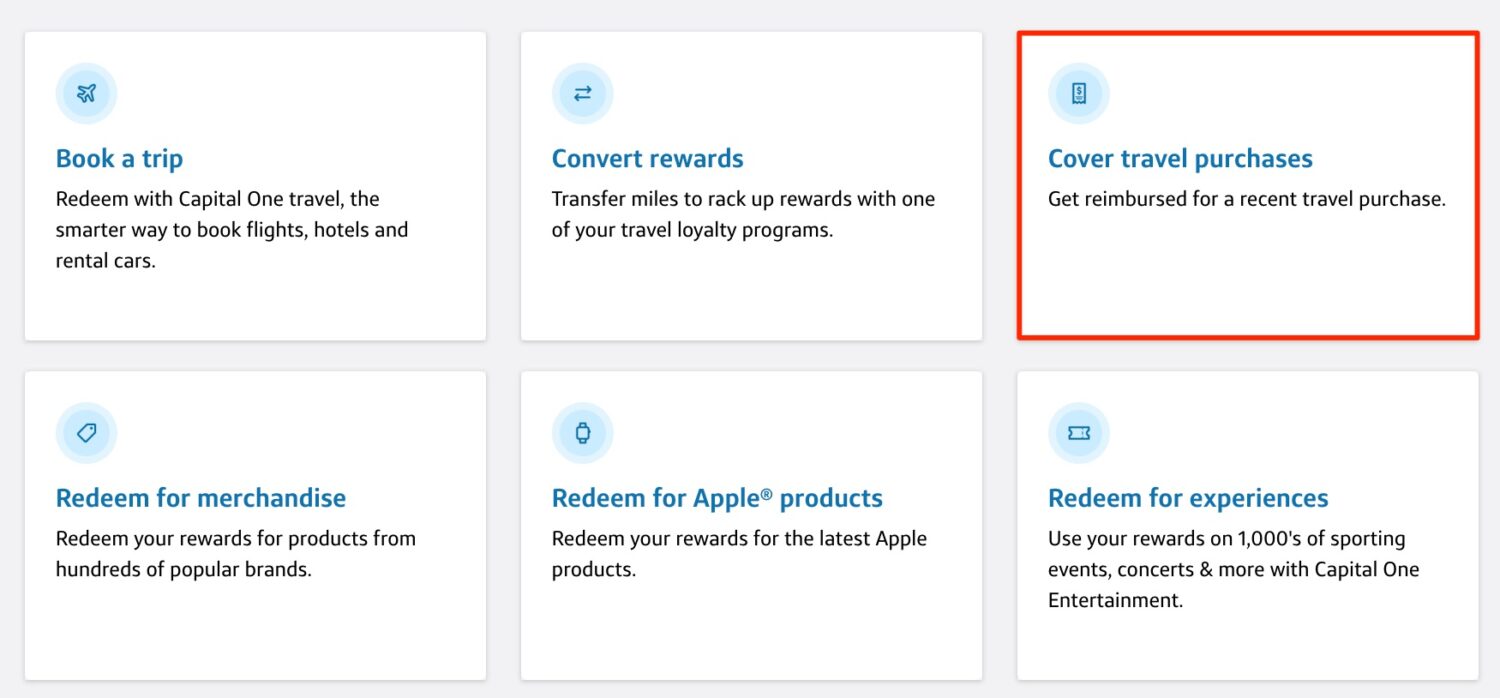 Once you've selected to cover your travel purchases, you'll be taken to a page where you can select which of your travel-related purchases you've made on your Capital One Venture card you'd like to "erase." This includes all eligible travel transactions from the last 90 days. Typically, it takes one to three days after your travel purchase for it to show up here.
Don't have enough miles – or don't want to spend them all? You can even redeem miles to cover just part of a purchase. As you can see, we've got the option here to redeem Venture miles to erase the cost of train tickets and an Uber ride in Rome.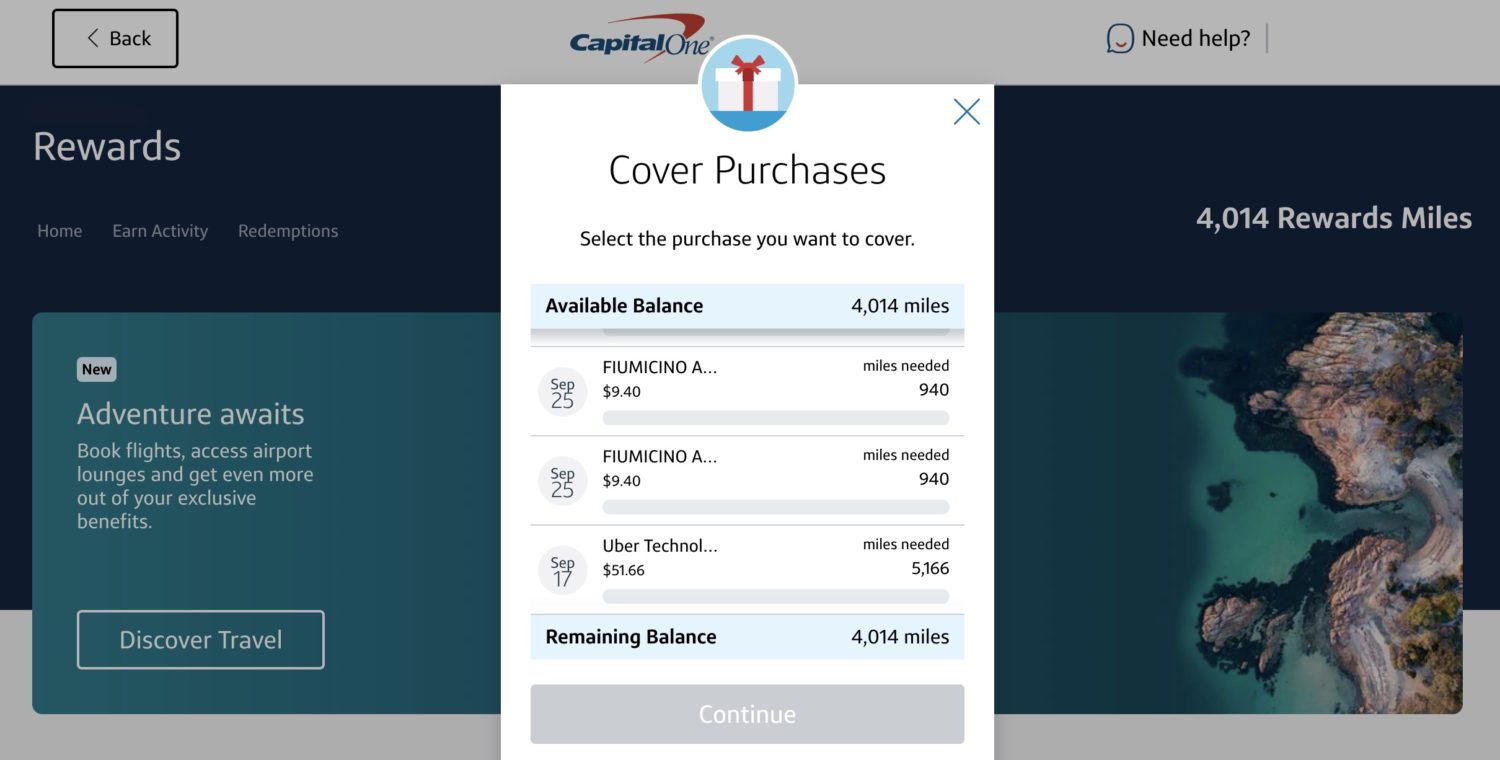 When using Venture Miles to cover travel purchases, each Venture mile is worth 1 cent. That means the 4,014 miles we've got in this account are worth $40.14. And we can cover the cost of each $9.40 train ticket from Rome (FCO) Fiumicino Airport for 940 Venture miles.
Select which travel-related purchase you want to erase, and voila! Your points will be deducted, and your purchase will be virtually erased from your account – Capital One will simply credit you.

Don't want to cover the whole amount? No problem: You can fine-tune exactly how much of a purchase you want to cover using miles by simply typing in how many miles you'd like to use. For example, we can cover roughly half of this $1,300 hotel bill from Agoda with 67,000 Venture Miles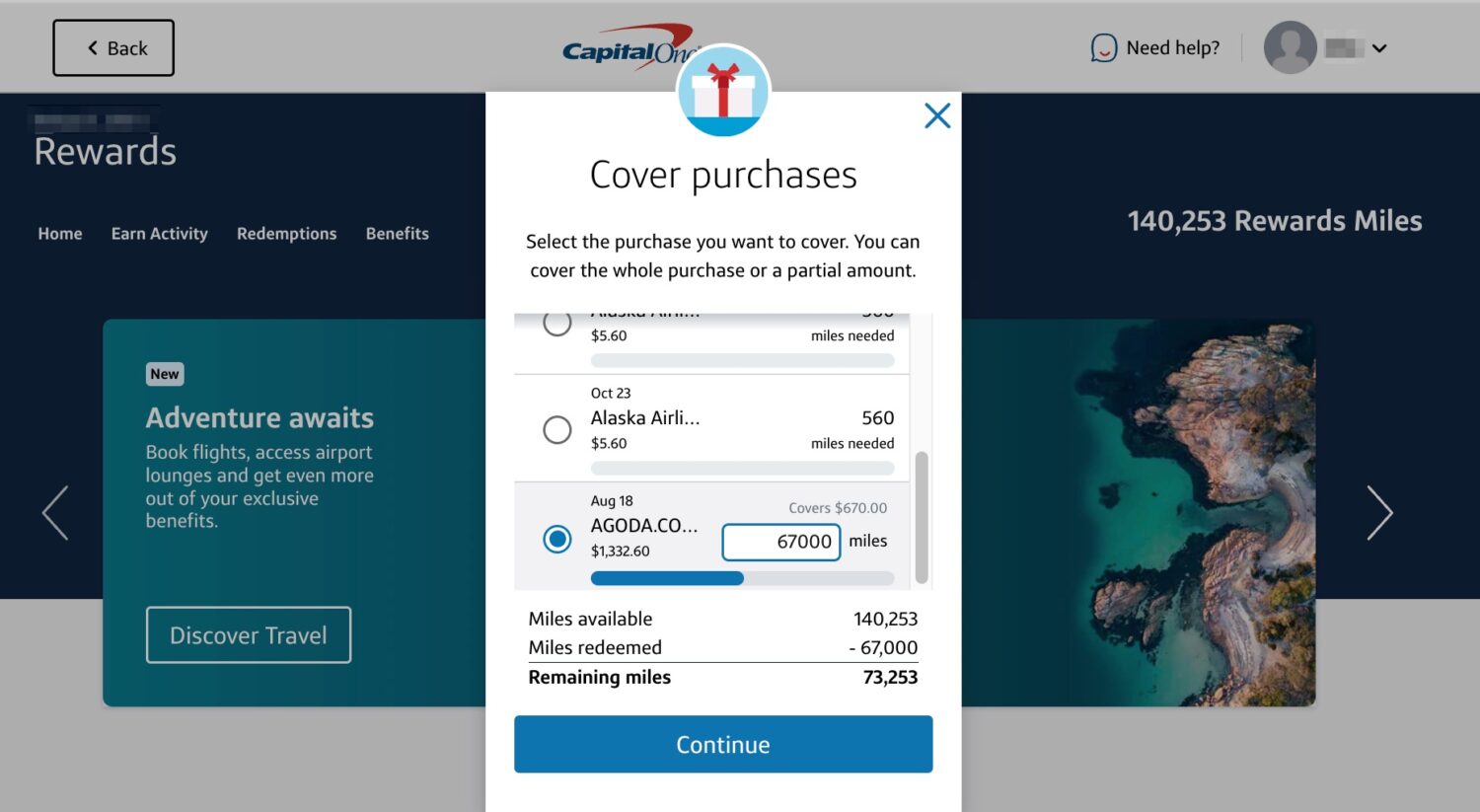 Once you hit that green "Confirm" button, you're done! You'll have just completed one of the easiest travel rewards redemptions out there.
Keep in mind that you have 90 days to "erase" a travel purchase before it's no longer available. If you're ready to use those miles, don't wait too long to erase some recent travel purchases!
An Example of Using Venture Miles in Action
You can use Venture Miles to cover the cost of virtually any travel expense you can think of. But one of our favorite ways to redeem Capital One Venture Miles is on the expenses you can't typically cover with other credit card points or airline miles. That's just what I did recently.
Booking Delta flights? You're probably better off using some of your Delta SkyMiles – or even booking via Virgin Atlantic, a Capital One transfer partner. Locking in a stay at a Hilton or Hyatt? If you've got points with either program, use those instead.
But what about an Airbnb stay? Airbnb doesn't have its own loyalty program, so Venture Miles are the only way to cover the cost of your stay with points. Same goes for Viator tours and other excursions, spendy float plane rides to your resort in the Maldives, Disney tickets, and many more.
My wife and I are planning a trip to French Polynesia and Australia early next year and managed to book our flights to Tahiti (PPT) using Alaska Mileage Plan miles. But Bora Bora (BOB) is where we want to get to … and despite the fact that it's just a 50-minute flight, those fare are not cheap.

These inter-island flights don't get much cheaper than $376 per person – or $752 for the two of us. That's $752 we'd rather put towards dinners at the Conrad Bora Bora Nui, renting a pontoon to cruise around the island, or other expenses throughout our trip. And we had plenty of Capital One Venture Miles to spare … so why not use them? That's what points and miles are there for, right?
We also had part of the $300 annual travel credit from our *venture x* left to use up – and that has to be used through the Capital One travel portal. So we fired up that portal and searched for our flights to Bora Bora. There they were: Same price as booking direct with Air Tahiti.

After kicking in the $85 we had left over, we charged the remaining $667 or so to the Venture X Card. A few days later, we followed the steps above to erase that charge from the statement using just over 66,700 Venture Miles. Yes, you can use this method of covering travel purchases even after booking through the Capital One portal – and as you'll see, you should.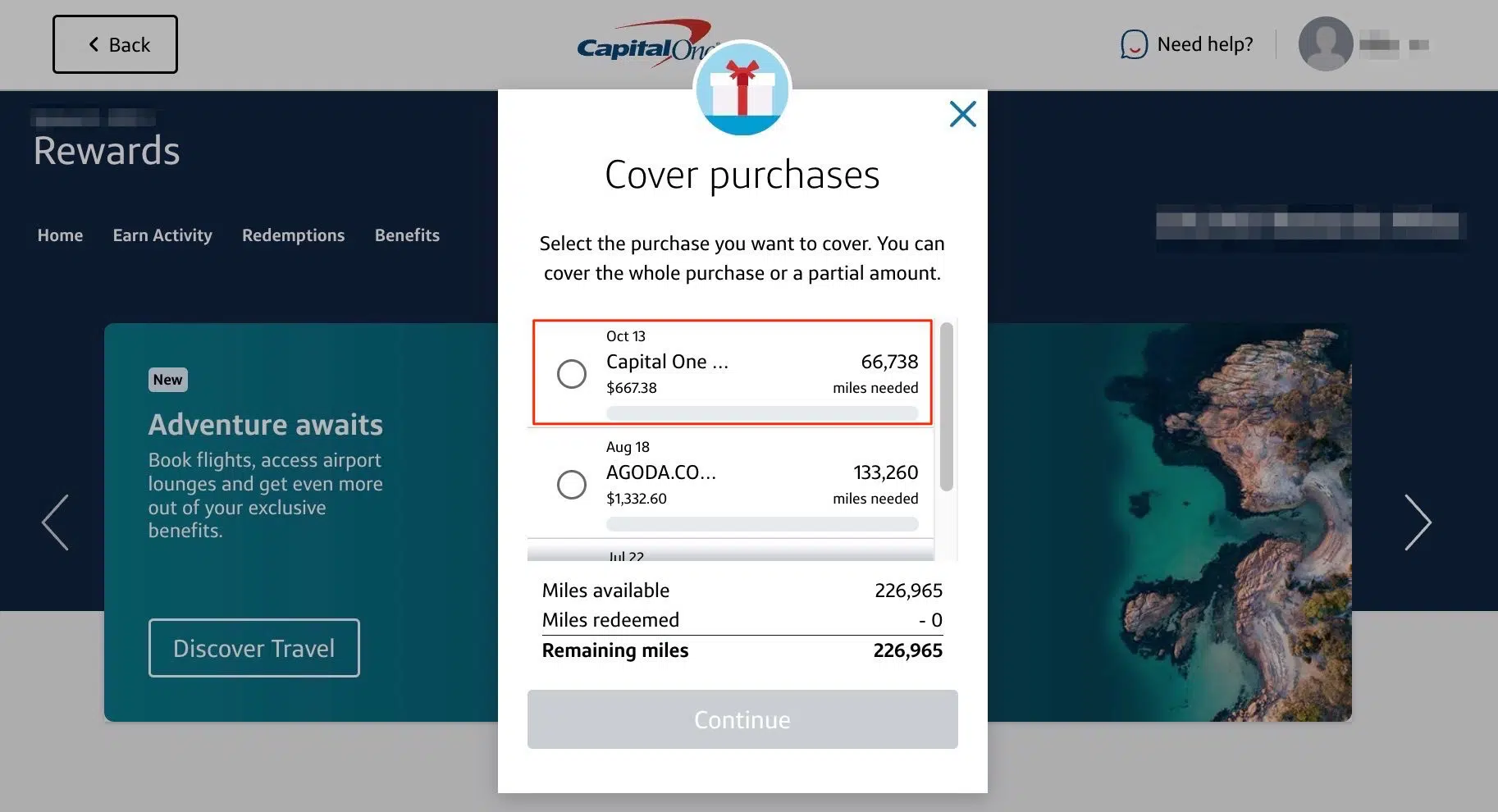 And since the Venture X Card earns 5x miles per dollar when booking flights through the Capital One travel portal, we also earned 3,337 Venture Miles right back for the initial $667 purchase, reducing the total cost of our roundtrip flights to Bora Bora to just over 63,000 Capital One miles.


Read more: Why You Shouldn't Redeem Venture Miles Directly Through the Capital One Travel Portal
How to Earn Capital One Venture Miles
To spend Capital One Venture miles wisely, you've first got to earn them. You're in luck: There are a handful of cards that can help you bolster your balance of Venture miles, including a brand new option.
The Capital One Venture X Card
There's a (relatively) new kid on the block, and it might just be the best travel credit card we've ever seen.
The *venture x* is the bank's very first premium travel card. Think of it as a souped-up version of the ever-popular Capital One Venture Rewards Credit Card that's chock full of extra benefits: Access to Capital One Lounges and Priority Pass lounges, a $300 annual travel credit, a credit for Global Entry or TSA PreCheck, great travel and rental car insurance protection, and more. The annual fee clocks in at $395 a year, but the benefits can easily outweigh that.
Here's the best part: You can currently earn 75,000 Venture Miles after spending $4,000 in the first three months. Considering you earn at least 2x for every dollar you spend on the Venture X Card, you'll earn a total of at least 83,000 Venture Miles.

Learn more about the *venture x*.

The Capital One Venture Card
The *capital one venture card* has been a fan favorite among travelers for years – and for good reason. It's truly one of the best travel credit cards for beginners.
You earn 2x points on every purchase and even get a credit that covers the cost of Global Entry or TSA PreCheck – all for a card with a $95 annual fee.
Capital One currently offers a welcome bonus of 75,000 miles once you spend $4,000 on purchases within three months from account opening. This is equal to $750 in travel expenses – or get even more by transferring those 75,000 miles to partner airlines or hotels.

Learn more about the *capital one venture card*
Capital One VentureOne Card
Think of the *capital one ventureone* as the littlest sibling to the Venture X and Venture Cards.
It's a no-annual-fee card that will earn you 1.25x miles per dollar you spend. The welcome bonus is smaller, too – though still quite nice. You can currently earn bonus_miles_full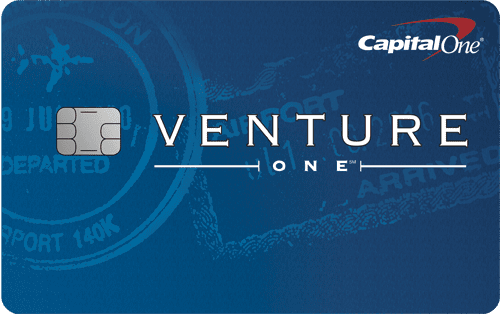 Learn more about the card_name
Bottom Line
The beauty of Capital One Venture Miles are their simplicity. There's no easier way to redeem rewards for travel than using Venture Miles to cover travel purchases.
Whether your redemptions are big (like spending all 75,000 of those bonus Capital One miles from a new card to "erase" a $750 flight to Europe) or small – like using miles to "erase" every Uber ride you take over the next month from your statement –  you'll quickly master this foolproof way to get into travel rewards.