Capital One cards like the *capital one venture card* and the *venture x*  have earned a reputation as some of the best travel rewards credit cards on the market for how easy it is to earn and redeem miles. Now, Capital One has added two new options for using those miles.
Capital One cardholders can now use their Venture Miles (or cash back) to buy merchandise from hundreds of popular brands, including Apple, Kate Spade, Dyson, and more. Plus, to celebrate the launch of these new redemption options, Capital One is offering a discount on select products from now until Nov. 15.
This new option for redeeming rewards is available to nearly all Capital One cardholders, whether you have a travel rewards business card like the *CapOne Spark Miles* or a cashback card like cap1_savor.
We've written plenty about the outsized value you can get when transferring Capital One miles to the bank's slew of travel partners – or even when using miles to cover any travel purchase. This opens up even more options for redeeming your Capital One rewards, but it's not going to be the best use of your miles in every case.
Read on for everything you need to know about redeeming Capital One miles (or cashback) for name-brand goods.
How to Use Capital One Rewards for Shopping
If you're ready to start shopping with your Capital One miles, you'll need to first log in to your Capital One account and select "View Rewards" from the main login page. Once you're on the designated "Rewards" page, you'll see all the traditional redemption choices, such as covering travel purchases and transferring miles to travel partners. But you'll also see the two new options: "Redeem for merchandise" and "Redeem for Apple products."

The "Redeem for merchandise" page is where you'll find everything from walkie-talkies to high-end handbags and other luxury goods. As you might assume, the "Redeem for Apple products" page is where you can use your miles for things like iPhones, AirPods, and even our favorite travel accessory: Apple AirTags.
Don't get this confused with Capital One Shopping, though. Capital One Shopping is a popular shopping portal and browser extension that allows you to earn cash back and other discounts on a wide variety of online purchases … and you don't even need a Capital One Card to use it.
Is This a Good Use of Capital One Rewards?
The short answer? It depends …
In some cases, you'll find the item you're looking at listed for the same price – or better – than other merchants. And in other cases … it'll be far more than the going rate if you were to buy it elsewhere. It's important to price-shop any time you're making a big purchase and that's certainly true even when using a non-cash payment method like your Capital One rewards.
Here are a few examples of items available through Capital One – and elsewhere – to give you an idea of what kind of deals can be had.
Let's say you're in the market for new AirPods. Apple's 3rd generation Bluetooth headphones are available directly on their website for $169. Taxes will vary – depending on where you live – but by the time you add in the extra cost, you're looking at an all-in total of around $180 for your new headphones.
The same exact AirPods are also available through Capital One with the new "Redeem for Apple products" option on the rewards page. There you can find Apple's 3rd generation AirPods with a price of 16,181 miles – including taxes and shipping.
That's giving you better than 1 cent per point in value, which is what you get when using miles to cover travel purchases … not bad!

But that price is with the 10% discount Capital One is offering through Nov. 15. After that date, using miles wouldn't be as good of a deal.
When looking at other shopping choices through Capital One's "Redeem for merchandise" page, you'll find some good deals … and some duds.
If you're shopping for a new purse, you might be interested in one of the many options available from designer, Kate Spade. This shoulder bag is available for just over 26,000 Capital One miles.

If you instead opted to pick this purse up from a major department store like Dillard's, you'd be looking at a cost of nearly $350, once you factor in taxes. In this situation, using miles instead of cash is a really good deal.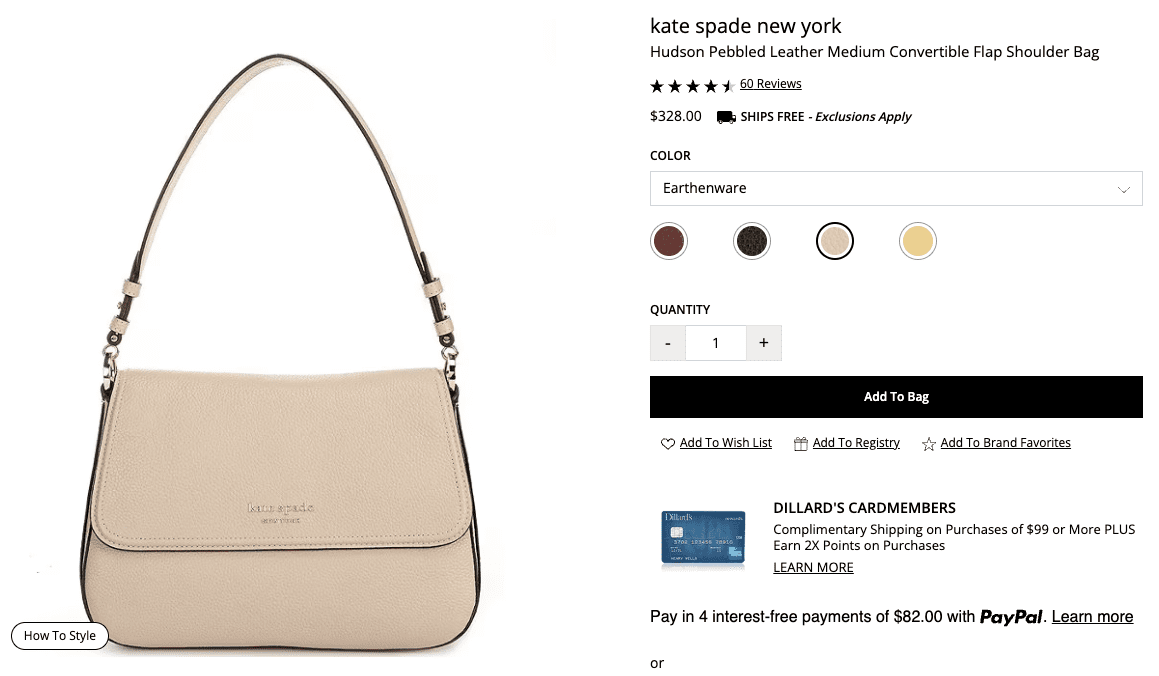 But again, the price you see through Capital One is only available through mid-November and includes a limited-time 25% discount. This means that if you're planning to use this redemption method for your holiday shopping, it might make sense to get started sooner, rather than later.
For an example of when not to use your Capital One miles for a merchandise purchase, let's look at an 8GB Amazon Kindle Paperwhite. If you were to pick one of these up through the Capital One merchandise redemption option, it would cost you nearly 20,000 miles.
Another (better) option would be to redeem your Capital One miles directly with Amazon – where you'd get .8 cents for each mile. So if you bought the same exact Kindle from Amazon, instead of Capital One, it would only cost you 17,500 miles. Purchasing it this way would save you roughly 2,000 miles.

Finally, you can also simply redeem your Capital One miles for cash back, getting a credit to your account (or check mailed to your house). But compared to the other options on this list, it's an awful deal: Each mile is worth just .5 cents apiece. That means you can cash in 30,000 Venture Miles for $150 in cash back.
The key takeaway here is to ensure you're shopping around before pulling the trigger on your purchase, the same as you would when redeeming points for flights and hotels. It's easy to see miles and points as "funny money." But in most cases, you can actually turn your miles into real dollars – so at the very least, you shouldn't be using them for any less than their worth in cash.
Read more: The Best Ways to Use Capital One Venture Miles
Bottom Line
Capital One is giving nearly all cardholders a new way to redeem their rewards. No matter if you've got Capital One's flagship Venture X Card, or even the no-annual fee SavorOne, you can now use your miles (or cashback) to buy select merchandise from big retailers like Apple, Kate Spade, Bose, and more.
While it's far from the best way to use your Venture Miles, there could be some good deals to be had with this new redemption option, especially if you shop before Nov. 15.

This story has been corrected to note that Capital One cardholders can redeem Venture Miles for cash back at a relatively poor rate of .5 cents per mile.