There's something special about skiing or riding in freshly fallen snow. It's a weightless, gleeful sensation that I just can't get enough of. And it makes me ignore even our own advice about booking last-minute flights and saving on travel in the name of carving through fresh powder.
Each and every winter, I spend my free time chasing that feeling to ski the best snow on some of the best mountains in the world. Hitting the slopes after a fresh dump of snow requires patience and agility: These plans often come together just days in advance. But it's worth the work to ski some of the best conditions and terrain you can find.
Recently, my friends and I tracked a snowstorm heading to Schweitzer, a beautiful mountain outside Sandpoint, Idaho on the state's panhandle. Schweitzer isn't close to much of anything, especially our home base of Minneapolis. But a carefully executed, last-minute trip got us there in time to ski in some stunning conditions.
Now, it should be said: Booking last-minute is almost never the best way to save money. It is, however, the way to make sure you ski the best snow. The following is a road map to booking last-minute, but these practices aren't always thrifty. The best time to book is almost always months ahead of time, but if you're determined to ski some powder, here's how.

Follow the Forecast
Here at Thrifty Traveler, we follow the Flight First Rule. The best way to save on flights is to start by booking your flights, booking on the cheapest days and building your vacation around them. But in this case, there's something else to follow first.
When chasing snow, you have to follow the forecast. You do it for two reasons. One, you are looking to ski or ride the best conditions, which is what makes the last-minute logistical hurdles worth it. But two, the forecast could also create some difficult, if not impossible, travel conditions.
Two tools will help you do it.
The first is simple and free. It's the National Weather Service.
The government's weather forecasting agency is generally very accurate and has a ton of detail to help travelers understand what they're flying into. It gives precise measurements not just in the cities, but also in the mountains. Odds are that the weather app on your phone isn't going to have reliable mountain forecasts due to elevation changes, temperature fluctuations, and other meteorological factors.
The other must-use tool for skiers and riders is OpenSnow. The snow forecasting service uses tons of meteorological data and on-the-ground meteorologists to forecast snowfall totals, wind speeds, temperatures, and much more. The service costs $30 a year and gives you alerts for your favorite mountains, 10-day snowfall projections, daily blogs from on-the-ground snow reporters, five-day hourly forecasts, and much more. It's like Thrifty Traveler Premium but instead of cheap flights, they're alerting you to deep pow!
Schweitzer was not on our radar for the weekend … until we saw the OpenSnow forecast that looked like this:
The allure of 30 inches of fresh snow over three days was enough to get us looking into the rest of the logistics of putting the trip together.
Booking Flights
Oftentimes, we'll make the road trip during our western powder chasing adventures. That's not always an option.
Booking last-minute is a recipe for some pricy flights – not like the $76 roundtrip domestic flights we send to Thrifty Traveler Premium members. Prices can get even steeper if you're flying into further-flung airports – not major cities like Denver (DEN) or Salt Lake City (SLC).
In order to get to Schweitzer, our best bet was flying into Spokane (GEG) in Washington.
I would never recommend buying a $500 domestic fare … and I didn't. When prices are looking steep, it's time to empty your toolbox to save some money.
On this particular flight, my friend and I used a Delta companion ticket from the Delta SkyMiles® Platinum American Express Card to cut our costs in half. With an annual buy one, get one free pass to use each year on a domestic main cabin ticket, he burned it on me. That brought our costs down to just about $250 each – a much better fare and more-than-reasonable price for a roundtrip flight to Spokane.
But I took it a step farther by also using a few Delta eCredits leftover from pandemic cancellations. In all, I paid less than $200 roundtrip for airfare – a great deal any time of year for flights to Spokane. With just a few money-saving strategies, we turned skyhigh airfare for a spur-of-the-moment ski trip into a bargain.
We almost always search for Southwest Airlines flights when we do these journeys. For one, you can check two free bags on every Southwest flight which comes in handy for a ski trip. But you can also take advantage of the incredible Southwest Companion Pass for even more BOGO flights.
Although I didn't use them on this trip, I would also recommend leaning on your points and miles to reduce your costs. You might luck out and find cheap award rates to book your flight – though that's much harder to pull off these days with Delta SkyMiles and even American AAdvantage or United miles. You could seek out partner award programs like using British Airways Avios to book with American or Avianca LifeMiles to fly with United, but that's no slam dunk either.
No matter what, it could be much better than spending hundreds of dollars in cash that you'll need for other aspects of your trip.
Checking Skis or Snowboards
One of our favorite travel recommendations at Thrifty Traveler is to avoid checking bags. But when you're going skiing, that just isn't an option.
Skis, poles, boots, snowboards, and other large pieces of equipment must make the journey with you, which could cause additional costs. That is, unless you play your credit cards right.
On our journey to Schweitzer, my Delta SkyMiles® Gold American Express Card made my ski bag completely free. It's the main reason why I keep that card and justify its $99 annual fee (see rates & fees.) The cost of checking a bag is normally $30 per bag, each way. So by taking just two ski trips per year (four total flights), I can easily justify keeping the card open – I'm coming out ahead.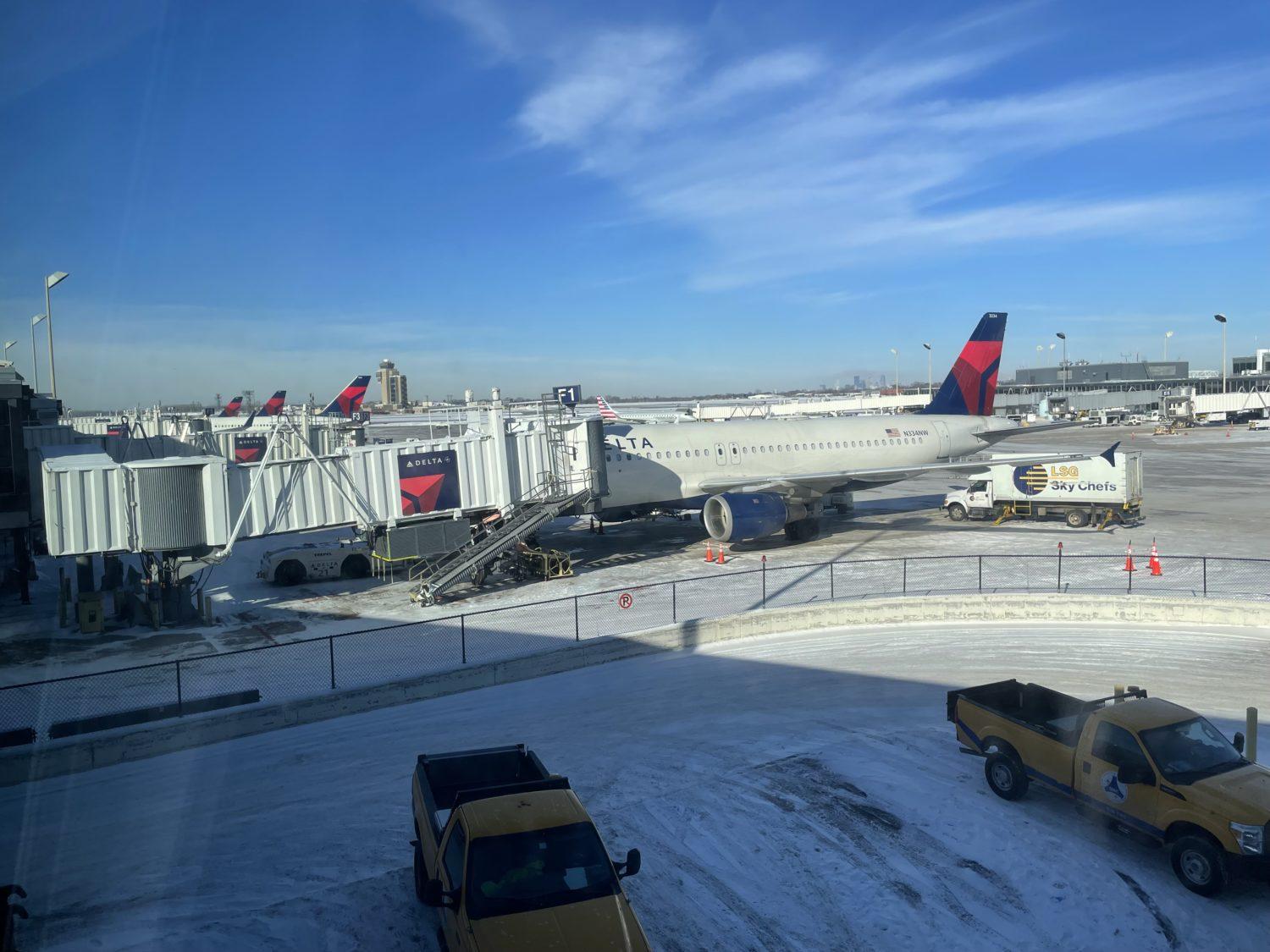 No matter what airline you want to fly, however, there is a low annual fee credit card that can pay for your ski or snowboard bag.
Flying United to the mountains? Open the United℠  Explorer Card which gets you a free checked bag for every flight. American Airlines credit cards also feature free checked bags, including the low annual fee American Airlines AAdvantage® Aviatior™ Red Credit Card.
Alaska Airlines also features tons of mountain routes. For information on the Alaska Airlines Visa Signature Card and Alaska's baggage fees, see our guide.
Southwest Airlines, of course, allows two free checked bags for every traveler. That includes all ski gear, making Southwest the most skier-friendly airline out there.
Don't Pay for Oversized Baggage
Say it with me: Ski bags are not oversized luggage.
Please don't pay for oversized luggage when checking skis. Every domestic airline considers ski and snowboard bags as regular luggage, even though it comes out on the oversized luggage rack at baggage claim.
Plus, boot bags and ski or snowboard bags are considered one item on domestic airlines, too. For instance, when we checked in for our flights to Spokane, all three of us checked our ski bags and a separate boot bag that are considered one piece of luggage.
That's six total bags on Delta that none of us paid a penny for.
Renting A Car
Last-minute rental car bookings won't break the bank like last-minute flights will, but there are definitely special considerations to ensure you find the best deal on a vehicle that will get you into the mountains safely.
There are two tools that we love that could help you find the perfect car: Autoslash and Turo.
Searching through rental car company websites gives you a limited scope, but using Autoslash is the best way to find the very best deals from all companies. Check out our guide to using Autoslash before you book. Autoslash sent us a great deal on a Ford Expedition we picked up straight from the airport that was more than capable and roomy for our mountain driving.
If you can't find what you're looking for through the big rental car companies, take a look at Turo. Think of it like the Airbnb of cars. Our guide to Turo will help you book something that is as simple and easy as on-airport rentals in many cases.
Turo is also helpful because you can filter for results with accessories like ski racks, snow tires, and chains that you might need on your journey.
This is my most important rental car tip: Double and triple-check that your rented vehicle has four-wheel drive before you leave the lot. Renting an SUV, even from an airport that is close to the mountains, does not guarantee you're getting a four-wheel-drive vehicle.
Please take it from me as someone who learned this lesson the hardest way on a mountain pass in Oregon. Getting to a snowy mountain pass and realizing your Chevy Tahoe is two-wheel drive is a feeling I don't recommend. Check and check again. Your life may literally depend on it.
Lodging
If you're dealing with nasty weather (which often makes for the dreamiest skiing), we'd recommend staying as close to the resort as possible.
Securing lodging close to the mountain can be tricky sometimes. For smaller resorts, on-mountain lodging might not exist at all or come at quite a premium. Plus, these hotels are often independent and therefore can't be booked using points and miles programs like Hilton, Hyatt, or Marriott.
Schweitzer isn't the largest resort, but has a pretty good-sized base village with plenty of lodging options. Because we booked so last-minute, our choices were limited at the village, but we found something close by to call home for the weekend so we wouldn't have to deal with uphill traffic on Saturday and Sunday morning.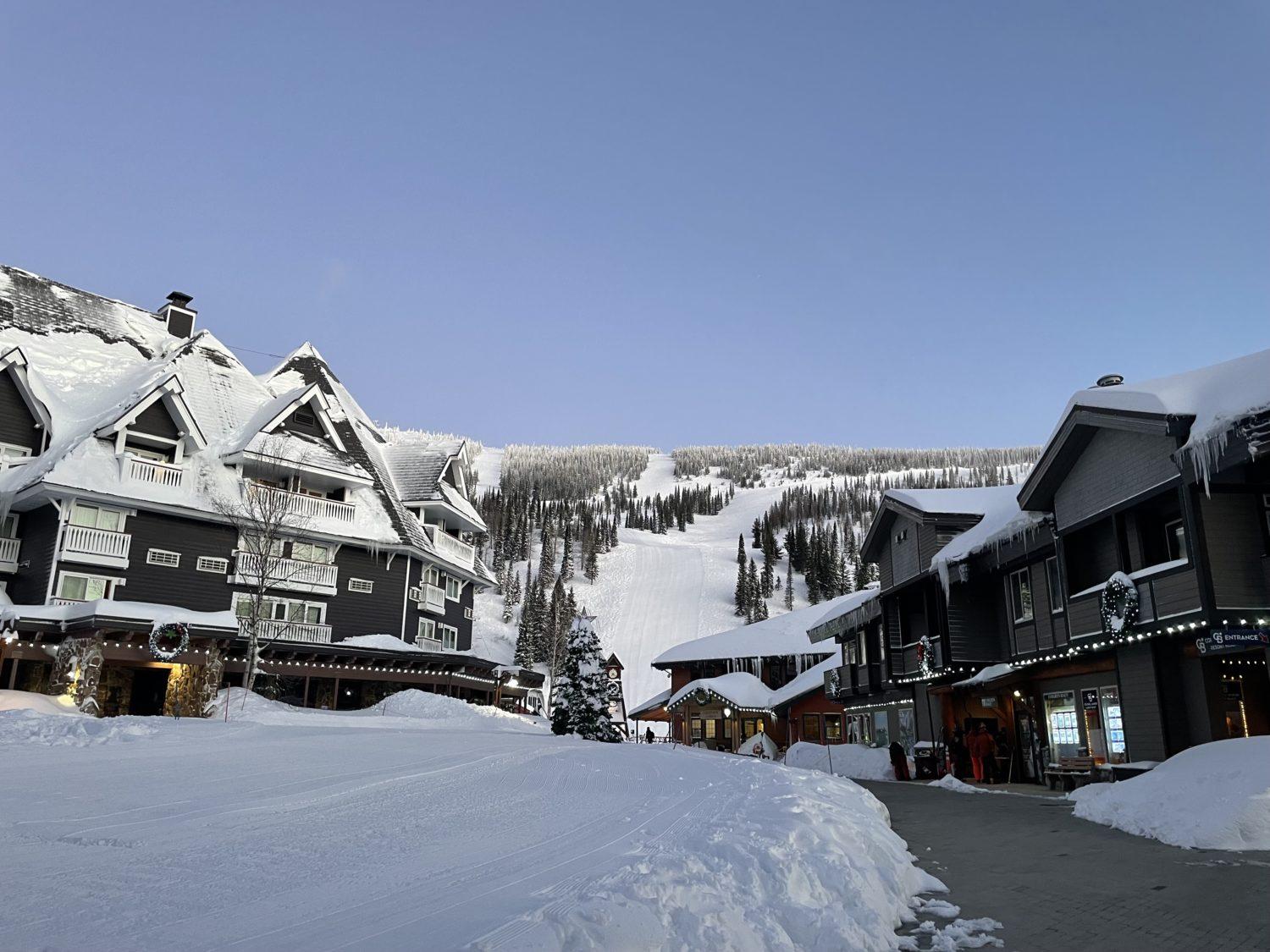 If you are looking for a bargain, stay outside the village … but be ready to start your morning bright and early to beat traffic and secure parking.
Hotel chains and their points programs are more likely at major U.S. resorts, but in far-flung places like Schweitzer, there aren't such options. If Vail, Aspen, or Park City are more your speed, then you've got plenty of points-bookable options near the lifts. Be sure to do a quick search through your favorite points program before breaking the bank.
Choosing the Right Ski Pass
Skiing can be an expensive hobby, but it doesn't have to be.
The proliferation of mega ski passes offers great value to skiers and riders who are going to log multiple days on the slopes each year. There are a few different options out there for ski passes, including the Epic Pass, the Ikon Pass, the Mountain Collective, and the Indy Pass. Each pass offers its own unique elements and resorts and each comes at a different price point, too.
Read more on the Epic vs Ikon Pass to see which one makes most sense!
No matter what pass you choose, skiing within that pass is the best way to save money and increase the value of your pass. Schweitzer, for instance, is on the Ikon Pass, meaning passholders get unlimited days there each season.
While two of us were not Ikon Pass holders, our third friend was. So he used his friends and family discount for both of us to get a big discount on skiing and riding over the weekend.
Additionally, many of these ski passes offer lodging and dining benefits at the resorts, which could help you save hundreds on a place to stay or take a few bucks off your breakfast, lunch, and dinner at the resort. Make sure you are getting the most out of your pass and not leaving money on the table.
Be Flexible
And we're not talking about your quads and hip flexors…
We always encourage flexibility when booking travel, especially during this new pandemic era. Booking changeable or refundable travel is almost always a good idea. It gives you peace of mind and an exit ramp in a worst-case scenario.
Booking flexibly is doubly important when your trip revolves around what the travel industry would consider bad weather. While a foot of fresh snow spells a perfect day at the slopes, airlines and airports would likely disagree.
I have more than one story of transportation logistics ruining a powder chase, and you only have to lose out on a few hundred dollars and your powder day once to learn that lesson. Better yet: Don't learn the lesson, and just take my word for it.
Whether it's a rental car, hotel room, Airbnb, or flight, make sure you're in a position to cancel the whole trip if things appear they're not going to work out.
To help you on your way, we have a full guide on how to book travel amid pandemic uncertainty.
Bottom Line
There's no denying that to get the most value out of a ski trip, it's best to book in advance and just hope it snows where you are. If you want to take matters into your own hands, a powder-chasing adventure is the very best way to take some dreamy turns in the mountains.
The thrill of the chase is fun on its own, but there are ways to make sure that chase isn't costly – both in dollars and travel snafus. If you follow this guide, I might just see you in the lift line this winter!