I first booked my flights for a recent trip to Europe in January, and between then and when I actually traveled to Croatia nearly nine months later, I had rebooked my flights three different times.
It's something I routinely do when I'm booking flights with points and miles. But when I tell people about my strategy, I get looks of confusion…and sometimes concern.
So why did I do this? I kept finding better flights, itineraries, and available seats, ultimately landing both myself and my wife in United Polaris Business Class flying across the pond thanks to some last-minute award space.
At Thrifty Traveler, we are huge proponents of rebooking airfare when the price goes down and banking an airline voucher or travel credit for the difference. It's the easiest and best way to save money on airfare and eliminates the always-fraught "When is the best time to book flights?" question that paralyzes travelers. With award tickets, most airlines let you cancel your flight and get all your points (as well as award taxes and fees) back for free – or a small cancellation fee. That flexibility means you're not locked into the flights you booked if a better deal comes around. 
But it's not as easy as setting up a Google Flights price alert: You typically have to search for award fares manually. But if you can dedicate 15 minutes here and there to check your existing flights in the days, weeks, and months leading up to your trip, you might stand to save tens of thousands of points or find yourself an even comfier seat for your travels.
Let me explain.
Here's What I Did
In January, a group of friends and I devised an epic summer vacation to Croatia, starting in Dubrovnik. We wanted to travel in mid-August, but peak summer fares to Europe are often prohibitively expensive, so I went hunting for award flights I could book with my stash of credit card points and miles.
Original Booking: Air France Economy for 30K Points
I found some one-way economy award space flying from Minneapolis (MSP) to Dubrovnik (DBV) on Air France for 30,000 Virgin Atlantic points each – a total of 60,000 Virgin points for the two of us. We transferred the necessary American Express Membership Rewards points to Virgin Atlantic and booked our one-stop itinerary.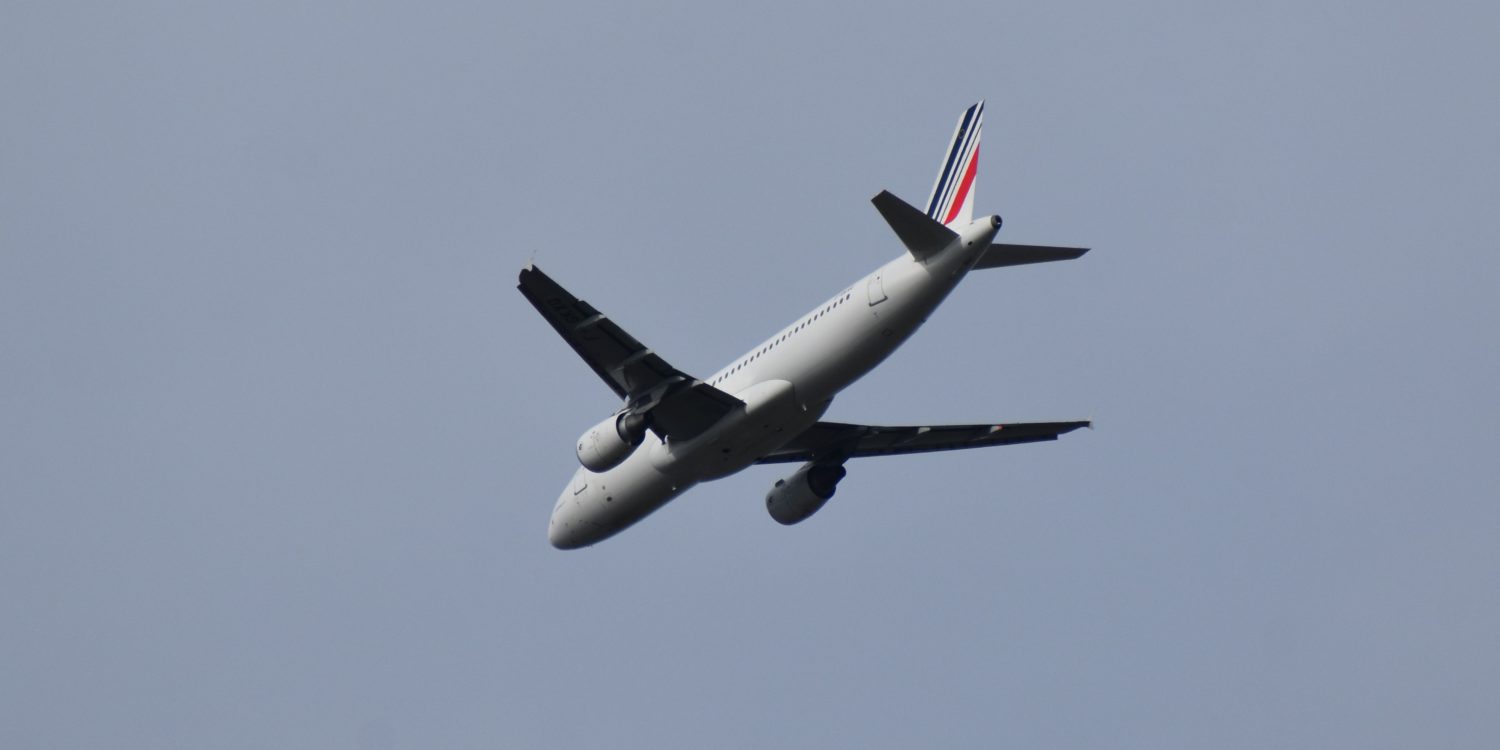 It wasn't the best deal, though. I knew we could probably do better than 60,000 points for an economy ticket, so I kept searching.
Booking #2: Air France Economy for 30K Points, Again
Air France forced my hand by canceling our flight. So I took our refunded Virgin points and the taxes and fees and I rebooked us on another Air France flight from Detroit (DTW) on an almost identical itinerary.
Booking #3: KLM Economy for 19K Points
A few months later, a calendar notification reminded me to check on other award flights to Europe. At the time, Capital One was offering a 25% bonus when transferring to Air France/KLM's Flying Blue program, so that's where I started my search.
Lo and behold, I found some amazing availability from Chicago (ORD) to Dubrovnik (DBV) in KLM Economy for just 22,000 Flying Blue miles one-way. With the Capital One transfer bonus, we only needed 19,000 points each to book the flights!
These aren't the exact same flights we booked, but you get the idea.
Just like that, we saved more than 40,000 points on our flights. After booking the KLM flights and canceling the Virgin ones, Virgin refunded us not only the points but also the taxes and fees, minus a $50 cancellation fee, which is standard for their awards. And while I can't get those Virgin points back into my credit card rewards accounts, they're still mine to put to use booking flights through Virgin Atlantic in the future.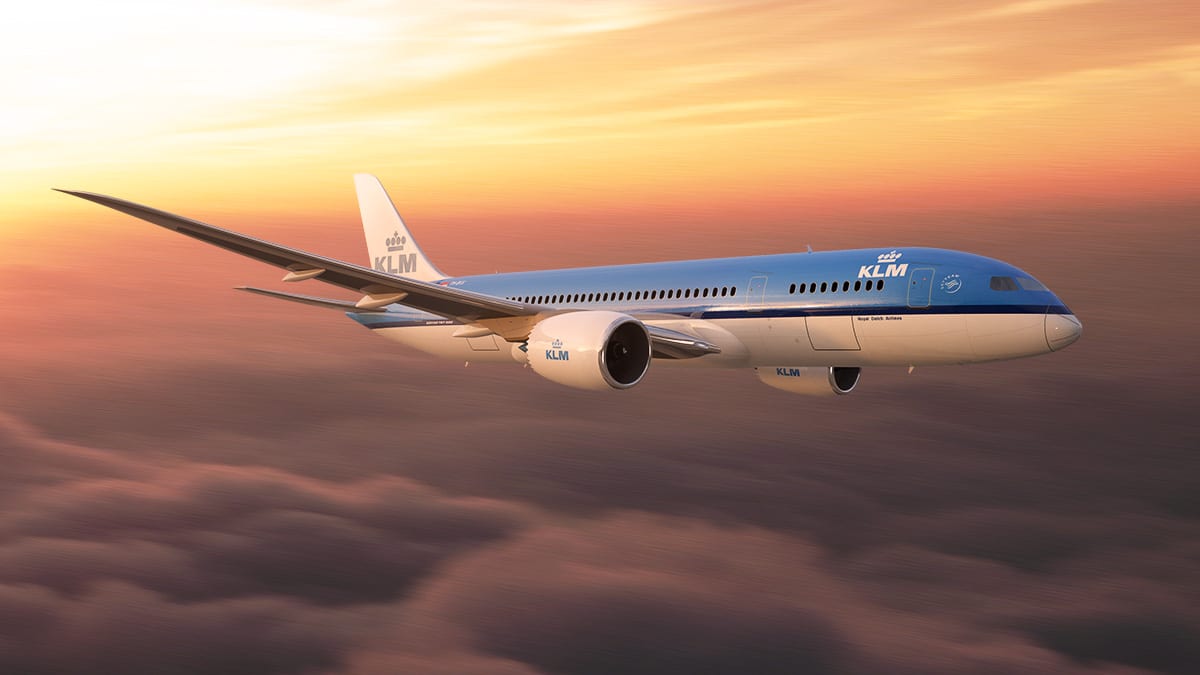 After booking those KLM flights, I thought we were in pretty good shape. We weren't going to do better than long-haul economy flights for just 19,000 points…unless we found a way to move up to business class, that is.
4th and Final Booking: United Polaris Business Class for 70K Points
While airlines typically release the best business class award availability many, many months in advance of travel, oftentimes, they also release availability at the last minute to try and fill seats on empty planes.
So I set myself another calendar reminder for a week before our trip. I started searching for business class award availability through the usual suspects like Virgin, Avianca, Air France/KLM FlyingBlue again, and British Airways, but it was Air Canada's Aeroplan program that came through for me.
Just four days before our flights on Aug. 12, I found tons of United Polaris Business Class space from Chicago (ORD) to Frankfurt (FRA), including an onward connection to Dubrovnik, for just 70,000 Air Canada miles one-way.
Don't believe me? Here's what a similar search turned up just days from now.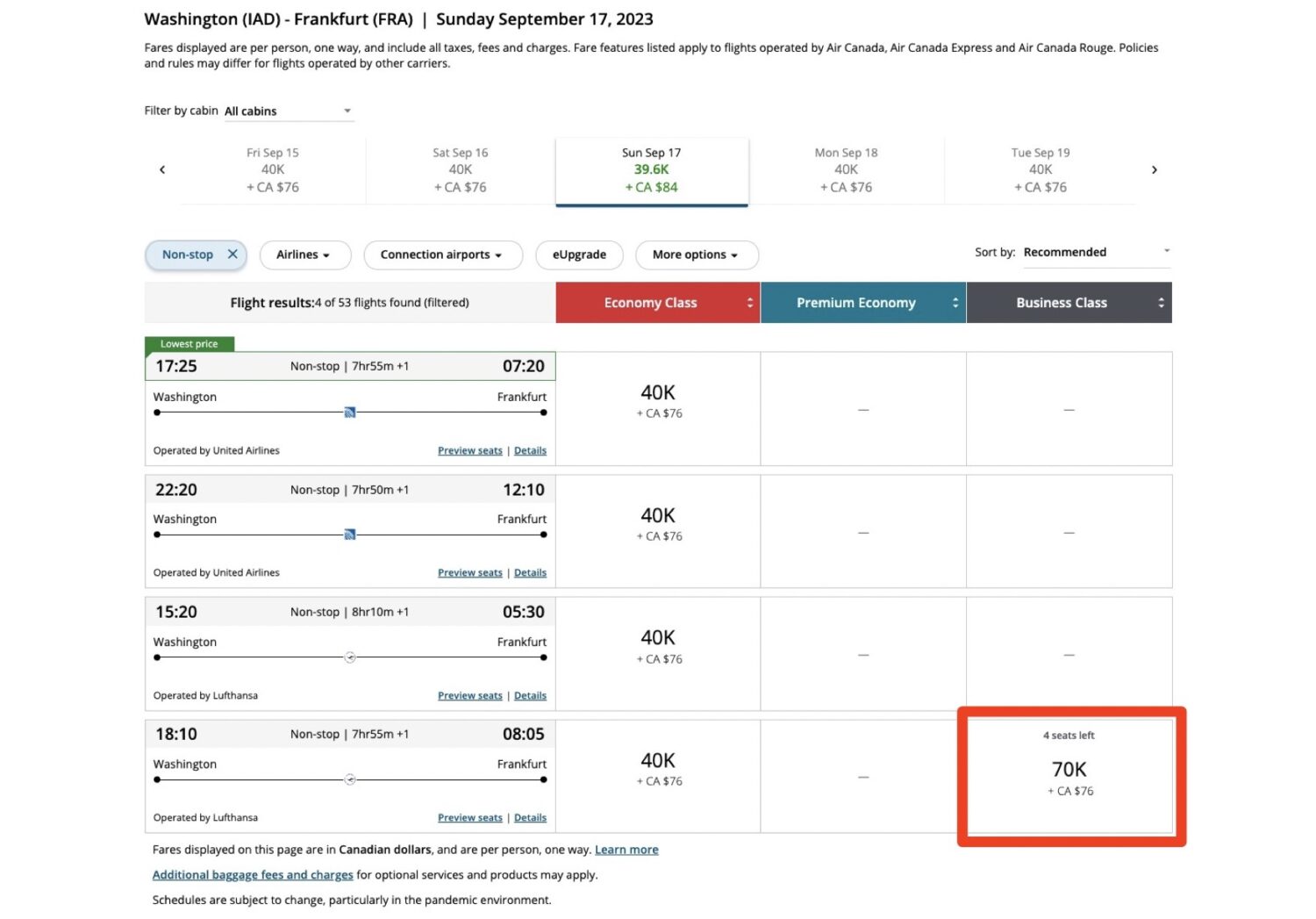 Emptying my Capital One Venture Miles, Chase Ultimate Rewards, and American Express Membership Rewards accounts – all of which transfer to Air Canada – I had 68,000 Air Canada Aeroplan points. For $52, I bought the remaining 2,000 Aeroplan points to get me to 70,000. My wife's accounts were plump enough to easily get her to 70,000, too.
Read more: A Guide to Buying Airline Miles: When to Buy, When to Skip
And voila! My wife and I flew Polaris to Frankfurt and connected onwards to Croatia in Eurowings Discover "Business Class" (a.k.a. a blocked middle seat and better service). It was the perfect anniversary gift to each other – and a totally worthwhile way to use our points.
Positioning Flights
Because these flights didn't leave from my home airport of Minneapolis-St. Paul (MSP), I had to book a positioning flight to Chicago (ORD) to take advantage.
In the end, I was able to get us a short one-hour flight from MSP to ORD for us 10,000 SkyMiles apiece, plus the $5 in taxes and fees customary for domestic fares.
Total Cost
Of course, this strategy doesn't come without a few cancellation fees. It's something to be wary of when you book awards with the intention of possibly rebooking someday in the future. In total, it cost each of us $50 to cancel each Virgin and KLM award flight, $52 to buy the extra 2,000 Air Canada points I needed, and $92 in taxes and fees on the final business class award booking. Plus, there was the $5 of taxes and fees on the positioning flights.
It was just about $200 total, 10,000 Delta SkyMiles and 70,000 credit card points each to fly United Polaris business class to kickstart our European summer vacation. All because I double, triple, and quadruple-checked for better awards on our trip.
Here's How You Can Do It, Too
When booking award travel, here are the steps I recommend you take to get the best deal and fly in the best seats on your next trip.
Always Book Refundable and Cancellable Award Fares
This strategy only works if the fare you purchase is refundable or cancellable. The good news is, almost all points and miles bookings are cancelable or refundable, even though most require some sort of cancellation fee.
Make sure you dig into the fare conditions a little bit before you book. If you book an award with Avianca LifeMiles, for instance, it will cost you $150 to change an award ticket and $200 to cancel. Ouch. The likes of Virgin and FlyingBlue only require a $50 cancellation fee on most awards. And if you book Main Cabin or better on airlines like Delta, you get all of your miles and all of your taxes and fees back when you cancel.
Set a Reminder to Check Flight Prices
As soon as I book an award fare, I add a few reminders in my calendar to check on my flights.
I recommend setting monthly reminders just after the first of the month. If that seems aggressive (I'm nothing if not aggressive about my travel bookings), set one for every two months, or just set one for two months before travel and then again for a week before travel.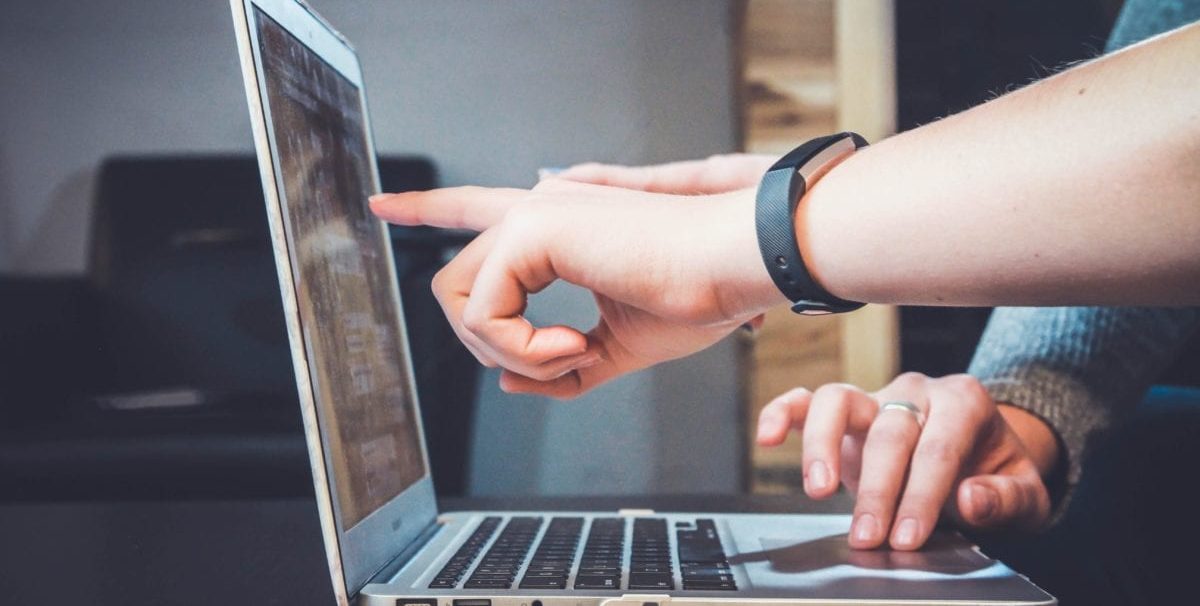 Why after the first of the month? Because that's when banks and airlines are likely to announce new transfer bonuses.
So if American Express is offering a 25% bonus when transferring Membership Rewards points to Air France/KLM Flying Blue, for example, you might want to search award availability on those airlines first and see if you can rebook your flights for even fewer points than you'd normally need.
Read Next: The 5 Things You Should Do Immediately After Booking Travel
Cast a Big Net With Your Searches
When you conduct your searches, here's what I recommend you look at:
Look in the same program you've already booked to see if you can get better flight times, etc.
Check through all of the programs where you have points, or where your credit card points can transfer (Bookmark this comprehensive list of credit card transfer partners to see just how far your points can take you).
See if there are any current transfer bonuses you can take advantage of, and start your search with those airlines.
In all programs you search, search the few days around your desired travel dates to see if better, comfier, or more convenient flights can be booked, too.
Look in all classes of travel. A business class seat of your dreams could be out there, or a nice upgrade to Premium Economy could make your journey that much better, too.
Rebook (And Don't Be Afraid to Hold Multiple Reservations)
Once you've found the better, comfier, or cheaper award fare, book it!
Rebooking can be scary because it's hard to let go of a sure thing. But you don't have to! There's no rule against holding multiple award bookings at once just in case you change your mind.
After you rebook your flight (unless you're within a week of your date of travel), you can hold onto your original one for a little while to make sure you get the seat selection you want and to make sure everything with your flight is going well.
Rinse & Repeat
Once you rebook your new itinerary, it's time to start the process all over again. Because you're never done planning a good trip!
Unless you're absolutely in love with your new flights, set new reminders and do the process all over again. You might just end up in business class like I did mere days before you're scheduled to leave.
Bottom Line
After booking points and miles award travel, you stand to save tens of thousands of points and can often upgrade your seats by manually checking and re-checking your current fares and other options.
It's a practice I employ religiously when I use my points and miles to fly, and it's why I re-booked my recent Europe trip four times before flying.