I can't sugarcoat it: Traveling with kids is a whole new ballgame.
No matter where you're going or their age, it takes more planning, patience, and things just move at a slower pace. After testing out a few quick domestic trips, we recently embarked on our first international trip over to Europe with our then three-month-old, Theo. We flew over to Paris, connected over to Geneva, hopped in a rental car, and spent most of our time in the French Alps before making our way back to the U.S.
The trip, of course, wasn't all amazing. Missed connections and a car seat lost by the airlines (twice!) didn't help. There were the unavoidable baby meltdowns … and we had a few meltdowns ourselves. But with a little extra planning and some trial and error, I promise it can be done. It's different … but enjoyable and rewarding.
Here were my biggest takeaways from our first big trips abroad with our baby, Theo.

Yes, Babies Need Passports Too
Babies do need their own passport. It doesn't matter whether they're one month old or nearly a year old, there's isn't a minimum age.
That means you'll need a photo, your child's birth certificate, a copy of the birth certificate, identification for both parents, as well as a critical form you'll need to fill out ahead of time. Plus, you need an appointment – and both parents as well as the child need to attend. You can find the form you need and more details from the U.S. State Department.
Thrifty Tip: Request extra official copies of your child's birth certificate for a small fee. That way, you can send in a birth certificate and not worry about getting the original back! You should always get it back but sometimes it comes back separately and weeks or months later than the passport.

No matter the age, getting a passport can be a hassle given the high cost and recent delays and backlogs. But the hardest part of getting a passport for your baby is the simplest one for adults: getting a good photo. How do you get a photo that complies with all dimensions and size rules – and you need that smooshy newborn facing the camera. It seems like an impossible task!
First, keep in mind that you've got some options to get a photo: You can go to some post office locations with passport services, any passport photo location like a Walgreens or CVS, or just take it yourself – just so long as it complies with all the passport photo requirements, especially the white background.
The best tip I got? Put a white sheet over your car seat and set the baby inside it. That way, their head is centered, upright, and facing forwards. You could do the same thing when getting it taken at a post office or simply hold your baby up from behind with your hand.
After conquering the photo and paying the $135 application fee, the next step was waiting for the passport to arrive – and with long passport delays over the last few years, we were concerned when we applied in March. With a trip coming up just a few weeks away, we decided to pay an extra $60 for expedited service.
Though we were told it would come back in five to seven weeks, Theo's passport arrived in just three weeks!
But don't bank on that quick of a turnaround. Make sure you plan ahead and leave plenty of time to get your baby's passport before your international trip.
Already applied? Learn how to check your passport status!
Adding Our Baby to Our Flights
Want to add your baby to your ticket? Just what you need to do – and what it'll cost you – depends on where you're going.
Domestically, children under 2 years old fly free as an infant-in-arms. Many airlines, including most recently Delta, allow you to quickly add an infant to your reservation online for short domestic flights.
But that's not the case when flying abroad: You'll need to call in or contact an agent. Plus, adding an infant incurs an additional charge of 10% of your ticket price – though some airlines have much better policies if you've booked your tickets using miles. How you can be charged for a child that doesn't take up space or use any amenities (or eat a morsel of food) is a whole other gripe I won't get into.
Thankfully, the ability to text message Delta made it much easier and faster to add an infant in arms than waiting for hours on hold on the phone. I got Theo added to our flight in about 30 minutes.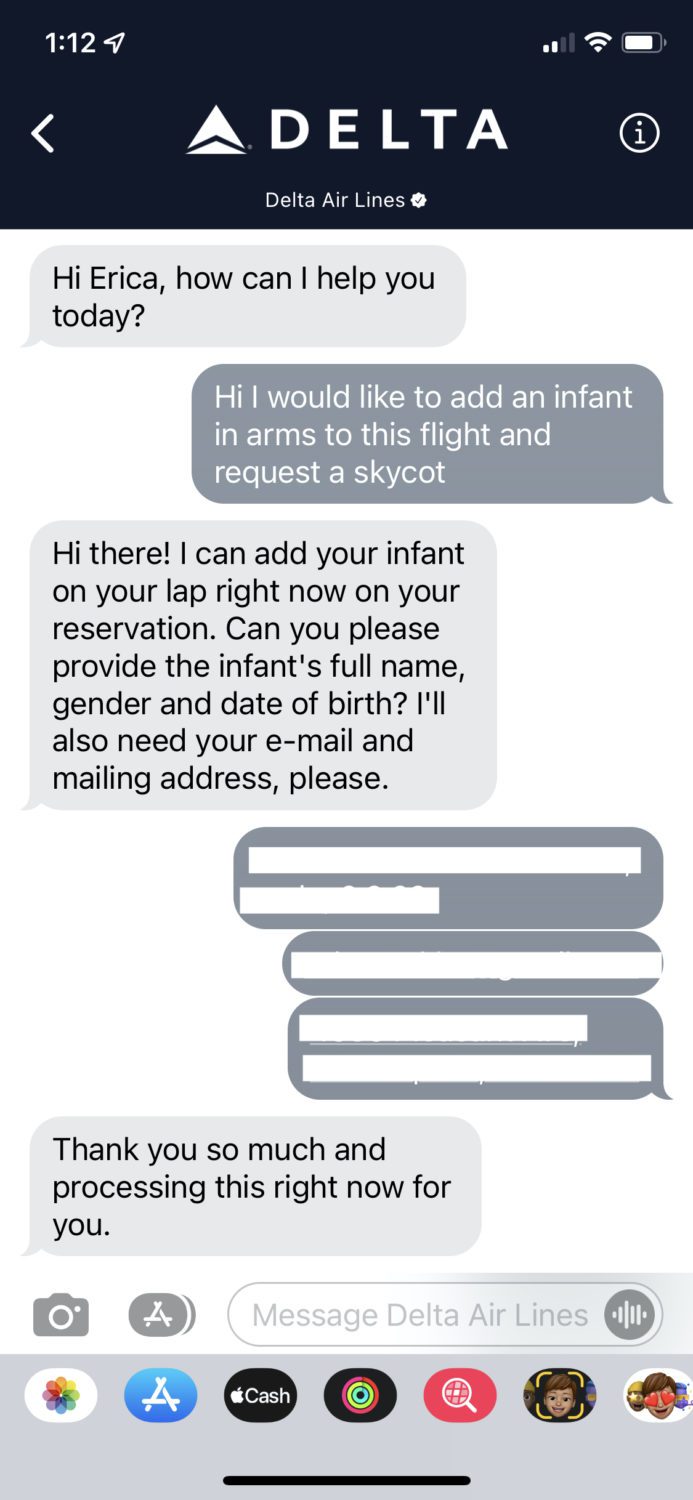 To pay to add Theo, I was sent a secure link for the amount and finalized it right there on my smartphone. Delta then sent a confirmation number and he was officially added to my ticket. I was also sure to request a Skycot (Delta's name for a bassinet) for the flight overseas – more on that later.
We flew United Polaris business class from Amsterdam (AMS) back to Newark (EWR), and I was able to add Theo to our ticket just as easily via United's messaging service.
Picking the Right Places to Stay
The flight is one thing. But it might be even more important to choose your lodging wisely when traveling with an infant.
For quick domestic trips by car, bringing a pack-n-play along is easy. But flying – especially somewhere abroad – the fewer things you have to bring with you, the better. And that means you'll want to choose accommodations that can cover some of these essentials.
Most hotels will have cribs or pack-n-plays available, but they're first-come, first-serve, so be sure to request one early. But the quality of these items can vary wildly. Sheets are usually provided, but you could also pack your own.
For this trip, we decided to mainly stay in Airbnbs. When searching for a property, you can filter for a crib, making it much easier to ensure that our rental would have what we need on hand.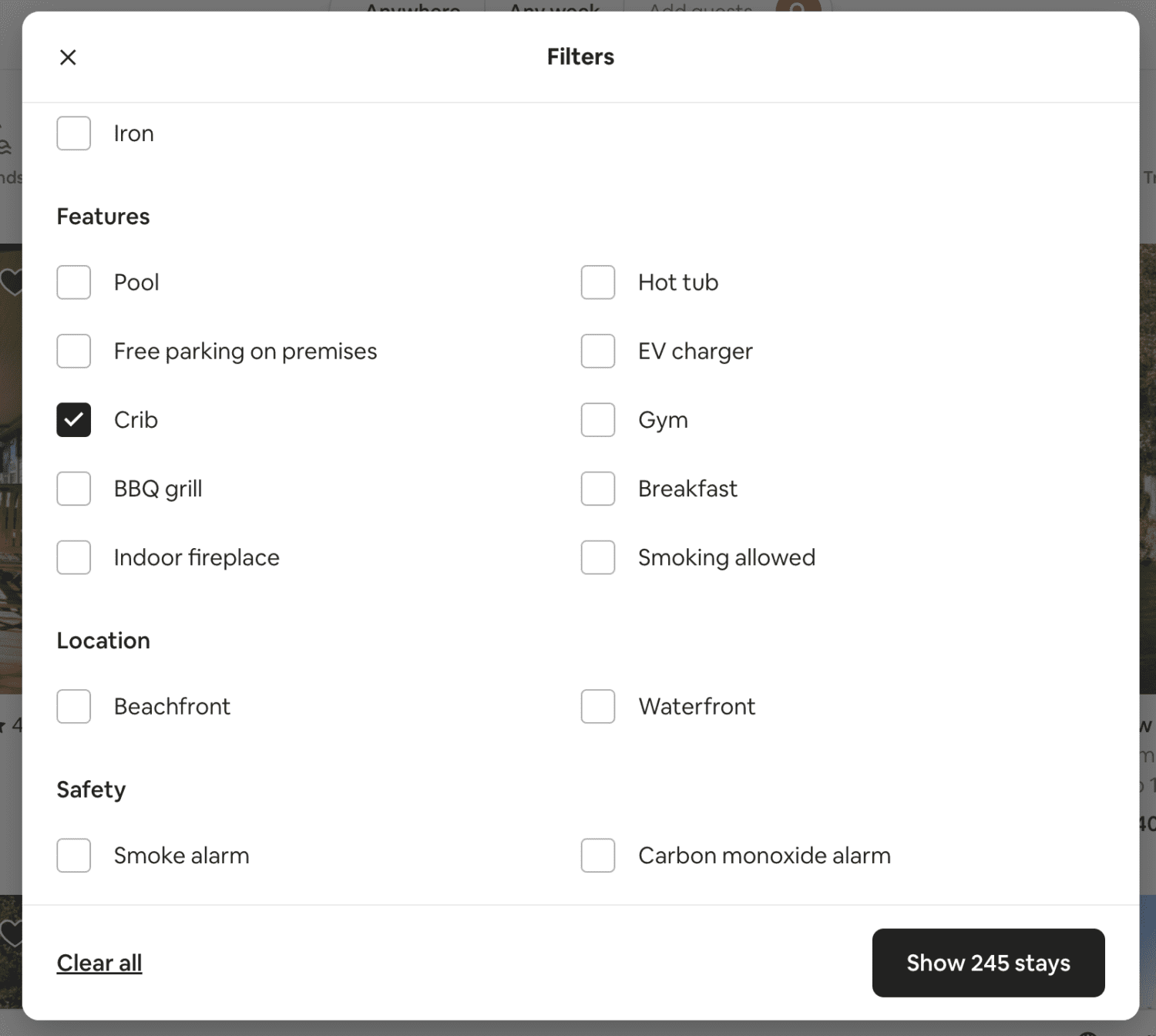 Airbnbs are great because you can get one with a separate room for your baby, and then have space to spend time while the baby is sleeping. You can also choose an Airbnb with a washer and dryer – a must when traveling with a baby that can go through multiple outfits a day. Above all, that made it easier to pack less.

A good kitchen is also great if you like to cook! Theo would go to bed pretty early, so we could cook a nice meal and drink some wine after he went to bed. A great view and some outdoor space doesn't hurt either.

Packing for Our Trip
Theo was only three months old so he didn't need a lot of things. And we're generally carry-on people ourselves, anyway.
So for the three of us, we packed in two carry-on size suitcases, two personal items, and a car seat. You can rent car seats wherever you go, but you never know what the quality (or safety) of rented car seats will be.
Note: U.S. car seats are not legal in Europe and you could get a ticket. We took a gamble and decided to bring ours with anyways.
For Theo, I packed a few clothes, his white noise machine, diaper cream, and a few other things in my own suitcase. And my personal item was the diaper bag, which I stuffed with more diapers and outfits for him than I thought he would need. With all the flight delays and cancellations lately, I wanted to be prepared just in case our trip got extended.
Jared and I also both packed an extra outfit ourselves – just in case of blowouts getting on our clothes.
Rather than stuff bags full or bring larger suitcases, we decided to buy diapers and more wipes when we got to France instead. We did put a few extra diapers in the car seat bag to use up every inch of space. And we skipped the stroller on this trip, instead just using our Ergo baby carrier.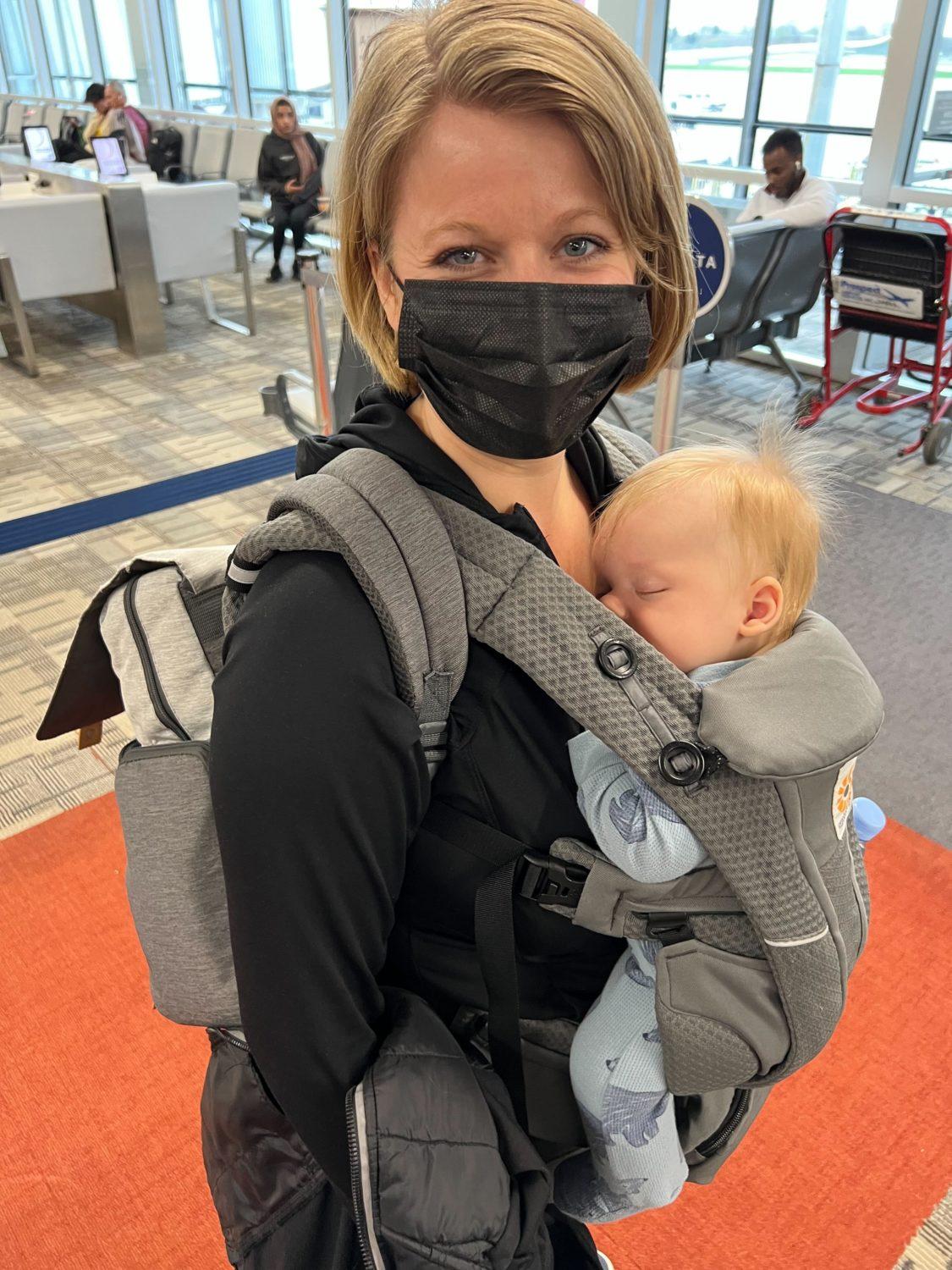 Getting Through the Airport
We're normally carry-on only people, but we decided to check our suitcases since we were already checking the car seat.
If you're checking bags, throw an Apple AirTag in your bag so you know where it is at all times. And throw a few extra changes of clothes for yourselves and your baby just in case bags get lost.
Going through security solo can be stressful, and an infant just adds to that. But having TSA PreCheck makes it a lifesaver for parents like us. Children under the age of 13 typically do not need their own TSA PreCheck membership: they can simply come with mom or dad. Unfortunately, the same is not true for Global Entry when clearing customs upon return to the U.S. – even babies need their own Global Entry account.
Thrifty Tip: These 7 Credit Cards Can Get you TSA PreCheck or Global Entry
The shorter line is one thing, but TSA PreCheck just means there's so much less to keep track of or worry about. You don't need to take off your shoes, belt, or a light coat. You can keep those liquids and electronics in your bag. And with TSA PreCheck, I didn't need to take Theo out of the baby carrier as we walked through the metal detector. Without PreCheck, that's not the case.
Even with the quicker trip through security assured, we still got to the airport extra early – just in case. We've enjoyed airport lounge access over the years, but with a baby in tow, it's super helpful.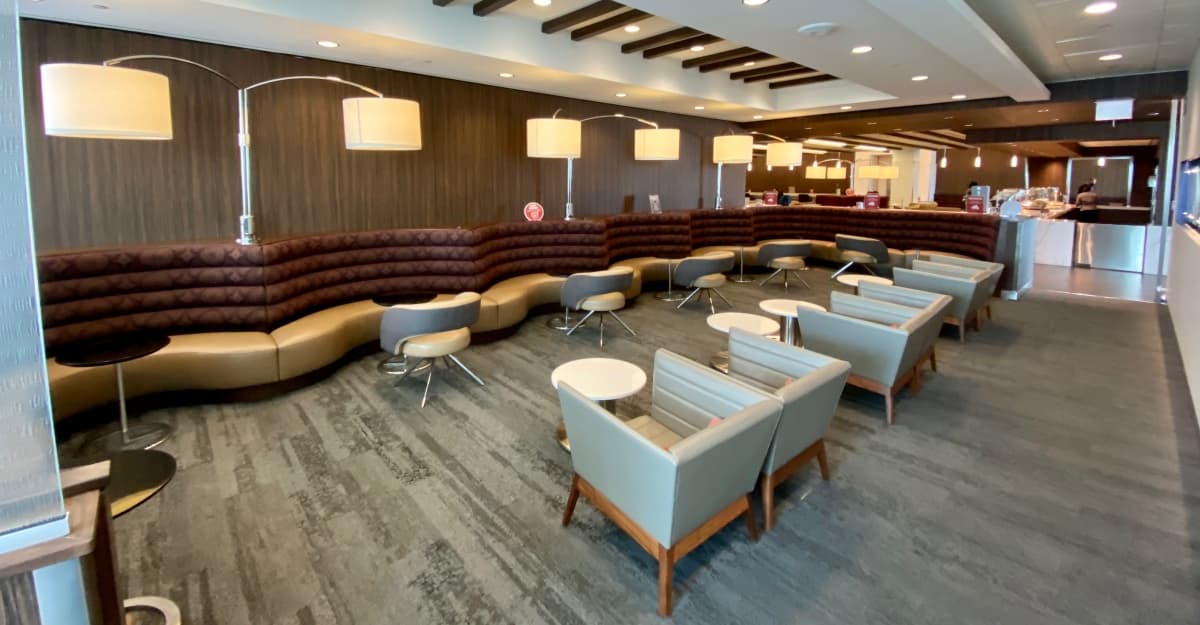 At a minimum, most lounges are at least a bit quieter and more private than the terminal, with a place to sit and feed the baby. Mom and dad can easily get a snack and a drink without standing in lines. And there's always a bathroom nearby to change diapers … which you'll definitely want to do right before you head off to board the long flight.
Read up on the best ways to get into airport lounges and improve your travels.
Tips for the Flight
One thousand parents will give you three thousand different tips for how to survive a long flight with a baby. But every baby is different, and every flight is different, too.
In the end, you'll figure out what works best for you and your baby. But here are some things that worked well for us with Theo:
Pick a flight where your baby will normally be sleeping, if you can. Newborns may not be on a regular sleeping schedule just yet. But flying when the baby normally sleeps at home will make it much easier to get them to sleep once you're in the air. Our flight to France departed around 4 p.m., which worked great.
Board last if your baby is fussy. We wound up not needing this bit of advice because Theo was asleep at the time. But rather than taking the invitation for families to board early, you can walk around as long as possible before settling in for a long flight.
Feed during take-off and landing to help with ear pressure. This is another tip we didn't need this time around – Theo was asleep and stayed asleep!
If you have your baby in a carrier, in the US, you'll have to take them out for take-off and landing. Over in Europe, they have special seatbelts for lap infants that attach to the adult seat belt.

In the end, Theo wound up sleeping the entire flight over to Europe and didn't cry a bit. Our return flight was different: He cried quite a bit. I wound up nursing him more to try to calm him down. Like any parent, I was concerned it would bother other flyers.
But overall, our neighbors on the flight home from Europe seemed not to care – or even notice. And let's be honest: What we've seen in the news from adults on planes over the last few years is way worse than a crying baby.
To Get A Bassinet … Or Not?
Bassinets can help get you a place for your baby to sleep soundly throughout the flight. But here are the pros and cons.
Every airline handles these differently. With Delta, for instance, we requested a Skycot but Delta doesn't assign them (or the seats) until just a few hours before the flight – it's first come, first served. In order to get one, you need to check-in at the gate.
For our Delta flight, we were the only travelers who requested a bassinet so we wound up in a whole row of four seats in the middle, all to ourselves. Score!
But because the bassinets can only be affixed to the bulkhead wall, there's a good chance you'll be seated next to the bathrooms … and that's what happened to us. With fellow passengers going in and out of the bathrooms throughout the flight, the banging doors and lights made it nearly impossible for us to sleep.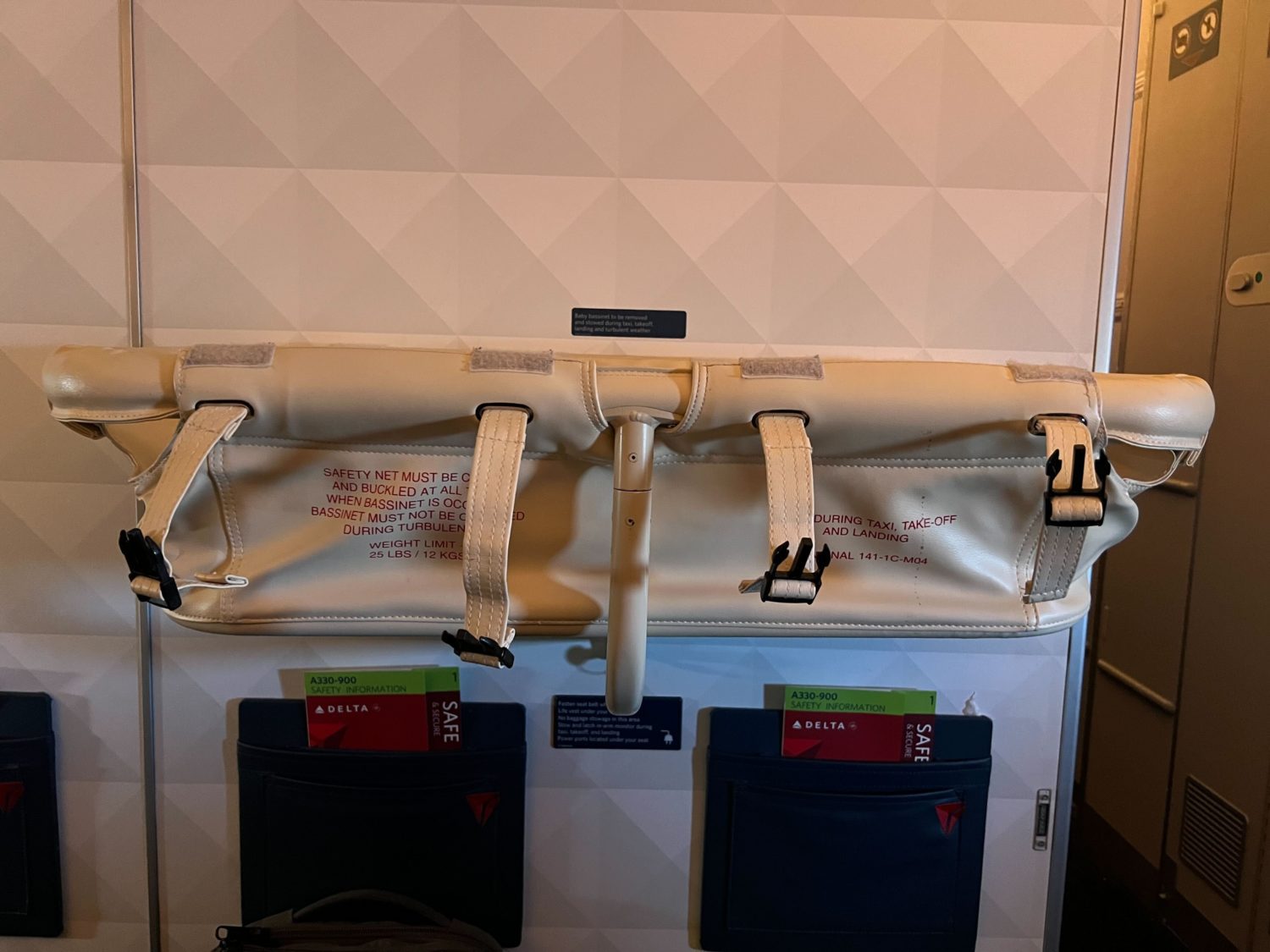 Plus, while Delta's Skycots are really sturdy … they look a little terrifying. We also learned that you can only use these sleeping surfaces while the seatbelt sign is off. Combined with all the foot traffic near our seats, we wound up not putting Theo in there very long. He seemed to sleep better strapped to me, anyways.
In the end, we would not request a bassinet on Delta again – especially if it's near the bathroom. Having a whole row to ourselves was nice, but that's not a guarantee.
Less is More
Before baby, we used to try and pack in a ton in every trip. We would hop from city to city, doing as much as possible every day. This time around, we knew it would be travel like we once did.
So instead of staying in a city for just one or two nights, we stayed at least four nights at each spot. For activities and sightseeing, we decided to plan one big thing each day. If the day went well, we could add in something else. Even on slow-going days, we still got to do something for ourselves.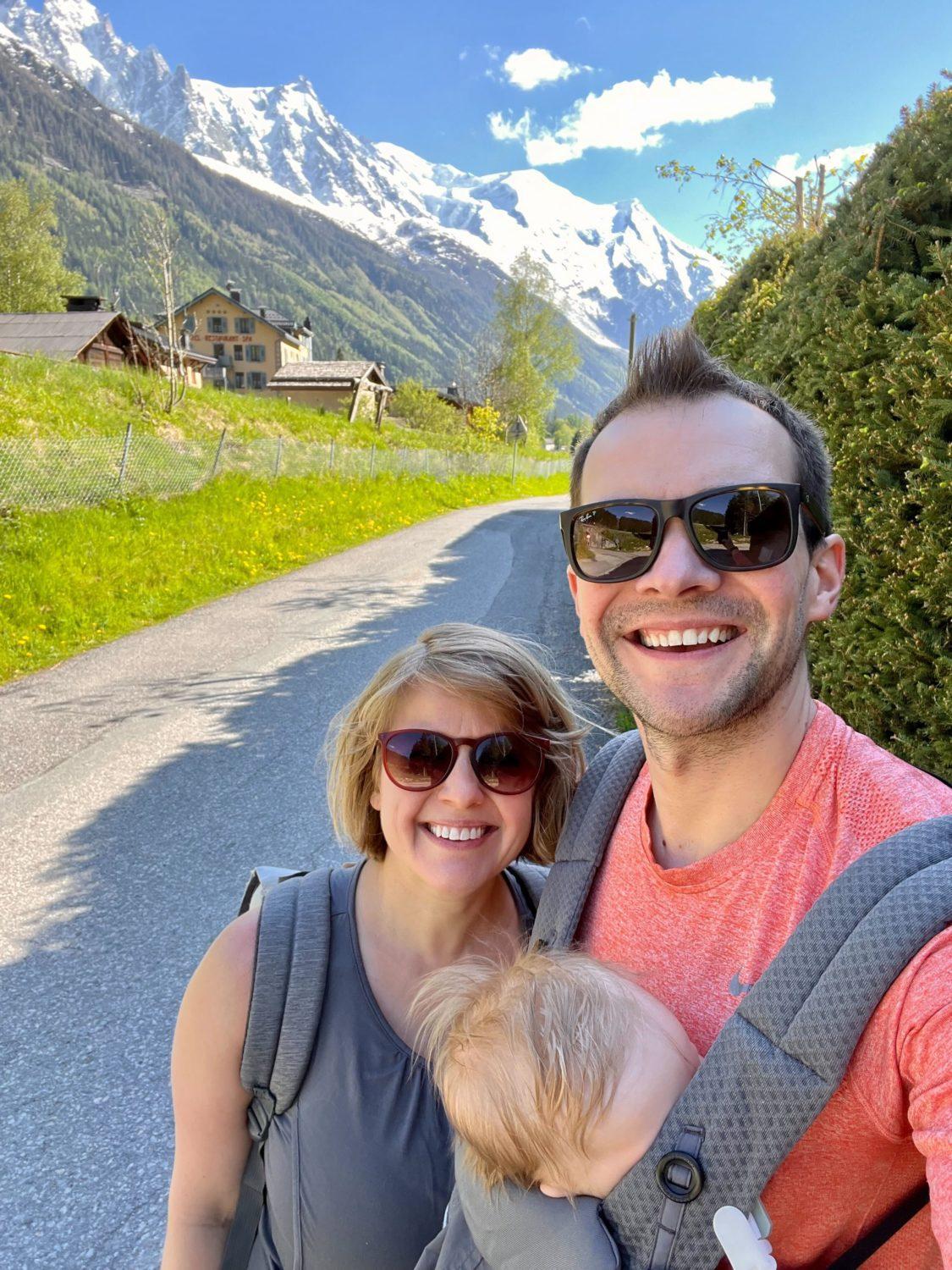 We were in the French Alps, so we focused on day trips less than an hour away to Evian-Les-Bains one day, Montreaux, Switzerland another day, different hiking trails, and the farmers market. We had both breakfast and dinner at our Airbnb and made lunch our big meal out for the day.

It was definitely a much slower pace than we're accustomed to, but that allowed for naps, late starts, blowouts, and everything else that comes with traveling with a baby.
My Top Takeaways for Traveling with an Infant
Overall our trip was a great success. We did it!
But there are a few things we will do differently next time.
No Car Seat
We would not travel with our car seat internationally again. It got lost … twice.
The car seat got lost on the way over to Europe, which forced us to rent a car seat anyways. And then it got lost again on the way home, too.
In fact, we'd probably choose a destination for our next international trip where we can walk, train, or use other forms of public transportation and skip the car altogether. Renting a car seat can be done, but you never know what you're going to get.
Carry-On Only
In addition to not bringing a car seat, we've agreed we'll skip checking bags and pack in carry-ons as long as possible – at least until Theo needs a ton of stuff.
We were team carry-on before baby and find it to be so much easier. We don't have to worry about getting to the airport super early to check bags, wait around to get them, or worry about lost luggage.
Read more: How I Packed a Carry-On for a 21-Day Trip

Focus on Direct Flights
We're going to try to fly nonstop whenever possible, especially in the current travel climate of delays and cancellations. Missing our connection because of a delay made for a very long travel day on the way back home.
Pack Even More Outfits and Diapers for the Flights
On the way to Europe, we didn't need any extra outfits for Theo and only used a few diapers. On the way home, he used three outfits and almost all of the diapers I packed.
The long travel day didn't help. We made it, but it was definitely stressful. Some airport concessions do sell diapers but don't rely on them having the correct size.
Don't Stress About Other People
It's hard to be that family with a screaming baby. If you want to travel, it's going to happen sometime.
Remember: Each flight will be different. Just because Theo cried on one flight doesn't mean he will on the next one.
That mindset helps. All you can do is be prepared, and be kind to other travelers and flight attendants.
Bottom Line
Every baby is different – and so are the parents!
In the end, how you traveled before your baby is your best guide for learning how to travel with a newborn. For example, if you were team carry-on beforehand, you may want to carry-on even when traveling with a baby, no matter what other tips and tricks other parents give you.
For us, changing our expectations ahead of time and slowing down were the keys to making our trip enjoyable, even when things went wrong.