From the very start of the pandemic, Delta has shined. They've made customer-friendly move after move, from extending credits for canceled flights all the way through 2022, extending Medallion status, and blocking middle seats longer than any other airline. But the Atlanta-based carrier has one major problem frustrating flyers: Delta call wait times can be atrocious.
Waiting three, six, or even 10 hours or more to reach an agent in Delta customer service by phone has become the norm, and a once-reliable callback option is spotty at best. As the airline gets hammered with an unprecedented wave of calls amid mass cancellations, even flyers with top Delta Medallion status are facing lengthy waits.
Despite promises from the airline's CEO that wait times would improve as they add staff, the problems persist. But there are ways to reach Delta faster when you've got a problem or question about an upcoming flight.
We've rounded up our best tips to get through faster. Unfortunately, a secret Delta customer service number that has helped hundreds of travelers reach the airline in minutes is no longer an option… but there are still plenty of ways to get what you need.
Try to Do it Online Instead
Are you sure you need to call Delta at all? Skip the phone altogether if you can.
While far from perfect, Delta has brought much of the functionality you may need to change, cancel, or book flights online at Delta.com and to the Fly Delta smartphone app. That's one small silver lining of the pandemic: It's forced airlines to streamline customer support and improve their digital offerings.
For instance, you can:
Change or cancel many reservations online by logging into your Delta account or entering your confirmation number
If you can avoid picking up the phone in the first place, it's worth it. But that doesn't always work.
Changing a flight online can result in errors – if Delta lets you do it with your reservation at all. And sometimes, your issues are simply too complicated to handle without some assistance.
Text Message Delta Instead
Waiting for a text message beats sitting on hold for hours every time.
Yes, you can text Delta. Last year, Delta introduced a new "Message Us" function through its smartphone app. This routes directly through your text messages on your smartphone, which means you'll simply get a text whenever Delta is ready to help you out.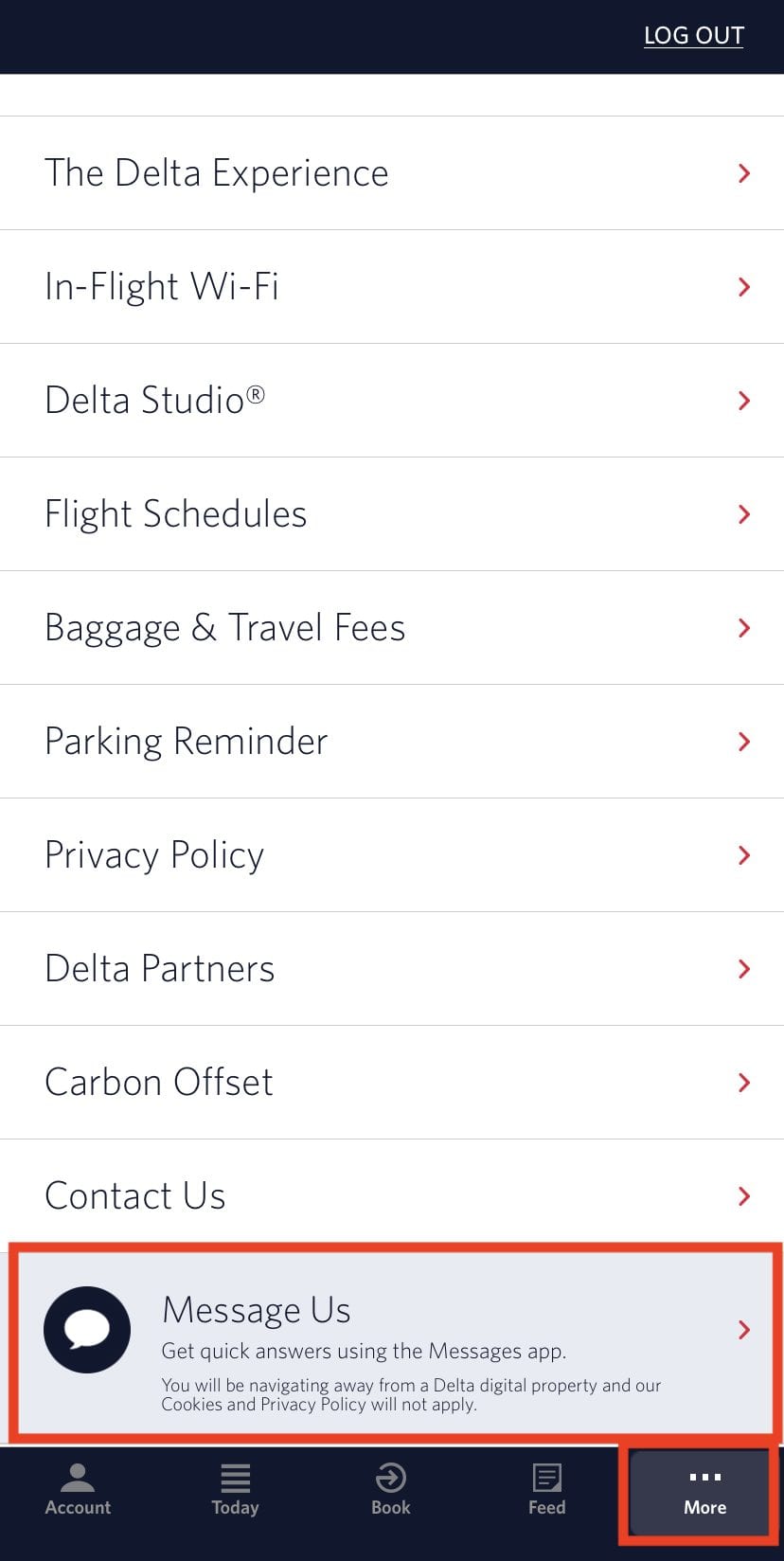 Want to skip the automated prompts? Simply respond with "Representative" or "agent" after your initial request.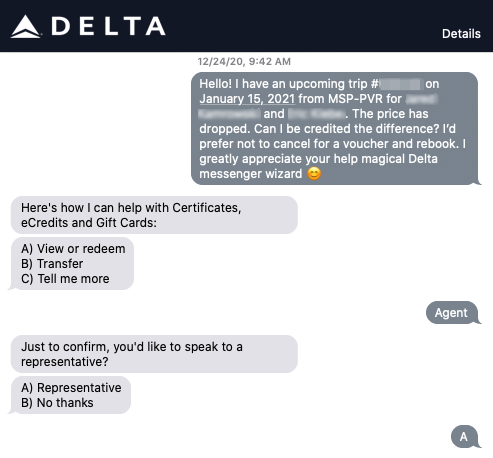 Unfortunately, as Delta call wait times have grown longer, so has its response time to these messages – at least in our experience. Over the winter, it could take hours (or even a day) for Delta to get back to you. And if that happens overnight, you may miss it and be out of luck. Delta has recently added a new feature that estimates how long your wait will be to get an agent on the line. And in the last few weeks, the response times have drastically improved.
At the very least, shoot Delta a message before you hop on the phone to get another iron in the fire.
Tweet Delta & Slide into Their DMs
RIP to Delta's Twitter DM service.
As requests for help stacked up at the start of the pandemic, Delta killed off its ultra-popular Twitter direct message support feature. And despite assurances that it would return, there's no sign that it's coming back anytime soon.
But there's still a way to slide into Delta's DMs: Mention them in a tweet first about your issue. By mentioning @Delta on Twitter, Delta will often open up their direct messages and respond privately. In our experience, this is a much faster method of getting in touch with Delta – especially if your issue is particularly urgent.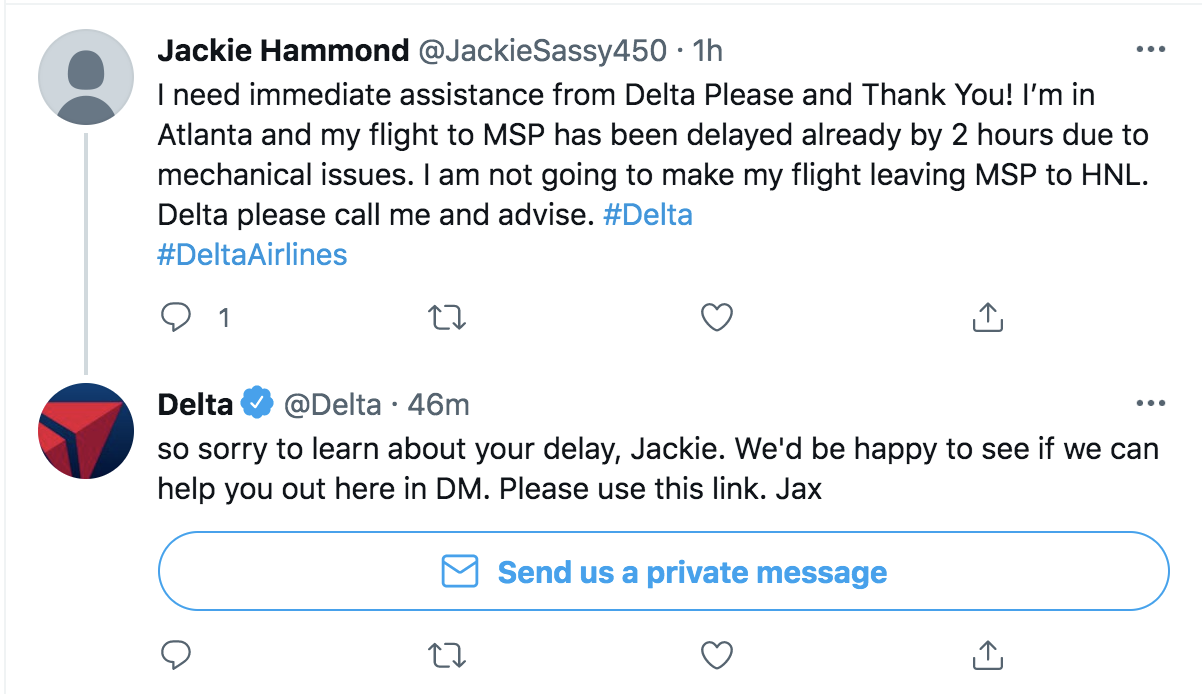 Messaging with Delta via Twitter is a great way to quickly exchange private information about your travels and get help. And in our experience, the support staff handling these requests is second to none.
The Secret Delta Customer Service Number is Dead
This was the best one. But sadly, it was too good to last.
Officially, Delta's customer support line can be reached at 1 (800) 221-1212. Or 1 (800) 323-2323. Unofficially, there was another number worth dialing: 1 (800) 835-9154.
Over the past nine months or so, we heard from hundreds of Thrifty Traveler readers who used this little-known number to reach a Delta agent in 15 minutes or less – even when the main customer service line quoted waits of four-plus hours.
But it seems that Delta killed off that number this week. A recent call to that number yielded the following message: "You have reached a non-working Delta number. For assistance, please call 1 (800) 221-1212."
Fortunately, the other methods we've laid out in this post are still working. Still, this stings.
Call Another Number If You're Flying Soon
Flying within the next 48 hours and need help? There's a special Delta customer service number you can call.
Dial up the Delta Airlines phone number and call 1-855-548-2505 when you need urgent help on an upcoming Delta flight. It's reserved for passengers with a flight in the next 48 hours, which means far shorter wait times – but not just anyone can use it. To our knowledge, View from the Wing first published this number.
Or Call the Singapore Support Center
Yes, Singapore.
Delta has a dedicated support call center in Singapore. There can be a tiny language barrier, but the agents at this call center are extremely well-trained and extremely professional. Most importantly, the call wait times are much shorter. Even in the thick of the pandemic, I've always gotten through to an agent within a few minutes.
To avoid exorbitant international rates, you'll want to call them through a service like Google Voice or Skype. You can reach the Delta Singapore call center at +65 6336 3371. 
Try an Agent in the Sky Club
Alright, so this one isn't the most practical. But it could be the fastest if it works for you.
If you're already traveling and have an issue with a future flight, head into the Delta Sky Club at your airport and ask a check-in agent for help. Some larger Sky Clubs even have dedicated help desks.
Some agents will be better than others, but all Sky Club staff are eager to help however they can. It's worth a shot to ask for an assist with a future flight if you're already traveling.
You can get into Delta Sky Clubs free with some credit cards like the Platinum Card® from American Express or the Delta SkyMiles® Reserve American Express Card. If you've got the Delta SkyMiles Platinum American Express Card, you can pay $50 to get into the Sky Club, then grab a meal and a glass of champagne and ask for some help with your upcoming flight.
Bottom Line
Delta call wait times have been awful for months upon months, and it's inexcusable. But this, too, shall pass. As the airline staffs up at its call centers to cope with a growing travel surge and battles past skyrocketing COVID-19 cases and flight cancellations, the hours-long waits to connect with a Delta agent should steadily shrink. We hope.
But for now, you may have to get creative to reach a Delta agent. Try some new way to get in touch.
Or … just prepare to be patient and watch the grass grow while you sit on hold. The choice is yours.