Rejoice, families with small children flying Delta! You can now add a lap infant to some tickets online.
For years, Delta has forced families traveling with an infant-in-arms (under 2 years old) to call the airline in order to add them to a reservation. But recently, the Atlanta-based carrier rolled that function out online. You can now add an infant-in-arms to any domestic Delta flight online at Delta.com.
That functionality doesn't appear to be available on the Delta smartphone app just yet. And for international reservations, you'll still need to call the airline well in advance – or message Delta through the app to connect with an agent.
It's a smart addition on Delta's part, especially as lengthy call wait times continue to leave travelers sitting on hold for two-plus hours even for the simplest requests. But Delta isn't pushing the envelope here – it's playing catch-up. Many other airlines including, United and American Airlines, have allowed parents to add a lap infant online for years.
Traveling with young kids is hard enough without the extra costs and hurdles associated with adding a small child to a reservation. Adding an infant-in-arms – a small child under 2 who stays in your lap rather than taking up a seat – to a domestic flight is typically free. The costs vary for international tickets, but it's typically 10% of the cash fare plus any mandatory taxes and fees.
How to Add a Lap Infant to a Delta Flight
You won't see the option to add a lap infant to your ticket during the checkout process. Instead, you'll need to head to Delta.com and log into your account or enter your domestic flight information online.
Once you've pulled up your flight, scroll down beneath the section with your passenger information and head straight to "Special Service Requests." That's where you'll find this new option to add an infant in arms online.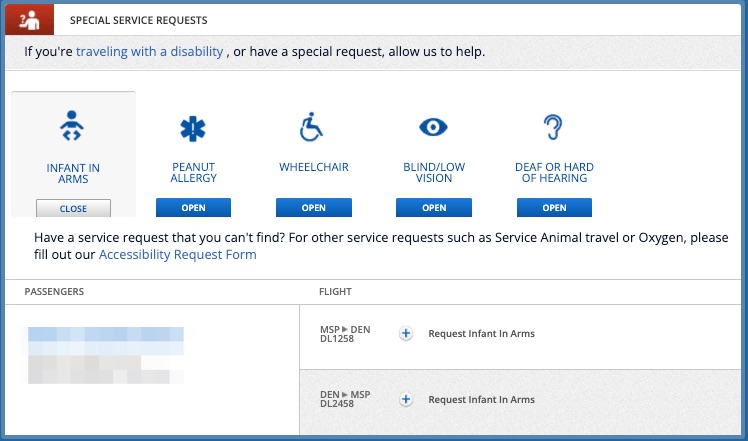 Click "Request infant in arms," and it will bring up a brief form to fill out with details on your child, including name, date of birth, and gender. You can individually add an infant flight-by-flight or just click "Apply to all segments of the trip" to carry over.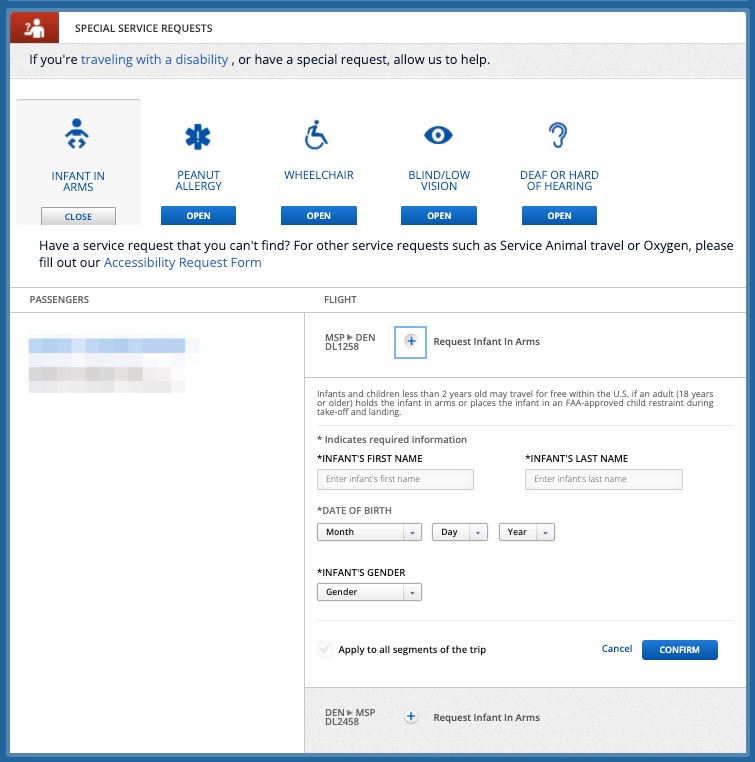 For now, this function isn't available through the Delta smartphone app. It's not currently available for international tickets, either – only domestic flights within the U.S.
Bottom Line
It's about time.
For years, families flying Delta would have to call in or chat with an agent to get a lap infant added to their ticket. Delta is finally catching up by adding this function online. We'll have to wait and see how long it takes for this to roll out to international itineraries – or to the Fly Delta app.