Packing in just a carry-on bag can be a daunting task for even a long weekend, let alone weeks of traveling.
But it can be done. And between the savings on fees, time waiting at the baggage carousel, and anxiety about lost luggage, there are a lot of reasons you should travel with only a carry on.
Here's how I packed for a three-week trip to Dubai, the Maldives, and Vietnam. Use these tips and tricks for your next vacation.
Book an Airbnb with a Washer
Let's get this out of the way: You're not packing three weeks worth of clothing. You're going to do laundry.
So the first step is to book at least one of your stays at a place with a washer and dryer or cheap laundry service.
That was a critical part of our planning process for such a long trip, as I knew we'd be packing in a carry-on.
Airbnb lets you filter for places with washers and dryers. Note that many places outside of the U.S. only use washing machines and line-dry their clothing. So make sure your stay is long enough to get your clothes dry.
Most hotels have laundry services, but be sure to check the pricing. In some corners of the world – like Vietnam – it's dirt cheap to do a load of laundry at your hotel. But elsewhere, it can be really expensive. So only plan for this option if you're in desperate need or only need a few things cleaned.
Maximize Your Personal Item
You only get to bring once a piece of luggage and one personal item on the plane. The key to packing well is putting both to good use.
Make sure your personal item keeps your stuff organized and is just the right size: big enough to fit a lot in, yet small enough to fit underneath the seat in front of you on the plane.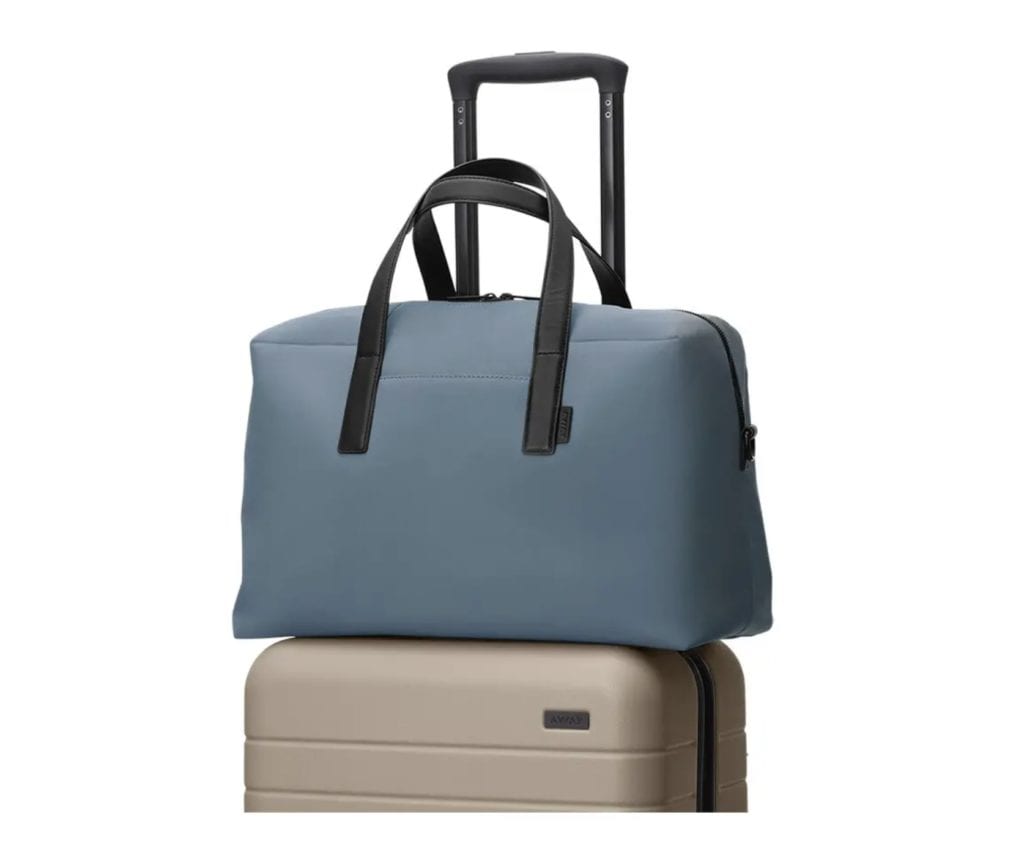 I just upgraded my personal item to the Away Everywhere Bag, and it was a game-changer packing for this long trip. It has tons of pockets for all of my things, including a laptop slot and a pocket on the bottom on the outside for an umbrella. Plus, it slips right on to the handle of my suitcase.
Here's everything I was able to fit in my personal item:
Rain jacket
Laptop
Kindle
Chargers for my phone & laptop
Make-up bag
First-Aid Bag (Tums, bandaids, ibuprofen, etc)
Liquid Toiletries Bag
Phone
Passport
I even had some room left over for anything I decided to pick up on the trip.
Packing Toiletries
This is the biggest hurdle for most people when it comes to packing in a carry on. Liquids in 3.4-ounce bottles, all stuffed into a one quart bag? It can feel very limiting. So how do you do it and still bring everything you need?
Buy airplane sized bottles of your favorite toiletries. Many companies make small versions of their most popular items just for this purpose.
Can't find small versions? Get containers like GoToobs to repackage lotions, face wash, shampoos and more.
And remember: You don't need to pack absolutely everything. Instead, you can buy certain items fairly easily when you get to your destination. Leave the big bottle of sunscreen at home and buy some at a convenience store.
Shoe Bag & All Purpose Bags
Another key to packing a carry-on bag is organization.
For some, that means travel cubes. But I just use shoe bags to keep most of my shoes separate from my clothes – keeping things cleaner in the process. I also have a few all-purpose waterproof bags: one for clean undergarments, one for dirty laundry, and one more for wet swimsuits or clothing.
As you start to dive into packing in only a carry-on bag, you'll figure out what works best for you. Keeping your clothes clean and staying organized is key to mastering the carry-on, even on these long trips.
Check the Weather
Always, always, always check the weather at your destination. This is how you narrow down what you need to pack, and what you can almost certainly leave at home.
Is it likely to rain? Will you need pants and sweaters, or just warm weather gear? Be sure to cope out the day time and evening weather, too, as temperatures can swing wildly depending on where you're going.
For this trip, all of our destinations were in the 80s to 100s (hot!), with some rain in Vietnam. So I packed mostly hot weather clothes, swimsuits, and then a rain jacket.
Plan Activities In Advance
If you know what you're going to be doing, you will have an idea of what types of clothes and shoes you will need.
Hiking, swimming, bike-riding, and boating all require different types of clothes. And think about how much walking you'll be doing and what you will need to be comfortable.
We knew we would be by a pool or ocean a lot so a few swimsuits were necessary, plus workout clothes for the gym and yoga. We also planned a few walking tours, so we packed comfortable clothes and shoes.
Think About Your Meals, Too
Get an idea of the types of restaurants or bars you would like to eat at on your trip. Are they mostly casual or are there a few fancier spots? Also, make sure to check if your resort or hotel restaurants have dress codes.
Our restaurants in Dubai and the Maldives had dress codes of smart casual or dressy. I made sure to bring a few options for these restaurants.
Bring Versatile Clothing & Shoes
This is when you pare down your options.
I know, it's hard not to bring the whole closet with you. But it's worth the extra trouble.
Think about each item you bring and picture when and where you would wear it. Can you only picture wearing it once? Put it back in the drawer. Bring versatile items that you can wear more than once without washing and can be worn for multiple occasions.
And the same goes for shoes. By limiting yourself to just a few pairs that work for several situations, you can save a ton of space and (hopefully) squeeze everything into your carry-on bag.
Get a Great Carry-On
There's no point in carrying on if your bag doesn't function well. Crappy wheels and poor design can negate all of the great reasons for carry-on.
We have plenty of favorite carry-on bag options that fit every budget, but I love my Away bag. It's stylish, easy to pack, organized, and has four great all-way wheels with a lifetime warranty. Just do your research before buying.
Here's everything I was able to pack in my Away bag:
tennis shoes
2 sandals
2 flip flops
walking shoes
2 jeans
4 shorts
2 workout shorts
leggings
4 workout shirts
3 dresses
1 jumper
4 t-shirts
4 dressy shirts
8 tank tops
1 sweater
1 small purse
Bottom Line
If I can pack in a carry on for 21 days on the road, it can be done. All it takes to pack a carry-on for a long trip is some pre-planning, a little strategy, and extra organization.