Struggling to schedule an interview to finalize your Global Entry registration? Today could be your lucky day.
Global Entry is one of the most powerful tools to get through the airport faster – first, to skip through security thanks to a TSA PreCheck benefit, then clear immigration within minutes after an international trip. But getting signed up can be a pain. There are often months-long delays in processing applications followed by the hunt for an in-person appointment to finalize enrollment.
But after years of backlogs and complaints, the federal agency that runs Global Entry has shaken up how it releases those slots: It now releases a bunch of interview appointments at 9 a.m. local time on the first Monday of each month.
As of Monday morning, we're seeing lots of appointments open to book this summer and early fall at some of the nation's largest airports. While you won't find wide-open interview availability at every single major hub across the country, there's enough here that it could help travelers stuck in Global Entry limbo finally get across the finish line.
Can't find what you need? Check out our other tips for snagging a Global Entry interview!
Where You Can Currently Book a Global Entry Appointment
Before we dive into Global Entry interview availability, there are a few things to keep in mind.
First things first: These appointments can go fast. Everything we're showing here is what's available as of publication. Check hours (or even minutes) later, and you might see something entirely different. And while you might be hoping for an appointment to wrap up your Global Entry enrollment this week or next, it's still worth snagging a slot as early as you can later this summer or even into the early fall.
We immediately checked some major enrollment centers as soon as the clock struck 9 a.m. As luck would have it, you can easily snag an appointment at many airports across the country.
Here's a look at where you can currently book a Global Entry appointment, from east to west.

New York City (JFK) & Newark (EWR)
New Yorkers are in luck: There are plenty of appointments available at New York City (JFK) to pick from all September long.

Across the river, there's solid availability at Newark (EWR) from mid-September through the end of the month.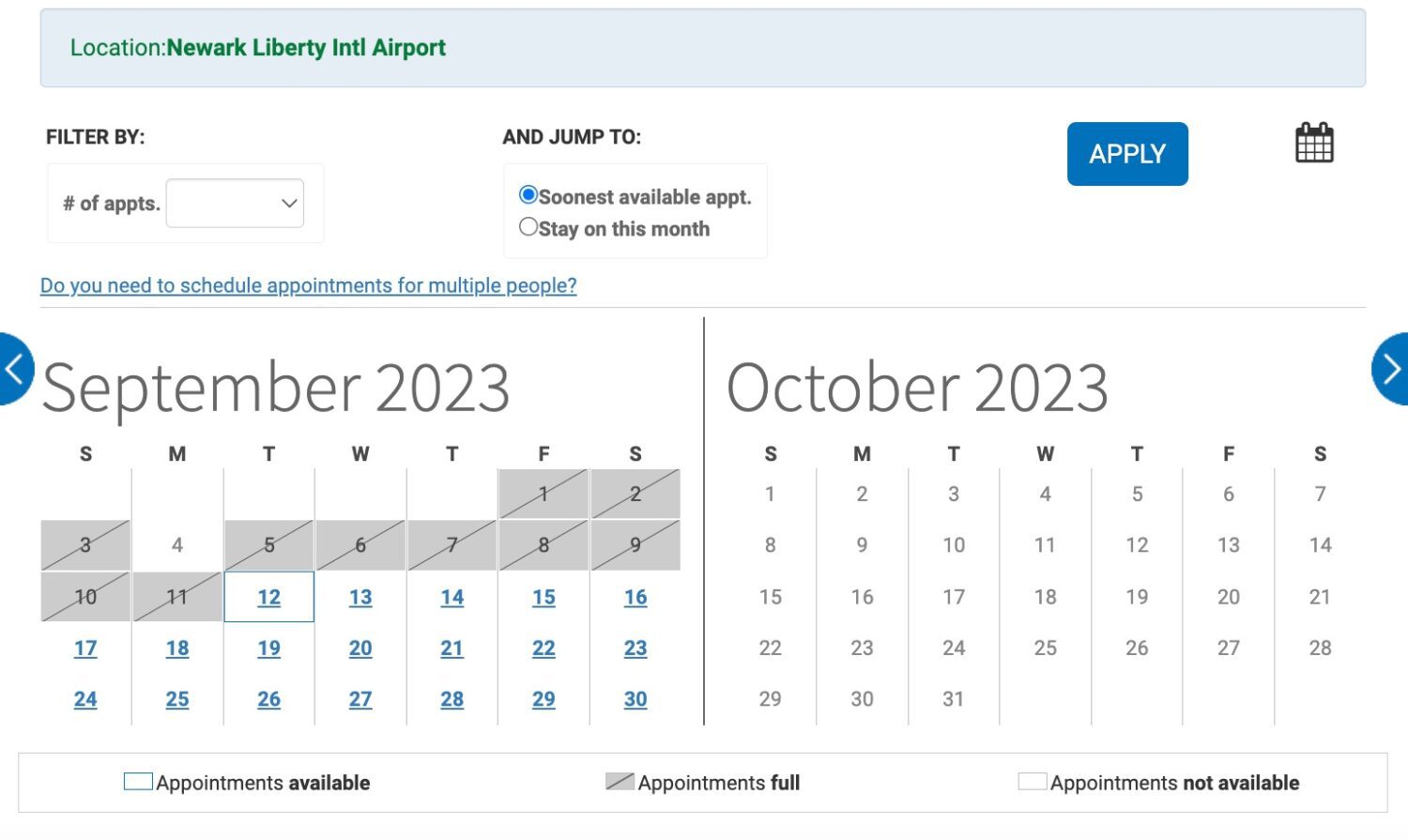 Miami (MIA)
There are tons of appointments to choose from flying in or out of Miami (MIA), where you can book something starting in late August all the way through the end of 2023.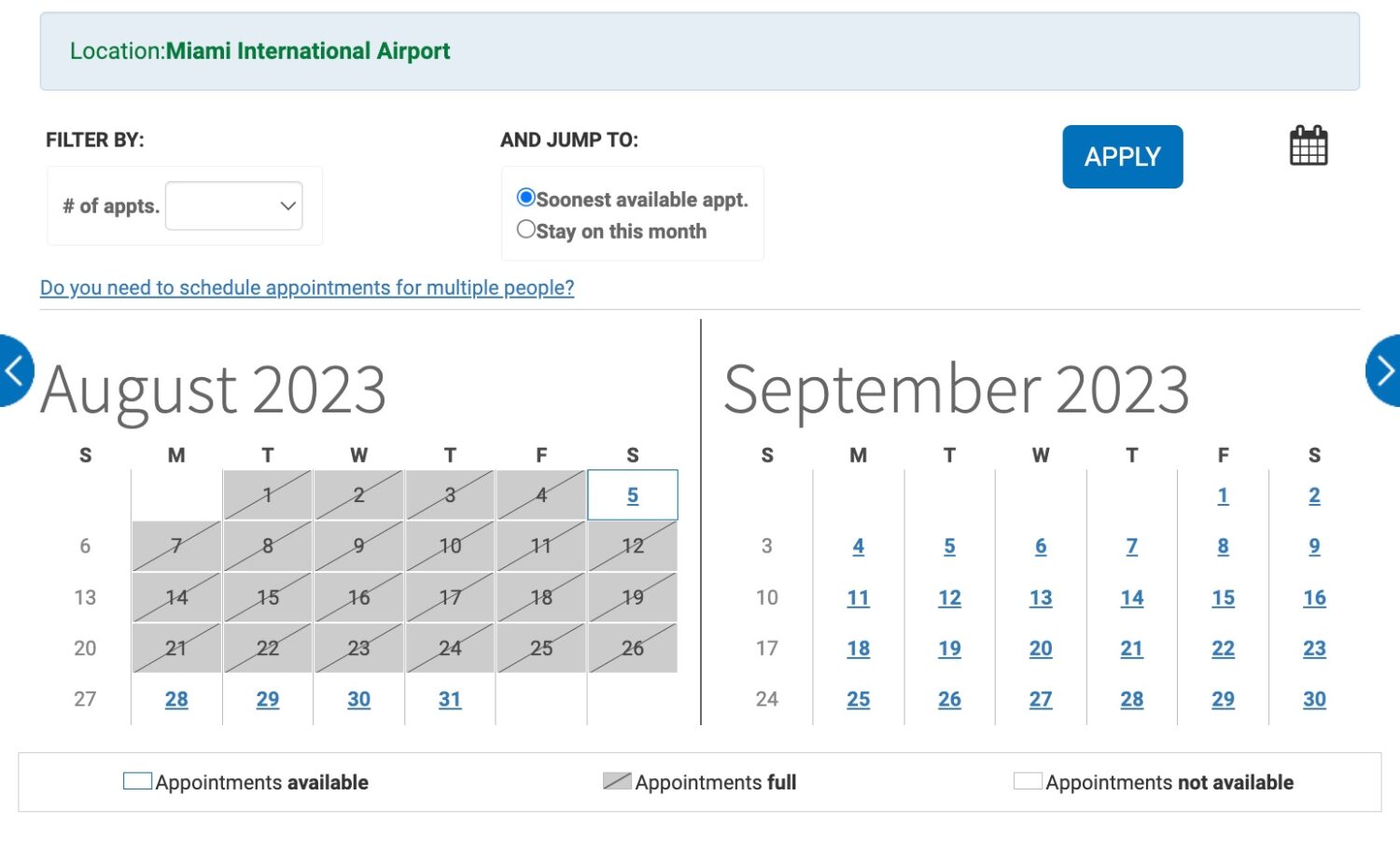 Detroit (DTW)
Getting Global Entry appointments in Detroit (DTW) is typically a challenge, but it's currently wide-open from mid-August through early October.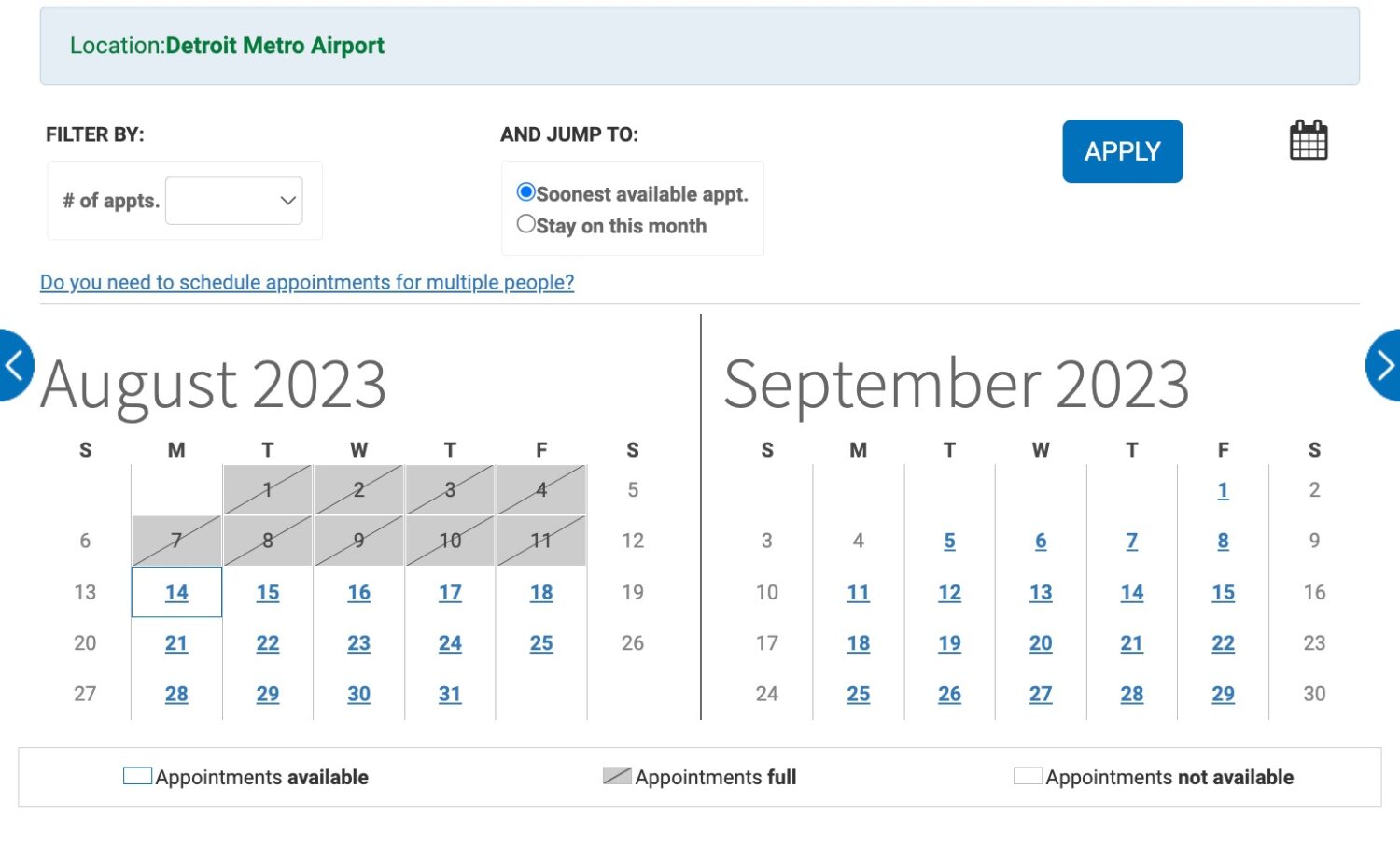 Don't fancy a trip to the airport? There's also solid availability at the enrollment center near downtown Detroit starting as soon as next week!

Chicago-O'Hare (ORD)
You can currently book Global Entry interviews at Chicago-O'Hare (ORD) on a few days in July and many more in August.

But you can also skip a trip out to the airport and instead schedule one of the hundreds of appointments at the downtown enrollment center available in late August through September.

Minneapolis-St. Paul (MSP)
It's been months since we've seen any appointments available at Minneapolis-St. Paul (MSP), period. But there are currently tons of appointments you can book at the airport later this month – especially if you make a quick trip on a Sunday.

Dallas-Fort Worth (DFW)
There are plenty of appointments to book as of publication at Dallas-Forth Worth (DFW) from the middle of September through the end of the month.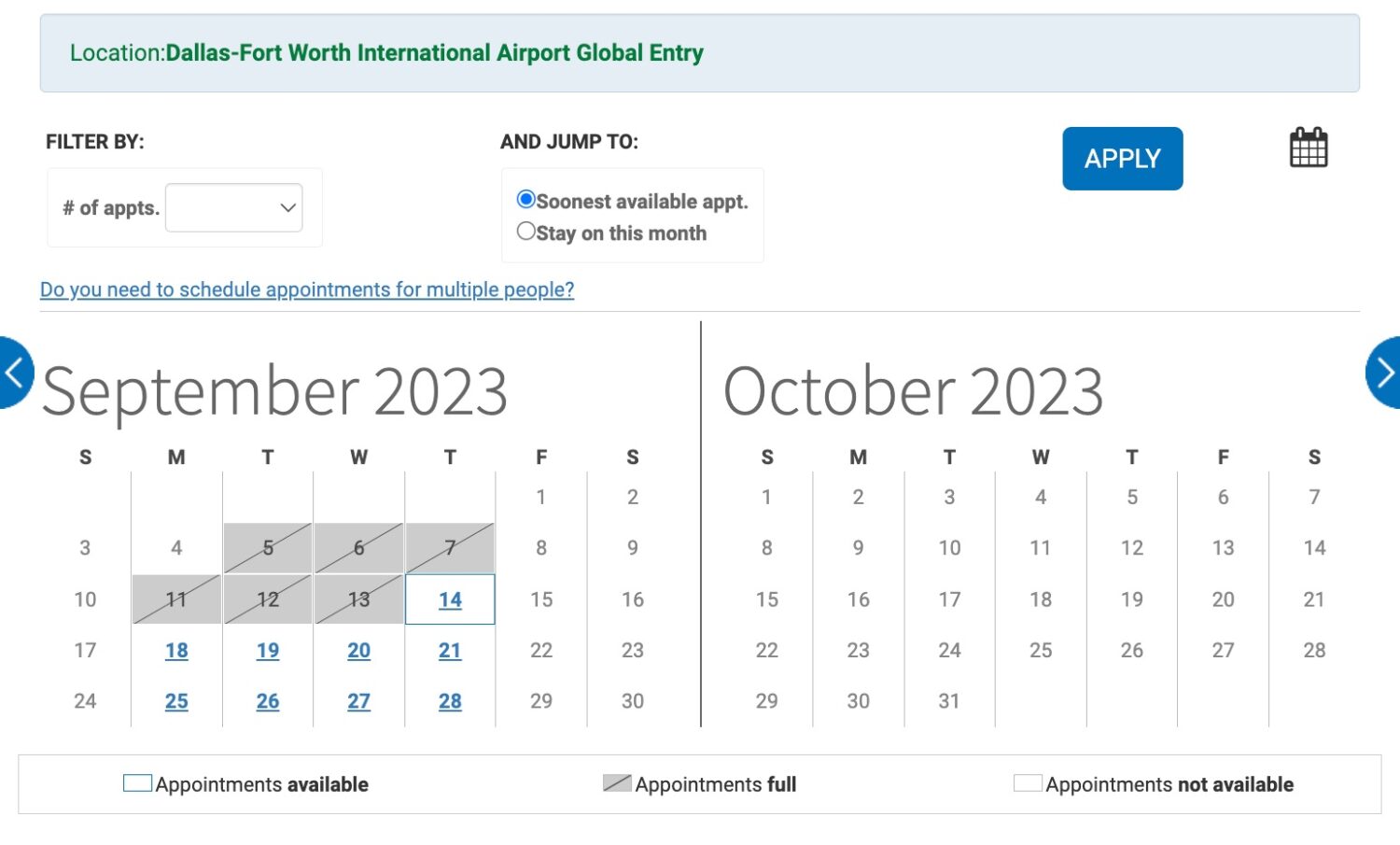 Las Vegas (LAS)
Live around Las Vegas – or heading there this summer for a trip? You could easily squeeze in a Global Entry interview later this month or in August with this strong availability.

&bnsp;

San Francisco (SFO)
You'll have to wait all the way until October, but there's unusually strong appointment availability all month long out in San Francisco (SFO).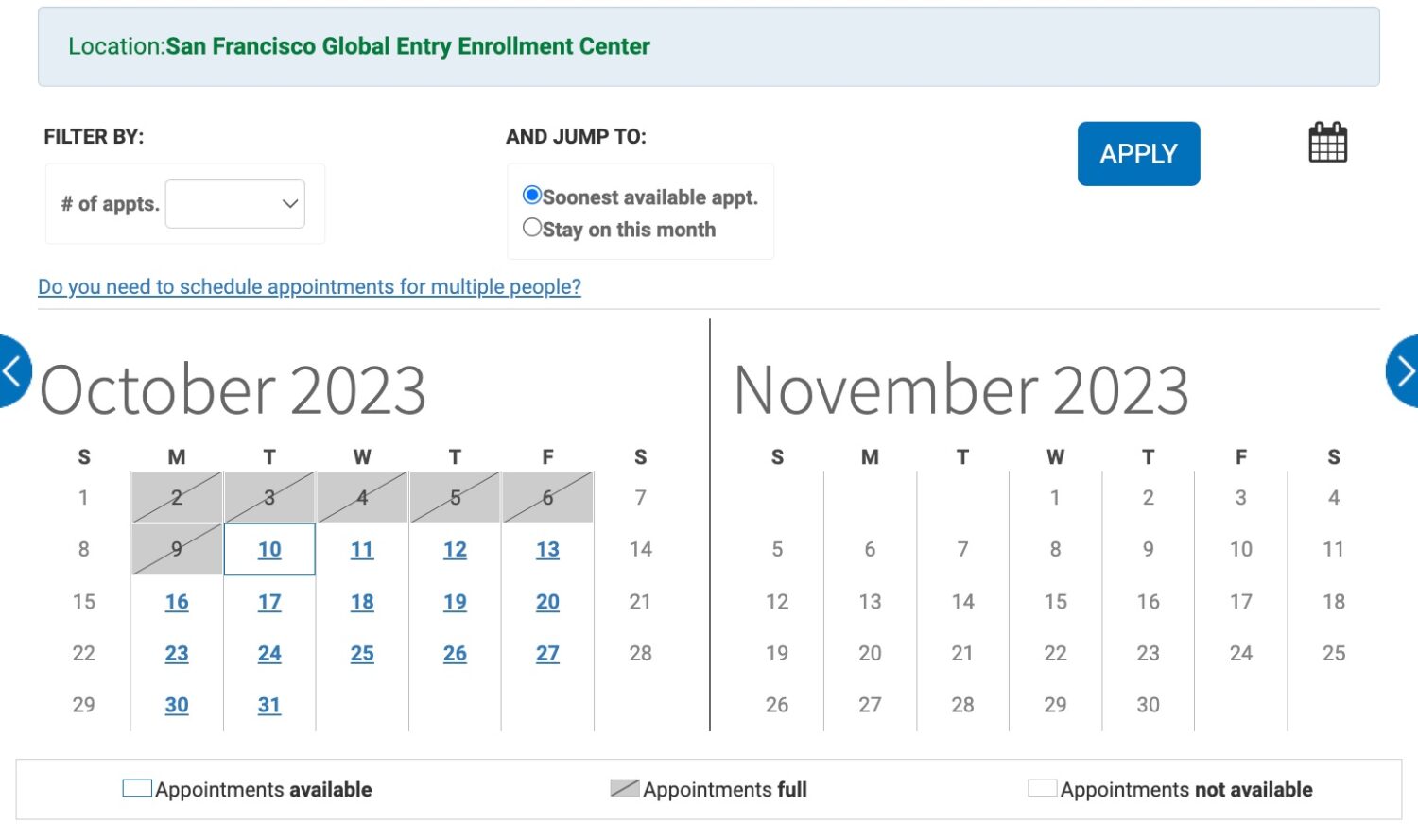 If you live near any of these airports or they fit into your travel plans, read our lips: Schedule your appointment now, and ask questions later! These appointments often get snapped up quickly, so lock something in now – you can worry about trying to move up your Global Entry interview later.
Sadly, many other major enrollment centers are still showing that appointments are fully booked through the summer. That includes hubs like Atlanta (ATL), Boston (BOS), and Washington, D.C.-Dulles (IAD). 
Other Tips to Find a Global Entry Interview
Are these airports with appointments open not doing it for you? Don't worry: We've got a few other tips and tricks up our sleeve.
Bottom Line
It's the first Monday of the month and your golden chance to lock in an in-person interview to finalize your Global Entry enrollment at many major airports across the country.
Unfortunately, not every major population center lucked out with a wide swath of appointments open this time around. But if something works for you, act fast – these interview slots are sure to disappear soon.