Nobody wants to stand in a long line after an even longer international flight. That's where Global Entry comes in.
This government-run trusted traveler program can be an enormous timesaver, getting you a designated lane to clear customs and immigration faster as well as TSA PreCheck benefits for a quicker trip through airport security in the U.S., too. But the final step for enrolling in Global Entry – scheduling an in-person interview – can be a pain. But there's another way: Global Entry Enrollment on Arrival.
At many major U.S. airports (and even some abroad), you can wrap up your Global Entry interview and speed through immigration in one fell swoop. With Global Entry interview appointments still tough to track down, this might just be the best way to finish the registration process right now.
Here's how it works.

All About Global Entry
Global Entry is one of two popular "Trusted Traveler Programs" run by the U.S. government, and it's the best way to clear immigration quickly after your international flight back to the United States.
The other program is TSA PreCheck, which you can use to skip long lines at airport security before getting on your flight whether you are traveling domestically or internationally. But part of the reason why Global Entry is so popular – and powerful – is that it also comes with TSA PreCheck. That means you can skip long lines at security on your way into the airport and as you come back into the country through immigration.
If you travel internationally just once a year (or less), that makes Global Entry much better than PreCheck.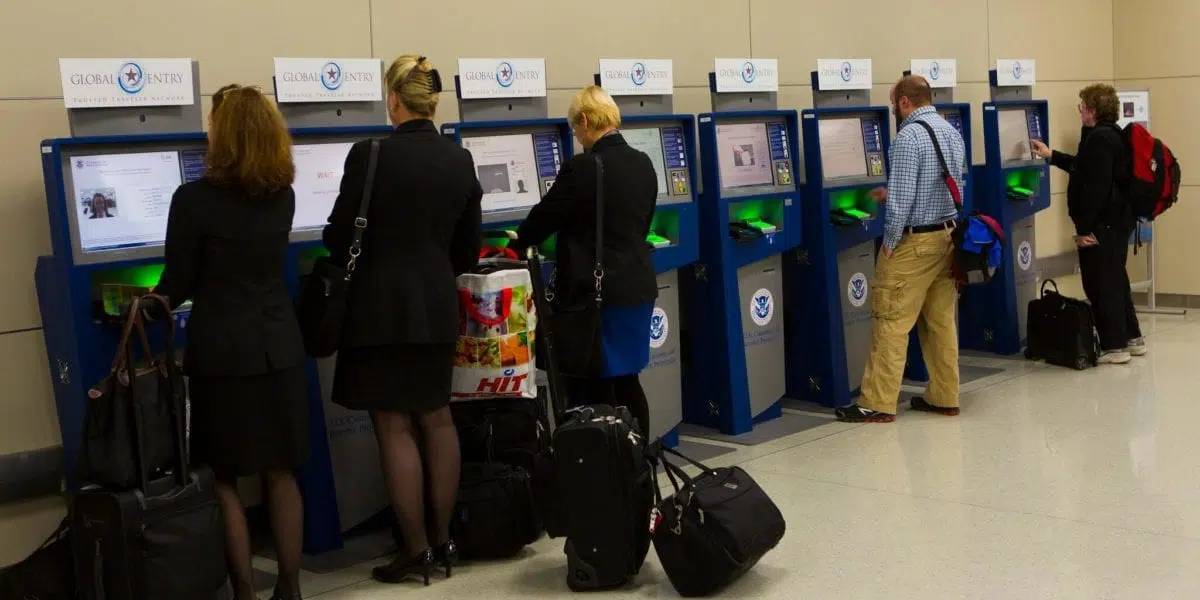 On paper, the sign-up process for Global Entry is quite simple. In practice, it can be fairly complicated and time-consuming:
Fill out an application, which takes about 10 minutes or less
Pay your $100 application fee (preferably with a credit card that will cover the cost of enrollment!)
Wait for conditional approval, which typically takes a week or so but can sometimes take several months or more
Finalize your enrollment with an in-person interview
Read our full guide to getting signed up for Global Entry!
That final step is a major hang-up for many travelers. Many enrollment centers are at major airports across the country, where appointments can book out six to 12 months in advance – if you can find an appointment at all.
And that's where Enrollment on Arrival comes in.
How Enrollment on Arrival Works
Any applicant who has been conditionally approved for Global Entry can finish the process while clearing U.S. Customs and Border Protection at more than 50 airports nationwide when returning from an international flight. Several airports in Canada, the Caribbean, Europe, and even the Middle East with pre-clearance facilities also offer Enrollment on Arrival.
That means there's no need to schedule an interview, period. In many cases, you can skip the normal immigration line and head straight for a designated lane to hammer out your interview and clear immigration in just five minutes or so tops. Just beware that this service may only offered during certain hours at your airport – and in some cases, agents may suspend Enrollment on Arrival when they're swamped by arrivals or understaffed.
After your flight lands, just make your way to immigration as normal. There are up to three different options: standard entry, Mobile Passport Control, and Global Entry.
If you're at one of the 50-plus participating U.S. airports, look for a fourth option: a lane designated for Enrollment on Arrival. Otherwise, ask an agent where you need to go to wrap up the enrollment process. In some cases, it may be after you actually clear customs and immigration – but you'll want to confirm that first.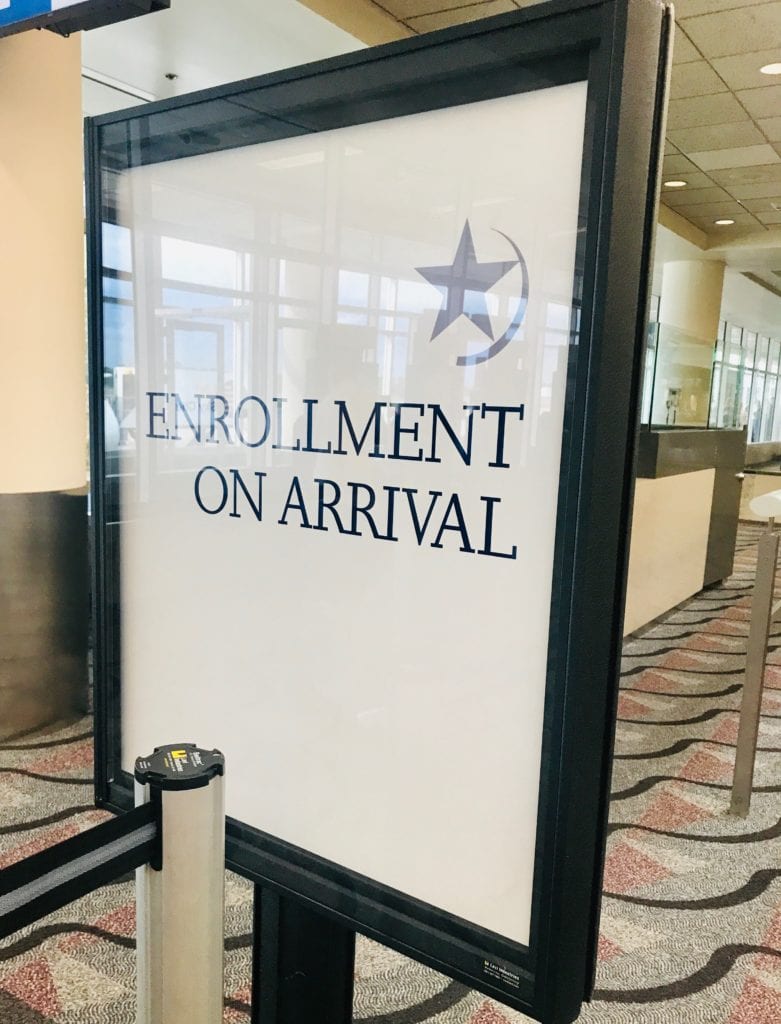 Wait a few minutes for a Customs and Border Patrol agent to move over to your lane. Once they do, they will call you over, pull up your application, and complete your interview.
One word of caution: With staffing issues across the country, we've seen and heard of some airports recently limiting the hours when Global Entry Enrollment on Arrival is actually available.
You won't need anything extra with you other than a passport and something to prove your current residency like a driver's license or a recent utility bill. An agent will ask you a few final questions, scan your fingerprints, and send you on your way.
The approval process may take a few minutes, so the agent might send you through immigration before that has wrapped up (if you haven't cleared already). You can check your status online through Global Entry, and should be approved within 24 hours and have your Global Entry Card with your membership number within a week.
Just how long it takes will vary depending on which airport you're passing through and how many fellow travelers are also waiting to complete an interview. But with any luck, the whole process should take about 10 minutes or less!
Where You Can Complete Enrollment on Arrival
You won't find Enrollment on Arrival everywhere, but it's available at most major U.S. airports with international flights. More recently, the federal government added Global Entry Enrollment on Arrival to several airports abroad – mostly those that offer immigrations and customs preclearance.
Domestic Locations
Anchorage (ANC)
Atlanta (ATL)
Austin (AUS)
Baltimore (BWI)
Boston (BOS)
Buffalo (BUF)
Charlotte (CLT)
Chicago-Midway (MDW)
Chicago-O'Hare (ORD)
Cincinnati (CVG)
Cleveland (CLE)
Columbus (CMH)
Dallas-Fort Worth (DFW)
Denver (DEN)
Detroit (DTW)
Fairbanks, Alaska (FAI)
Fresno, California (FAT)
Fort Lauderdale (FLL)
Honolulu (HNL)
Houston-Intercontinental (IAH)
Houston-Hobby (HOU)
Indianapolis (IND)
Kansas City (MCI)
Las Vegas (LAS)
Los Angeles (LAX)
Miami (MIA)
Milwaukee (MKE)
Minneapolis-St. Paul (MSP)
Newark (EWR)
New York City (JFK)
New Orleans (MSY)
Oakland (OAK)
Orlando (MCO)
Orlando-Sanford (SFB)
Philadelphia (PHL)
Phoenix (PHX)
Portland (PDX)
Raleigh-Durham (RDU)
Reno (RNO)
Sacramento (SMF)
Salt Lake City (SLC)
San Antonio (SAT)
San Diego (SAN)
San Francisco (SFO)
San Juan, Puerto Rico (SJU)
San Jose, California (SJC)
Santa Ana, California (SNA)
Seattle (SEA)
St. Louis (STL)
Tampa (TPA)
Washington, D.C.-Dulles (IAD)
International Locations
Abu Dhabi (AUH)
Aruba (AUA)
Bermuda (BDA)
Calgary (YYC)
Dublin (DUB)
Edmonton (YEG)
Halifax (YYC)
Montréal (YUL)
Nassau (NAS)
Ottawa (YOW)
Shannon (SNN)
Toronto (YYZ)
Vancouver (YVR)
Winnipeg (YWG)
Pros & Cons of Global Entry Enrollment on Arrival
There are far, far more pros than cons to using Global Entry Enrollment on Arrival if you ask us:
Stop scanning hopelessly for appointments and hammer out your interview when you return from your next trip abroad.
Many airports have designated Enrollment on Arrival lanes or even allow you to simply head through the Global Entry line itself, which makes your trip through customs faster even if you need to complete an interview.
That said, there's one glaring downside to using Enrollment on Arrival … and that comes down to TSA PreCheck:
 Unless you're renewing an active Global Entry membership, you won't be able to get TSA PreCheck until you've completed your interview.
How to Get Global Entry
Global Entry typically costs $100 for a five-year membership. But if you pay, you're doing it wrong.
That's because more and more credit cards will cover that application fee through an application reimbursement. From top-dollar premium credit cards to a handful of reasonable alternatives, you may already have a card that can get you Global Entry without even knowing it!
Here's a brief list of just some of our go-to options:
Of all the cards on this long list, our favorites might just be the Capital One Venture Rewards Credit Card.
It's one of the most cost-effective options here, as the annual fee on the card is only $95. On top of covering the cost of your Global Entry fee when you use the card to pay, you'll get two free annual passes to Capital One lounges and earn 75,000 Capital One Venture Miles after spending $4,000 within the first three months. That bonus alone is worth at least $750 toward travel – or much, much more with smart use of Capital One transfer partners.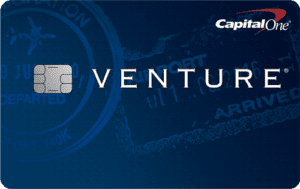 Click Here to learn more about the Capital One Venture Card. 
Bottom Line
Global Entry Enrollment on Arrival is a no brainer.
Instead of making an appointment and going all the way to the airport when you're not traveling, do it when you're already at the airport – and get through customs and immigration faster in one fell swoop.