Beyond earning valuable points and miles you can use to book free flights and hotels, many travel rewards credit cards also come with a host of benefits that can save you even more money on your travels and beyond. But keeping track of them all isn't easy.
From monthly Uber Cash credits through American Express to $300 annual travel credits from Chase and Capital One, these perks can help offset the cost of these cards' annual fees, which range from $95 to nearly $700 a year.
These credits are use-it-or-lose-it perks, though: They won't roll over. Forgetting to spend a monthly credit or, even worse, an annual one could keep you from treating yourself to a free meal delivery or luxury hotel stay.
Don't leave money on the table! Here's a roundup of credit card perks you should make sure you're using up before the end of 2023.


Travel Credits
First things first, travel credits. If you want heavily discounted flights and hotel stays, you need to be using these travel credits that you get with some of the most popular – and most expensive – travel rewards cards.
$200 Amex Platinum Hotel Credit
*amex platinum* cardholders get an annual credit of up to $200 to use for prepaid hotel stays through the Amex Travel booking portal. This new credit only applies to Fine Hotels + Resorts® (FHR) or Hotel Collection properties. Notably, bookings of the Hotel Collection properties require a minimum stay of two consecutive nights.
After purchasing directly through the travel portal, you will receive the $200 back as a statement credit within 90 days. This is a great way to make a dent in the Amex Platinum card's $695 annual fee (see rates & fees). Be sure to take advantage of this benefit now as it expires at the end of the year and not at the end of your card anniversary.


With expensive hotel prices, this credit could be your ticket to a really cheap luxury hotel stay. I used this credit earlier this year for a luxury stay in the Shangri-La Sydney in Australia where I got daily breakfast for me and my girlfriend, a room upgrade, late checkout, and credits of up to $100 to spend at the property's spa or restaurants.
Read our guide to using the $200 Amex Platinum Hotel credit
Amex Airline Credits
With another $200 in airline fee credits each year, this credit on *amex platinum* can go a long way. Travelers with the Hilton Honors Aspire Card, meanwhile, get up to $250 – but 2023 will be the last year top Hilton cardholders get that perk as the card gets a new set of benefits.
But these airline credits aren't exactly as simple as just buying flights or an upgrade to put it to use before the year ends: There are some major strings attached to these credits that can make them harder (but far from impossible) to use.
Technically, they're "airline incidental fee credits." That means up to $250 in fees at one qualifying airline for things like checked baggage, guest access at a lounge and others will be reimbursed – but keep reading for some other ideas to put these to use. You have to pick one U.S. airline to use them at by logging into your American Express account and navigating to your Benefits, though you might be able to switch mid-year by calling or messaging Amex. 


On paper, that means you can't put these credits toward booking a flight. In practice, there are a few great workarounds to get the most out of these Amex airline fee credits:
Got eCredits with Delta after canceling flights this year? Use them to rebook travel for 2023, then put the remaining balance on your Amex Platinum or Gold Card. So long as you charge less than $250 to your card and have selected Delta as your preferred airline, it should trigger the credit
Pick Southwest as your preferred airline for these credits and book a cheap flight – flights under $99 typically trigger it, in our experience.
Select United Airlines instead, then load up your United TravelBank account using your Amex card – allowing you to use the airline credit to book tickets with United
Pay for your pal to get into the Delta Sky Club with you
Upgrade to the Spirit Big Front Seat for your next flight with the ultra-low-cost carrier
Book an award ticket and charge the taxes and fees to your Platinum card!
Read our full guide on the best ways to use these airline credits to get the most out of them!
Like most of these Amex statement credits, this is a "use it or lose it" perk. If you don't use up every dollar, it won't roll over into 2024. Luckily, American Express makes it easy to track whether you've used up your airline credits – just log into your account check your benefits tab.
But this benefit is based on the calendar year, not when you opened your Amex Platinum or Hilton Aspire card. That means you've got less than two months to use these credits before they're gone.

$300 Venture X Travel Credit
Each year that you hold the *venture x*, you'll receive a $300 travel credit that is redeemable only through the Capital One Travel Portal. With this credit, you will get a $300 discount at checkout for any flight, hotel, or rental car booking made through the travel portal. Unlike the Amex Platinum hotel credit, the Venture X travel credit expires on your cardholder anniversary rather than at the end of the year.
This $300 travel credit alone easily cancels out most of the card's $395 annual fee, plus you get an incredible discount on travel purchases. I personally used this credit to book flights for my parents from Ho Chi Minh City to Tokyo to catch their return flight to Seattle on our upcoming trip to Vietnam. I was happy to be able to book intra-Asia travel without breaking the bank. It also helped that I had some Venture Miles I could redeem through the travel portal to stack with the $300 credit, making this booking completely free.

Read our guide to using the $300 Venture X Travel Credit
$300 Chase Sapphire Reserve Travel Credit
The Chase Sapphire Reserve® comes with an easy-to-use $300 travel credit that offsets its hefty price tag of $550.
You'll get a statement credit on any travel purchases you make with your card from flights and hotels to public transportation or rideshares like Uber or Lyft. It's that easy to use. It's one of the most lucrative benefits of any travel card, period. Like the Capital One Venture X travel credit, this credit expires a month after your cardholder anniversary rather than at the end of the year.
While this isn't exhaustive, here's a list of some charges that will trigger the Chase Sapphire Reserve travel credit.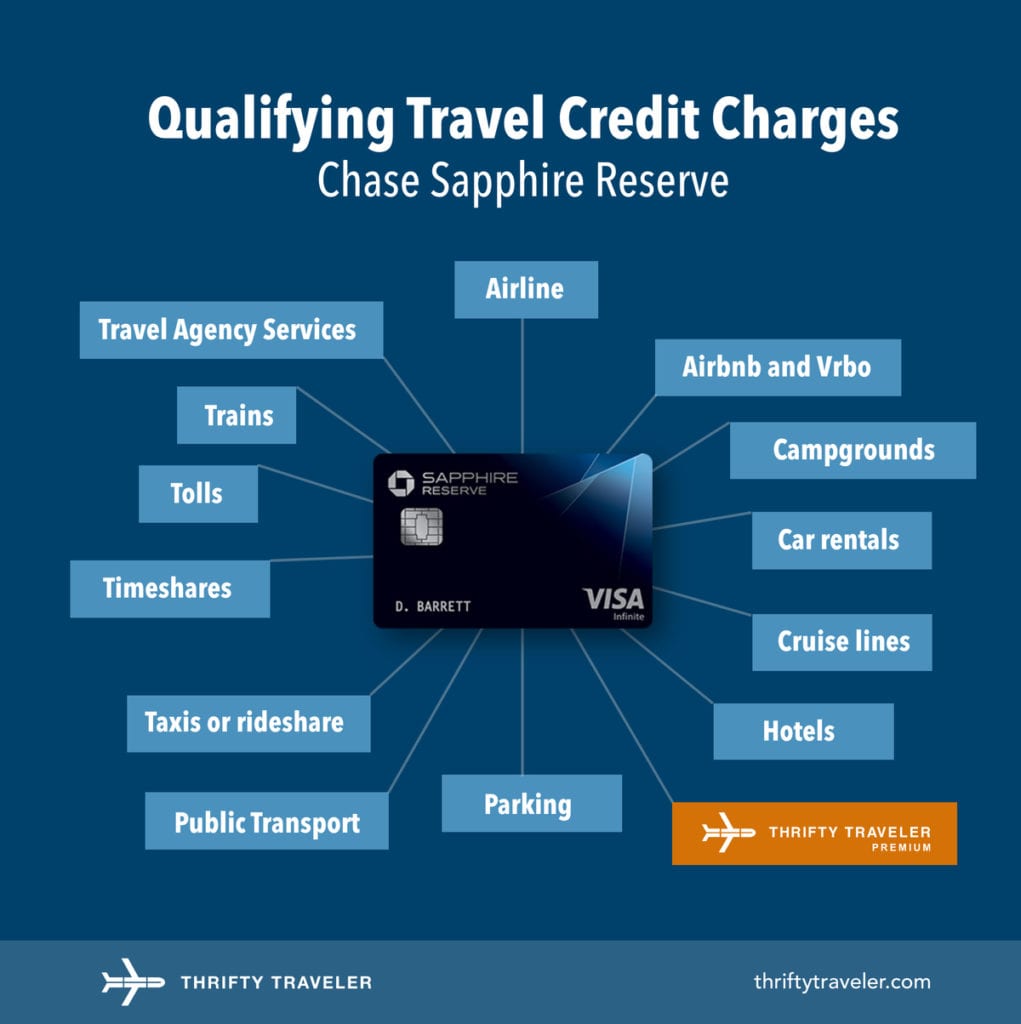 Read our guide to using the $300 Sapphire Reserve Travel Credit
$50 Sapphire Preferred Hotel Credit
The *chase sapphire preferred* offers a $50 statement credit to cardholders each year that can be used towards booking a hotel through the Chase Ultimate Rewards travel portal.
To take advantage, all you need to do is use your Sapphire Preferred Card to book and pay for a hotel stay of at least $50 through the Chase travel portal and you'll receive an automatic statement credit for up to $50 each year. Note that this credit expires on your cardholder anniversary rather than at the end of the year.

Unlike other credit cards offering benefits like this, there is no minimum spend or length of stay requirement. No registration is required! This statement credit kicks in automatically.
Read our guide to using the $50 Sapphire Preferred Hotel Credit
Delivery App Credits
Chase and American Express offer some cardholders free monthly credits for delivery sites like Uber, GrubHub, GoPuff, and more. While these are credits you'll get annually, they're typically dealt out in installments – and if you don't use them up, you'll lose out on them entirely.

Amex Uber Cash
If you have an Amex Platinum Card or *amex gold*, you are eligible to receive a monthly $15 or $10 Uber Cash credit after enrollment, respectively. This is a great way to help offset the annual fee of either card. With the Amex Gold Card in particular, receiving a total of $120 of Uber Cash a year practically cuts the $250 annual fee (see rates & fees) in half.
You could use your Uber Cash towards rides booked on the Uber app or to order food for delivery through Uber Eats. Just remember, Uber Cash does not roll over to the next month and any unused credits will expire on the last day of the month. 
Platinum cardholders get up to $35 in Uber Cash credits in December (for an annual total of $200 in credits), so it's even more important to remember to use that up before year's end.
Thrifty Tip: For Uber Eats orders, opt for picking up instead of delivery to save on the additional fees and tipping.

Better yet, if you have both the Amex Platinum and Gold Card, you could use the total of $25 Uber Cash together for your transactions each month.
Read our guide to using the Amex Uber Cash credits!
$120 Amex Gold Dining Credit
Speaking of the Amex Gold Card, you also get a monthly $10 dining credit up to $120 a year. That combined with the Uber Cash credit makes your Amex Gold Card practically free to hold, so long as you use up those credits.
After enrollment, any purchases through Grubhub, The Cheesecake Factory, Goldbelly, Wine.com, Milk Bar and select Shake Shacks will activate a $10 statement credit. Just remember, this dining credit does not roll over to the next month and your unused balance will expire by the end of the month.

My favorite way to use this credit is at Shake Shack in Seattle since it's nearby but I have used this with GrubHub for pick-up orders as well.
Read our guide to using the $120 Amex Gold dining credits!
GoPuff
GoPuff is a little-known online service that delivers everyday essentials like groceries, toiletries, and office supplies to more than 1,000 U.S. cities. And Chase has an ongoing promotion with GoPuff giving cardholders a reason to use it: A $10 monthly credit for virtually any Chase credit card. Just use it on an eligible purchase of at least $10 on the GoPuff app or website each month, and you'll get a $10 statement credit. Use them all up, and you can get up to $120 a year.
The best part? If you've got multiple Chase credit cards in your wallet, you can get $10 a month with GoPuff on each of them. You'll just have to make purchases separately on each card. These monthly credits don't roll over, so you'll lose whatever balance you have left at the end of the month. 
Unless it's extended, this promotion is slated to end on Dec. 31. So remember to take advantage of this GoPuff credit on your Chase credit card while you still can.

Read our guide to using the Chase's monthly GoPuff $10 credit!
$100 Amex Platinum Card Saks Credit
Just for holding the *amex platinum*, you get $100 in credits annually to use online or in-store at Saks Fifth Avenue. These credits are available in two installments: One $50 credit will be available from January through June and you'll get another one to use from July through December.
That means time is running out to use the second $50 credit for 2023. You've got through Tuesday, Dec. 31 to use this $50 Saks credit or lose it. While Saks isn't known as the most thrifty place to do your shopping, there are plenty of fun travel items worthy of your $50 credit, whether you are looking to treat yourself or take care of some holiday shopping. Don't wait until the last minute to buy, though: The credit won't kick in until an item is actually shipped.
Once you hold the card, you will need to log into your American Express account and activate the credit. To do this, head to the benefits tab.


From here you will click to enroll in the benefit. Once enrolled, you can head to a Saks Fifth Avenue retail store or www.saksfifthavenue.com to spend your $50. If you do your spending before you enroll in the benefit, you will not receive the statement credit.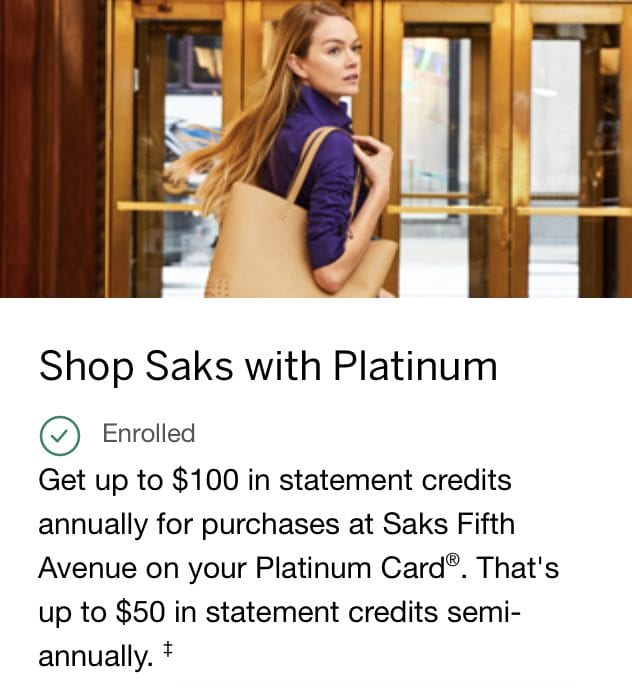 I used my $50 credit earlier this year to get an almost free phone charger after using a discount code and accounting for shipping costs. As you can see, the credit appeared shortly after making my purchase.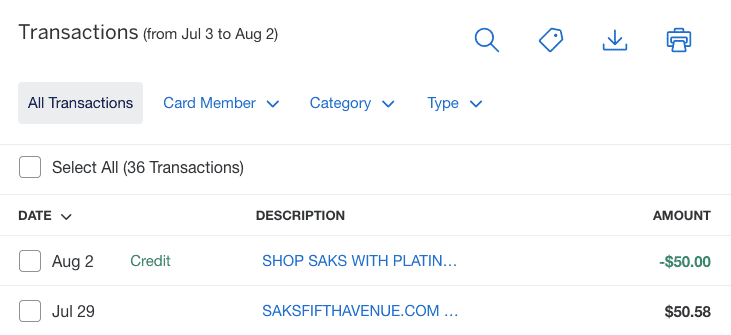 Read our guide to using the $100 Amex Platinum Saks Credit!
$240 Amex Platinum Digital Entertainment Credit
If you hold the *amex platinum*, you can get up to $20 in statement credits each month when making direct, eligible purchases on Disney+, a Disney Bundle, ESPN+, Hulu, The New York Times, Peacock, SiriusXM, and The Wall Street Journal.
If you're like me, you like to have a good mix of streaming platforms and online publications to watch and read. Getting up to $240 of value a year is a major discount for subscriptions that are sure to add up without this Amex Platinum Card benefit. It's another great way to cancel out that $695 annual fee.

You have to enroll to get the credit, but once you do, simply charge your subscription for these services to your Platinum Card and it will kick in to cover up to $20 a month. And you might as well use it all up, as unused credits do not roll over from month to month. This is a use-it-or-lose-it perk.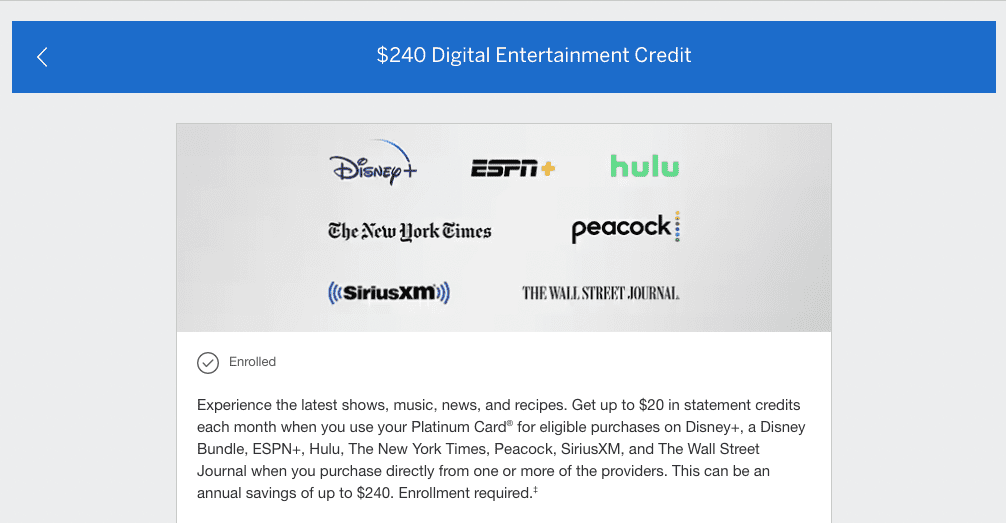 Read our guide to using $240 Amex Platinum Entertainment Credit!

CLEAR Credits
CLEAR® Plus is a privately run trusted-traveler program that uses both fingerprint and iris identification technology that expedites travelers' experience going through airport security.hat takes both your fingerprints and iris scans to confirm your identity before security screening.
Once you have been cleared at the CLEAR kiosk, ambassadors escort you to the front of airport security lines to have your boarding pass checked by a TSA agent. CLEAR® Plus allows you to jump to the front of the general screening security line – or if you also have TSA PreCheck, the front of the PreCheck line. Currently, CLEAR Plus is available at over 50 airports across the U.S. and counting.
CLEAR Plus comes with a hefty price tag of $189 a year. Fortunately, the Amex Platinum Card and *amex green* have you covered by providing an annual CLEAR® Plus credit of up to $189, enough to cover the entire cost of enrollment. 
The Green Card charges an annual fee of $150 (see rates & fees), meaning this CLEAR credit essentially makes the Green Card free to hold. Just be sure to use your applicable Amex card to pay for the service directly.

Read our full guide to cards that cover the $189 CLEAR fee!
Bottom Line
The sheer number of credits and perks you get with travel rewards cards can be overwhelming, and it's easy to lose track of all the different ways you can save.
Whether it's ordering in with Uber Eats or booking a five-star hotel for you and your loved ones, scan through this list to see if there are any perks on your card you haven't used up yet, and start plotting how you're going to take advantage of them before the end of the year.