With three airports bursting at the seams, no U.S. city sees more planes in and out, the Port Authority of New York and New Jersey says nearly 6.8 million passengers passed through LaGuardia (LGA), John F. Kennedy (JFK), and Newark (EWR) in January 2022. That insane amount of air travel competition might be your ticket to cheap flights to New York City this year.
New York's trio of airports are three of the busiest in the U.S., all scattered around Manhattan within 20 miles or so but serving different purposes and catering to different types of travelers. Newark and JFK, in particular, are global gateways that connect travelers to six continents.
All that traffic in and out makes New York City a magnet for budget-conscious travelers using positioning flights, but the city is one of the world's great destinations in its own right – in fact, it can be overwhelming. Start with our guide to what's worth it and what's not in New York City as well as the city's can't-miss tastes. There's no one way to do New York City, so don't let anyone tell you otherwise.
No matter what your trip entails, there are some cheap flight tips you should examine as you book.

Which New York City Airport Should I Fly To?
New York's big three LaGuardia (LGA), Kennedy (JFK), and Newark (EWR) airports can connect you to almost every corner of the U.S. and around the world, making it one of the best transit hubs on the planet. But from their locations to which airlines fly in and out, each one is different – and each comes with its own set of advantages and disadvantages, depending on your travel plans.
Notably, none of them are on the island of Manhattan, which is home to most of the most popular tourist sites in the city. For this reason, it's important to consider your post-flight travel plans when you're booking.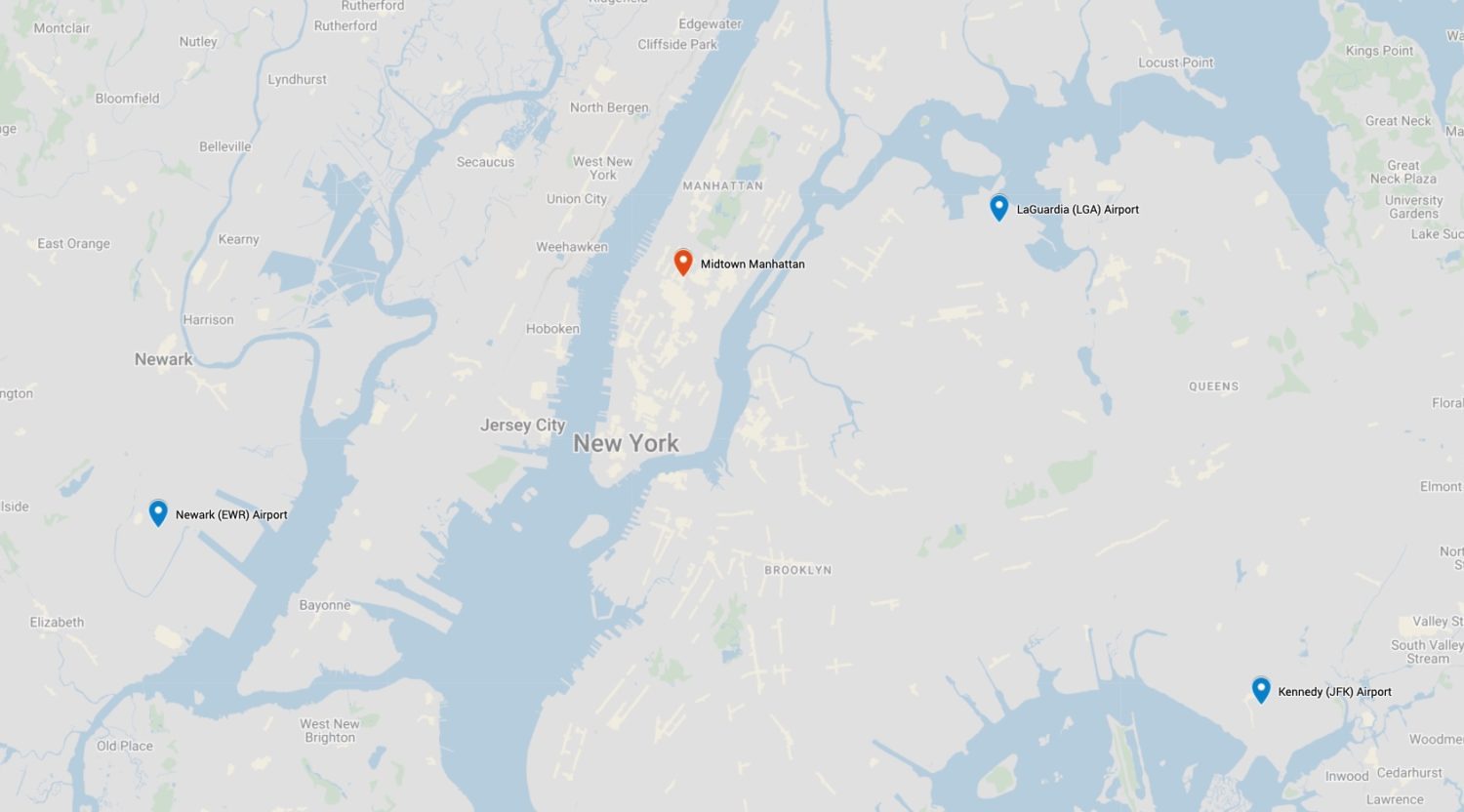 There's plenty to consider when choosing an airport for your journey to New York. Putting in your final NYC destination into Google Maps can help you get a baseline understanding of your options to get into the city so you can make a decision.
LaGuardia
Travelers flying into New York City may ask: What do New Yorkers think is the best airport? For many New Yorkers living in Manhattan, LaGuardia (LGA) is often their first pick.
Getting from LaGuardia into Town
While you cant get to or from Manhattan and LaGuardia via public transportation (at least directly), New Yorkers are usually willing to stomach a ~$40 Uber to get to the airport quickly, especially when you're bringing bags.
Cheap Flights to LaGuardia
LaGuardia Airport has far fewer international travel options than JFK or EWR, but is the domestic travel preference of most New Yorkers. The recently renovated Terminal B has also made traveling through the busy airport much easier – with an overhauled Terminal C for Delta underway, too. Its old dreary, tight terminals are a thing of the past, which is a welcome change for travelers. Plus, Terminal B is now home to the wonderful LGA Amex Centurion Lounge.
LaGuardia offers from almost every major U.S. airline. Most notably, it's the only New York City airport with Southwest Airlines service. 
There are dozens of destinations here and abroad that you can reach with a flight from LaGuardia and vice versa, including some really great values. Thrifty Traveler Premium members were sent a New York City flight deal recently that had tons of cheap fares flying into LaGuardia, including this one.

Want to see some more deals like this? Sign up to get our alerts for cheap flights for free! Or upgrade to Thrifty Traveler Premium to get even more alerts, including premium cabin and award sales from your home airport, for $50 a year!
Cheap flights to and from Charlottesville (CHO) are not easy to find, but heavy competition in the New York City area from nearly every U.S. airline spurred this $77 roundtrip fare. But sub-$100 fares to New York City are available from even farther away, including this flight from Orlando (MCO).


Being the closest airport to Manhattan makes LaGuardia the most popular way to visit the city … but flight deals like these one don't hurt the airport's cause, either!
John F. Kennedy
New York City's John F. Kennedy Airport (JFK) might be the most famous airport in the world. Its deep roster of airlines and seemingly endless nonstop routes around the globe make it extremely popular among travelers. Look out the window at JFK and you'll see a cacophony of multi-colored jets coming and going to and from the farthest reaches of the globe.
Getting from JFK into Town
JFK is well-connected by public transportation … kind of. But that journey can take up to an hour or more to get to or from Manhattan.
To JFK from Brooklyn or Manhattan, you can take the subway all the way to the AirTrain. Unless you're staying staying around the Jamaica area of Queens, JFK is multiple trains away. Depending on your tolerance for public transportation, that could add a lot of stress to your journey. If you're packing light and are a subway pro, however, it's by far the most affordable option.
Getting there by car can be a crap shoot, too. Those rides can take anywhere from 40 to 90 minutes depending on traffic. Tunnel closures have caused many a New Yorker to miss flights in the past.
Cheap Flights to JFK
JFK is an Delta and jetBlue hub – and to a lesser extent, an American Airlines hub, too. That means finding a cheap flight there is pretty easy no matter where you are on the continent, like this fare for almost $75 all the way from Dallas-Fort Worth (DFW).

Like all the airports around New York City, the sheer volume of traffic in and out of the area creates heavy competition among the airlines. This is especially true when flying to and from other airline hubs like Dallas. That all makes finding a cheap flight to JFK doable.


Sub-$100 fares into New York City are not out of the ordinary. Our team of flight deal analysts at Thrifty Traveler Premium dig these up all the time. JFK and its enormous network of nonstop options play a huge part in creating low, low fares like this.
Plus, once inside, travelers can get treated to some fantastic lounge options. The Amex Centurion Lounge JFK is a fun one, as is the Virgin Atlantic Clubhouse for travelers crossing the pond.
Newark
New Jersey gets a bad rap in general, and Newark Liberty International Airport (EWR) might sometimes suffer the same fate despite being an enormous world gateway and home to tons of cheap flights.
Getting From Newark into Town
To get to Newark, you have to take the New Jersey commuter train system before getting to that airport's AirTrain. That's in addition to whatever it takes to get you to Manhattan's Penn Station, where you can get on the New Jersey trains. But if public transportation is your bag, Newark might just be the best option of the trio or a cheaper and faster trip to and from the airport.
Many New Yorkers try to avoid driving to New Jersey as tunnel closures and traffic can make your travel time vary. Plus, the trips can get pricey. For instance, the tunnels to New Jersey can carry expensive toll fees, which can add as much as $20 to your Uber cost.

Cheap Flights to Newark
Newark is known as the United hub of the New York City area, and with dozens and dozens of destinations from South Africa to Tokyo, it is truly a mega-hub for the U.S. carrier.
United travelers can get almost anywhere in the world from the airport located just across the river from Manhattan. But United's dominance ironically makes the airport ripe for some steep competition from other carriers – and that means some great flight deals.

Want to see some more deals like this? Sign up to get our alerts for cheap flights for free! Or upgrade to Thrifty Traveler Premium to get even more alerts, including premium cabin and award sales from your home airport, for $50 a year!
Again, the competition created by the hundreds of Newark, Kennedy, and LaGuardia flights a day allow for some incredibly cheap fares. Newark might just be the airport where you find your next bargain.
If you're departing Newark on a Star Alliance premium cabin ticket, may we please suggest you visit United Polaris Lounge Newark?. It's sublime.
How to Find Cheap Flights to New York City
Finding a cheap flight to New York City is relatively easy because of the size of those three airports. And because all three airports can have value, casting a wide net in your flight search is important if you're on the hunt for the best bargain.
It should always start with the same tool: Google Flights. It's the most powerful flight search tool there is, making it easy to find the best deal on flights. Start by entering in your departure airport. Then, in the destination airport box, simply type in "New York."

As you can see, when you type in "New York," Google automatically searches for all three major airports. That means you don't have to do individual searches or type in each one on its own.
Then just use Google flights' calendar tool to dial in the cheapest days to fly, you'll be given the cheapest fare into any one of LGA, JFK, or EWR. If you which of the three airports is going to work best for your trip, you can search for that specific airport, too.
But the single best way to find the very cheapest flights for your New York City trip is to subscribe to Thrifty Traveler Premium. We search for flights to New York every day and make sure to always send our members the best fares when we find them.

This recent deal showcased some of the cheapest fares we've ever seen from tons of U.S. airports … for a trip all through 2022 and into 2023. It wasn't just flights out of major hubs like Atlanta (ATL), Chicago (ORD), and Dallas (DFW) that got in on the fun, either.

From Duluth, Minnesota (DLH) to Chattanooga, Tennessee (CHA), we were able to unearth dozens of great fares to the Big Apple this year.
Getting to New York City for cheap is a great way to kick off a trip to a famously expensive city. But there's another great reason to keep your eye out for cheap New York City fares: Positioning flights.
Finding Cheap Flights from New York City
New York City's Newark (EWR) and Kennedy (JFK) are global gateways with more international airlines flying in and out than almost any other airport on the planet.
Each airport connects to hundreds of international destinations at some of the best prices you can find from the United States. But there's a tool at everyone's disposal that you can use to take advantage of those fares: Positioning flights, or cheap, domestic flights from your home airport to a different departure city, are a great way to save on international travel.
New York City is a great starting point for positioning flights, especially to Europe. Check out this flight to the Azores on United Airlines from Newark. This brand new United route offers huge savings on a nonstop flight to the beautiful Azores in peak season, but United won't always pass those savings along to flyers in other departure cities.

United won't sell you this sub-$200 connecting flight from Detroit (DTW) to Newark, but Delta will!

For just over $500, you're heading to the Azores with one quick connection in New York. Just be sure to give yourself plenty of time to make the connection with room to spare, in case things go wrong. If they do and you miss your transatlantic flight, you might be out of luck.
Had you booked the trip straight from Detroit on United, it will cost you almost $700.


This is one very small example of the power of positioning flights. You can virtually throw a dart at the globe and build a cheaper international trip by using New York City as a starting point.
Bottom Line
New York City's three major airports make it fertile ground for finding cheap flights. Whether it's a domestic or short-haul international flight from the newly-revamped LaGuardia, or flying into two of the great gateway airports of the U.S. in John F. Kennedy or Newark, there are countless ways to get to New York for cheap.
And thanks to those cheap flights, New York City is also among the best spot in the in the world to get a cheap positioning flight, allowing you to save hundreds on your next international adventure, too.