Just like with nearly all airlines, the good old days of free baggage when flying United are over. And United Airlines baggage fees can leave your head spinning.
From the fees you'll pay to the baggage allowance and everything in between, United baggage fees vary wildly based upon where you're going, what kind of ticket you have, your status with the airline, or what credit cards are in your wallet. You can even save a few bucks by pre-paying for your suitcase online.
But there are still a handful of ways you can avoid paying for baggage when flying United altogether. And considering U.S. airlines made almost $6 billion on baggage fees alone in 2019, it's worth paying attention to this guide to make sure you understand United baggage fees – and how to avoid them.
A Breakdown of United Airlines Baggage Fees
Like all airlines, the United baggage policy is complex. Exactly what you get free or what baggage charges you'll pay depends on what trip you're taking. Sometimes, you may get a bag for free. Other times, just one checked bag can cost you $60 or more.
Fortunately, United offers a handy baggage fee calculator on its website. Whether you've already got United flights booked or are just starting your planning, you can use the baggage calculator to find out what United fees you'll have to pay. For example, here's what the baggage calculator will show you for a standard domestic flight.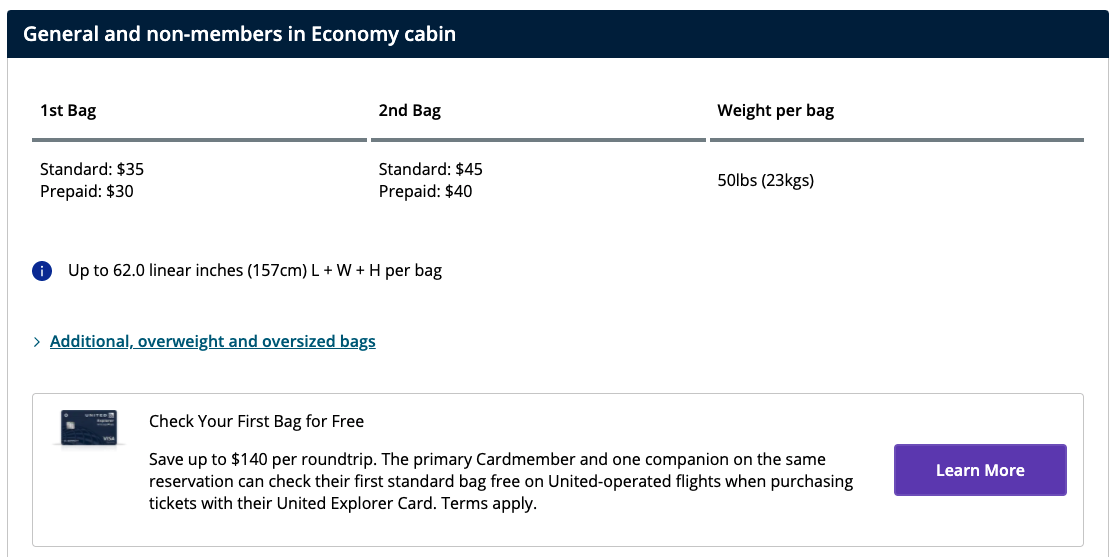 Thrifty Tip: By pre-paying for your baggage on United's website more than 24 hours before your flight, you get $5 off on flights within the U.S., to Canada, Mexico, and throughout the Caribbean.
Read more: United Raises Baggage Fees Unless You Prepay Online
But the biggest difference-maker in United's baggage fees is what kind of ticket you bought – and where you're flying. It varies depending on whether you're on the cheapest United basic economy fare, a standard economy ticket, or flying up front in premium economy (aka Premium Plus), business class, or first class.
We've broken down the cost of United Airlines checked bag fees below. One note: All the prices here factor in the $5 discount for paying ahead of time. If you wait, you'll have to pay an extra $5 on many flights.
And these prices are one-way, so double them for a round-trip ticket.
Basic Economy Baggage Fees
Flying United's cheapest basic economy fares means you may have to pay more for your bags, depending on where you're going.

| Destination | First bag | Second bag | Additional bags |
| --- | --- | --- | --- |
| Domestic | $30 | $40 | $150 |
| Mexico | $30 | $55 | $180 |
| Canada, Caribbean & Central America | $30 | $50 | $150 |
| Colombia | $30 | $55 | $150 |
| Ecuador | $30 | $40 | $150 |
| South America | $45 | $65 | $150 |
| Europe | $70 | $100 | $200 |
| Middle East & India | Free | $100 | $200 |
| Africa | Free | $100 | $200 |
| Asia & Australia | Free | $100 | $200 |
Economy Baggage Fees
United's baggage fee structure for standard economy fares is almost identical to basic economy with a few key exceptions: Checking a first bag to Europe and much of South America is free. And in some cases, checking a second bag is free, too.
Here's a closer look at the United economy baggage fee structure.
| Destination | First bag | Second bag | Additional bags |
| --- | --- | --- | --- |
| Domestic | $30 | $40 | $150 |
| Mexico | $30 | $55 | $180 |
| Canada, Caribbean & Central America | $30 | $50 | $150 |
| Colombia | Free | $55 | $150 |
| Peru | Free | $65 | $150 |
| South America | Free | $65 | $150 |
| Europe | Free | $100 | $200 |
| Middle East & India | Free | $100 | $200 |
| Africa | Free | Free | $200 |
| Asia | Free | Free | $200 |
| Australia | Free | $100 | $200 |
Premium Plus, Business Class & First Class Baggage Fees
For all Premium Economy fares and up, both of your first two bags are free. All additional and oversized baggage information is the same as for economy tickets.
What's better than a cheap bag? A cheap flight! Read our guide on how to find cheap flights and our favorite tool to find them, Google Flights! 
United's Carry On Bag Policy
What separates United from its domestic rivals like Delta, American and Alaska is its carry-on baggage allowance policy.
Travelers who book basic economy fares on United are only allowed to bring a personal item on board and are not permitted to bring a carry-on bag. You read that right: There's no carry on bag allowance with United's cheapest fares. You can only bring a backpack, small bag, or a purse.
Because of this policy, you're not even allowed to check in online with a United basic economy ticket. And if you try to bring a carry-on bag to the gate you'll have to pay the checked bag fee … plus another $25 gate service fee!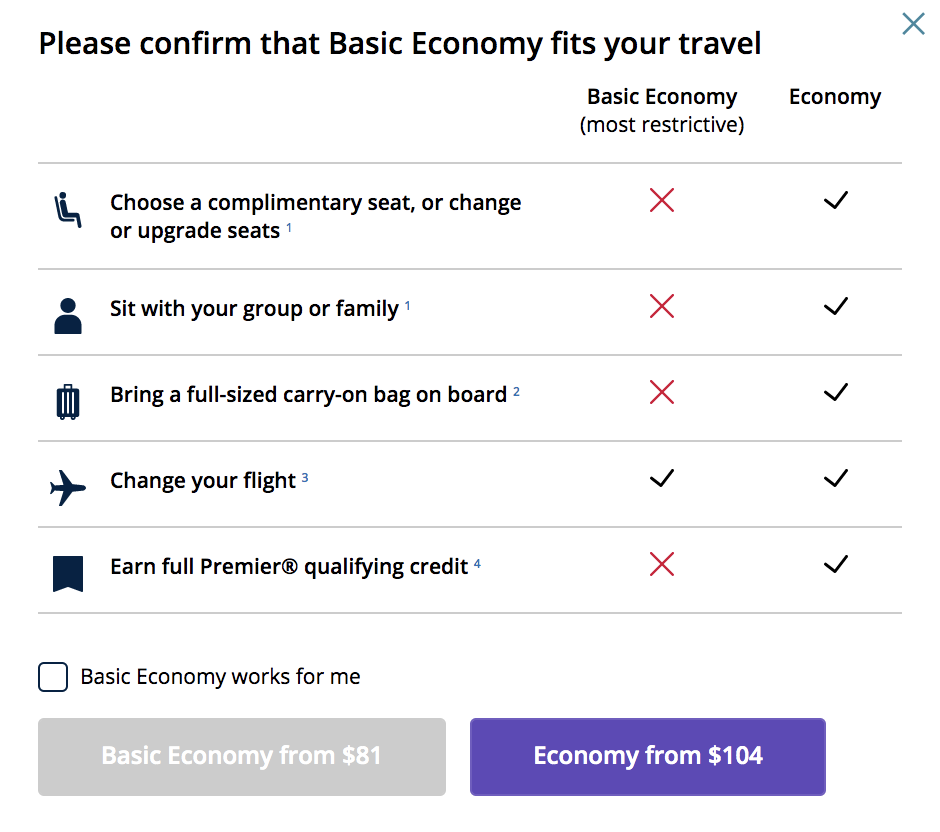 It's one of the most restrictive policies you'll find among basic economy fares on U.S. airlines and the reason United was the clear loser in our Battle of Basic Economy. That said, there are some exceptions that allow you to bring a carry-on bag on your United flight:
Transatlantic basic economy fares to Europe or the Middle East get to bring a carry-on.
So do transpacific flights on a basic economy fare to Asia.
If you've got a United co-branded credit card like the United℠ Explorer Card, you can bring a carry-on bag even when flying basic economy.
Flyers with United MileagePlus elite status can bring a carry-on bag on any United flight, regardless of their fare class.
So can flyers who have earned Star Alliance Gold status or higher.
Oversized Baggage, Strollers, Sports Equipment & More
Overweight and Oversized Baggage
If you have bulky, overweight baggage or oversize baggage on United, you could be on the hook for hundreds of extra dollars.
For starters, all baggage flying with United must be no more than 62 linear inches (or 157 centimeters). Just combine the width, height, and length of your bag to measure. Any bags from 63 linear inches to 115 inches will incur an oversize baggage fee of $200 apiece. And bags larger than 115 linear inches aren't allowed, period.
But when it comes to overweight bags, the standard checked baggage limits depend – once again – on what kind of ticket you've got. With a basic economy or economy fare, your bag can weigh up to 50 pounds:
Overweight bags from 51 to 70 pounds will get charged an extra $100.
Overweight bags from 71 to 100 pounds will get charged an extra $200.
Checked bags heavier than 100 pounds aren't allowed.
You get a bit more leeway with United baggage weight limits if you've got status or are flying business or first class: Bags can weigh up to 70 pounds. Anything heavier and you'll pay United's standard overweight fees.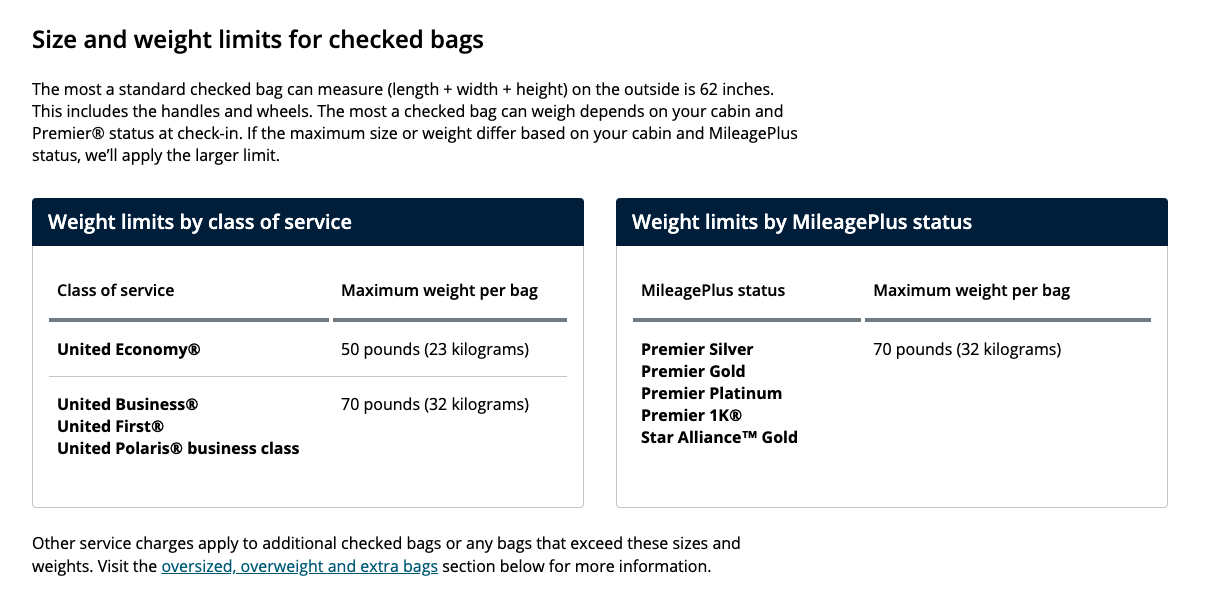 Other Baggage
Car seats and strollers: United accepts one free car seat free of charge for each child, in addition to a stroller or folding wagon.
Wheelchairs: Wheelchairs and other assistive devices are free on all United flights, so long as the devices can fit into the aircraft bin door.
Pets: In-cabin pets in carriers underneath the seat in front of you cost $125 and include a $125 upcharge for layovers over four hours in the U.S. or 24 hours outside of the U.S. PetSafe, United's way of checking larger pets to the final destination, has been suspended, according to the latest update from April 2021.
Skis and Snowboard Equipment: Passengers are allowed up to two snowboards or skis that count as a regular bag, so long as they adhere to weight and size restrictions – and you're in luck as almost all ski bags do.
One big thing for skiers to keep in mind: When checking skis or snowboards, travelers are also allowed to check a ski boot bag at no additional cost, so long as both bags are under 50 pounds.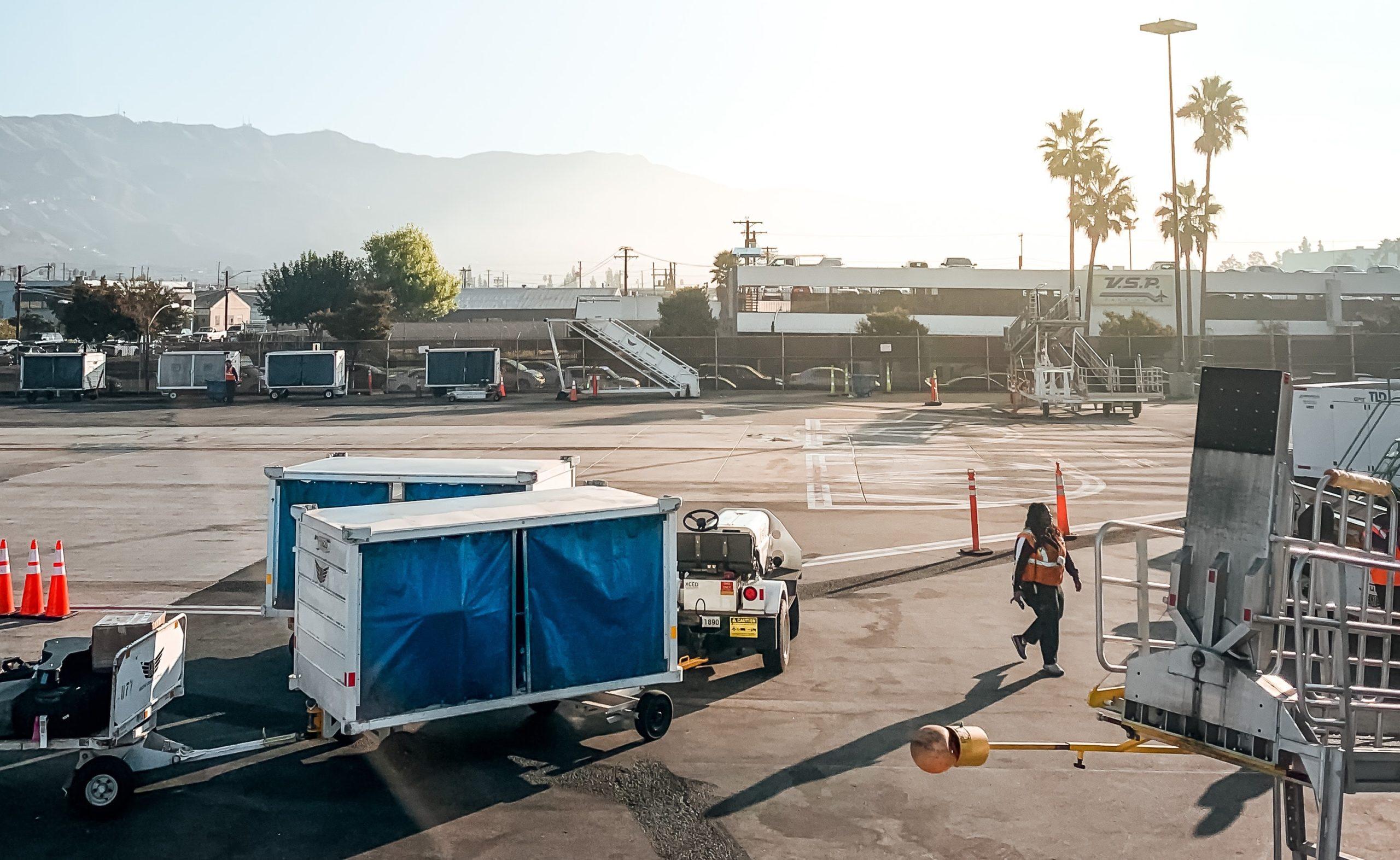 Bicycles: United charges cyclists $150 each way for bicycles in containers, so long as the container is less than 100 pounds and less than 62 linear inches.
Hockey and lacrosse equipment: Hockey and lacrosse equipment bags are charged the same as regular baggage, but they include two hockey or lacrosse sticks along with the bag at no additional cost.
Scuba equipment: $150 will be charged for every empty dive tank if it is under 50 pounds. United will charge $200 if it is above 50 pounds.
For other sports equipment policies (including policies for hang gliding equipment, windsurfing, and paintball equipment) visit United's website.
Baggage Alternatives: Subscriptions and Shipping
United offers a few alternatives to the traditional checked baggage system, allowing passengers to ship their luggage directly to their destination for a markup – or purchase a baggage subscription to avoid baggage fees when you fly.
A United baggage subscription give you up to two bags per flight. It won't, however, cover the additional fees for oversized or overweight bags. And whether it's worth it depends on how much you travel.
Subscriptions costs vary widely based on how many bags you want to check, how many travelers you want on your plan, and where you plan to go. It starts at $349 for a solo traveler checking bags only within the U.S. A solo plan to check two bags on any United flight worldwide jumps to $799. The subscriptions plan for two travelers, two bags anywhere in the world is $899.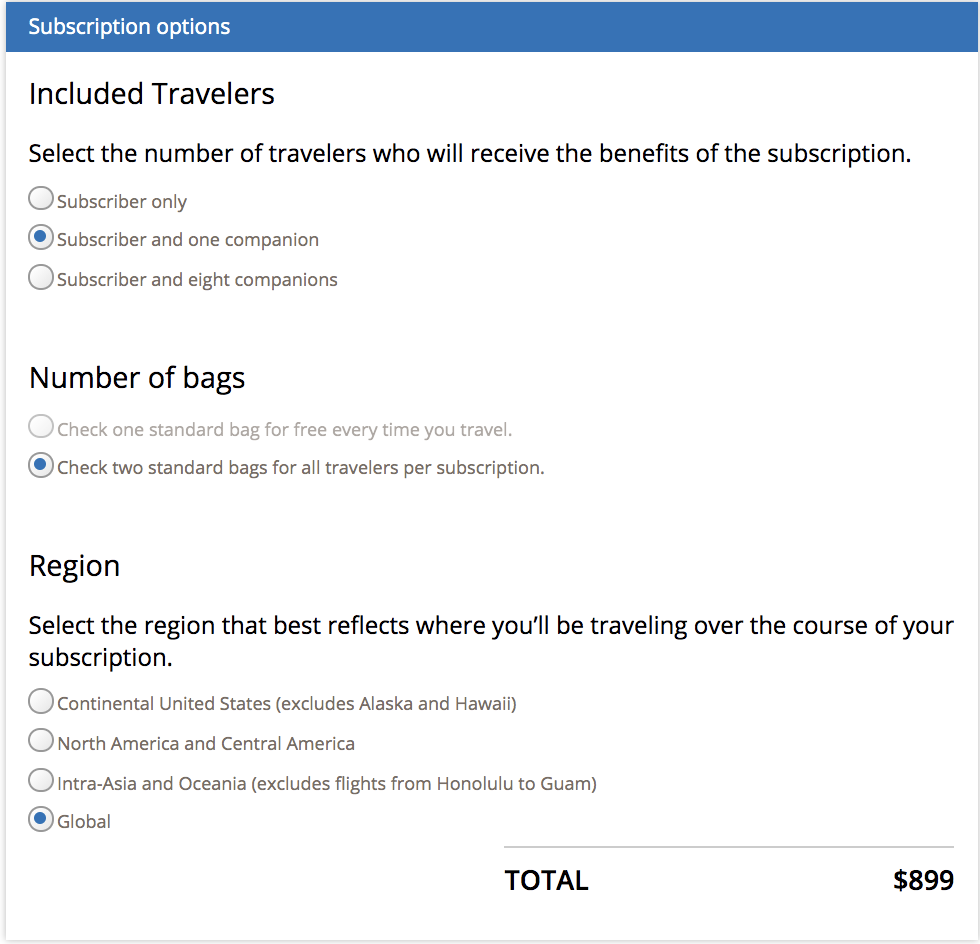 Read more on United's baggage subscription package.
United's partnership with BagsVIP offers an alternative to waiting for bags at baggage claim, getting them into transportation, and getting them to your destination by shipping them for you instead.

If your final destination is within 100 miles of your arrival airport, you can use the BagsVIP delivery service by checking your bags at the airport. Within 4-6 hours of your arrival, your bags will arrive at your address. For destinations within 40 miles of the airport, delivery of one or two bags costs $40 on top of the cost of checking the bag. All other bags after the first two are $10 each. For destinations more than 40 miles from the airport, an additional $1 per mile fee also applies.
Before you sign up for this service, make sure BagsVIP services your destination airport.
But are either of these alternatives worth it? It depends on how much you travel and how much you value the convenience. You'll have to do the math for yourself – and consider that there may be ways to save on baggage by avoiding United Airlines baggage fees.
How to Avoid United Airlines Baggage Fees
No one likes paying baggage fees whether you've got a flight with United or another carrier. Fortunately, there are a handful of tips, tricks, and tools you can employ to avoid paying United fees for baggage altogether.
Thrifty Tip: All active duty or retired U.S. Military personnel, traveling on orders, relocations, or just personally, receive two free bags on all United flights.
Pack in Just a Carry-On Bag
The first way to avoid paying baggage fees with United can be completely free. You just have to pack a bit less.
Unless if you bought a United basic economy ticket, you can always bring a carry-on bag (plus another smaller personal item like a backpack or purse) for free.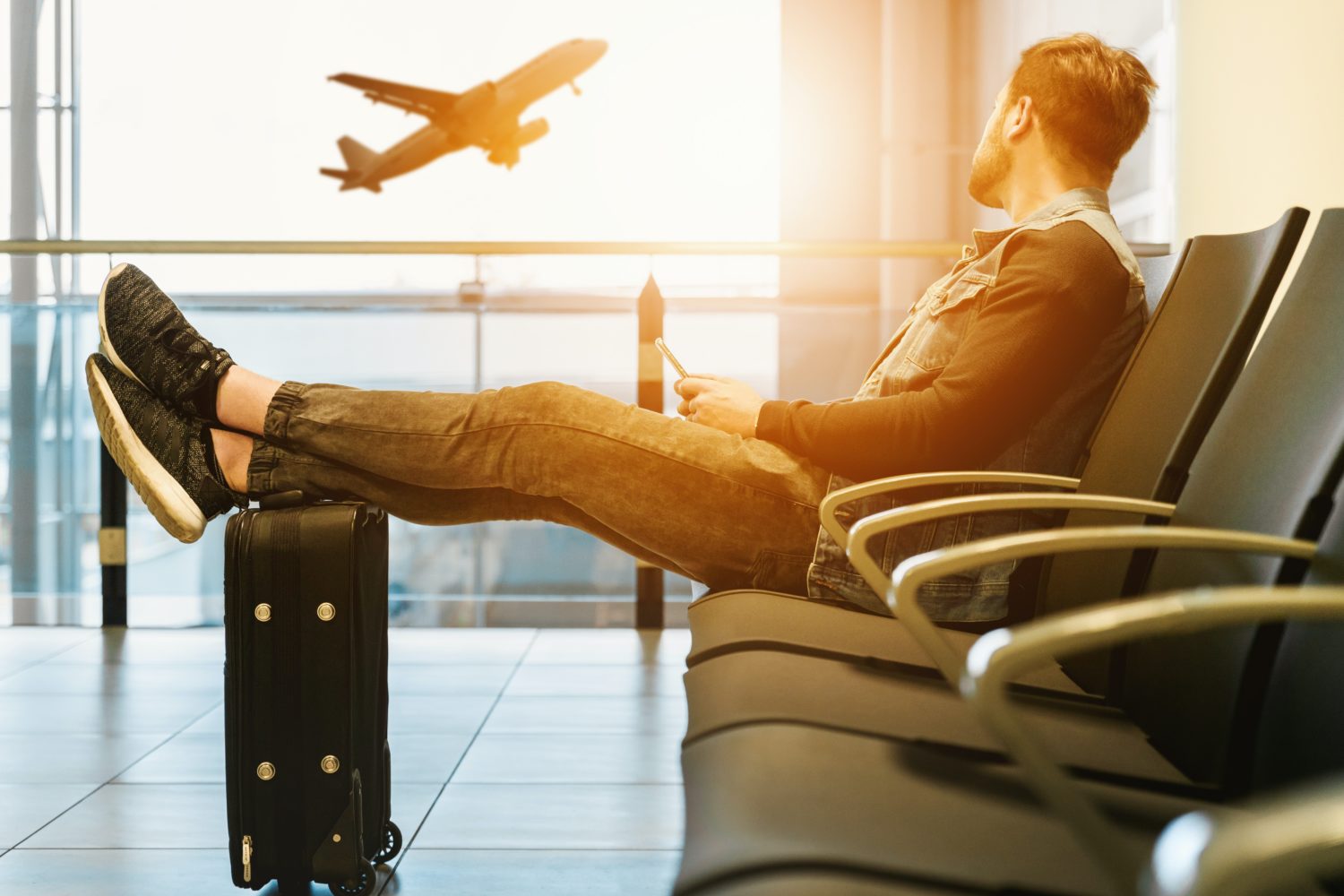 While it will save you money, packing into a carry-on bag can also save you time and stress. There's no more waiting to check in your luggage or grab it from the baggage carousel. You don't have to worry about the airline losing your bag anymore – it's with you at all times.
Packing into a carry-on bag when you're used to taking a 50-pound bag on every trip can feel daunting, but we promise it can be done. Follow our tips and you'll be a proud member of team carry on in no time.
Check out some of our favorite carry-on bags if you need to pick one up.
Fly Up Front in Premium Plus or Higher
Whether you're flying in Premium Plus (United's name for Premium Economy), first class, or a United Polaris business class ticket, you get two free checked bags on every United flight.
What's more, flyers with these tickets get a more generous United baggage allowance: Bags can be up to 70 pounds.
After that, baggage is subject to the normal economy fees.
Hold a United Credit Card
Almost any co-branded United credit card will get you a free first bag when you fly with United. But there's one hitch: To get a free bag, you have to pay for your flight with your United credit card.
Read more: Do You Have to Pay With Your Airline Card to Get Free Bags?
The cheapest option is the United℠ Explorer Card, which gets you one checked bag free on any United-operated flight. What's more, you'll also get a free bag for one companion booked on your reservation.
Considering bags cost at least $30 each way, you can come out ahead on the card's $95 annual fee after just two roundtrip flights. And the Explorer Card's annual fee is even waived for the first year!
Click Here to get more details on the United Explorer Card.
It gets even better with the United Quest℠ Card, which will get you and your companion two checked bags free on any flight. when you pay for your flights with the card. If you check a lot of luggage, the savings there can be substantial, easily outweighing its $250 annual fee.
Click Here to learn more about the United Quest Card.
The top-tier United Club℠ Infinite Card also gets you two free checked bags, but its $525 annual fee means it's not the right fit for most travelers.
Earn United or Star Alliance Status
Almost any level of United or Star Alliance status will also give you free bags. But just what you get depends on how high you climb.
Here's a breakdown:
| Status | First bag | Second bag |
| --- | --- | --- |
| United Premier Sliver | Free | $45 |
| United Premier Gold, Platinum, or 1K | Free | Free |
| Star Alliance Gold | Free | $45 |
United Premier Silver, Gold, Platinum, and 1K members all receive at least one free bag. That means even entry-level status holders with United get a free bag.
But if you're earning Star Alliance status through a partner carrier, you have to earn Star Alliance Gold to get a free bag on United. Star Alliance Silver status members have to pay United's usual baggage fees unless they are military members, cardholders, or purchased a fare that includes baggage.
Bottom Line
As with any airline, look before you book with United.
United Airlines baggage fees can be confusing – and they're constantly changing. Exactly what you'll have to pay to check a bag depends on what fare you buy, where you're going, and what you've got in your wallet.