We Americans are blessed with one of the world's best winter getaway destinations nearby. Yes, the Caribbean: pristine beaches, impossibly blue water, and picture-perfect weather. Ahhhh…
But the Caribbean is no secret: Everyone wants to go as soon as temperatures drop and snowflakes fall. That demand can be a recipe for high fares, leaving you stuck in the cold … but not always. Year in and year out, we see some great cheap flights to the Caribbean destinations travelers love. Lucky for you, 2023 is no different.
Whether you're looking for a passport- and hassle-free trip to Puerto Rico or the U.S. Virgin Islands for $261 or less; an exotic escape to the beaches of Turks and Caicos or Curaçao for $277 roundtrip; or a honeymoon-ish jaunt to an island you've never heard of for cheap, here are the best spots to look for a Caribbean escape for less.
The Easiest Caribbean Destinations
When it comes to easy Caribbean travel, two destinations stand out: The U.S. Virgin Islands and Puerto Rico.
Why? Because you don't need a passport to visit either spot – getting there and back is as easy as traveling to Chicago! And if you time it right, it can be as cheap as flying to Chicago, too…

This flight deal we sent Thrifty Traveler Premium subscribers just a few days ago could get you to St. Croix (STX) for less than $400 from dozens of U.S. cities.
Just to the west, you could make your way to Puerto Rico for a similar price.

Aguadilla (BQN) is the western-most beach town of the island of Puerto Rico. It's a haven for surfers and snorkelers alike, and you can fly directly there from the mainland U.S. and avoid the city of San Juan and head straight for the ocean.
Flight deals to places like Ponce (PSE) and San Juan (SJU) in Puerto Rico are also pop up regularly. We've sent deals to both hot spots within the last few weeks as well.
Classic Caribbean Favorites
If you're willing to dust off the passport, there are some Caribbean hot spots that are ripe for cheap flight deals. None is more popular or famous than The Bahamas, and cheap flights into Nassau (NAS) aren't too hard to find.
Here's just the first half of cities that benefitted from a nearly nationwide deal down to the Bahamas for as low as $258 roundtrip. Our members from Albuquerque (ABQ) and Minneapolis-St. Paul (MSP) were both treated to these low fares to a Caribbean hotspot all winter and into the fall of 2023.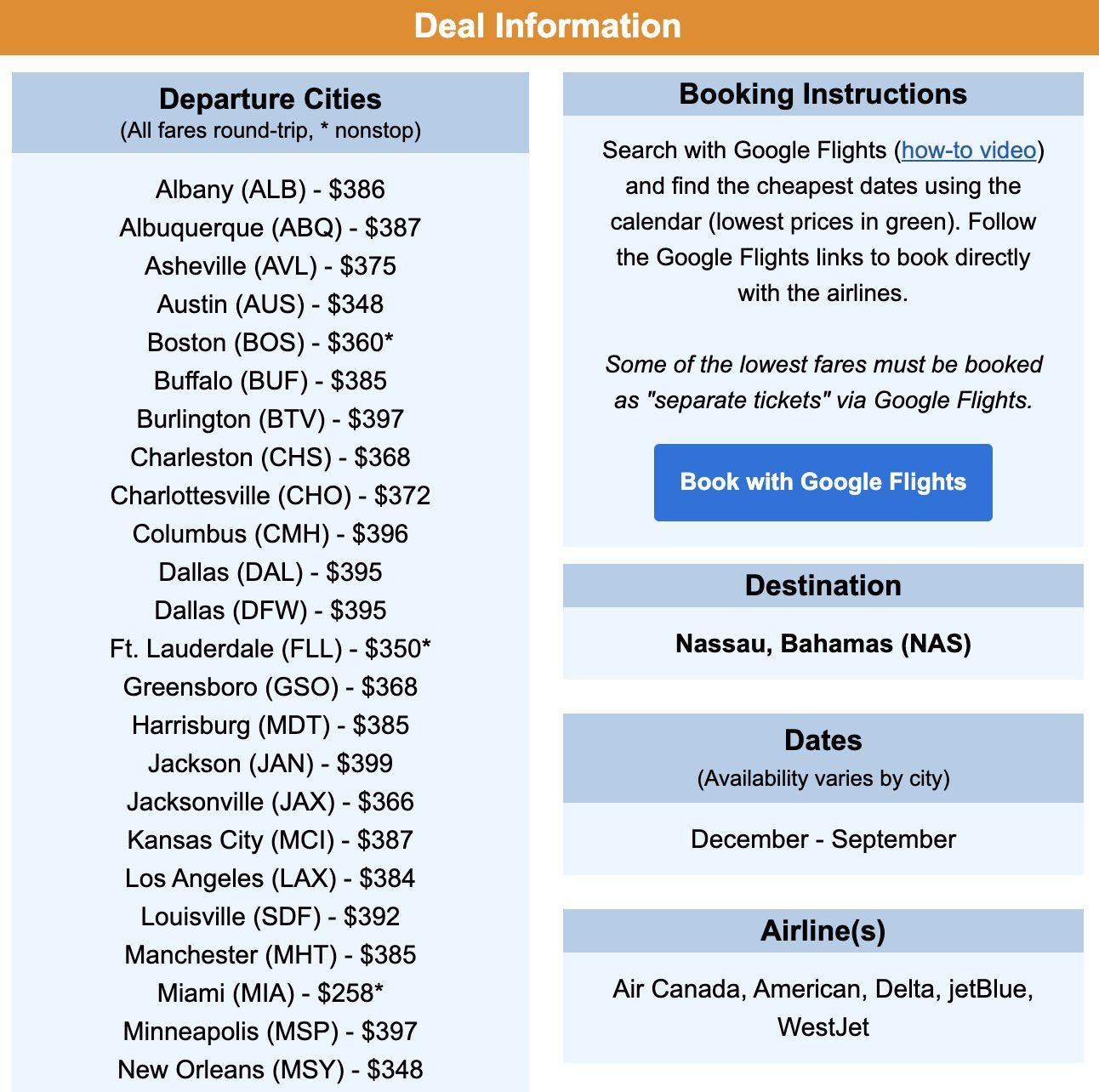 Here's another one you've probably heard of … but at a price I'd bet you've never imagined: Turks and Caicos for under $300? Nonstop! Roundtrip?! This was a boon for our New York-based subscribers, and a sweet little trip in the heart of winter, too.

These fares are gone now – get the next deal in your inbox with Thrifty Traveler Premium!
Escaping winter in the Dominican Republic also sounds pretty great right about now. And we've seen dozens of sub-$400 flights to get there in 2023, too.

And don't forget about the Cayman Islands! Seven-Mile Beach on Grand Cayman is one of the most famous beaches of the Caribbean. And whether you live in Providence (PVD) or all the way on the west coast in San Jose (SJC), you could get there for as low as $391 (or even less!) roundtrip.

And finally, we'll take it slow down in Jamaica. Montego Bay (MBJ) is another great Caribbean destination for cheap flights, and 2023 is no different.

With fares like this one from Philadelphia (PHL), you can see why Jamaica has made this list.
The Most Unique Caribbean Destinations
Let's get off the beaten path with some exotic destinations where cheap flights may not be the norm … but where we've found some awesome deals nonetheless.
We'll start with the island nation of Curaçao, a stunning island covered in beaches and coves. It's the kind of out-of-the-box adventure that can cost a small fortune … but with fares as low as $337 roundtrip, it doesn't have to.

You can file Trinidad and Tobago in the same category. I'll cop to not knowing how beautiful these islands were until we found this deal. Now it's rocketing up my bucket list.

You might have heard of St. Maarten (SXM) or at least seen wild photos like this one from Maho Beach, where the plane you landed on yesterday might be making an up close and personal landing right over your beach chair the next day!

Nothing sounds as fun or exotic as saying, "I'm heading to Barbados." But you'd better get used to saying it with fares this low.

I'll let this photo do the talking for our next destination.

Getting from the west coast to the Caribbean for cheap is notoriously hard, but this flight deal we sent to Thrifty Traveler Premium members to St. Lucia (UVF) included both Los Angeles (LAX) and Las Vegas (LAS) with sub-$385 fares. And St. Lucia isn't just a beach trip, either: As you can see, it's a mountainous country, with tons of incredible hiking in the Pitons. It's bucket list fodder of the highest order, and deserves a spot on your list.
I may have saved the best for last, but I am biased: I booked one of our latest deals to Cuba! This deal takes you straight into Varadero, Cuba (VRA), home to some of the Caribbean's finest beaches.

If you're thinking, "Wait, can I go to Cuba?" The answer is yes! You can (and you should!) visit Cuba. Just read over our guide from Thrifty Traveler co-founder Nick Serati, who had a fantastic trip down there pre-pandemic.
Bottom Line
If you're looking for the cheapest destinations in the Caribbean for a trip in 2023, you're in luck: There's plenty to choose from.
Whether it's an off-the-beaten-path getaway to Cuba, a tried and true escape to the Bahamas, or an easy-peasy hop down to the Virgin Islands, there's a cheap Caribbean flight for every traveler.