Flight prices may be skyrocketing, but cheap flight deals are out there … if you know where to look. Just ask our Thrifty Traveler Premium and Thrifty Traveler Premium+ members.
In the last week alone, we've sent our subscribers more than 20 amazing flight deals, including some jaw-droppingly cheap fares for a trip this summer when other travelers are paying an arm and a leg for flights. Delta flights to Europe in August that normally cost $1,500-plus … for 60,000 points (or less!) roundtrip? Sub-$200 flights to Hawaii? And even some rare fares to pricey domestic summer destinations like Cape Cod, Martha's Vineyard, and Nantucket?! Check, check, and check.
We've got a team of eight flight deal experts scouring the globe for the best flight deals every day for our Thrifty Traveler Premium members – departing from more than 200 U.S. airports. To give you an idea of just how good the deals can get even as airfare elsewhere looks ugly, we've narrowed it down to the best three deals of the week. So, without further ado…
Learn more about how Thrifty Traveler Premium (and Premium+) flight deal alerts work!
Summer Flights to Europe on Delta for 60K (Or Less)
Flying Delta – or any airline, really – over to Europe this summer is going to be an expensive endeavor. Expect to pay $1,500 or more. And you'll need a mountain of Delta miles: 120,000 SkyMiles or much more.
Or you could do this instead.

Get award alerts to use points and miles from your home airport like this one with Thrifty Traveler Premium+ – plus cheap cash fares, too!
That's right: You can book Delta-operated nonstop flights to Europe in the middle of peak summer using Virgin Atlantic Flying Club points. And for just 30,000 points each way, it's an absolute steal for any and all of these routes.

Got Capital One Venture miles from a card like the Capital One Venture X Rewards Credit Card? It gets even cheaper: Thanks to a 30% transfer bonus to Virgin, you could book these flights by transferring just 46,200 Capital One miles over to Virgin.
These are some of Delta's most popular routes, too. Just look at this example fare from Minneapolis-St. Paul (MSP) to Paris-Charles de Gaulle (CDG) in August.

And here's what those exact same flights would cost you in cash.

You could even fly into one European city and fly home from another, all for just 60,000 points and under $100 in taxes and fees. This provided some sweet relief people planning Europe trips this August.
Sub-$200 Roundtrip Flights to Hawaii
Nothing beats cheap flights to Hawaii, so imagine how we felt when we found these sub-$200 fares to all four major Hawaiian islands!

Only Thrifty Traveler Premium members get email alerts for these deeply discounted fares!
From a handful of West Coast gateways, these flights on either Alaska Airlines or Hawaiian Airlines were your ticket to a crazy cheap island getaway.

The lowest fares on this deal were $180 roundtrip flights, including this one from Los Angeles (LAX) to Maui (OGG) for a trip later this spring.

Cheap Summer Fares to Cape Cod, Martha's Vineyard & Nantucket
Of all the price jumps we've seen for flights lately, the uptick in domestic fares has been hardest to swallow. Safe to say we weren't expecting this one – even in good times, cheap flights to pricey summer getaway destinations like Cape Cod, Martha's Vineyard, or Nantucket don't come around often.
But that's just what we found this past week. Check it out.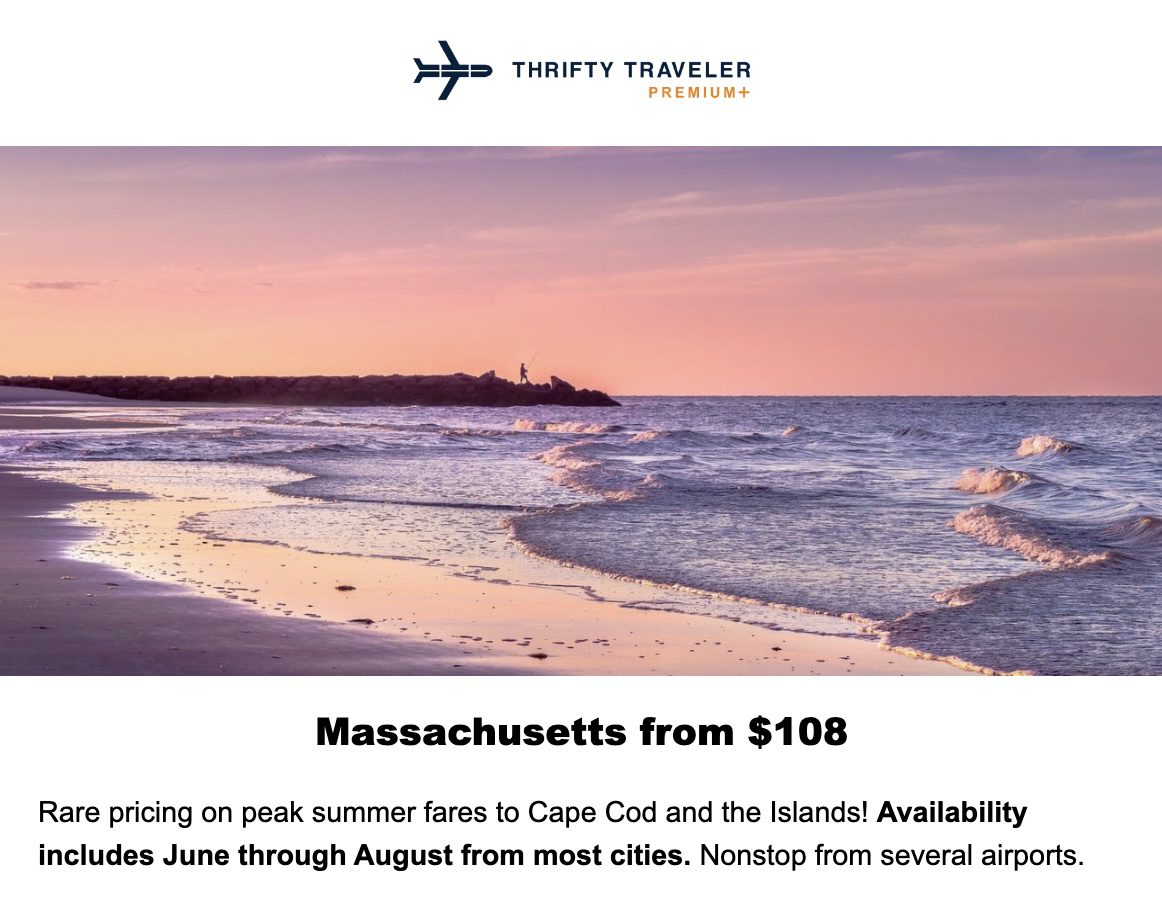 A recent JetBlue fare sale on these fares and many others broke the airlines' collective fever, leading other airlines including Delta to slash prices, too. And best of all, this deal included tons of cheap fares for a trip in June!

If you thought a June Martha's Vineyard getaway was out of reach, think again. Just look at this nonstop from New York City-LaGuardia (LGA) to the island for just $108 roundtrip.

This was a memorable deal and hopefully connected our subscribers along the East Coast with these island favorites for a May or June getaway this year.
Bottom Line
It's been another amazing week for Thrifty Traveler Premium and Thrifty Traveler Premium+ members. We hope you got a chance to book peak summer Delta flights to Europe using points, sub-$200 flights to Hawaii, and some rare summer fares to Cape Cod, Martha's Vineyard, and Nantucket.
Make sure you're signed up for Thrifty Traveler Premium so you don't miss next week's deals, too.