American Express has added a brand new Amex Offer for some cardholders buying one Delta's popular vacation packages through Delta Vacations – Delta Air Lines' online travel agency (OTA).
Spend $1,000 or more with Delta Vacations, and you'll get $200 back. This Delta Vacations Amex Offer is valid for vacation packages booked directly with Delta Vacations. Best of all, you can use this offer up to three times for a total of up to $600 in savings on $3,000 or more in a vacation package. But you must book by the end of the year, Dec. 31, 2021.
And you'll want to add this offer to your card soon, as it seems quick to disappear from many cardholders' accounts. This offer seems to be widely available on both personal and business American Express cards – though not all cardholders will have it. Your best bet is an Amex Membership Rewards card like the American Express Gold® Card or the Platinum Card® from American Express, but some co-braided Delta credit cards will have it, too.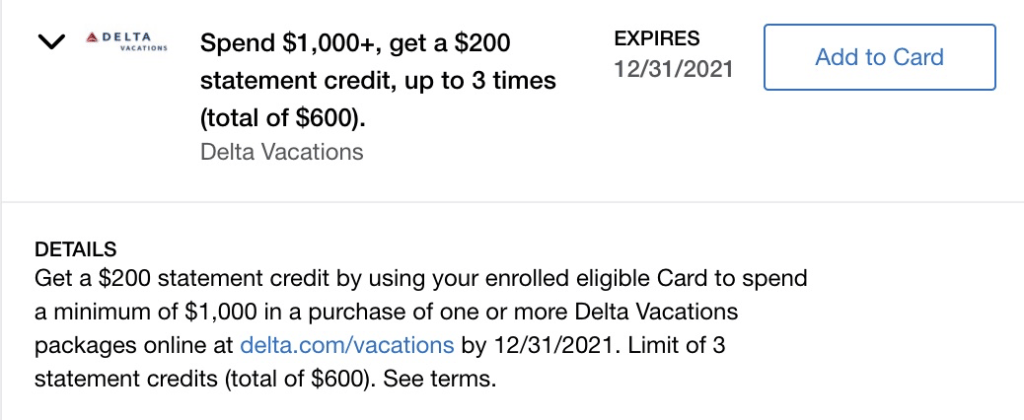 Per the terms and conditions of this offer, your package must include both hotel and flight accommodations to be eligible. It is not valid on a standalone flight, hotel, or car rental bookings.
Just add this offer to your American Express card, then use it to make your purchase with Delta by Dec. 31, 2021.
Where to Find Amex Offers
If you haven't used Amex Offers before, simply log into your American Express account and scroll down near the bottom of the screen and there should be a box called Amex Offers & Benefits. It's available through the Amex mobile app as well.
If you see an offer you like, simply add the offer to the card and make a qualifying purchase at that business with your card. In this case, you'll need to book directly with Delta for the cashback credits to kick in.
You should receive a statement credit for the offer within a few days of making a purchase, though in some cases it can take several weeks. And keep in mind you don't need to hit the spending threshold in one shot – you can spread it out over several transactions.
Not familiar with Amex Offers? See our complete guide to using Amex Offers.
Bottom Line
This is a fantastic Amex Offer to save on an upcoming vacation, getting $$200 back after spending $1,000 or more on a package airline and hotel deal with Delta Vacations. Better yet, the offer can be used a total of three times for savings up to $600.
Just make sure to use the offer to book a trip before the end of the year – though so long as you pay in full, your trip could be later in 2022.