If you know where to look – or you're subscribed to Thrifty Traveler Premium – you'd be surprised how far $200 can take you around the world.
Sure, you can score a cheap domestic ticket Chicago or even Florida and Phoenix. But we've also found flights down to Chile for under $200 – half that, even. Or all the way over to Iceland for under $200.
So with the right flight deal, $200 can get you far. While many of these flight deals are no longer bookable, the next dirt-cheap flight is always right around the corner.
Flights Under $200 in the U.S.
Continental U.S.
With fares as low as just $96 roundtrip and nonstop, Palm Springs, California is a luxury destination you can reach with affordable fares from airports across the country. From Boston to Boise, travelers subscribed to Thrifty Traveler Premium had the chance to head to the desert for less.

How about this deal to Hilton Head Island that we sent to Premium subscribers last month? Head to one of the Southeast's most coveted destinations for as low as $131 and under $200 from dozens of other American cities.
Again, you didn't have to be ready to jump on a plane tomorrow to take advantage of these prices. Sales dates were bookable all the way through July 2022!

Reno may not jump off your screen as a vacation destination, but Reno-Tahoe (RNO) is the best airport for access to the Lake Tahoe region. (See our guide!) Whether it's a visit to see the fall colors, do summer hiking and boating, or a powdery ski vacation, cheap fares to Reno can make for a fantastic alpine getaway.
And we previously found fares from dozens of cities to Reno all for under $200.

National Parks on your mind? Or maybe a visit to Flagstaff, Arizona? Well, this fare took you to the doorstep of the Grand Canyon for under $200. There were also sub-$200 fares to the Grand Canyon from Albuquerque, Los Angeles, Salt Lake City, and Seattle included in this deal!

Looking for more cheap National Parks flights? Read our breakdown here. 
Other U.S. Hotspots
Looking to get a little more exotic while staying in the U.S.? Premium members have also seen sub-$200 fares to Key West, Alaska, and Hawaii.
Dozens and dozens of U.S. airports joined in on this crazy deal that could get you to Key West for as little as $100! All the airports listed in this deal were sub-$200 fares. Appleton, Wisconsin? Yup! Grand Rapids, Michigan? Sure! Wichita, Kansas? You bet!
If you are familiar with flight prices to Key West, you know this is a bargain as fares can often times approach $400 to $500.

This summer, we saw consistently low fares to Alaska as travelers sought out this wild yet still domestic destination. This fare, which dipped below $200 from Minneapolis-St. Paul (MSP), was a direct flight in peak summer.
Thinking about visiting Alaska? See our guide for the best recommendations.

No destination is more popular than Hawaii, and this fare was jaw-dropping. From the east coast to Honolulu, nonstop, for less than $200. That's a savings of up to $700.
While Hawaii is asking visitors to stay away for a few months as it grapples with the latest COVID-19 spike, the islands should be open again by winter. If you see a Premium deal like this in your inbox, don't wait to book it!


These fares have disappeared, but we're always searching for cheap flights to Hawaii and other destinations. Get them sent to you with Thrifty Traveler Premium!
A visit to San Juan, Puerto Rico has also been well within reach lately, but this deal we sent to Thrifty Traveler Premium members last month could have taken you down to the island territory for as low as $116 on a nonstop flight! Sale dates were bookable all the way through March 2022.
Is San Juan on your list? Here's why it should be.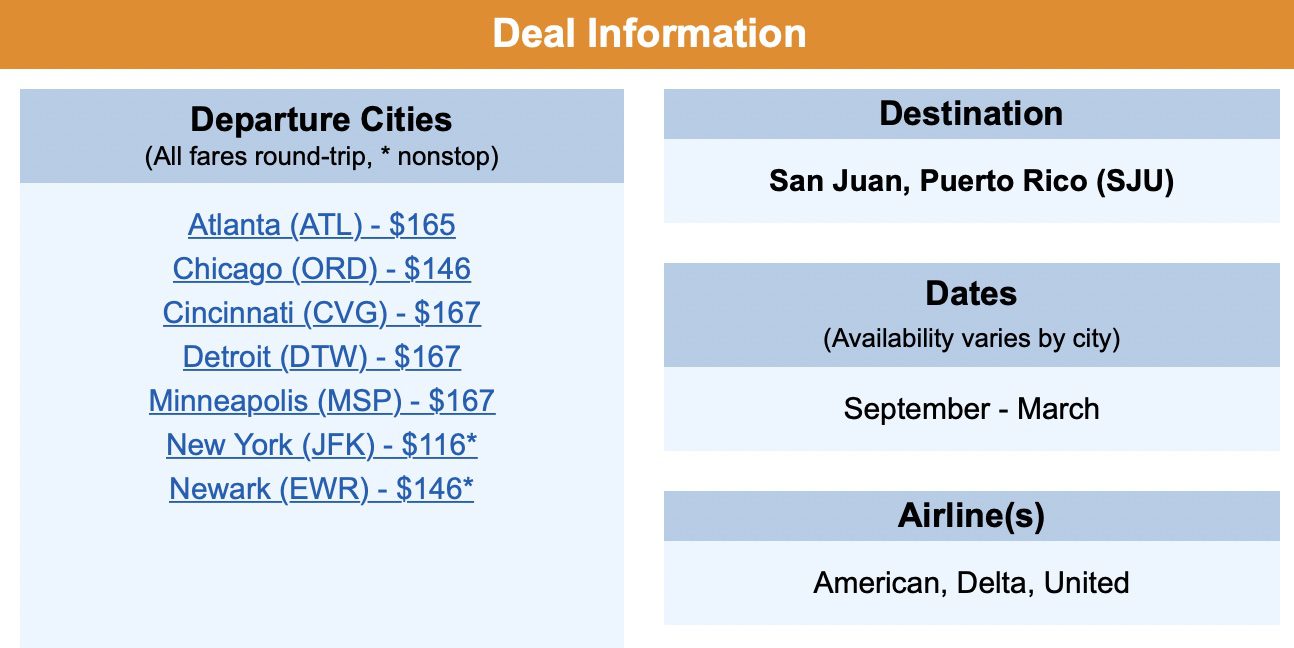 And cheap fares can put even the U.S. Virgin Islands in reach. St. Croix is a must-visit destination in the Caribbean, in our opinion. It's a Caribbean getaway without the hefty costs of the Bahamas or Turks and Caicos and free of the all-inclusive scene in the Dominican Republic and Mexico.
We've been seeing some crazy cheap fares to the Caribbean as of late, like this deal to Saint Croix which was bookable for under $100 roundtrip from a handful of U.S. cities.

This deal didn't last long – as we say, the hotter the deal, the shorter it typically lasts.

Flights Under $200 All Over the World
Canada
If the great white north is more your speed, we've found sub-$200 fares to Vancouver, Montreal, and Calgary last year. You will need a passport, but Canada is close and relatively easy for American travelers.
Even though this deal was from last year, we consistently find great deals heading to Canada which reopened to Americans in August.

That means an evening perusing the European-inspired downtown Montreal, an afternoon hiking to Moraine Lake in Banff National Park, or a morning walk around the seawall of Vancouver's Stanley Park are all within reach.
Chile
While closer destinations can easily be reached for under $200, don't write off some faraway locales as possibilities on a tight budget.
Mistake fares routinely result in hundreds if not thousands of dollars of savings. Earlier this year, an eye-popping mistake fare like this made flying off to Chile less than the cost of dinner for two! Thrifty Traveler Premium members who were able to book this deal could have booked it three times for less than $200.

Peru
Speaking of mistake fares, Premium members received a deal to Lima, Peru for less than $200 roundtrip late last year. Dates were bookable through February 2022 – the peak summer season in the southern hemisphere.

Spain
Spain is still open to American travelers with relatively easy entry requirements. And though it may be popular, we routinely find cheap fares to Madrid and Barcelona.
That includes a deal from last year from New York City (JFK) to Madrid (MAD) for just $195 roundtrip!
Flights to Europe under $200 don't happen often. But when they do, Thrifty Traveler Premium members are the first to know.

Check out what it's like in Madrid right now!

Bottom Line
You can fly near and far around the world for less than $200 if you know where to look. Thrifty Traveler Premium members had multiple chances to do just that over the last year and change.