Everybody has a bucket list destination that seems just out of reach. You've passed it over on your list time and time again, assuming it's too expensive or too far away. I'm talking Bond villain lair locations, places with wildlife you can't even imagine, and the most remote beaches in the world.
You might not be able to find them on a map or struggle to pronounce their names, but you know you want to go there … if only you could afford it. But these once-in-a-lifetime destinations can be well within reach.
Over the past few months, Thrifty Traveler Premium members have received some astonishingly low fares to some of these tropical or far-flung escapes, booking normally flights that typically cost $1,200 or more for half that price.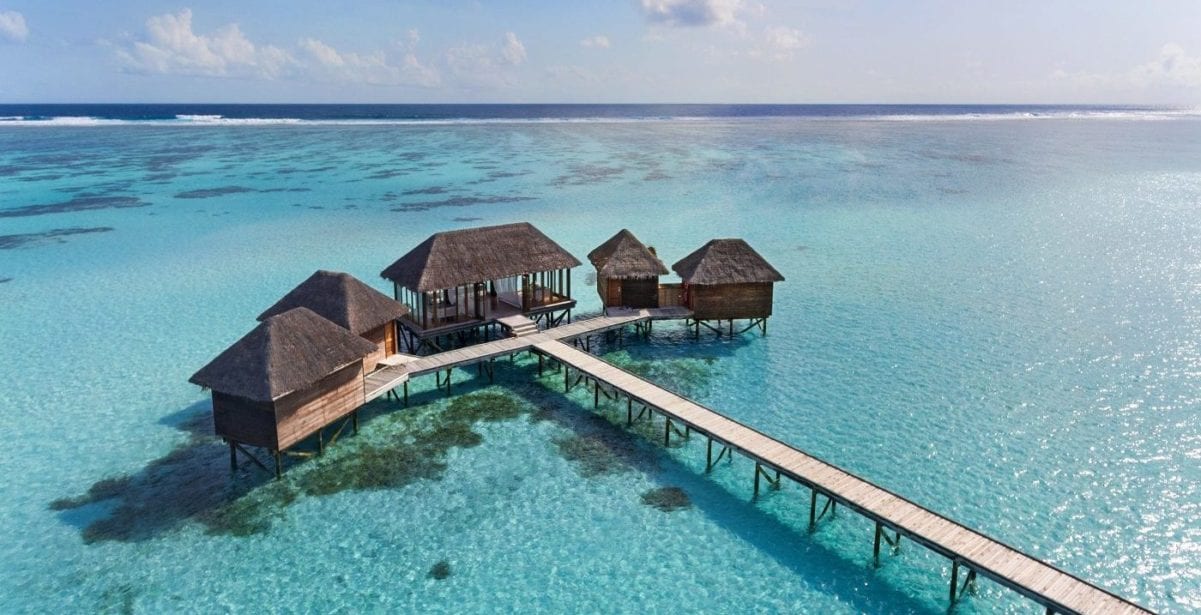 You might have dreams of waking up in an over water bungalow in the Maldives, laying by the beach in St. Lucia, or watching the wildebeest migration on safari in Kenya. We're here to tell you that they're not out of reach if you know where to look.
So please don't put off that trip this time around, because if you don't book it this year, you'll be one year older when you do.

The Basics of Finding Cheap Flights
Pulling off a cheaper trip to a typically expensive destination isn't rocket science. But it can require a mindset change, approaching your travel planning in a different way than you have before.
Here are the basic rules for finding cheap flights you'll need to follow to get to any bucket list destination:
Find a flight deal first. Don't lock in travel dates, accommodations, or activities until you've secured a flight on the cheapest dates.
Let the flight deal come to you! Subscribe to our flight deal alert service, Thrifty Traveler Premium, for instant alerts when an exceptional deal comes around.
Use Google Flights to start your search and book. No other search engine is better at finding the best deals.
Not seeing any good flight prices from your home airport? Consider looking at prices from major U.S. airport hubs, and then booking a positioning flight to bring your total costs down.
Read our ultimate guide on how to to find cheap flights for more tips and tricks!
Now that we've covered the basics, let's get into some of the most amazing places where you can find cheap fares.
The Maldives
The Maldives might be the quintessential bucket-list destination of the modern era. Relaxing in an overwater bungalow in the Maldives is almost a cliche at this point.
It has branded itself as a piece of paradise in the middle of the Indian Ocean. Depending on where you stay, that assessment holds up.
Read next: Do the Maldives Deserve a Spot on Your Bucket List?
Like all the destinations on this list, however, the Maldives are not easy to get to. There are no direct flights from the United States and just a handful of airlines fly there. So cheap flights can be hard to come by – but not impossible.

These prices are gone now! Get the next deal and book ASAP with Thrifty Traveler Premium!
Boom! Roundtrip flights to the Maldives for just $676 apiece. It's not the first time we found a fare like this during peak season – and it won't be the last, either.

Seychelles
Another Indian Ocean archipelago, the Seychelles is the kind of place that dreams are made of.

The Republic of the Seychelles is its own country about 900 miles east off the coast of Africa. Its remoteness is part of the allure for anyone looking for a truly secluded getawa, making it the perfect place to lounge by the ocean and sip a cold drink. Morne Seychellois, the country's national park, also offers some incredible hiking and sweeping views of the ocean atop its highest peak.
Luckily, renowned Qatar Airways also flies there. And if you time it right like with this previous Thrifty Traveler Premium deal, you could get there for a bargain.


This was a double-take kind of fare when we found it. At this price, you really can't beat it.
Mauritius
If you were today years old when you learned about Mauritius, you're in good company. But a good flight deal is enough to put it on your list.
Getting to this far-flung island nation for under $700 is unheard of, but that's just what we found a few weeks back.

This deal was nearly 70% off the normal price for a flight from Boston (BOS) to Mauritius. As is the case for all of these deals, however, you don't need to live in Boston to take advantage of it. Check out our guide on positioning flights to see how you could save hundreds by building your own connection. 
Tahiti
Tahiti might be the most Bond villain-y destination on this list. It just seems impossibly remote and insanely expensive.
What you might not know is that you can fly to the French Polynesian island in the Pacific nonstop from San Francisco (SFO) and Seattle (SEA), which puts the stunning islands well within reach for tons of travelers all over the U.S.
Just check out this deal we recently sent to Thrifty Traveler Premium subscribers.

Air Tahiti Nui launched this brand new Seattle (SEA) route earlier this year, offering nonstop flights at a fantastic rate.

But if you're looking to fly on a U.S. carrier, you have options there, too! This nonstop route from San Francisco (SFO) also went on sale over the last few months, dipping as low as just $637 roundtrip!


If a week in Tahiti is the reset you need, put a dent in that bucket list this winter.
St. Lucia
Alright, where's this one? The Indian Ocean? The Pacific? Siberia? The Moon? Where, oh where are you taking us now, Thrifty Traveler?

Many of these destinations are almost comically remote. Heck, Seychelles, Mauritius, and the Maldives are on the complete other side of the planet. St. Lucia, however, is right in the Caribbean! And that means even cheaper deals for a slice of Caribbean paradise, like this recent find.

Thrifty Traveler Premium subscribers might scoff at a fare like this to the Caribbean, but St. Lucia is one of the rarest flight deals in the region. If you see a fare like this one, book it!
Fiji
The islands of Fiji are about as remote and hard-to-get-to as it gets. The next closest continental landmass to the Pacific Ocean archipelago is Australia – 1,000 miles away. One thousand miles!
It's the kind of place you go when you really, really want an escape. Even so, it doesn't have to break the bank if you hop on a flight deal like this one.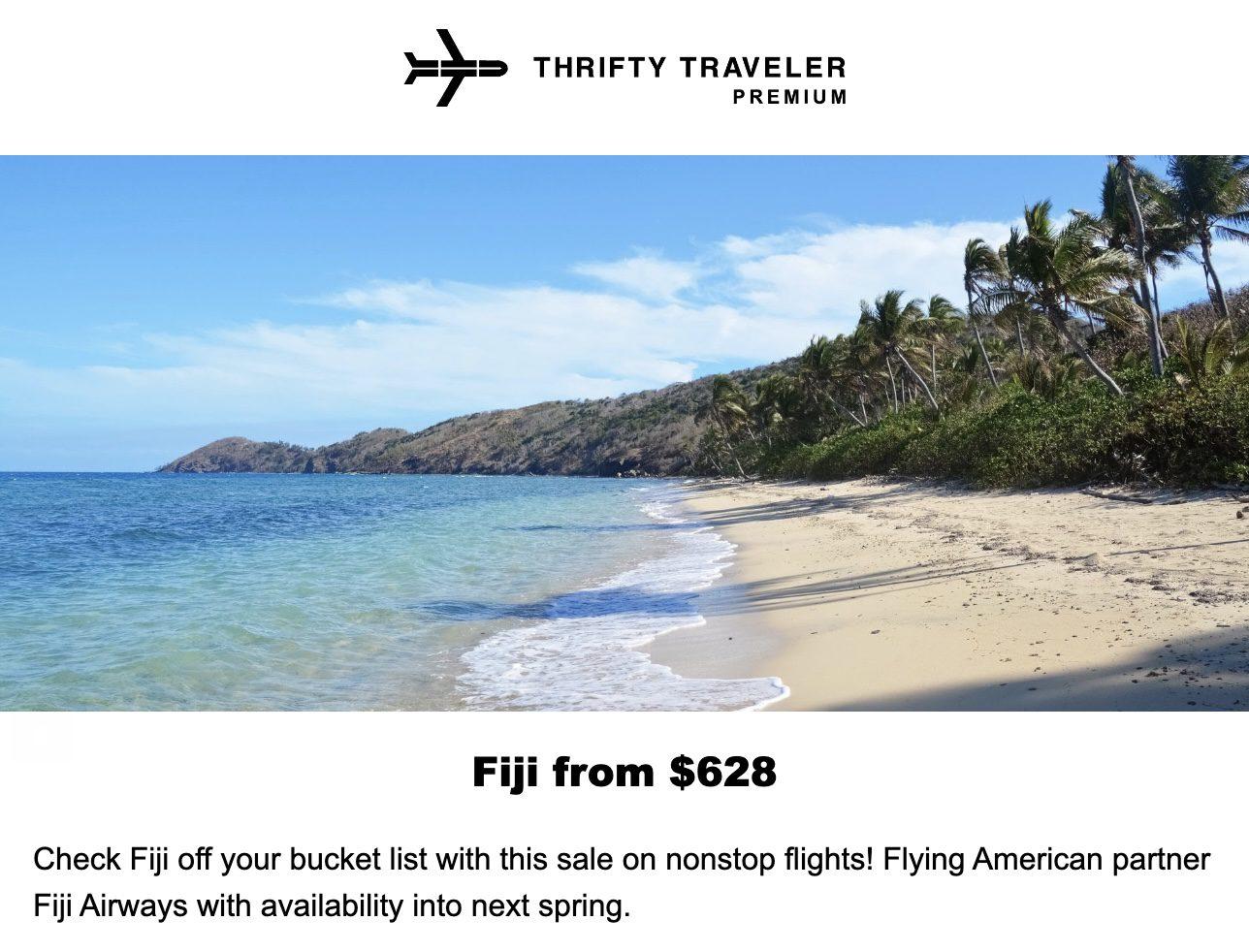 Flights to Fiji generally cost upwards of $1,300 from the U.S. So you can imagine we were gobsmacked to find this deal to get you to paradise for less than $700!
Patagonia
At the southern tip of South America sits a region of indescribable beauty: Patagonia, I assure you, is unlike anything else on this planet. It's the kind of place where the color of the water just doesn't make sense and where the mountains look angry.
It's a relatively remote destination, and you always need to connect there from Santiago, Chile (SCL). Just last month we found a flight deal to two different airports where you can easily access Patagonia: Puerto Natales (PNT) and Punta Arenas (PUJ).

From both Miami (MIA) and New York City (JFK), Thrifty Traveler Premium members found this deal that landed them in Patagonia for less than $700.
Kenya
The African continent is overlooked by many travelers, but I'd bet you have at least flirted with putting a safari on your bucket list.
Nairobi (NBO) is the perfect launchpad for visiting the unique landscapes and varied wildlife of the Serengeti region. You can fly into the Serengeti proper in Tanzania, or stay in Kenya and visit the northern part of the region in Masai Mara.
Full disclosure: I'm especially excited about Kenya because I'm planning a honeymoon to Africa in fall 2022 and am planning to take advantage of a deal like this one we sent to subscribers last month.

That's right. You can fly to the other side of the world and check Africa off your bucket list for less than the cost of some flights to Europe or the Caribbean.
South Africa
If South Africa is on your list, it's time to book. There has been a flood of cheap fares to to South Africa lately – cheaper than ever, in fact.
Sub-$600 flights to Cape Town (CPT) were pie-in-the-sky, make-believe fares just a year ago, but we keep finding great deals like these.

This fare, flying Delta partner KLM, could get you from Minneapolis-St. Paul (MSP) all the way down to Cape Town with just one quick stop.

Don't wait on these! South Africa should be checked off your list this year or next.
Australia
When it comes to flight down under, using points and miles is your best bet at getting great value. And that value is there right now!
If you have a batch of Delta SkyMiles, you could use 72,000 of them to fly to Australia and back through March of next year.

But those flights are really long. So we won't blame you if you want want a comfier ride to Sydney (SYD) if you decide this is the year to chop Australia off your bucket list. A few weeks back, we found a unicorn of a deal to fly business class to Australia using miles.

Yes,Thrifty Traveler Premium members get award alerts to use their points and miles, too!
These lie-flat Qantas business class seats are among the hardest award redemptions to pull off in the world – they disappeared within hours of when we sent it to Premium members. But those who acted fast scored seats for as low as 55,000 miles each way!
New Zealand
The New Zealand landscape is something to behold. And behold it you should!
It doesn't have to be expensive to visit New Zealand, either. Our Thrifty Traveler Premium flight deal guru Jon even shared all of his favorite ways to save in New Zealand, all while still taking on adventures like glamping, taking a jetboat ride, hiking, hitting a few breweries, and much more.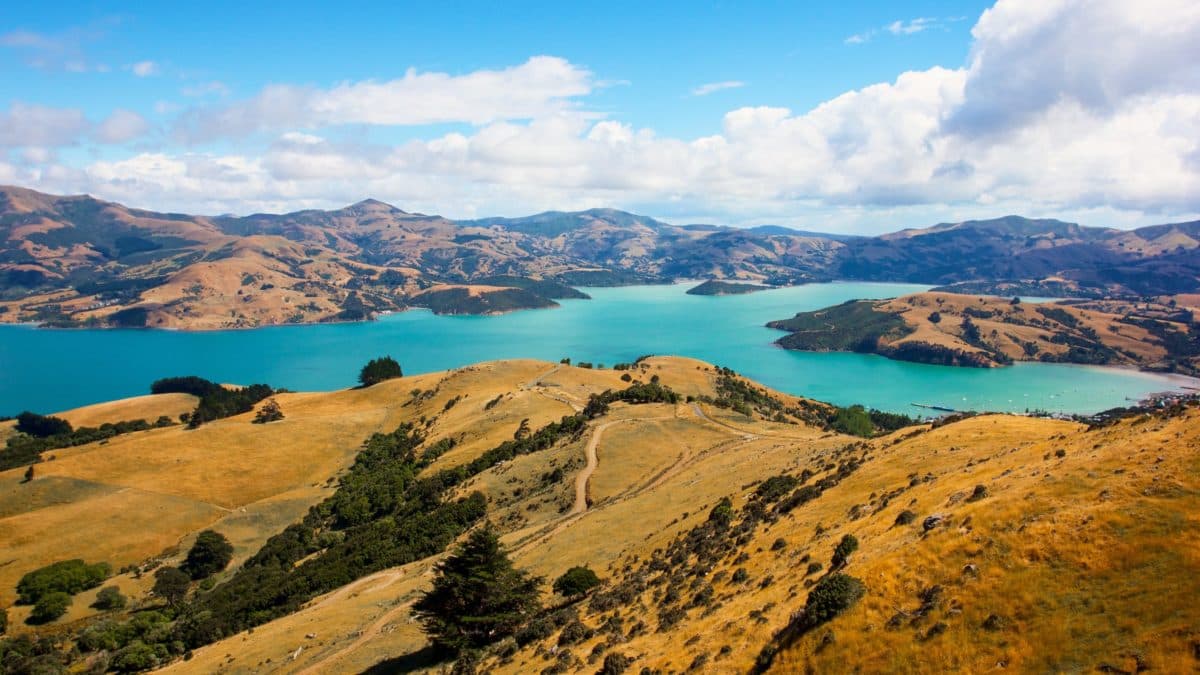 Much like Australia, the best value for travel to New Zealand is might be using those points and miles. And we found a pretty comfortable way to get down there, too.

These Fiji Airways Premium Economy seats were available at just 65k miles one-way. That will get you to New Zealand well-rested and ready to tackle one of the world's prettiest countries.
Galápagos Islands
The Galápagos Islands are home to 56 different unique wildlife species, including 27 species that can only be found on the islands.
Plus, scientists say the wildlife of the islands have never developed a fear of humans, meaning seeing some of these rarities couldn't be easier.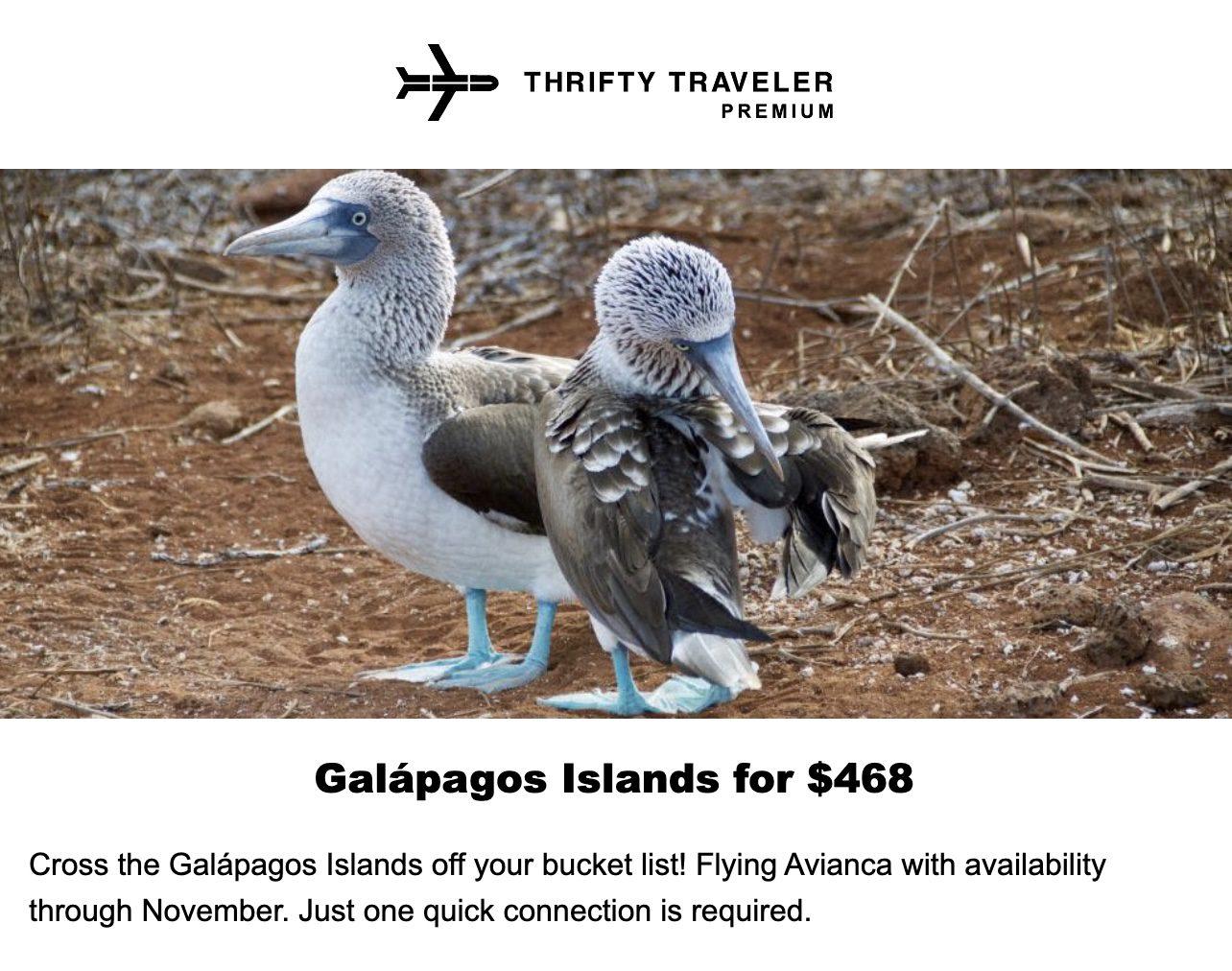 Located way, way off the coast of Ecuador, getting to the Galápagos by air seems daunting, but it doesn't have to be. We unearthed this deal flying directly onto the islands with just one stop from New York City (JFK).

If you're a wildlife enthusiast, a birder, or just a chronic adventurer, the Galápagos are already on your list. Check them off with a cheap flight there this year.
Bottom Line
From Africa to the southern tip of South America to the archipelagoes of Pacific and Indian Oceans, you likely have one of these once-in-a-lifetime destinations on your list – and if you didn't already, you should now.
While flights to these destinations have a reputation for being outrageously expensive, there are ways to bring flight costs down, and flight deals to be found. Want an instant alert next time we find a flight deal from your home airport? Join Thrifty Traveler Premium for $59.99 a year and save $200 – or much, much more – on your next flight!