After a year stuck at home, travelers across the country are itching to get back out in the world. And one thing's clear: When they return to travel, they're going bigger than ever. No more putting off those big, bucket-list trips.
From Hawaii to Machu Picchu and Thailand to the Maldives, these are big trips … that often come with bigger price tags. But getting to one of these bucket list destinations doesn't have to come at emptying-the-piggy-bank prices. That's our mission here: Getting you to your dream destinations for less.
With the right tools and knowledge for how, when, and where to find cheap flights, you can get to any of these spots for less.
The Basics of Finding Cheap Flights
Pulling off a cheaper trip to a typically expensive destination isn't rocket science. But it can require a mindset change, approaching your planning in a different way than you have before.
Here are the basic rules for finding cheap flights you'll need to follow to get to any bucket list destination:
Find a flight deal first. Don't lock in travel dates, accommodations, or activities until you've secured a flight on the cheapest dates.
Let the flight deal come to you! Subscribe to our flight deal alert service, Thrifty Traveler Premium, for instant alerts when an exceptional deal comes around.
Use Google Flights to start your search and book. If you're not familiar, read our guide to booking cheap flights with Google Flights.
Not seeing any good flight prices from your home airport? Consider looking at prices from major U.S. airport hubs, and then booking a positioning flight to bring your total costs down.
Read our ultimate guide to finding cheap flights for more tips and tricks!
Now that we've covered the basics, let's get into how to cross these bucket-list spots off your list.
6. Hawaii
Hawaii is at the top of the list for hundreds of thousands of travelers, and there's no denying it can be expensive. We've seen fares as high as $900 roundtrip – or more – to get to these far-off islands. Don't pay those prices – you can get to Hawaii for much cheaper.
How low can it go? Back when Southwest first launched service to Hawaii, we found round-trip flights for as low as $91. Yes, you read that correctly: $91 to fly to Hawaii and back. 
That's a tough act to follow, but we're still finding half-off fares to Hawaii to a trip all the way through 2021, starting at under $200 roundtrip. Here's a look at a recent deal to Hawaii we sent to Thrifty Traveler Premium members:
If you're looking for the cheapest nonstop flights to Hawaii, your best bet is flying out of a West Coast hub like San Francisco (SFO), San Jose (SJC), Oakland (OAK), Los Angeles (LAX), or Seattle (SEA). Then book a cheap positioning flight to any of these cities, and you'll be on your way for less!
Or use your miles to get there for (nearly) free! Use your Chase credit card points by booking a cheap flight directly through the Chase Ultimate Rewards travel portal.
Why not put your Delta SkyMiles to use? A few years ago, I used a stash of 60,000 SkyMiles from a Delta SkyMiles Gold American Express Card bonus to pay for my flights with Delta's Pay with Miles feature. My total cost? Just $27.80.
Thrifty Tip: Read up on these other awesome ways to book cheap flights to Hawaii on points and miles.
5. The Maldives
When we recently shared an insane deal for a private island resort stay in the Maldives, the reaction was overwhelming. There's no question that the Maldives have been cemented at the top of many travelers' bucket lists.
Flights to the Maldives can be expensive. Our top recommendation to get there for cheap? Use points and miles to fly to the Maldives for (nearly) free. Here's the best bang for your buck: use American AAdvantage miles to fly Qatar Airways – including Qsuites!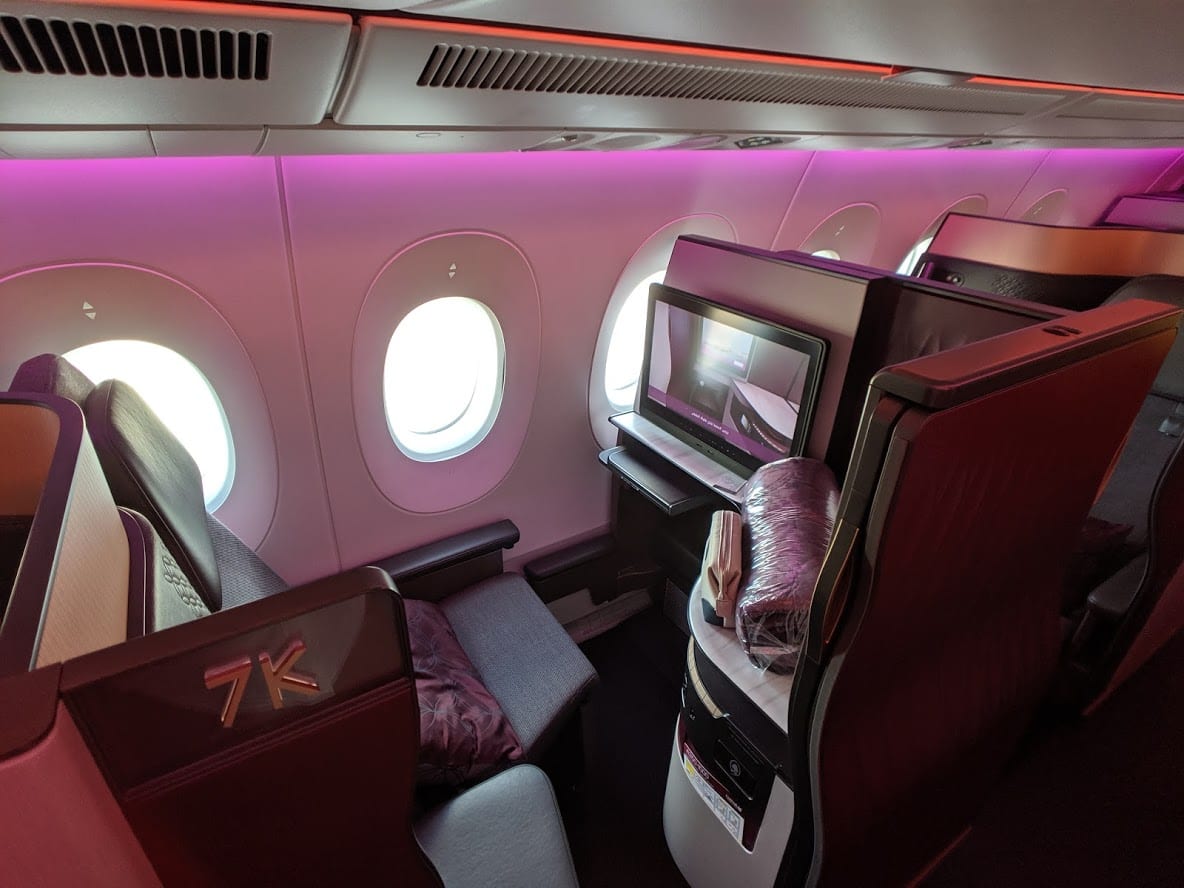 If you're looking to pay cash for your flight to the Maldives, expect to see some pretty steep prices. Since there are no direct flights from the U.S. to Male (MLE), the Maldives airport, flights to this remote island chain can be long – and pricey. When we see fares under $800 roundtrip from U.S. cities, that's when we get excited!
For flight deals under $600 roundtrip, your best bet is looking for flights out of major U.S. hubs like Los Angeles (LAX), San Francisco (SFO), and New York (JFK). When we see fares drop by hundreds, we instantly alert our Thrifty Traveler Premium members so they can book this rare deal!
Do the Maldives deserve a spot on your bucket list? Read our honest review of this dream destination.
4. Machu Picchu
As travel came to a halt last spring, we ran a March Madness travel bracket for travelers to pick their favorite natural wonder of the world. And there was a runaway winner.
Yes, Machu Picchu was the clear favorite, handily winning the March Madness travel bracket.
Then, a few months ago, something beautiful happened: A Delta mistake fare to Lima for 2021. We found fares for as low as $111 roundtrip! And this wasn't just a one-off deal. No, this was a nearly-nationwide deal from over 70 U.S. and Canadian airports.
These fares didn't last long, but it was long enough for over 100 Thrifty Traveler Premium members to book! Don't miss another mistake fare like this one, get our instant email alerts for just $5.99 per month.
But if you didn't get in on this mistake fare, don't worry! We see flight prices drop to the $400s – especially lately. There's really never been a cheaper time to book future travel to Peru!
To get to Machu Picchu, your best bet is flying into Peru's capital, Lima (LIM). The cheapest fares tend to be out of southeast hubs like Miami (MIA), but can be found from most U.S. cities.
Once you arrive in Lima, head to Cusco: the closest town to Machu Picchu. The easiest – and cheapest – way to get there is to fly. Roundtrip flights from Lima to Cusco will typically run you just $60 roundtrip for the hour-and-a-half flight. Crossing this one off your bucket list doesn't have to cost a fortune.
3. Patagonia
We're seeing record-low flight prices to South America these last few months for future travel, so if Patagonia is on your bucket list, now is the time to book!
There's Argentinian and Chilean Patagonia, but your best option for a cheap flight is to fly into Santiago, Chile (SCL). Generally, we see the cheapest fares from southern U.S. hubs like Atlanta (ATL) and Miami (MIA). But recently, we've found some insane nationwide flash sales from almost every U.S. airport (including small regional airports!).
Over the past few months, we've been seeing fares to Chile – and the rest of South America – under $300 for flights that typically cost $1,200 or more. And for travel as far out as fall 2021! But one Chile flight deal took the cake:

This recent mistake fare to Chile we sent to Thrifty Traveler Premium members meant you could fly from most U.S. cities to Santiago for under $200 roundtrip. This mistake fare made it to the Thrifty Traveler flight deal hall of fame, and onto our list of the best deals for 2021 travel.
Like all mistake fares, these didn't last long. But if you act fast on a flight deal alert during a flash sale or fare war, you can find flight deals for half the usual price!
2. Thailand
From the beaches in the south to the mountains in the north and the street food in the city, Thailand is calling you.
Many travelers have resigned themselves to the idea that a flight to Thailand will run them $1,000 – or more. But if you book right, that definitely doesn't have to be the case.
We have high standards for Thrifty Traveler Premium flight deals to Thailand: No sub-par airlines, no nasty 24-hour layovers, no booking with sketchy online travel agencies, and no messy multiple-stop itineraries.
Exceptional flight deals to Thailand don't come around super often, but when they do, but they exist. Take last year's rare $400 roundtrip flights to Bangkok as an example of how cheap it can get. Most one-way flights to Bangkok (BKK) cost more than this!
As with other bucket-list destinations, if you're not seeing cheap fares from your home airport try searching from major hubs like Chicago (ORD), Dallas (DFW), Los Angeles (LAX), and San Francisco (SFO). Your best bet will always be searching for a flight straight into Bangkok (BKK), and then booking a separate flight onward to Phuket (HKT), Koh Samui (USM), Chiang Mai (CNX), or elsewhere.
Want to use miles instead of cash? Using American Airlines miles is one of the best ways to get to southeast Asia for less. Another hack to see Southeast Asia for less? Fly Singapore Airlines – and add a stopover in Singapore – for just $100 more. See two countries for the price of one!
Thrifty Tip: Read our beginner's guide to Thailand, and a two-week itinerary in these Thai cities.
1. New Zealand
New Zealand is at the top of many travelers' bucket list, and for good reason. But getting there will usually cost you.
These 13-plus hour flights can easily cost $1,200 or more round-trip, depending on where you're coming from. But we've seen cash fares to New Zealand dip as low as the $500s via Thrifty Traveler Premium, our flight deal alert service. We've even found flights to Australia and New Zealand for 10,000 miles…roundtrip! That's less than most short domestic flights!
For the cheapest flights to Auckland (AKL), your best bet is to search from Los Angeles (LAX) or San Francisco (SFO) – then book a cheap positioning flight from your hometown to get you there.
Rather use points and miles? American Airlines' award chart sets the price for round-trip flights at 80,000 miles – not a bad deal for what would be a $1,000+ cash flight. And it's surprisingly easy to earn 100,000 American miles to get you there.
Thrifty Tip: Looking for tips to save once you get there? Check out our guide to seeing New Zealand for less.
Bottom Line
Don't just let these dream destinations sit on your bucket list. It's time to make a plan to see them in 2021 or 2022!
While flights to these destinations have a reputation for being outrageously expensive, there are ways to bring flight costs down, and flight deals to be found.
Want an instant alert next time we find a flight deal from your home airport? Join Thrifty Traveler Premium for $5.99 a month and save $200+ on your next flight!