There's no place like Istanbul, where the East meets the West. Here's your ticket to get there in style.
We recently alerted Thrifty Traveler Premium members to gobs of award space flying Turkish Airlines business class this winter and next summer from many U.S. gateways, including Chicago-O'Hare (ORD), Atlanta (ATL), New York City (JFK), and even a brand new route from Dallas-Fort Worth (DFW). Best of all, there are plenty of great ways to book these seats using miles – including a heavily discounted route on sale for just 67,500 miles roundtrip. That's less than most airlines charge for economy!

Want more award alerts like this one, plus the cheapest domestic and international fares? Try Thrifty Traveler Premium!
You'll find the best availability from January through mid-May, and again from July through October 2022. Turkish making so many seats bookable using miles isn't all that unusual. It's a reliable way to get to Istanbul, head onward to Turkish beach destinations or Cappadocia, or even connect through on your way to Europe.
Instead, what stands out here is the plethora of ways to book these flights for a bargain, including:
Keep reading for a full rundown on how to book these tickets!
You'll find the cheapest flights from Dallas-Fort Worth (DFW) through late March 2022, Turkish's newest route that's currently on sale when booked using Turkish miles. It'll run you just 67,500 miles roundtrip plus about $379 in taxes – a small price worth paying compared to the normal $4,000 to $6,000 cash cost.


Other Turkish routes will run you 90,000 Turkish miles roundtrip – or 45,000 miles each way, plus the same charges for taxes and fees. Look to Avianca LifeMiles or United to keep your tax bill even lower.
Fares booked with Turkish miles can be changed for free or have a $25 redeposit fee if you decide to canccel. But Turkey is already open to American travelers today: Vaccinated travelers and those who have recovered from COVID-19 will not need to provide a negative COVID-19 test. All other travelers must present a negative PCR test result taken no more than 72 hours prior to departure.
Turkish Airlines is renowned for its second-to-none catering in business class and an outstanding lounge at its brand new Istanbul (IST) megahub. Some of these U.S. routes feature older seats that are less impressive, so look for flights on the airline's newest Boeing 787s or Airbus A350-900s.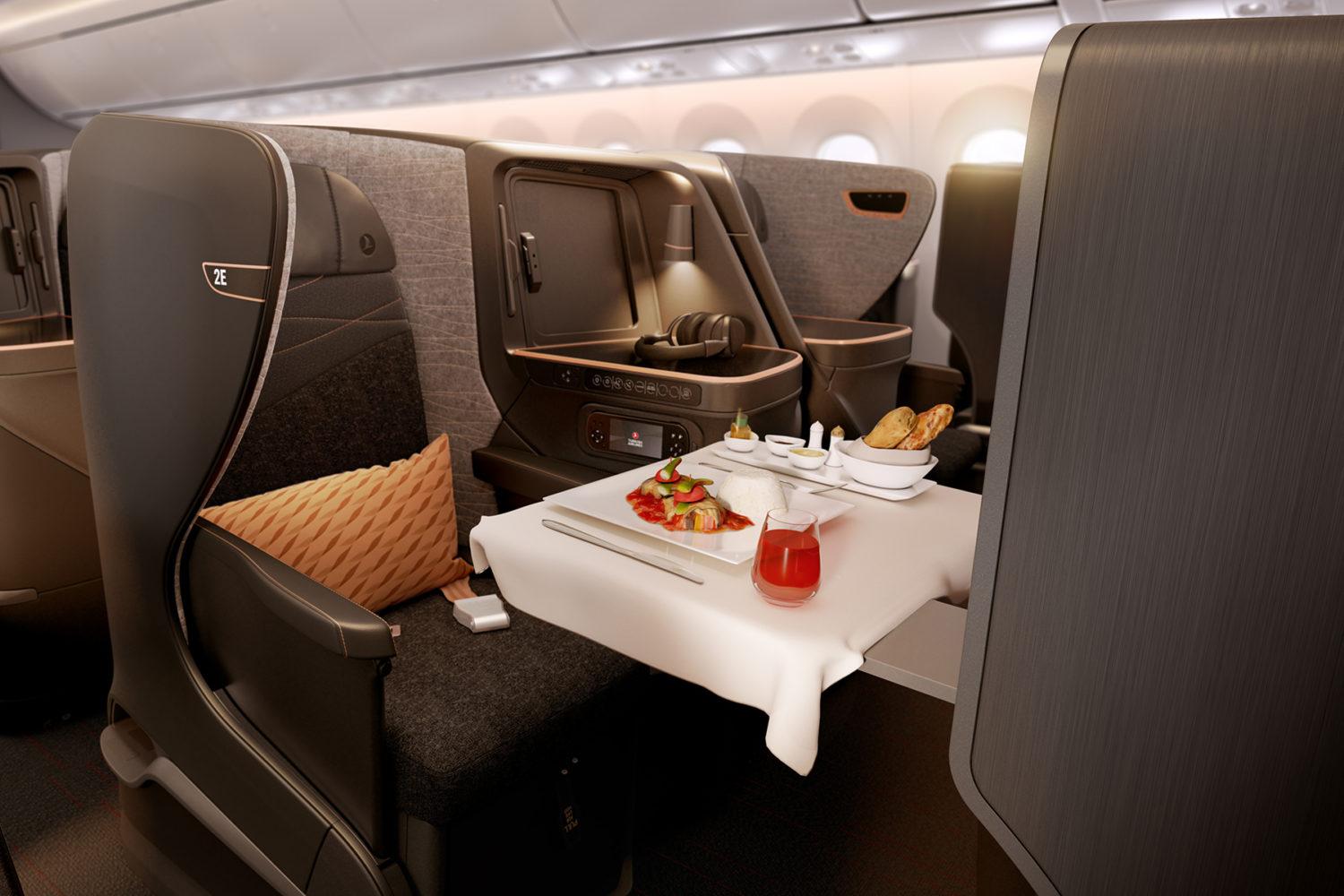 To catch a ride in these newer seats, your best bet is looking at select flights from Atlanta (ATL), Houston-Intercontinental (IAH), Dallas-Fort Worth (DFW), New York City (JFK), and occasionally Chicago-O'Hare (ORD). But not every single flight from these cities is operated on a newer plane, and Turkish is notorious for last-minute equipment swaps. So you'll need to be vigilant.

Departure Cities
Here's a quick rundown of the nonstop U.S. routes where you can currently book Turkish business class. All rates are roundtrip using Turkish Miles & Smiles.
Atlanta (ATL) – 90k
Chicago (ORD) – 90k
Dallas (DFW) – 67k
Houston (HOU) – 90k
Los Angeles (LAX) – 90k
New York (JFK) – 90k
Newark (EWR) – 90k
Washington, D.C. (IAD) – 90k
How to Search & Book
You'll want to find award availability first. Fortunately, with all this award space that shouldn't be a problem.
Your best bet is to head to United.com and search from one of the cities listed above with stellar award availability. You'll find the most award space from January through early May 2022 and then from July through the early fall. Things dry up.
Filter only for nonstop flights in business class to get a look at what's bookable. For example, here's a look at what's available for four travelers from New York City (JFK) next summer. Every single day has four seats available.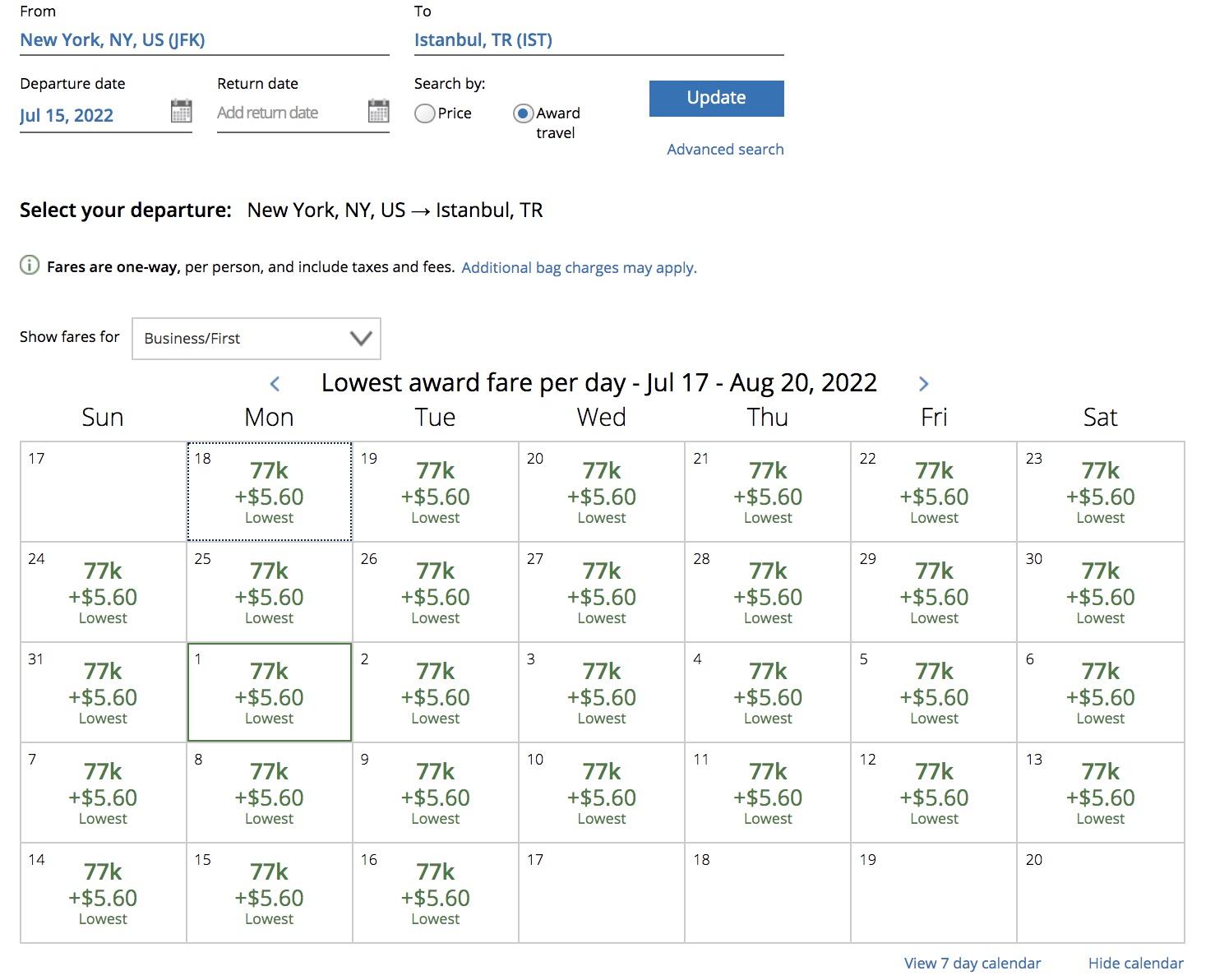 Of course, you could book these flights through United using 77,000 miles and call it good. But you could do much better by using another airline program. If United shows you nonstop flights for 77,000 miles each way, that generally means those same flights will be bookable elsewhere … at a cheaper rate.
Plug a date you found into Avianca LifeMiles, Turkish Airlines, or ANA to confirm the dates you want are available. Just beware that using ANA Mileage Club, one-way awards aren't allowed – you'll have to book roundtrip. For the others, one-way awards are just fine.
For example, here's a one-way award in business class from New York to Istanbul on Aug. 1 booked using Turkish miles.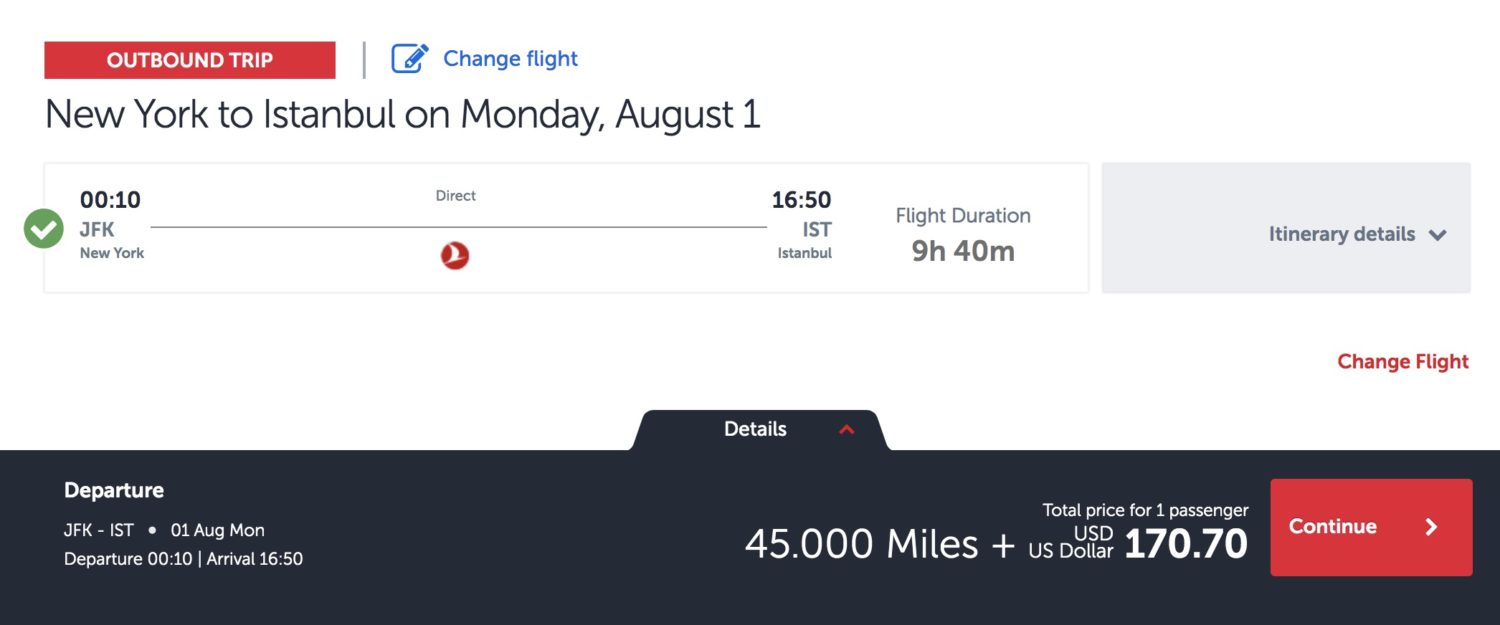 If you've never used Turkish Airlines before, you'll need to create a Miles & Smiles account before searching for award flights like this one. When Turkish asks you to set a password, what it really wants is a six-digit PIN.
But remember, never transfer points to one of these airline programs until you've confirmed that the flights you want are available. These transfers are a one-way street: Once you send them out, you're not getting them back.
One final note: At time of publication, LifeMiles was not able to book this Turkish business class availability. We're hoping that's an intermittent issue that could get resolved, so it's worth trying again later if you want to use LifeMiles to book.
Bottom Line
If heading to Istanbul is on your list, this is how it's done. This combination of award space through the fall of 2022, discounted rates and transfer bonuses to fly one of the world's top business class seats is hard to beat.
Get more award alerts for economy, business class, and first class seats – plus the cheapest domestic and international fares – by signing up for Thrifty Traveler Premium!

Lead photo courtesy of Turkish Airlines