While much international travel remains restricted, flight deals for future trips are not.
It may seem ironic, but this may be the best time to book flights for future travel. And that's due in large part to some of the cheapest flights we've ever found to many countries across the globe. In just the last month, we've found half-off fares to tropical islands, mistake fares to bucket-list destinations, and hundreds off typically expensive flights. And thanks to the free change and cancellation policies airlines are offering, you can book a cheap flight risk-free!
Many of the insane flight deals we found in September have sold out because we send them to Thrifty Traveler Premium members first. But take a look at what you've missed. And if you want to hop on the next flight deal, try Thrifty Traveler Premium for just $5.99 a month!
Read our tips on how to be smart and safe when booking future travel amid this uncertainty
1. Tropical Winter Getaways Under $300 RT
Already dreaming of your winter getaway to somewhere you can actually visit? Cancún is open for travel – no test required! And we've been seeing record-low pricing to several Mexican beach destinations, including Cancún. This recent deal to Cancún we sent to Premium members included insane fares as low as $156 roundtrip … during the middle of the winter.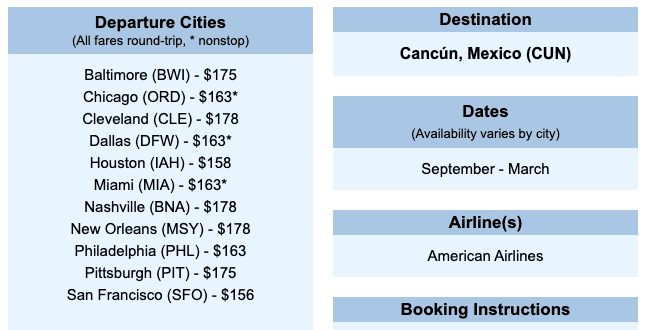 Want to venture a little further? This month, we uncovered a rare flash sale to the Caribbean from nearly every U.S. city (including smaller airports like Greensboro, Louisville, Norfolk, and more) – all under $294 roundtrip!
This rare flash sale was available to the Caribbean islands Antigua, Barbados, the Bahamas, Curaçao, Grenada, St. Kitts, St. Maarten, and St. Vincent. We rarely see peak season fares to these islands under $1,000 roundtrip!
Thrifty Tip: Wondering which islands are open to travelers, and what the requirements are? Check out our Country-by-country guide for details.
2. Rare Europe Fares for Peak Summer 2021
If you're like us, you're already thinking of how to make Europe for summer 2021 happen. This deal was for you.
A few weeks ago, we found a mistake fare from Minneapolis-St. Paul (MSP) to all of Europe. But instead of forking over cash, you could use miles to book – just 30,000 Virgin Atlantic miles to fly almost anywhere in Europe!
Mistake fares like this typically don't last long. Our team of flight deal analysts are constantly scouring airfare pricing for mistakes. When we find one, we let Premium members know ASAP. Just one mistake fare alert can save you $800 or more!
This deal was available from MSP to over 40 European cities through June 2021. Best of all, these fares include advanced seat assignment and a free checked bag. And yes – you could fly into one European city and out of another by booking two one-way tickets for 15,000 miles each way!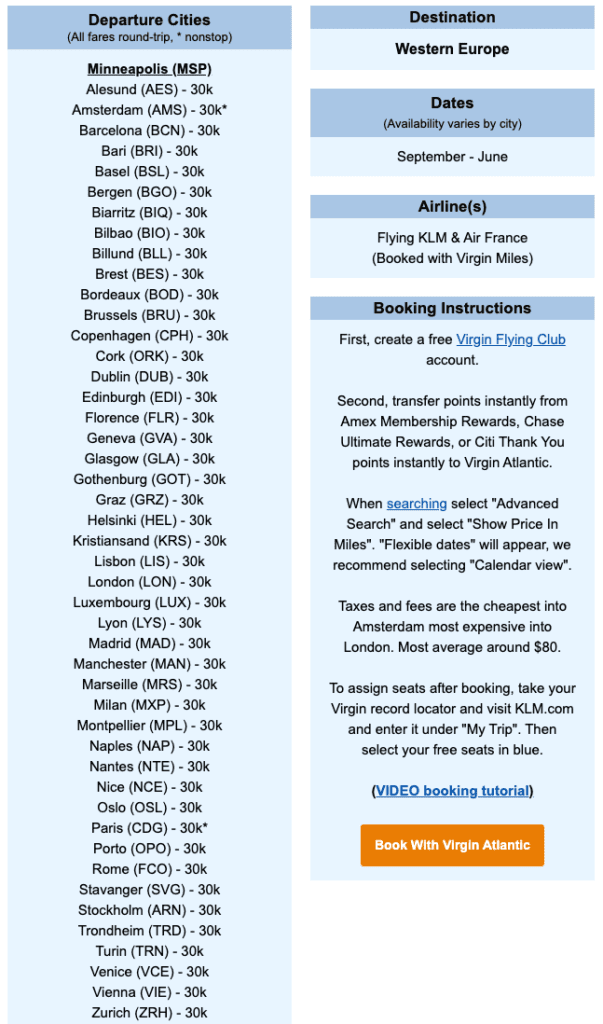 But this mistake fare wasn't the only crazy deal to Europe for next summer we found recently via Thrifty Traveler Premium. We found fares from New York airports to Amsterdam, Paris, and Rome for under $255 roundtrip!
The best part of this deal? You could add a stopover in Lisbon or Porto of up to seven days to your booking – for free.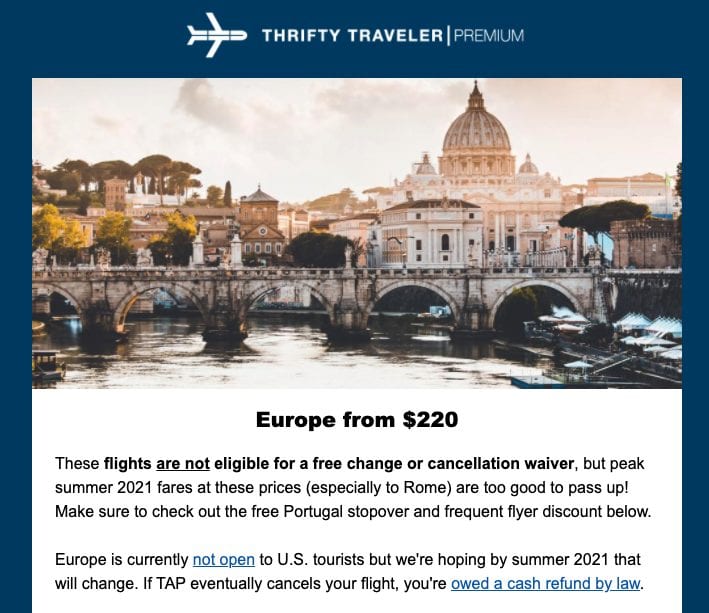 Got Delta SkyMiles to use? Our Thrifty Traveler Premium members go wild for flight deals to Italy, so this flash sale was a big hit.
This rare sale to several Italian cities was bookable from almost every single U.S. airport for just 50,000 SkyMiles. A flight to Italy during summer from any of these cities would typically cost over $1,200!
3. Mistake Fare & Flash Sale for the 2021 Olympics
Is seeing the Olympics in-person on your bucket list? This deal could have made it happen.
Our Thrifty Traveler Premium flight deal analysts were so excited about this one: it's so unusual to see a deal to Tokyo for peak summer – let alone during the 2021 Olympics! 
This SkyMiles flash sale was live from nearly every U.S. airport, including:
Akron (CAK) – 70k
Billings (BIL) – 68k
Bozeman (BZN) – 68k
Chattanooga (CHA) – 70k
Cleveland (CLE) – 70k
Colorado Springs (COS) – 68k
Fayetteville (FAY) – 62k
Indianapolis (IND) – 62k
Minneapolis (MSP) – 70k (nonstop)
Missoula (MSO) – 68k
Nashville (BNA) – 62k
Oklahoma City (OKC) – 70k
Peoria (PIA) – 62k
Pittsburgh (PIT) – 60k
Santa Barbara (SBA) – 60k
South Bend (SBN) – 62k
Springfield (SGF) – 70k
St. Louis (STL) – 54k
Don't think we find flight deals from your home airport? Check our list!
This month was full of rare mistake fares, and that includes a business class mistake fare – once again during the 2021 Olympics – to Asia. Normally, flying a lie-flat seat to Asia costs over $5,000. But we found a mistake fare to get you there and back next summer for less than $1,000!
Have you always wanted to try business class? A mistake fare like this is just the excuse! This fare includes priority boarding, checked bags, lie-flat seats, and business class food service. This fare also earns United miles and can be booked risk-free and canceled for a voucher.
4. The Best Ski Destinations Under $200 RT
Now that domestic flight deal alerts are included in Thrifty Traveler Premium, your options for cheap flights across our nation are plentiful! If you're looking to stay closer to home in the next 12 months, these domestic deals we've been finding to national parks, snowbird destinations, and U.S. favorites under $200 are right up your alley.
A few of our favorite domestic deals over the past few weeks have been to some of the best ski cities in the country. We found rare peak season fares to Bozeman – home of Bridger Bowl and Big Sky ski areas – for under $200 roundtrip!
Not a skier, or planning a trip for spring 2021? Bozeman is only a 90-minute drive to Yellowstone National Park.
Another winter sport destination we found half-off fares to this month: Vail, Colorado. Skip the long and mountainous drive from Denver, and fly straight into Vail for under $200 instead! This deal was available from over 30 cities, including rare cheap fares from:
Burbank (BUR) – $147
Cedar Rapids (CID) – $198
Kansas City (MCI) – $179
Minneapolis (MSP) – $193
Oklahoma City (OKC) – $173
Omaha (OMA) – $173
Tucson (TUS) – $139
Tulsa (TUL) – $179

Bottom Line
Want in on this flight deal madness? Most of these fares have disappeared, but you can get in before the next flash sale or mistake fare strikes.
Our team is finding flight deals available through August 2021 – and fares that can be changed or canceled fee-free anytime. You'll find all the information you need linked in every Premium flight deal email we send.
If you're not ready to give up on travel for 2021 and want to save up to 90% on airfare, sign up for Thrifty Traveler Premium and get the best flight deals to save hundreds delivered straight to your inbox.