Travel might be bouncing back as we head into 2022, but one thing's for sure: Not all trips are the same these days. And we don't blame you if you're focused on flying somewhere closer to home – where you don't have to worry about testing requirements at all.
Around the world, we've seen countries add mandatory vaccination policies for entry, pre- and sometimes post-travel testing upon arrival, and maybe even a brief quarantine once you land. These restrictions keep changing – especially in Europe. And anytime you leave the country, you now need a negative COVID-19 test just one day before flying back to the U.S.
That makes international travel a high-stakes affair right now. While it can be done, we don't blame you if your next trip is to somewhere you don't have to worry about testing – let alone the possibility of testing positive and being forced to quarantine abroad.
Fortunately, there are plenty of places to put on your list for a 2022 trip where you don't need to deal with that additional stress.
Hawaii
When you spend more than four hours flying into the Pacific Ocean, you can feel a world away. Hawaii is one of the farthest places you can fly without having to test for COVID-19 to fly home.
Hawaii is one of the few states with entry requirements even for fellow American travelers from the mainland: You'll need your proof of full vaccination, otherwise unvaccinated travelers can provide a recent negative COVID-19 test to get in. But because it's part of the U.S., there's no need to test negative before flying back home. 
That simplicity has led to a surge in travel to Hawaii through the pandemic: The islands saw more domestic arrivals in July 2021 than ever – including before the pandemic, according to Airlines for America data. And airlines are rewarding that renewed interest by slashing flight prices to Hawaii to record lows: We've seen fares to Hawaii tumble as low as $125 roundtrip!

Read up on Hawaii's current travel restrictions!
Key West
Key West offers the same vibes, weather, and beaches of the Caribbean just off the coast of Florida. And because it's part of the U.S., you won't need a test to fly home.
Plus, you'll be paying Florida-like prices to fly there!

This fare from New York City (JFK) down to Key West (EYW) was just the beginning. We've regularly found sub-$200 fares from dozens of U.S. airports to Key West as Americans seek a beach vibe closer to home.
Phoenix
Maybe you don't want the beach, but you still need to ditch the cold. Enter Arizona.
The dry warmth of the desert is perfect for a weekend on the golf course or a hike in the mountains around the Valley of the Sun.

These prices are gone now, but we sent this flight deal (and hundreds more like it) to Thrifty Traveler Premium members!
New York City
For some, being at the cultural epicenter of the world is more important than the heat. If that's the case, jump on one of these cheap flights to New York City.

Some of the finest games, shows, museums, and culinary experiences await you in New York City from Brooklyn to Broadway.
While you won't need a COVID-19 test to board your flight to New York or on the way home, the city itself requires proof of vaccination (a program called Key to NYC) in many indoor settings including restaurants, bars, theaters, museums, and concert venues. Those requirements even take effect for children aged 5 to 11 as of Jan. 28.
Los Angeles
OK, but what if you want some big-city culture but a little sunshine to go with it? Luckily, Thrifty Traveler Premium members received this fantastic flight deal to Los Angeles this winter.

Walk the beach from Marina del Rey to Santa Monica, go watch the Lakers play at Staples Center, or head for the hills for some hiking and views during your visit to L.A.
Like New York City, Los Angeles requires proof of vaccination to enter bars, restaurants, and some indoor events. California Gov. Gavin Newsom also recently re-imposed a monthlong indoor mask mandate starting Dec. 15.
Alaska
Anchorage might not have the cultural cache of New York – or a fraction of the sunshine of Los Angeles, but there's so much that makes Alaska one of the coolest destinations on this list.
This cheap flight we found from Newark (EWR) to Anchorage (ANC) is a good start to get you there next year.

Anchorage in the winter-time can be a little dark for some tastes, but its northerly latitude and darkness makes it the perfect place to see the Northern Lights during the winter months. It's one of the reasons why Alaska made our list of our favorite destinations to embrace winter.
San Francisco
San Francisco (SFO) is as versatile a place to land as there is in the United States. From SFO, you are just a few hours' drive from Yosemite National Park, Lake Tahoe, or even wine-tasting in Napa Valley. But if the city is more your speed, its diverse neighborhoods and parks are enough to keep you busy for an entire week, too.

Protected by the bay, the San Francisco area is also temperate compared to its surrounding, meaning the winter months are not very harsh. And like all U.S. destinations, you don't have to worry about testing at either end of your journey.
Puerto Rico
The U.S. territory of Puerto Rico is surging in popularity. Case in point: It's one of the few destinations where travel is up compared to 2019.
Fully vaccinated travelers can enter Puerto Rico no problem so long as they upload their proof of vaccination through Puerto Rico's Travelsafe portal. Unvaccinated tourists will need a negative COVID-19 test taken no more than 72 hours before arrival. Either way, there's no need to test before flying back to the mainland – it's part of the U.S., after all.
Plus, we are finding mind-blowing flight deals to the island all the time, like these sub-$200 fares.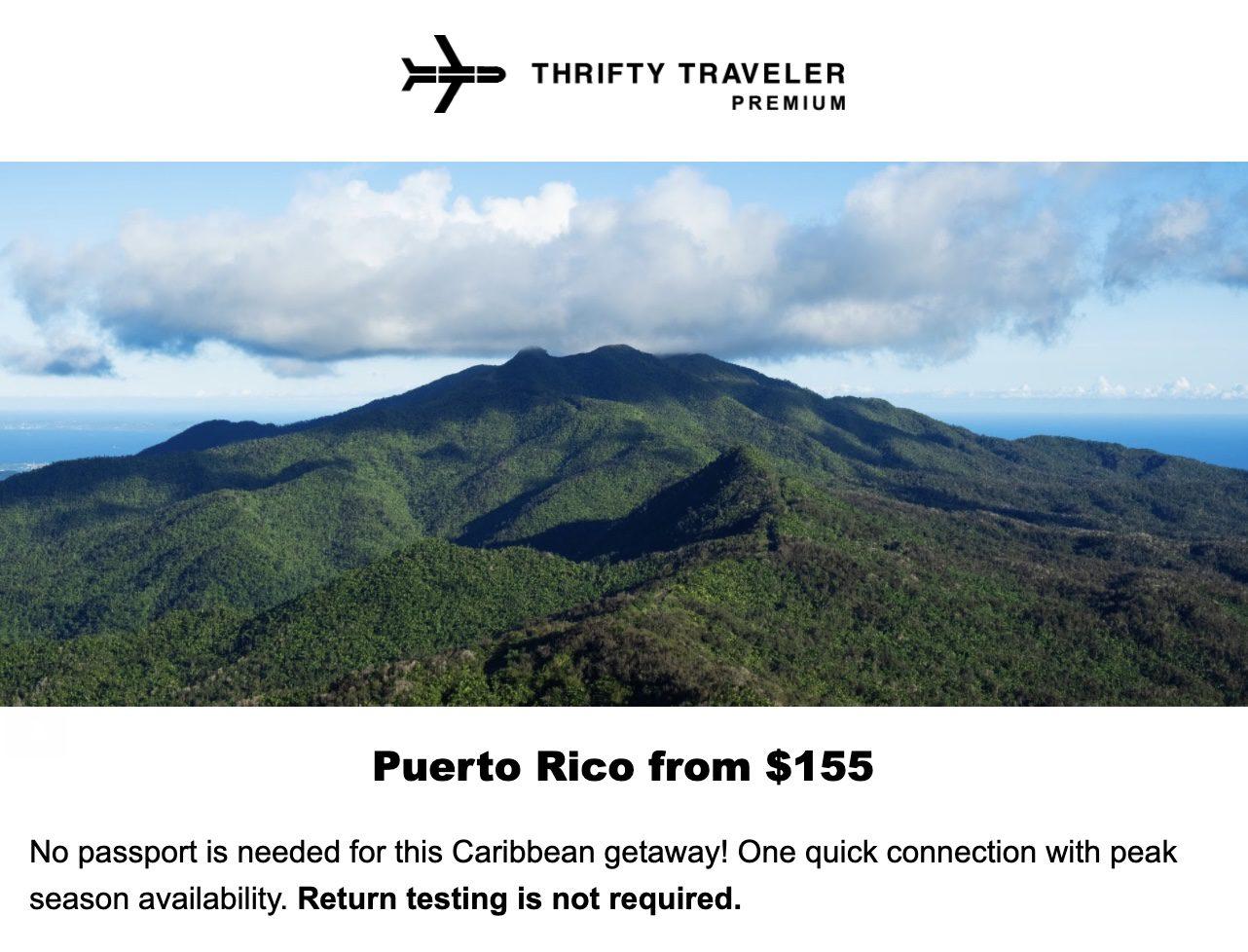 It's not just ease of entry and inexpensiveness that's causing the renewed interest in the island, either. Its tropical climate and phenomenal beaches are a huge draw for those looking for a slice of paradise without the complications of international travel. See why Culebra Beach in Puerto Rico made our list of favorite beaches of 2021.
St. Thomas
We love our U.S. territories at any price, but this one made us fall in love all over again.

Again and again, we've seen airlines cut flight prices down to the U.S. Virgin Islands. It's one of the major upsides in travel during the pandemic: Getting to the islands has never been so cheap.
And once you get there, you won't need to test for COVID-19 at all! To get in, you'll just need a negative COVID-19 test taken no more than five days before departure.
St. Croix
Just to the south is another of our favorite U.S. Virgin Islands. Fine dining, golf, and beaches are just some of the activities that make this spot great.

Just like its neighbor to the north, you'll need a test to enter St. Croix. But after that, you're in the clear.
Recently, Premium members were alerted to this deal to get them down there from $226 roundtrip. Just make sure you're subscribed to Thrifty Traveler Premium so you don't miss the next one!
Bottom Line
We've done our best to distill the ever-changing world of COVID-19 restrictions for international travel, but we get it: A trip abroad may not be in the cards just yet.
If testing requirements and the prospect of quarantining in a foreign country worry you, there are plenty of great destinations to choose from in 2022, whether you want time on a beach or a snowy getaway – and incredibly cheap flight deals to get you there for less.