Nothing beats a mistake fare, the insanely cheap flights that airlines mistakenly sell for a fraction of what they meant to. And we recently sent our Thrifty Traveler Premium subscribers not one, but two mistake fares to fly Delta down to South America for $1,000 off or more.
How cheap? How about:
Atlanta (ATL) to Santiago de Chile (SCL) for $63 roundtrip – no, that's not a typo.
Minneapolis-St. Paul (MSP) to Santiago de Chile (SCL) for $186 roundtrip.
Savannah (SAV) to Lima (LIM) for just $166 roundtrip.
Baltimore (BWI) to Lima (LIM) for $211 roundtrip.
Orlando (MCO) to Santiago de Chile (SCL) for $146 roundtrip.
Atlanta (ATL) to Lima (LIM) for just $111 roundtrip.

… and countless more fares under $300 nationwide on flights that typically cost $1,200 or more. And for travel as far out as October 2021 to boot!
Like all mistake fares, these didn't last long. This deal is now dead: These ultra-low prices are no longer available, as Delta pulled them after just a few hours. But not before many Thrifty Traveler Premium members were able to book.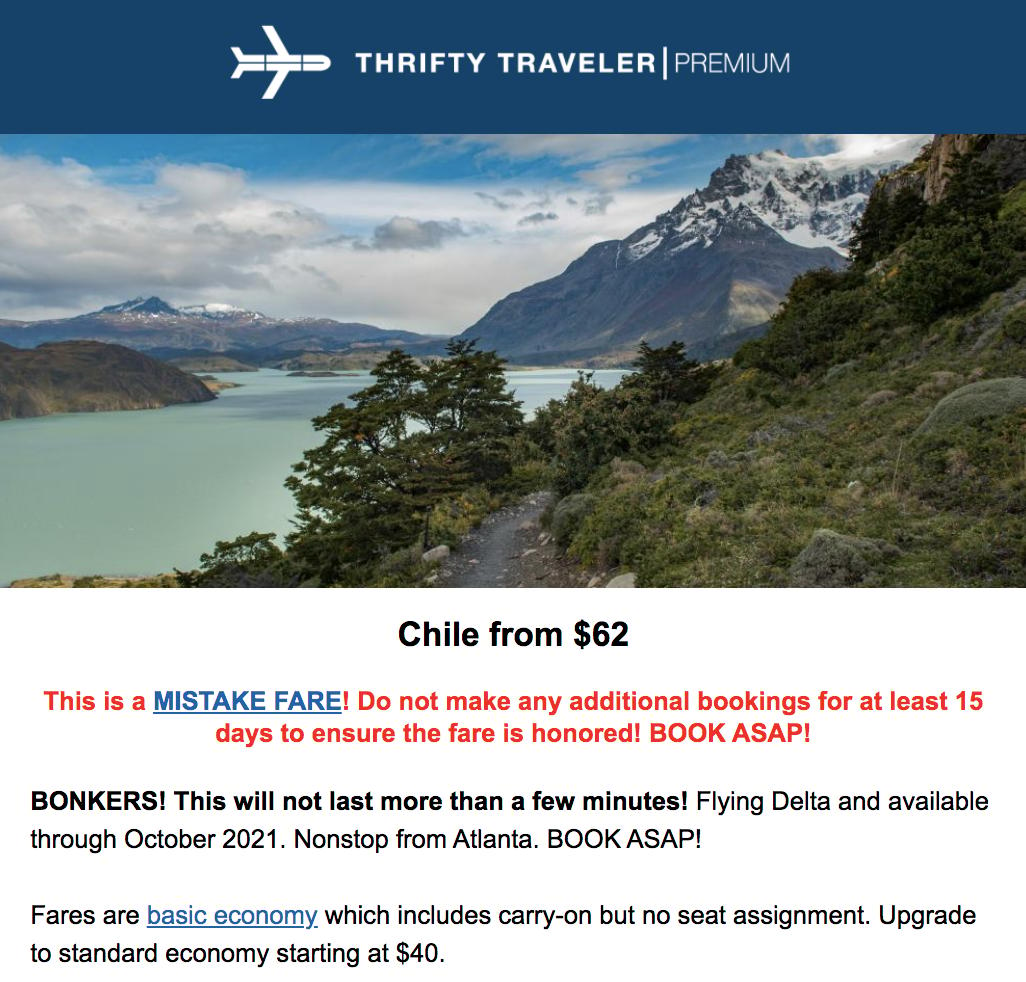 A few weeks later, it seems all but certain that Delta is honoring these insane mistake fares! That's never a sure bet, as many airlines decide to cancel the fares they accidentally sold for cheap (and U.S. regulators let them) – while others decide it's better to honor the tickets they sold to customers. Luckily, it seems Delta went with the latter option.
Read our full guide to finding and booking mistake fares.
Peru is already open to American travelers with COVID-19 testing requirements, while Chile remains closed to most international tourism. And you've got options when it comes to mistake fares to be more flexible.
For starters, you can cancel any ticket that touches U.S. soil for a full refund within 24 hours of booking. If your airline eventually cancels or significantly changes your flight, you're also eligible to get a full refund. And finally, Delta and most major airlines allow you to change or cancel (for a voucher) any ticket booked by Dec. 31, 2020.
But let's take a closer look at some of these deals …
The Mistake Fare of the Year?
These deals blew our minds, as well as the minds of many of our Thrifty Traveler Premium members.
It started with a sale on flights down to Lima (LIM), the capital of Peru and the perfect starting point for a bucket list trip to Machu Picchu. We've been seeing some cheap fares to Peru lately, but this one blew it out of the water.
The cheapest of these dirt-cheap fares to Peru were nonstop fares from Atlanta (ATL) for just $111 roundtrip. But airports nationwide could hop on this mistake fare. You could book flights from Minneapolis to Lima for just $205 roundtrip, Detroit to Lima for $206, or Orlando to Lima for $296.
Even small airports like Fargo (FAR), Greensboro (GSO), and Jackson (JAN) could fly down to Peru for under $300. Those fares are normally. It's obvious this was a mistake fare. And unfortunately, these fares only lasted a few hours – they're no longer available. 
Just when we thought a mistake fare couldn't get any cheaper, it did. Flights all the way down to Santiago de Chile (SCL) dropped below the price of most domestic flights.
You know it's a mistake fare when you can fly from Minneapolis to Chile for under $200 roundtrip. Those Delta flights have since returned to their normal price of nearly $900.

And once again, cities large and small across the nation got some mistake fare love with stupidly cheap fares to Chile.

The list goes on and on and on. More than 100 airports across the country had the chance to book deeply, deeply discounted fares to Peru and Chile for a few hours. And now it's clear that the hundreds of travelers who booked these mistake fares will actually get to go.
Bottom Line
Congrats to all our Thrifty Traveler Premium subscribers who acted fast and booked these unthinkably cheap fares as soon as they hit their inbox.