With fares regularly dipping under $300 roundtrip, flights to Hawaii have never been cheaper. But it doesn't get any cheaper than this.
Delta's latest SkyMiles flash sale is an absolute doozy, with roundtrip fares from Seattle (SEA) to most Hawaiian islands available for just 10,000 SkyMiles roundtrip through mid-May.
No, that's not a typo: You can get to Hawaii and back for less than most short hops within the mainland. These are the cheapest fares to Hawaii using miles we've ever seen – and it's not even close. Aviation expert Marietta Landon first tipped us off to these "crazypants" deals.
Want more award alerts like this one? We send them to Thrifty Traveler Premium+ members first, along with dirt-cheap domestic and international flight deals. 
Unfortunately, you'll only find these ultra-low rates departing from Seattle (SEA), though there are some decent deals available from other cities like Portland (PDX). But at this price, it's easily worth booking a separate positioning flight out to Seattle from your hometown before hopping on your flight out to the islands.
Find a cheap flight from your hometown to Seattle using Google Flights, and you could easily get to Hawaii for under $200 and 10,000 SkyMiles total. For example, I could get out to Seattle from my home in Minneapolis-St. Paul (MSP) for just $157 roundtrip.
We're seeing wide-open availability to Honolulu (HNL), Maui (OGG), and the Big Island (KOA), with the best availability from April through mid-May 2021. And we're not kidding when we say availability is wide-open. Check out flights from Seattle to Maui this spring, which typically cost at least $500 or more roundtrip.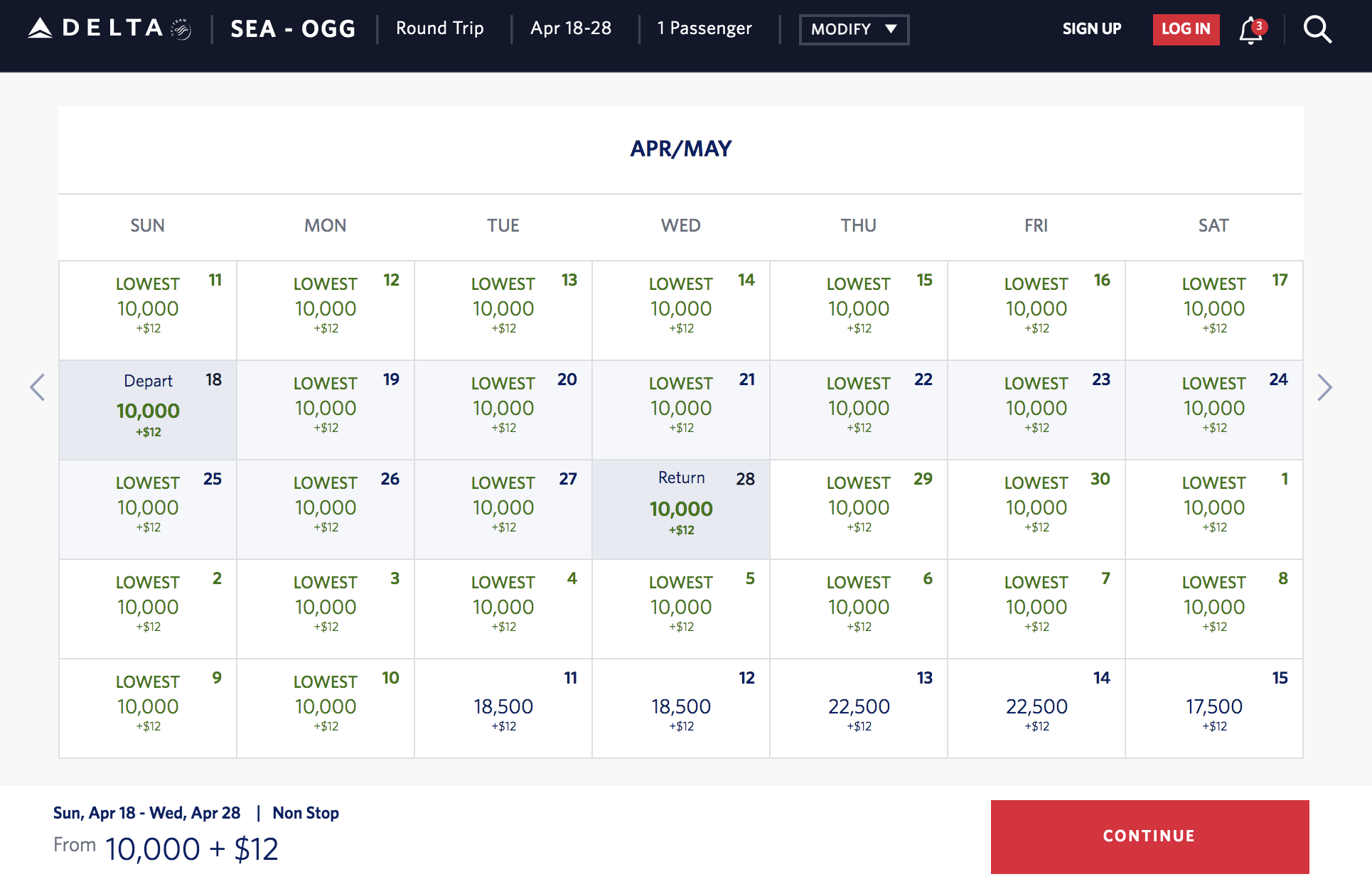 No matter where you're heading, Hawaii currently requires visitors to present a COVID-19 test taken no more than 72 hours before departing for the islands. If Kauai is on your mind, keep in mind the island requires you to quarantine at specific resorts upon arrival – and any inter-island travel will be tricky.
Read our master guide with all the Hawaii travel restrictions you need to know!
The beauty of booking with SkyMiles goes beyond these ultra-low rates. Delta is offering free change or cancellation on all flights booked by March 30 – including all SkyMiles award tickets. That means you could book today, then decide later on to cancel if necessary and get your miles back free without paying the usual $150 redeposit fee.
These low rates book into Delta's basic economy fares – Delta began selling these no-frills fares even when using SkyMiles a few years ago, even on long flights to Hawaii. If you want to pick your seat free and board earlier, you can typically upgrade to a main cabin fare for about 7,000 SkyMiles more.
There are also some incredible deals from Seattle to Mexican hotspots like Cancun (CUN) or Cabo (SJD) for an astounding 5,000 SkyMiles roundtrip – or 20,000 SkyMiles in first class.
But these Hawaii fares take the cake for us. Because you're not leaving the U.S., you'll pay just $11.20 and taxes and fees instead of close to $100 or more per ticket. And won't have to worry about getting a COVID-19 test to return to the mainland, as is the case with Mexico and other trips abroad.
Bottom Line
We can't believe our eyes. While Delta SkyMiles have taken a hit in recent months, you cannot beat a trip out to Hawaii for just 10,000 SkyMiles – especially when paying cash for the same flights would cost $500 or more. We've never seen a lower fare to get to Hawaii using miles … and we likely never will.
With these dirt-cheap rates and the flexibility to cancel and get your miles back, it could easily be worth pairing this flash sale to Hawaii with a cheap flight to Seattle to your hometown.